Do you know that 43.2% of all websites use WordPress as a platform to place and publish their content? Moreover, 65.2% of eCommerce websites choose WordPress CMS to run their business.
On WordPress alone, nearly 2.75 million blog posts get published per day! It's a massive market share. It's an enormous competition for users' attention and search engines' rankings.
And that's not all:
It's a signal that high-quality content should be your priority when bothering about a website's authority, traffic, and conversion rates. Authentic and valuable content is critical for search engine visibility and user engagement:
With proper optimization of blog articles, testimonials, product pages, or any other content type you publish on a WordPress website, your SEO efforts won't go in vain. But how do you know your content is good enough to outperform competitors and win SERPs?
Apart from awesome WordPress plugins you can use to analyze it, there are other factors to check if the SEO quality of your content is high. In this article, we'll reveal them all.
So, go ahead and publish your WordPress content asset if:
It's Original and Informative
How to check if your content is original? Answer the following questions:
Is it something you've already seen on competitors' websites, and they covered the topic better?
If you were a search engine, would you choose to send users to this content for a given query?
"Yes" for the former and "No" for the latter are enough to revise everything and focus on content value before you start thinking about technical SEO stuff.
Original content means substantive, unique, and informative assets relevant to your audience's needs and compelling them to stay on your WordPress page.
Depending on the nature of your content, the characteristics of high-quality assets are as follows: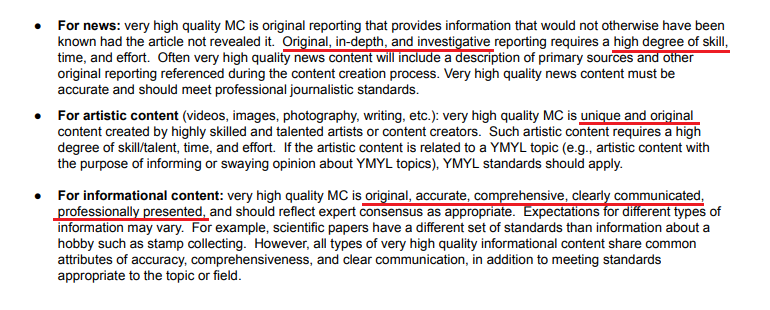 Craft content according to these standards to please Google's E-A-T (Expertness, Authoritativeness, Trustworthiness) signals. Given that other SEO factors depend on content quality, this detail is a no-no to skip.
The more informative and comprehensive your content is, the longer a user stays on your page, thus influencing behavioral factors like dwell time and bounce rate, which are also critical for your SEO success.
Two other factors to check here:
Content length. Longer posts are more likely to rank higher in SERPs, so make yours around 1,500-2,000 words.
Content update. Google loves up-to-date information, so update your old WordPress articles regularly to ensure the ideas, data, and references are still relevant.
It Satisfies Search Intent
Search intent is the reason behind a user's search. Google's algorithm RankBrain examines how users interact with your page and, based on that, learns if your content matches what they intend to find there.
If a user clicks on your page but leaves it at once, Google sees it as a signal that it's not worth ranking for this query. If a user clicks and spends minutes on your page, it's a signal the result matches their search intent, so this content is valuable and worth ranking higher.
Before publishing your WordPress content, ensure it satisfies the search intent of a user who googles it by a particular query.
How to check if your content asset satisfies search intent:
Type your target keyword in SERPs and see what Google prioritizes for it. Is your content about such type of information? If not, it means you need to revise it accordingly.
Also, you might want to check the People Also Ask section: The core phrases from there will reveal the search intent behind your target keyword: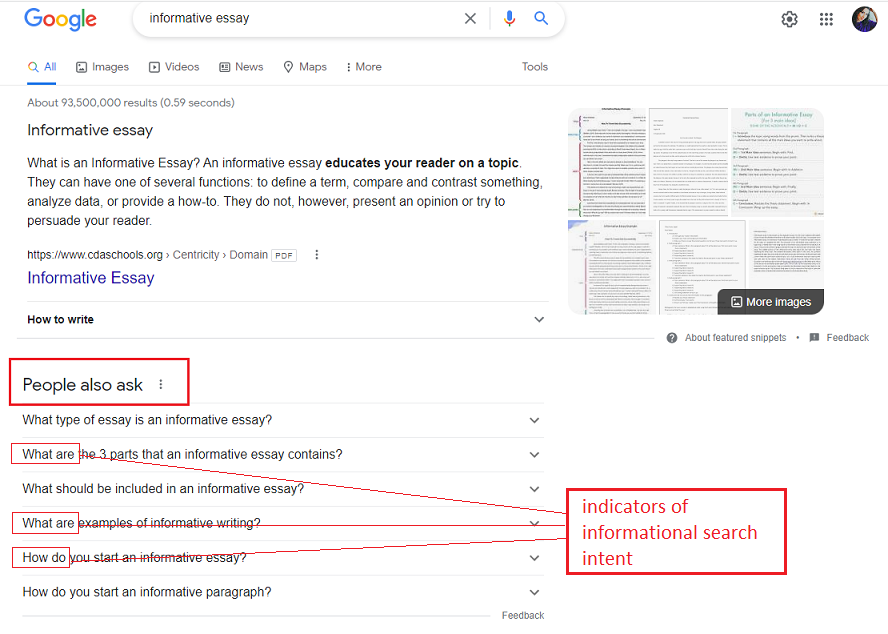 Four main types of search intent exist: informational, navigational, transactional, and commercial. There are some indicators behind each type:
For example, "what is" and "how to" are about informational intents, while "buy," "register," and "sign up" are about transactional ones. Depending on your target keyword and the search intent it presupposes, you'll need to optimize content accordingly:
Users will find what they need, and search engines will see it as a match to rank your page higher for the given query.
It Targets the Right Keywords
Gone are the days when search engines cared about the number of specific keywords in texts. Now they go far beyond product-defining and short-term phrases, paying attention to the context.
So, apart from a target keyword, you use in SEO content to make it rank accordingly, ensure your WordPress article includes the following:
1) LSI keywords. Also known as niche keywords, they are synonyms and conceptually related to your exact keyword terms for Google to understand your content's topic.
Where to find them: specific tools like LSI Graph or Setpstat; Google Autocomplete; "Searches related to" section in Google.
2) Long-tail keywords. These are queries searchers usually type when looking for answers to their questions. Sometimes they differ from those you can find in SEO tools, so topical forums or Q&A websites like Quora are also worth checking.
3) Competitors' keywords. You might want to analyze your competitor's backlinks to see what keywords their content is ranking for. They may hint you some alternative keyword variations you could miss when doing your keyword research.
Its Meta Tags Are Well-Optimized
On-page SEO and technical aspects still matter for website pages to rank well in search engines. When formatting an article in your WordPress admin panel, check twice the following details:
Your <h1> title is catchy and contains a target keyword.
Your meta description is engaging and contains a target keyword. (Don't make it a list of keywords separated by commas; write a descriptive sentence that will help users understand the content of your WordPress article.)
The URL of your page is short and keyword-rich.
All images have relevant titles and keyworded alt-tags. (Image SEO is critical here too.)
You use <h2> and <h3> tags for article subheads, including target keywords in at least one.
You mention a target keyword in the first 100 words of your text.
Your article contains internal and external links. (More on that below.)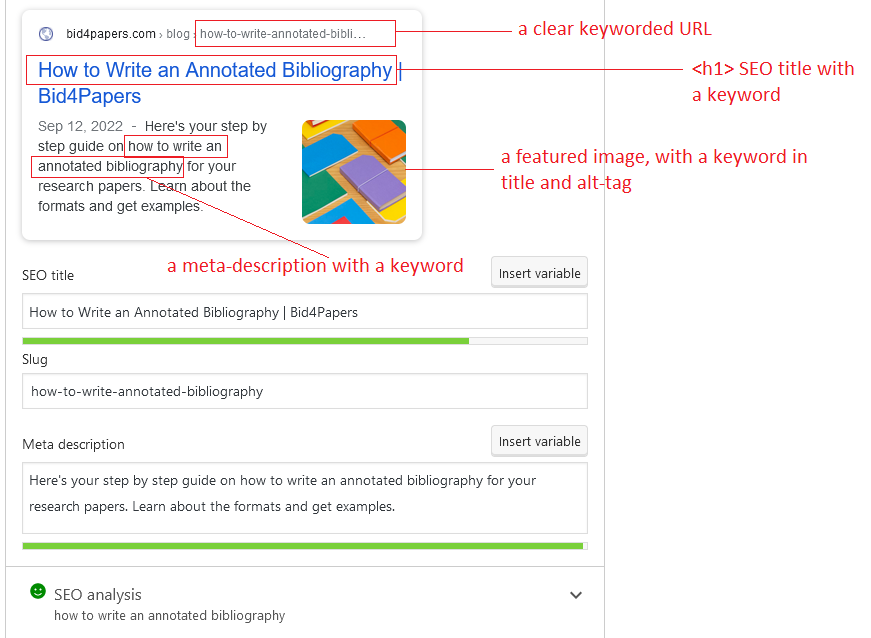 It's Properly Structured and Formatted
Content structure and format, together with reading flow, are super critical for SEO. Before publishing your content asset, re-read the draft and pay attention to the following:
1) Introduction. It needs a hook to engage the audience to further reading.
(In the article you're reading right now, it's a question; an unexpected fact, statistics, or anecdote can serve as hooks too. Choose the most relevant and appropriate one for your content, depending on its type and target audience.)
2) Content usability. Check if your WordPress article contains subheads, bullet points, and other formatting tricks that make it easier for users to read.
Use short sentences and paragraphs, add bucket brigades (linking words) for better readability, and include images, videos, and interactive content in posts to increase users' time on your web page.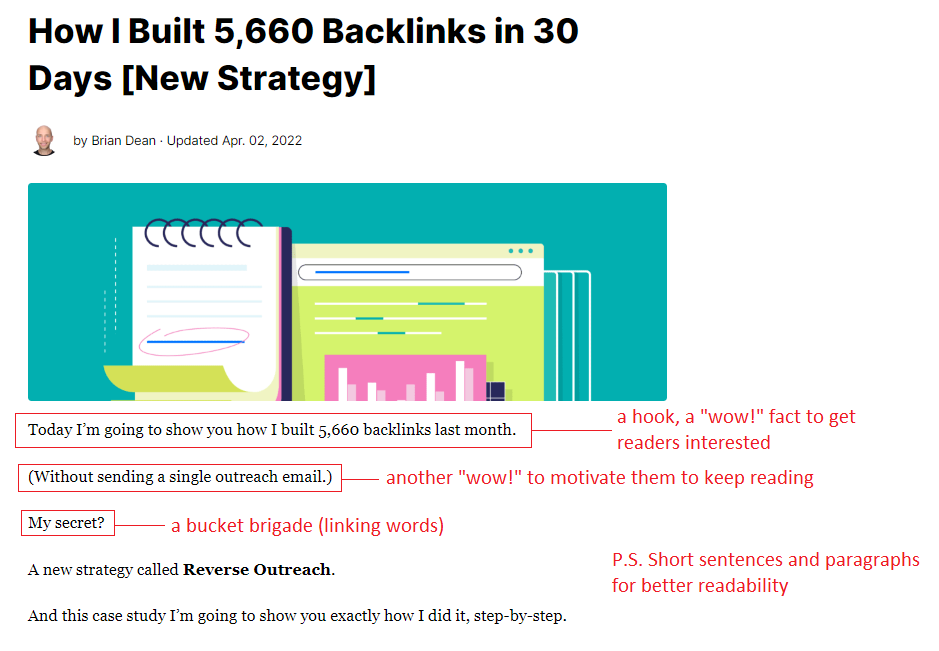 3) The design of your web page. Text alignment, font size, the color-contrast ratio between text and background, proper spacing before and after subheads — all these tiny details are crucial as they influence dwell time and the audience's impression of your WordPress page.
4) Optimization for featured snippets. If your page is in the top 10 of SERPs already, you can try some slight content optimization tricks for it to appear in Google's Position 0.
Check your target keyword in Google to see what type of snippets rule there now: definition (paragraph), list, table, image, or video. Optimize your content accordingly to match a snippet's format.
For example, you can try adding an <div> element with an <id="featured-snippet"> attribute for a content block at the beginning of your "What is" or "How to" article: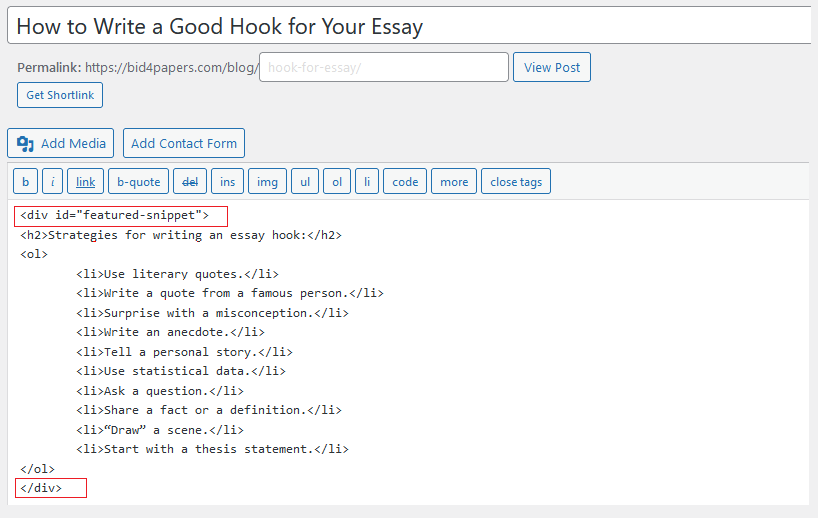 Result:
Also, use a Table of Contents in your posts, provide clear answers to common questions, and write numbered or bullet lists describing step-by-step instructions.
It Contains Internal and External Links
This one is obvious and, thus, short:
Internal links improve the SEO of your WordPress website as they help Google understand its structure and see which pages are most important.
Linking to other pages also helps users reveal more information from you and stay on your website longer, thus influencing dwell time and other behavioral factors.
At the same time, external backlinks are about your content's E-A-T and added value. They provide a better user experience and allow you to share valuable information without duplicating content from other resources.
For better results and overall quality of your WordPress page, ensure you backlink to reputable and authoritative resources. Every backlink you add needs to be natural to the context and support the statements you make (research, data, statistics, citations, etc.).
Over to You
SEO goes far beyond keywords today. If you want your WordPress content to rank high in search engines, do your best to consider many factors and focus on your content's overall quality.
Apart from WordPress plugins that help you analyze the SEO quality of your pages, consider the below checklist for writing and organizing content for better SEO results:
Make it original and informative; remember about E-A-T signals.
Ensure your content matches a user's search intent.
Use different keyword types in your content; don't limit it to a target keyword in meta tags only.
Remember the basics of on-page SEO: meta tags still matter.
Format your WordPress content with user experience in mind: pay attention to the intro paragraph, split articles into segments (short sentences and paragraphs), use content blocks, add visual elements, etc.
Optimize content for featured snippets; include internal and external links whenever appropriate.
Update your old content regularly to remain relevant and attractive for Google to rank high.
Ready to analyze the SEO quality for your content like this?