Let's take a look at 17 of the most commonly used SEO plugins and content marketing tools for WordPress.
The great thing about WordPress is that there are a variety of plugins to make the work of SEOs and content managers easier. These plugins can do almost every SEO task possible, from writing optimized meta descriptions, creating XML and HTML sitemaps, local SEO, optimizing images, and providing insights from Google analytics.
With the right combination of WordPress SEO plugins and content marketing tools, you can easily improve your website's SERP rankings.
And here, we'll show you 17 of the best WordPress SEO plugins and content marketing software for these purposes.
Best WordPress SEO Plugins
1. AIOSEO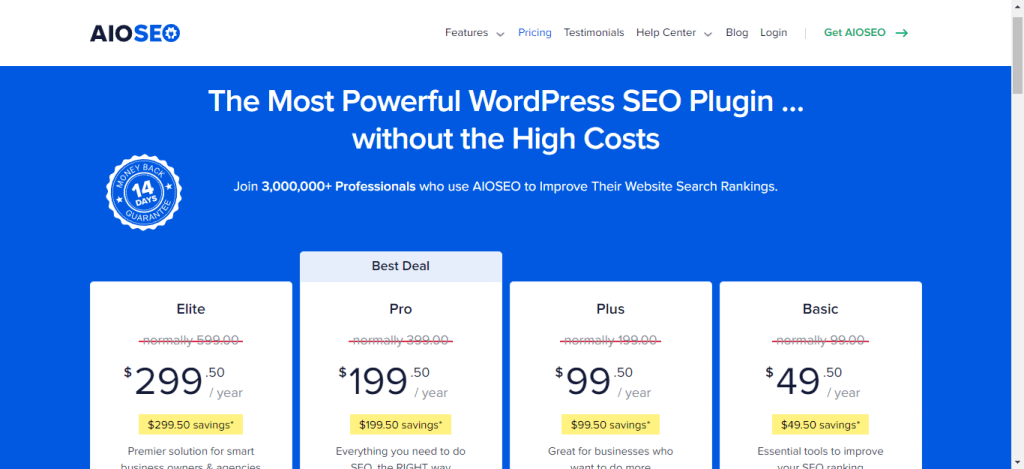 AIOSEO is one of the early WordPress SEO plugins. It currently has over 3 million active installations. It's one of the easiest SEO plugins to use.
The All in one SEO plugin makes it easy to connect websites with Google Search Console, Microsoft Bing Webmaster Tools, Yandex Webmaster Tools, Baidu Webmaster Tools, Google Analytics, and any other SEO webmaster tool within minutes.
It also integrates with social media platforms like Facebook, Twitter, Pinterest, LinkedIn, and more, helping you optimize your web pages and posts for social media sharing.
Best AIOSEO Feature
The TruSEO analysis. An in-depth checklist for SEO optimization for posts and pages on your website. It's an on-page SEO analysis tool that gives SEO suggestions for maximizing click-through rates and optimizing title tags and meta descriptions. It allows you to optimize for as many additional keywords as possible.
AIOSEO Pricing
The basic paid plan provides access to the essential tools to improve your SEO rankings for $49 per year.
2. Rankmath
Rankmath boasts intelligent features that offer top SEO capabilities to SEO newbies. The plugin, developed by the MyThemeShop team, promises to make it easy for anyone to optimize their website and content using smart automation that conforms to widely accepted best practices.
It makes it easy to configure schema markups and optimize your website for many keywords. Additionally, it offers an AI-based content writer for writing SEO-optimized content.
Best Feature
Setup wizard. Using the step by step setup wizard, you can configure the most appropriate SEO settings for each site. The wizard does everything for you. It's one of the reasons why Rankmath is a favorite amongst small business owners who don't have time to do manual SEO configurations.
Pricing
Their basic paid package, the PRO plan, costs $59 + taxes per year.
3. Yoast SEO
Yoast SEO is the most popular SEO tool out there. Created in 2008, the plugin currently has over 11 million active installs. Its mission is to make "SEO for everyone". And Yoast comes with some powerful features to get the job done.
One of the reasons for its widespread popularity is that its free version contains everything a site owner needs to manage SEO. Free users can configure breadcrumbs, schema markups, titles, meta descriptions, and XML sitemaps.
Best Feature
Yoast SEO content analyzer. The Yoast SEO plugin will appear on every page and post you create on your WordPress site after it is installed. Yoast SEO analyzes each page's content and provides tips for improving it. The plugin gives you both an SEO score and a readability score for improving your content.
Pricing
Yoast SEO premium costs $99 per year for 1 site.
4. SEOPress
SEOPress offers a comprehensive, affordable, all-inclusive solution for optimizing WordPress sites for search. It's available in 17 languages including Chinese and Hindi. If you're new to SEO and aren't willing to spend big on the more established WordPress SEO plugins, then you should opt for SEOPress.
And it does most of the things the established WordPress SEO plugins do for half the price. These include features for HTML and XML sitemap creation, social sharing, and improving click-throughs and SERP rankings. The free version also offers content analysis tools to help you write better content.
Best Feature
Google Analytics and Matomo integration with downloads tracking, custom dimensions, IP anonymization, remarketing, demographics and interest reporting, cross-domain tracking.
Pricing
You can use SEOPress for unlimited sites for just $39 per year.
5. SEO Squirrly
Like most tools on this list, SEO SQuirrly markets itself as a tool that makes SEO easier for beginners. It's described as an "AI-powered, all-in-one SEO suite that takes the guesswork out of search engine optimization". It offers an easy-to-use SEO toolset that doesn't require any technical expertise.
It currently boasts 90,000 installs and has a 4.7/5 rating on Capterra. According to the creators, the plugin is powered by Machine Learning and Cloud Services. SEO Squirrly can be used with other SEO plugins.
Best Feature
Audit Suite. Squirrly SEO has a built-in feature that allows you to run pages on your site through an external audit. Squirrly's Audit Suite analyzes every aspect of your content marketing strategy and gives you an overall performance score.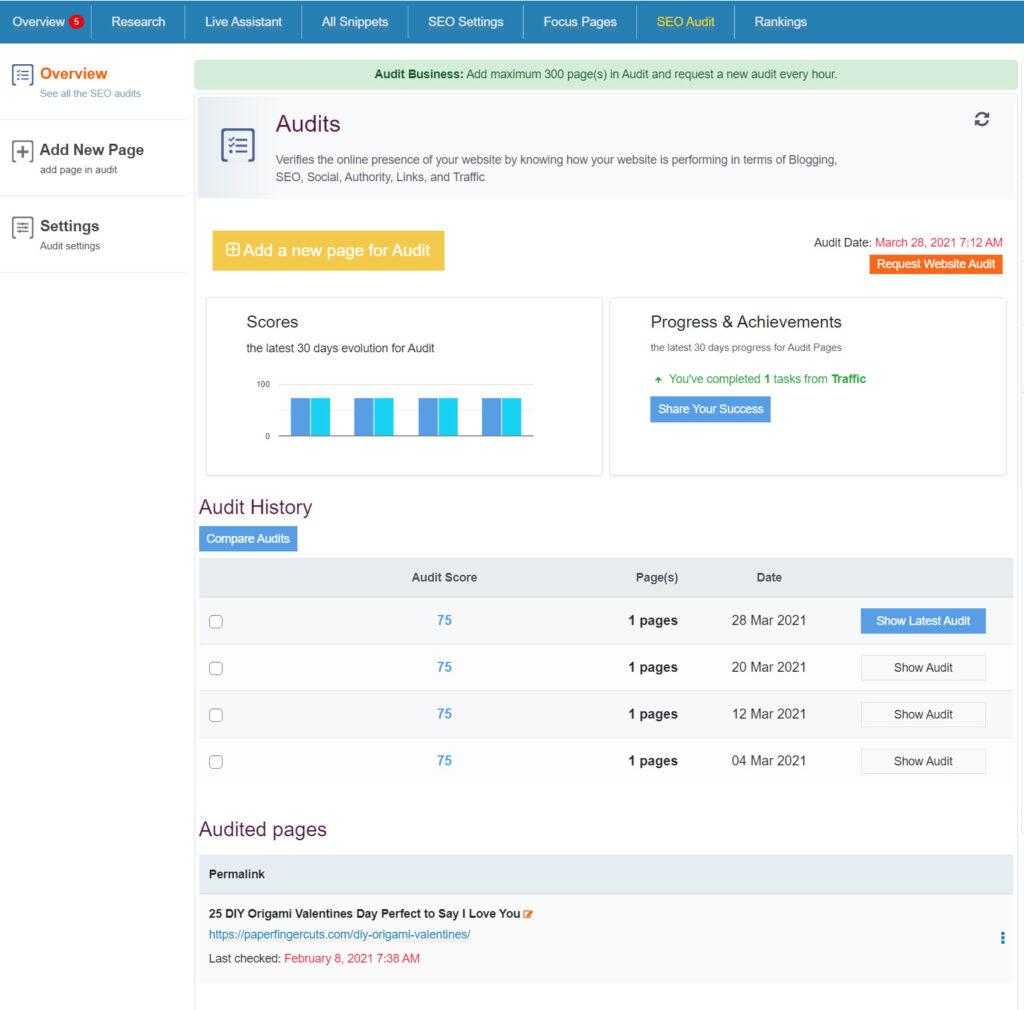 Pricing
Squirrly is probably the most expensive SEO tool on this list. The starter pricing allows you to optimize seven sites. It costs $20.99 in the first month and $29.99 in subsequent months.
6. Schema Pro
Search engines aren't always able to understand the content of your website. So you need to present them with the information they can digest. For example, if you're a Realtor, how can search engines understand your listing pages? This guide goes into some detail about optimizing real estate listings for SEO. You should know for example that Google doesn't really distinguish between pages and posts. In this case, you'd need to add the right schema markup.
While some of the all-inclusive SEO tools offer this feature. Schema Pro is a special tool for adding schema markups easily. With Schema Pro, you can map fields and add schema markup across your entire website within minutes.
Schema Pro supports 13 different schema types including articles, reviews, products, local businesses, property pages, and job postings.
Best Feature
Automatic Schema markup configurations. You don't need to create schema markup configurations for every single post/page. Instead, you can create schema markups once and have Schema Pro automatically add them to all relevant posts and pages.
Pricing
You can purchase a basic plan for $79 per year which includes unlimited website usage.
7. Redirection
This is the most popular redirect manager for managing 301 redirects on WordPress. The plugin makes page migration from old websites easier since it makes it easy to make and monitor large amounts of URL changes. Aside from 301 redirects, you can use it to keep track of 404 errors on your website. And it costs nothing to use. There is no premium version to subscribe to.
Best Feature
Conditional redirects. Aside from straight URL matching, you can match URLs based on other conditions. For example HTTPS or HTTP, whether they are from a certain IP address if the user is logged in etc. The conditional redirect feature also lets you create redirects automatically for 404 pages.
Pricing: Free
8. SEOPressor Connect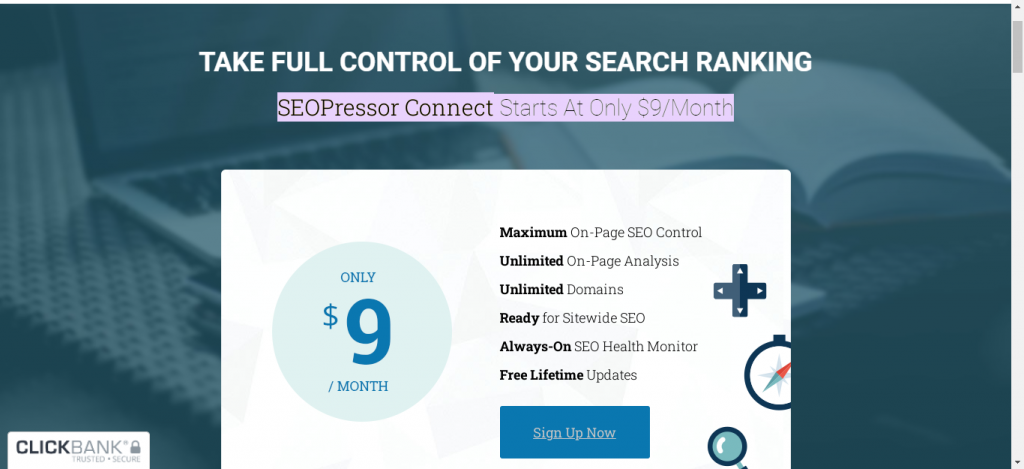 SEOPressor is an SEO intelligence tool that offers to help you understand your website's SEO health. The SEOPressor plugin makes it easy to control your site's SEO settings with ease.
It's also one of the best SEO plugins for WordPress content optimization. You can target at least 3 keywords per post. It gives each of your posts a SEO score based on how well optimized they are.
Best Feature
SemantIQ. SEOPressor measures the quality of your website's content using its built-in semantic analytics called Semantiq™ Engine. It offers a more advanced content optimization feature than Yoast and many other WordPress SEO plugins since it factors the use of LSI keywords into its SEO score. There is also a free SEO checker for analyzing your site-wide SEO.
Pricing
SEOPressor Connect starts at $9 per month.
9. The SEO Framework
Like its name implies, The SEO framework is an all inclusive WordPress SEO plugin, offering some advanced features. It is user-friendly for beginners and also allows the installation of extensions for increased functionality. There are extensions for local SEO optimization, AMP integrations, article enhancement, SEO Monitoring, and more.
Best Feature
Colored scale for content SEO optimization. The visual, colored scale/meter makes it easier for users to see whether their posts will perform well on Google by providing them with an easy-to-understand visual representation. Colors indicate how close you are to making a search-engine-friendly post.
Pricing
The plugin operates on a freemium model. The basic plan for paid versions, called the pro plan, costs $7/month. It unlocks extensions for two websites and allows 500 API requests/month.
10. MonsterInsights
MonsterInsights is a popular WordPress plugin. Unlike other plugins on this list, it's job isn't to optimize your WordPress website for SEO, it's to show you what impact your SEO optimization efforts are having.
It shows site statistics from Google, allowing you to view your site traffic, your most popular keywords, where referral traffic is coming from, and your most visited pages. This is all without leaving your WordPress dashboard. It can also be used to install Google Analytics on your website. The data it provides would be very useful for planning your content strategy.
Best feature
Google Analytics Dashboard. Of course, its main selling point is the fact that it allows you to view key traffic and engagement stats without switching back and forth between Google analytics and your site.
Pricing
While there is a free light version, MonsterInsights' paid plan for 1 website costs $99.50 per year. There are higher plans available for agencies and eCommerce business owners who want more functionalities.
11. WP Meta SEO
WP Meta SEO stands out with its bulk SEO meta descriptions and image SEO editor. It offers many of the SEO optimization features available in the paid packages of many other WordPress SEO plugins free of charge. Aside from bulk SEO content edits, the plugin also features an on-page content optimizer plus a 404 and redirects manager. It's one of the most beginner-friendly WordPress SEO plugins.
Best Feature
Bulk edits for website, content, and image meta descriptions plus HTML image resizing. WordPress site managers with a long list of pages will find this tool a time saver for editing meta information and resizing images on multiple pages.
WP Meta SEO will list all posts, pages, and custom post types, as well as all images. And allow you to make and save edits in real-time. It also comes with a bulk copy feature to save you time in your SEO optimization process.
Pricing
It's free for the most part. There's a pro addon that offers additional features for $49/per year.
12. Broken Link Checker
This tool scans through your posts and pages for broken links. It presents a list of all broken links so you can change them. The downside is that if you keep the plugin active every time, it slows down your site as it continually searches for broken links.
It detects both internal and external broken links to create a better user experience and improve your site's SEO. It performs these checks and populates results very quickly – within minutes. It also detects missing images and redirects errors. Its primary function is to help improve your site's user experience and dwell time.
Best Feature
Bulk broken link editing. You don't need to go to specific posts or pages to change broken links. That's going to be time-consuming. The plugin allows you to change broken links right from its primary page.
Pricing
Broken Link Checker pricing starts at $9.95 per user, per month. There is a free version.
Best Content Marketing Tools for WordPress
13. Ahrefs
Ahrefs is one of the most popular SEO and competitive analysis tools on the market. It has one of the most powerful web crawlers available. It can be used to track anything SEO-related for your site or your competitor's site – backlinks, search rankings, paid keywords, best-performing content, organic keywords, and more.
There is a WordPress SEO plugin by Ahrefs that helps with content audits. It also helps you monitor your backlinks.
Best feature
SEO Plugin. With Ahrefs SEO plugin, it's easy to identify low-performing content pages vs high-performing content.
The content audit combines Google Analytics data with Ahrefs data like total traffic, organic visits, and backlinks to each blog post and page. You can also use it to find old pages that have performed very well in the past and could use some touching up.
Pricing
Ahrefs is one of the priciest yet probably the most useful b2b content marketing tools. It starts at $99 per month per user.
14. Keyword Planner
Google's Keyword Planner is my favorite keyword research tool. It's very useful for both large scale content planning and small-scale content research. The best part is that it doesn't cost a dime. Google's keyword planner reveals Google's own data on the terms people are searching for, the competitiveness of these terms both organically and paid, and also shows the recent trends.
Best Feature
Domain search feature. This feature lets you search for keywords that are pertinent to a domain or to specific pages on that domain. You can sort these keywords based on competitiveness or other metrics. It's a helpful feature for competitive research.

Pricing: Free
15. SEMRush SEO writing assistant
You've probably seen articles comparing both Ahrefs and Semrush. That's because these two are popular juggernauts when it comes to SEO and content marketing tools. While SEMrush competes with Ahrefs on most fronts, its SEO writing assistant is unique. It provides instant content optimization recommendations as you write by comparing your writing with the best-performing articles on Google's first page.
The assistant works as both a WordPress plugin and Google Docs extension with a simple beginner-friendly interface.
Best Feature
Content SEO-friendliness check. With SEMRush SEO Writing Assistant, you can check your writing in real-time. It's one of the most reliable content tools, checking four main SEO criteria including keyword optimization, readability, originality, and tone of voice.
Pricing
Like Ahrefs, SEMrush's pricing is high at $100 per user per month
16. Growthbar
Growthbar is a low-cost content marketing automation tool that allows you to research keywords, check competitor backlinks, create blog outlines and generate AI blog content.
You can access it via its app or through its chrome extension. While I'm not a fan of its AI content generator, it offers robust keyword and content research features to content marketers.
Best Feature
Growthbar's keywords and content outline generator. This tool makes it easy to get insights for creating content that would rank high for specific keywords. The tool also suggests a pertinent headline and an intro for each keyword. Export your content outlines to Google Docs so your writing team can take over from there.
Pricing
Compared to competitors, Growthbar is more affordable. The entry-level "standard" plan costs $39 per month, and $29 per month paid annually.
17. Wordtune
Wordtune advertises itself as an AI-powered assistant that understands what you're trying to say. It helps you write better by suggesting ways to make your writing clearer, more compelling, and more authentic.
It's one of my favorite tools for editing. It has a chrome extension that works in your email apps, Google Docs, WordPress, etc.
Wordtune is way beyond other grammar and writing assistants with its advanced AI technology, offering entirely new capabilities.
Best Feature
Multiple rewrite options. It allows you to rewrite sentences in five ways based on sentence length or tone.
There is a normal rewrite. Then there are options to expand or shorten your original sentence. You can also make the sentence more formal or casual. Free users can only use the normal rewrite option.
Pricing
Wordtune has a 'Free Forever' plan that gives 20 rewrites per day. You can also sign up for a 7-day free trial to try out their premium plan which is priced at $24.99 a month. If you get a yearly subscription, the price comes down to just $9.99 a month. That's a 60% discount.
What is the best SEO plugin for WordPress?
Based on over 25,000 five-star reviews, Yoast SEO has to be the best SEO plugin for WordPress. Even though its SEO content optimizer tool requires some improvement, it still does a good job. You instantly know when your content is well optimized for SEO and when it isn't.