Have you ever wished for more engagement on your site and better interaction with your visitors? With these chat apps on Wix, you can!
Supercharge your chat conversations this 2023 and optimize conversions for the better.
Chat apps allow you to communicate with your website visitors, even outside the site, just like you would on a messaging app. This is a great way to provide customer support, answer questions, or have casual conversations with visitors. Plus, it's super easy to set up and use on your Wix website.
If you haven't got the chance to launch a chat plugin on Wix before, now is the time to do so. You can generate over 70% satisfaction level by just adding a small widget on the corner of your page.
If you already have a chat plugin, you're doing a good job! However, you might as well consider the following chat plugins on Wix, as they come with advanced tools and features to optimize your chat support to the next level.
Let's get a closer look!
The Best Chat Apps on Wix for 2023
As we explore the best chat plugins for Wix, Chatway stands out as a standout option. Why? It's simple, Chatway streamlines communication for websites on a simple, intuitive interface that enhances customer interactions, boosts customer satisfaction and increases conversions.
Benefits of Using Chatway for Your Wix Website:
Enhanced User Engagement: Engage your website visitors in real-time conversations, helping them find the information they need, addressing their concerns, and guiding them through their customer journey. This level of personalized interaction can significantly increase visitor engagement and retention.
Increased Conversion Rates: With Chatway, you can provide instant assistance to potential customers, answer their questions, and alleviate any doubts they might have about your products or services. This immediate support can lead to higher conversion rates as visitors feel confident in making purchasing decisions.
24/7 Availability: Chatway enables you to offer round-the-clock support even when your team is offline. This is particularly beneficial for businesses with a global audience or those catering to different time zones.
Some features include:
Real-time messaging
Customisable chat widget
Automated greetings
Multi-channel support
Chat routing through multiple agents
Pros
Free to use
Excellent customer service
Available on mobile and desktop
Pricing: Chatway is available for free. Try it here!
Chaty is a chat plugin available on the Wix App Market that allows you to add WhatsApp chat buttons and 20+ other communication apps to your Wix website in one widget. It has several major messaging platforms including Facebook Messenger, Telegram, WeChat, Line, Skype, email, SMS, call button, contact form, TikTok, Instagram, and more.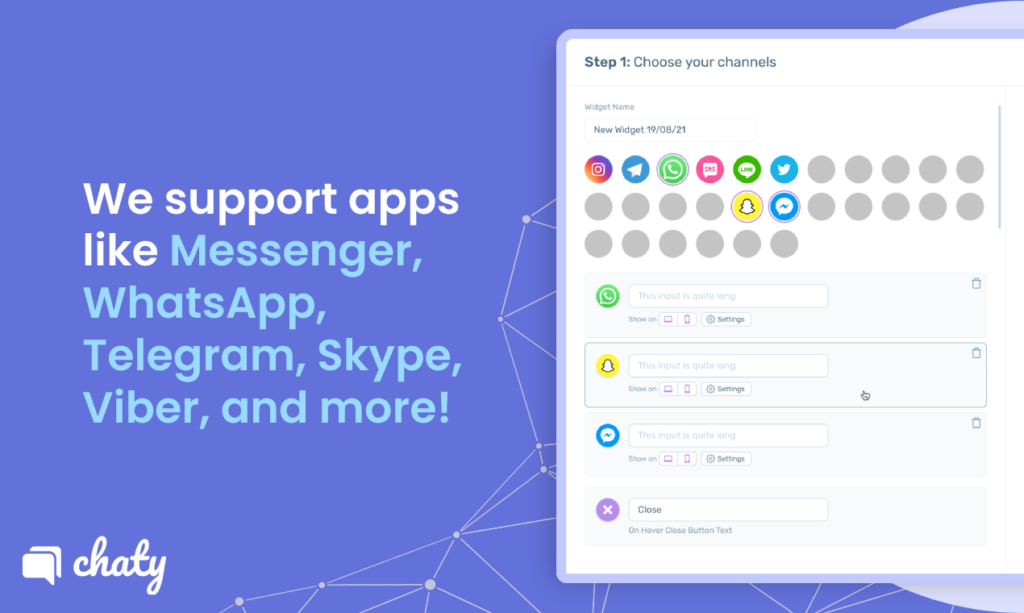 Using Chaty, you can customize the appearance and placement of your chat buttons and set up WhatsApp preset messages. Set triggers and targeting rules to show widgets at the right time and convert the most qualified audience. This can be a convenient way for your visitors to get in touch with you or your business and can help to improve customer communication and support.
To use Chaty on your Wix website, you must install the app from the Wix App Market and follow the prompts to set it up. Once the app is set up, you can start customizing it, implementing the triggers and targeting, and testing it on your site. It's pretty easy!
So, if you're a business owner looking for a way to improve your customer service and support efforts, Chaty might be worth checking out!
Top Features
Wide variety of customization options
WhatsApp preset messages
Contact forms
20+ communication channels
Behavior-based triggers, including delays and exit intent
Targeting rules, including traffic source, date scheduling, geolocation, etc.
Analytics
Animation and popup message design
Pricing
Chaty has a free plan that has most of the relevant features you can use to jumpstart your live chat on Wix.
To access more advanced features, you can subscribe to its Basic plan at $9 a month. Aside from unlimited channels and customization options, it includes page targeting, traffic source targeting, country targeting, and many more. However, if you're looking at up to 50,000 visitors a month, the Pro plan is the best for you, starting at $25 per month.
Chaty offers a Growth plan for websites with a high volume of visitors. If your site ranges from 150,000 and more visitors, this is the right one for you, and it only starts at $45 a month.
3. LiveChat
LiveChat is a customer service software that allows businesses to communicate with their customers through a chat interface on their website. It will enable companies to provide instant support and assistance to customers while browsing the company's website.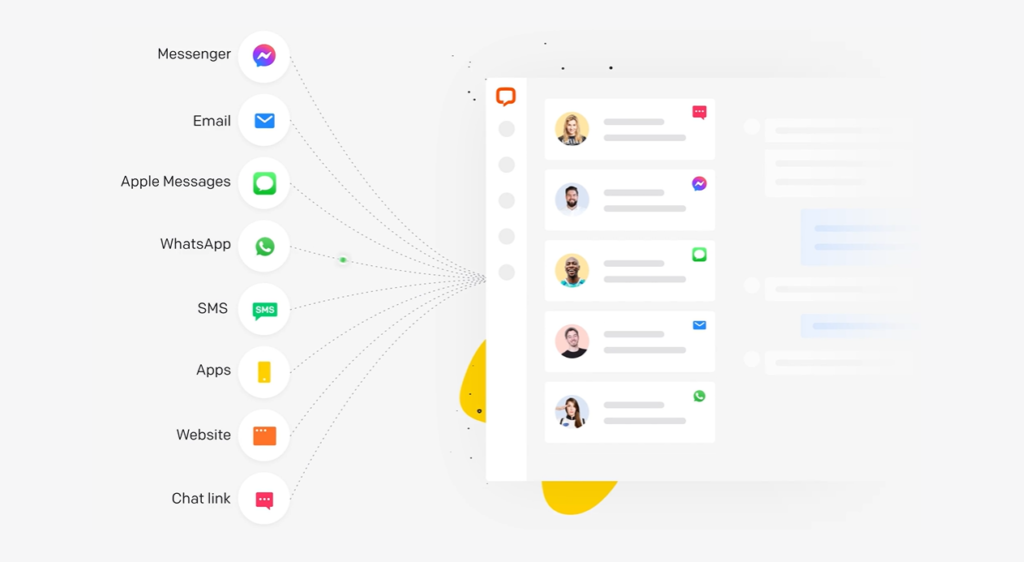 LiveChat is designed to improve customer satisfaction and loyalty by providing a quick and convenient way for customers to get answers to their questions or resolve any issues they may be having. LiveChat can be used by businesses of all sizes and in various industries, including e-commerce, healthcare, financial services, and more.
Top Features
Customization options
Visitor tracking
Chat history
File sharing
Mobile responsive
Integrations
Automatic responses
Multilingual support
Automated triggers
Pricing
LiveChat offers that allows you to try out all of the features of the software for 14 days. The Starter plan starts at $20 a month. It includes chat history, file sharing, and integration with popular CRM and help desk systems.
The Team plan is designed for businesses with multiple agents and starts at $33 per month. It includes all of the features of the previous plan, plus additional features, such as chat assignment and conversation routing.
Starting at $59 a month, the Company plan includes all features of the Team plan, plus team reports and integrations with custom CRM systems. On the other hand, the Enterprise plan is customized for businesses with particular needs, and its price is based on the business's specific demands and is available upon request.
4. Formilla Live Chat
Formilla Live Chat is meant to help businesses make their customers happy and keep them coming back by providing an easy way for customers to get answers to their questions or solve any problems they might be having.
With Formilla, building rapport with your visitors and encouraging interaction is easy. The live chat app can answer for you; you don't have to do all the typing and talking. apart from that, you'll get notifications on your desktop to help you get involved in everything.
Top Features
Easy installation process
Visitor tracking (detailed visitor information)
Chatbots
Mobile apps on iPhone and Android
Send automatic messages to drive interaction
Pricing
Formilla Live Chat is free to use. The premium plan is $19.99 per month, including advanced customizations, custom bots, and AI chatbots.
The Professional plan costs $39.99 and offers file sharing, visitor tracking, multiple websites, and more. The final plan is the Growth plan, which includes unlimited in-app and email messages, and is priced at $55.99.
What's Next
Once you've chosen a chat app, it's time to set it up on your website. This is easy to do with Wix – go to the "Add Apps" section of your website editor and search for the chat app you want to use. Then, follow the prompts to install and set up the app.
Once your chat app is set up, you'll be able to start chatting with your website visitors right away. You can customize the chat window to match the design of your website, and you can even set up automated responses for when you're not available to chat.
Using chat apps on your Wix website is a great way to connect with your visitors and provide them with the support they need. So why wait? Give it a try and see how it can benefit your business!
Tip: For an easy and free chat app for Wix, head on to Chaty. It has all the tools you need to boost your chat conversion rate to the next level. Try it here.