A successful online store requires more than a stunning website design and quality products. It's essential to leverage the power of technology and tools that can take your Shopify store to new heights. That's where Shopify marketplace apps come into play.
These apps are designed to enhance the functionality and performance of your online store, allowing you to optimize various aspects of your business operations. From streamlining inventory management to boosting sales and improving customer experience, the right Shopify marketplace apps can significantly impact your e-commerce success.
However, choosing the right ones can be overwhelming with the vast array of apps available in the Shopify marketplace. That's why we have created this post to guide you through the top seven Shopify marketplace apps in 2023.
What are Shopify Marketplace Apps?
Shopify marketplace apps are third-party software solutions that integrate seamlessly with Shopify stores, expanding their functionality and capabilities.
These apps serve as add-ons or extensions that allow you to customize and enhance various aspects of your online store, such as inventory management, marketing, customer support, analytics, and more.
The role of Shopify marketplace apps is to streamline operations, automate tasks, and optimize your store's performance. They offer many features and functionalities that can significantly impact your e-commerce success. By leveraging these apps, you can save time, improve efficiency, and provide a better overall experience for your customers.
Benefits of Shopify Apps
One of the key benefits of Shopify marketplace apps is their ability to streamline operations. They can automate repetitive tasks, such as inventory tracking, order fulfilment, and shipping, which helps you save valuable time and focus on other crucial aspects of your business. By reducing manual work and increasing efficiency, these apps allow you to scale your operations and handle a higher sales volume.
Furthermore, Shopify marketplace apps are crucial in enhancing the customer experience. They provide tools for personalization, product recommendations, and seamless checkout processes, making it easier for customers to navigate your store and make purchases. These apps also enable you to offer various payment options, improve site performance, and provide excellent customer support, leading to higher customer satisfaction and repeat purchases.
The Shopify App Ecosystem in 2023
The popularity and growth of the Shopify app ecosystem are remarkable. With thousands of apps available in the Shopify App Store, the platform has created a thriving community of developers, entrepreneurs, and businesses. This extensive selection of apps caters to the diverse needs of Shopify e-commerce stores, ranging from small independent businesses to enterprise-level operations.
The Shopify app ecosystem continues to expand, with new apps being added regularly to accommodate a multi-vendor marketplace. This growth is driven by the increasing demand for specialized functionalities and continuous innovation within the e-commerce industry.
Let us look at the top 5 best Shopify apps to drive your e-commerce success in 2023.
Chaty (for WhatsApp and Chat Buttons)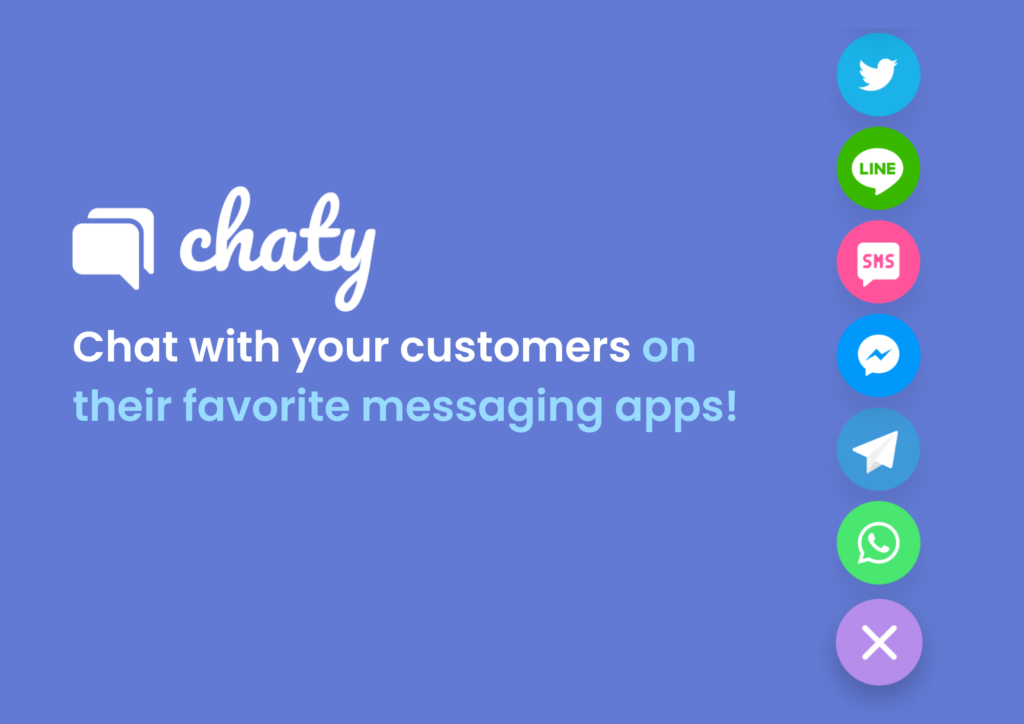 Want to let your customers chat with the support team via their favourite messaging app? Chaty makes this amazingly simple with their all-in-one chat messaging widget. Chaty is one of Premio's website plugins that lets you enhance the functionality of your website. It allows you to do this right on your Shopify site.
Easily add support for communication apps such as WhatsApp, Facebook Messenger, SMS, email, Viber, WeChat, Skype, Instagram, TikTok, and Telegram.
Key Features:
Chat on 20+ chat apps with a button.
Add a contact form, phone button, or click-to-call widgets on your site easily.
Customize your widget as you like.
Assign multiple agents to the same channels
Track customer interactions with Google Analytics.
Poptin (For Lead Generation)

Want to drive more sales with email contact forms, and exit intent popups? Poptin helps you convert visitors to your Shopify store conveniently.
You can use the popup builder feature for targeting, triggering, and analyzing the behaviour of visitors to multiply your e-commerce store sales.
Key features:
Easily create announcement bars, email forms, and popups with a no-code popup maker
Do more with your website form, newsletters, and sticky bars with Poptin's support for popular email/CRM tools.
Improve your Shopify customer experience with AB testing and analytics
Oberlo (for Dropshipping)
Oberlo is a leading Shopify marketplace app that simplifies the dropshipping process for any ecommerce store, making it an ideal choice for entrepreneurs looking to start or scale their dropshipping businesses.
Key features:
Pay vendors from this multi-vendor marketplace app without relying on different apps.
Automated inventory management to monitor and update your store's stock.
Integration with Aliexpress lets you import everything on your store.
Order tracking functionality for you and your customers to monitor shipment progress.
Yotpo (for Managing Reviews and Social Proof)
Yotpo is a highly regarded Shopify marketplace app specializing in customer reviews, ratings, and user-generated content. It empowers businesses to leverage the power of social proof and enhance customer trust, ultimately driving increased conversions and sales.
At its core, Yotpo enables you to collect and showcase authentic customer reviews and ratings on your Shopify store. These reviews serve as valuable social proof, giving potential customers insights into the experiences of others who have purchased from your store. By prominently displaying positive reviews, businesses can build credibility and establish trust with their audience, leading to higher conversion rates.
Key features:
Review request automation for sending review requests to customers automatically.
Customizable widgets to display review summaries, star ratings, and customer testimonials.
Extended brand reach through customer advocacy on platforms like Facebook, Twitter, and Instagram.
Bold Upsell (for Upsell and Cross-Sell Opportunities)
Bold Upsell is a powerful Shopify marketplace app that focuses on increasing the average order value by providing upsell and cross-sell opportunities to customers.
Key features:
Personalized upsell offers based on customer data analysis, including past purchases and browsing patterns.
Intelligent recommendation of complementary or upgraded products during checkout.
Seamless integration with Shopify themes for a smooth and consistent shopping experience.
Visually appealing and responsive upsell offers that blend seamlessly with your store's design.
Customization options to tailor upsell offers to match branding and product offerings.
Klaviyo (for email marketing and automation)
Klaviyo is a robust email marketing and automation tool specifically designed for Shopify stores. It empowers businesses to create targeted email campaigns, segment their audience, and deliver personalized communication to their customers.
Key Features:
Automatically send targeted emails to customers who added items to their carts but didn't complete the purchase.
Segment your audience based on criteria like purchase history, browsing behavior, and demographics for personalized and relevant email messages.
Set up email workflows like automated sequences of emails triggered by specific customer actions or events
ReferralCandy (for Referral Programs)
ReferralCandy is a powerful referral marketing app that drives customer acquisition and retention through incentivized referral programs. It empowers businesses to leverage their existing customer base to acquire new customers by encouraging referrals.
Businesses can also create customizable referral programs. By offering incentives such as discounts, store credits, or exclusive perks, businesses can motivate their customers to actively promote their brand and refer their friends, family, or social network connections. It virtually makes managing a multi-vendor store with unlimited sellers easy.
Key features:
Seamlessly tracks referrals and accurately attributes rewards to the referrer and the referred customer.
Easily distribute referral rewards through payment gateways like PayPal, Stripe, ensuring a smooth and secure reward distribution process.
Choose referral rewards that resonate with the target audience and business model.
Offer various referral incentives such as discounts, free products, or exclusive access to new releases.
Privy (Email and SMS Marketing)
Privy is a popular app available on the Shopify App Store that offers a suite of marketing tools designed to help businesses grow their email lists, reduce cart abandonment, and increase conversions.
Key Features:
Provides customizable pop-ups, banners, spin-to-win wheels, and other conversion tools to capture visitors' email addresses and grow your subscriber list.
Recover potentially lost sales by automatically sending email reminders to customers who have abandoned their carts, enticing them to complete their purchases with exclusive offers or incentives.
Segment your audience based on various criteria and deliver personalized campaigns tailored to specific customer segments, increasing relevance and engagement.
Set up automated email sequences, such as welcome series, post-purchase follow-ups, and re-engagement emails, to nurture customers, build relationships, and drive repeat purchases.
Integrates with popular email marketing platforms like Mailchimp, Klaviyo, and Constant Contact, allowing you to synchronize your email lists and campaigns.
A/B Testing and provides analytics and insights to track performance and success.
Conclusion
The top seven Shopify marketplace apps discussed in this blog post offer powerful features and benefits for enhancing your e-commerce success. Explore these apps to optimize your Shopify store and unlock new growth opportunities in 2023. Take advantage of their capabilities and watch your e-commerce business thrive.
Author's Bio: Joe Troyer is the founder of Virtual Valley, a profitable bootstrapped venture. His latest venture Review Grower aims to compete in a market by creating enterprises that address the most pressing issues affecting tomorrow's top firms.