Starting and operating an online business can be a challenging endeavor.
With Shopify, one can develop, grow, and manage a business with beneficial tools and reliable support.
When a Shopify user desires to communicate with customers or potential customers, a live chat app can make such a difference.
What makes a great live chat app (and features to look for)
With live chat apps, Shopify business owners can discuss products and services with clients in real-time.
Customers can get the answers they desire quickly, and in turn, the business will be more likely to make the sale. Therefore, the selection of an attractive live chat app can be a very important decision.
There are multiple attributes that make a great live chap app:
The app should have the ability to create canned responses. The business can save precious time by having pre-written answers to common questions or concerns.
It should have the ability to create a customer ticket. A proper customer ticket system would allow clients to communicate with the business 24/7. An alert of the customers' concerns or questions would be delivered immediately to the business operator.
Visitor tracking will allow the business owner(s) to see what pages the potential client viewed. This may provide a clearer picture of the client's questions or concerns.
The inclusion of some type of analytics is imperative. Analytics can show business owners what sales were influenced by the live chat app.
Best Live Chat Apps for Shopify
1. Chatway
In a competitive e-commerce landscape, customer engagement can make all the difference. With Chatway, you're not just getting a live chat app – you're getting a powerful tool to connect, convert, and create lasting customer relationships.
Benefits of Using Chatway for Live Chat on Shopify:
Seamless Integration: Chatway seamlessly integrates with your Shopify store, ensuring a hassle-free setup process. No complex coding or technical expertise required – you can have your live chat up and running in minutes.
Real-time Customer Interaction: Engage with your visitors in real-time, offering instant support and assistance. Address their concerns, answer questions, and guide them through their purchasing journey, boosting their confidence and increasing the likelihood of conversions.
Customizable Chat Widget: Tailor the Chatway chat widget to match your store's branding and design. Create a consistent and visually appealing experience for your visitors, reinforcing your brand identity.
Free to Use: One of the most attractive aspects of Chatway is that it's completely free to use. You get access to all these amazing features without any additional costs.
Pricing: Chatway is available for free. Try it here!
Chaty takes the live chat experience and personalizes it for each customer. With this app, businesses can communicate with clients through messaging apps such as Messenger, WhatsApp, Telegram, Syke, Viber, and even more!
Customers can select their favorite messaging apps to have chats with the business.
In turn, Chaty can also be considered a the best WhatsApp WordPress plugin and a Messenger plugin for websites.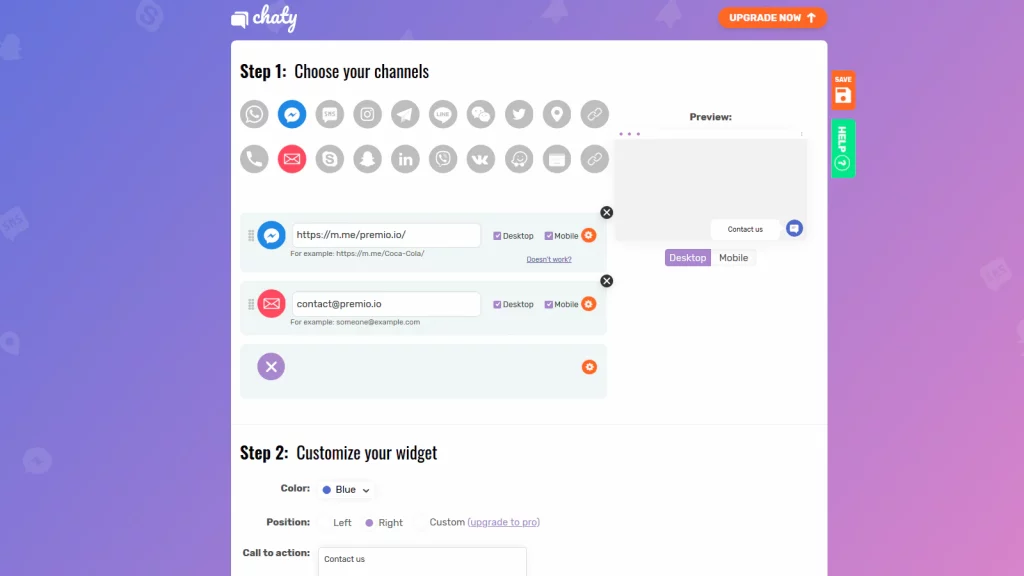 Key Features
Chaty for Shopify chat plugin include:
compatibility with over 20 messaging apps and social platforms
offers frictionless and flexible communication with customers
provides businesses with seamless integration
has a customizable user interface to match company branding
supports custom channel
customizable contact form
WhatsApp preset messages
triggers and targeting rules (page targeting, country targeting, etc.)
uses Google Analytics
compatibility with other Shopify plugins
compatible with desktop and mobile
fast loading capabilities
clean code
Over 150,000 businesses globally have trusted the Chaty live chat app. Premio, the creator behind Chaty, is an experienced solution maker. Not only has it developed a WordPress chat plugin system but has created previous Shopify compatible apps with great success.
The Chaty plugin is speedy and very accurate while being easy to navigate. With Chaty, a business can get 3 times more leads in comparison to traditional contact methods.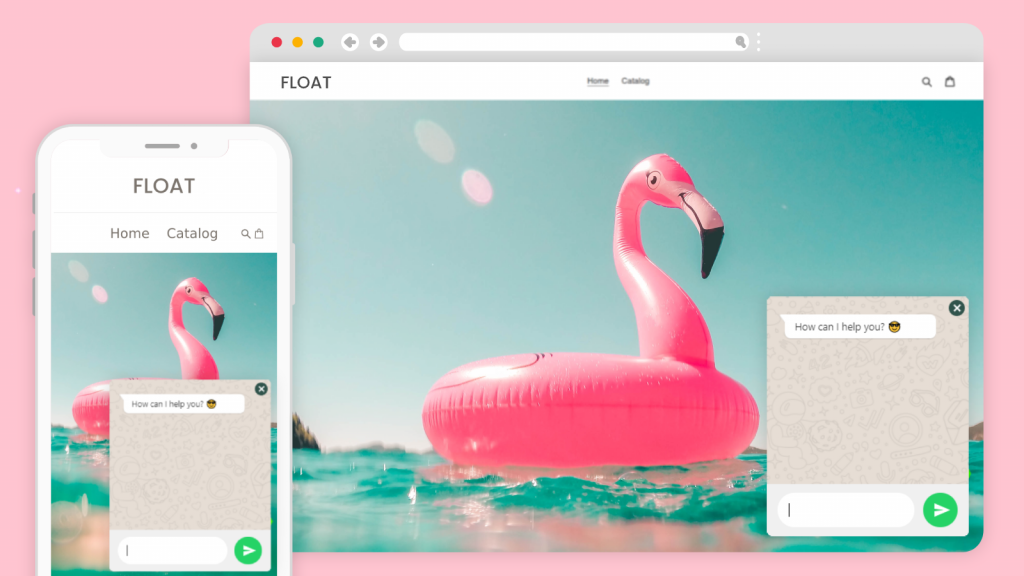 Pricing
The chat app offers four plans: Free, Basic, Pro, and Growth. Yes, Chaty has a free chat on website option!
The Free plan provides communication with up to 500 visitors per month, the Basic plan allows businesses to chat with up to 10 thousand potential clients a month, the Pro plan will let businesses communicate with up to 50 thousand leads a month, and finally, the Growth plan provides service to up to 150 thousand customers a month.
Chatys' Basic plan is $9 per month. The Pro plan is $15 per month. Growth Plan is the most expensive at $29 per month.
Premio even launched a standalone SaaS version of Chaty for any platform due to its success.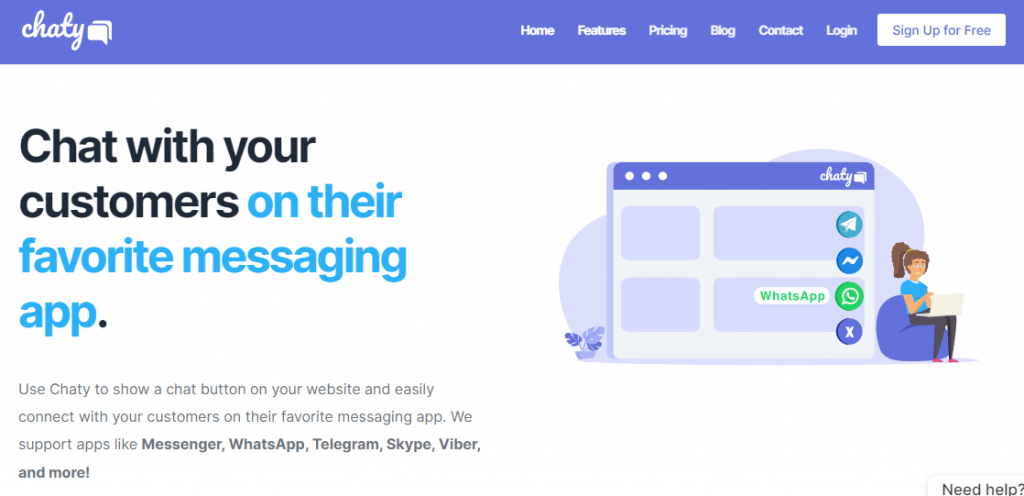 Learn more about the SaaS version of Chaty and what it can provide for your business here!
3. Tidio
Tidio is a popular and respected live chat app that is compatible with Capterra, Shopify, WordPress, G2 Crowd, and GetApp. The service also offers an automated chatbot option.
Tidio prides itself on being an all-in-one customer service solution that makes a positive difference for businesses.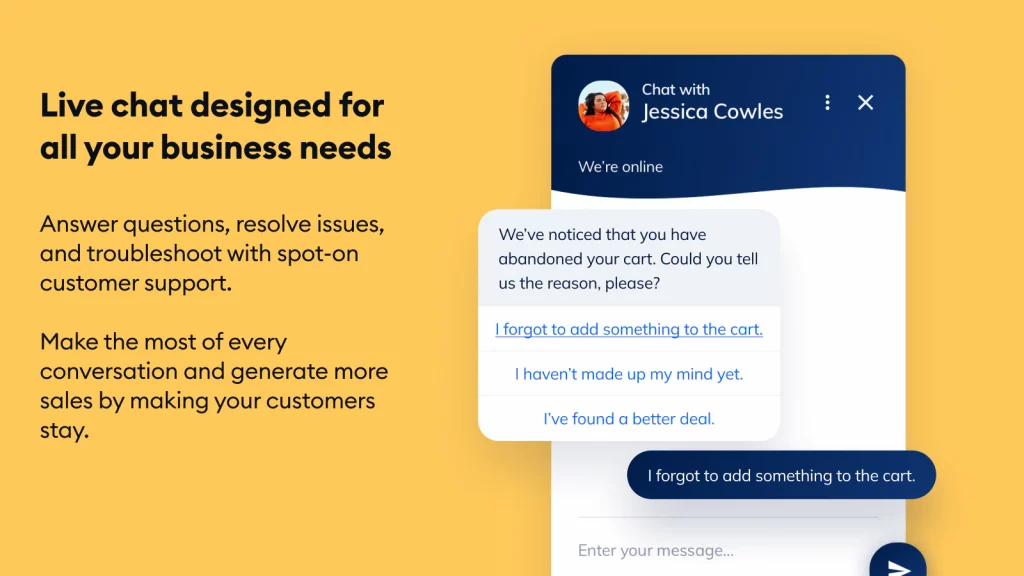 Key Features
Email inbox integration
Messenger integration
Instagram integration
shared inbox capabilities for business departments or teams
Cons of Tidio include that the service is not available through WhatsApp or Twitter and notifications to business owners may be delayed resulting in longer response times.
Pricing
Tidio offers four monthly-based plans: Free, Starter ($32.50 per month), Team ($65.83 per month), and Scale ($332.50 per month).
These plans include both live chats and automated bots. Companies that have used Tidio include Safariland, Vertex Aerospace, and Printpack, Inc.
4. Gorgias Live Chat
Gorgias Live Chat provides businesses the ability to add a fast and effective chat widget to manage customer questions and concerns during the customer shopping and buying process.
Gorgias works in collaboration with services such as Shopify, Magento, and BigCommerce.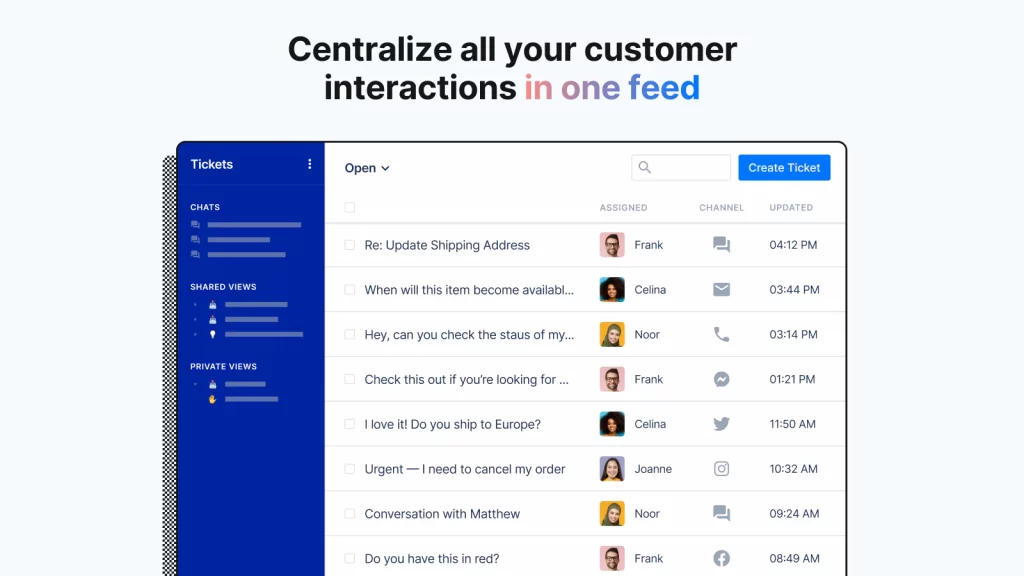 Key Features
Central features of Gorgia's live chat application include:
customizable user interface
fast download speed due to the small size of the widget itself
auto-reply outside of business hours
the ability to select agents or team members to handle certain chats and provides customer self-service options such as finding order details without a live agent and canned responses.
Gorgia has an easy-to-find chat button for customers to click.
Cons of Gorgia are that the app emphasizes e-commerce businesses only (which is not necessarily a significant dilemma with Shopify since most Shopify businesses are online-based), and that canned reports are one of the only reporting features that it offers.
Pricing
Gorgias has four plans: Basic ($50 per month), Pro ($250 per month), Advanced ($625 per month), and Custom (price and ticket number up for negotiation).
The Basic plan will cover 350 tickets every month with a fee if a business exceeds this amount.
Gorgias' Pro plan allows companies to handle 2,000 tickets every month with a fee if a business exceeds this amount.
The Advanced plan includes 5,000 tickets per month with a fee if a business exceeds this amount.
5. Live Chat with HelpDesk
Live Chat can be integrated with the HelpDesk application to create a powerful customer service experience.
HelpDesk is easy to use, while it boasts an uncompromised ticketing and chat system. The app will help businesses handle customer questions and concerns both asynchronously and synchronously.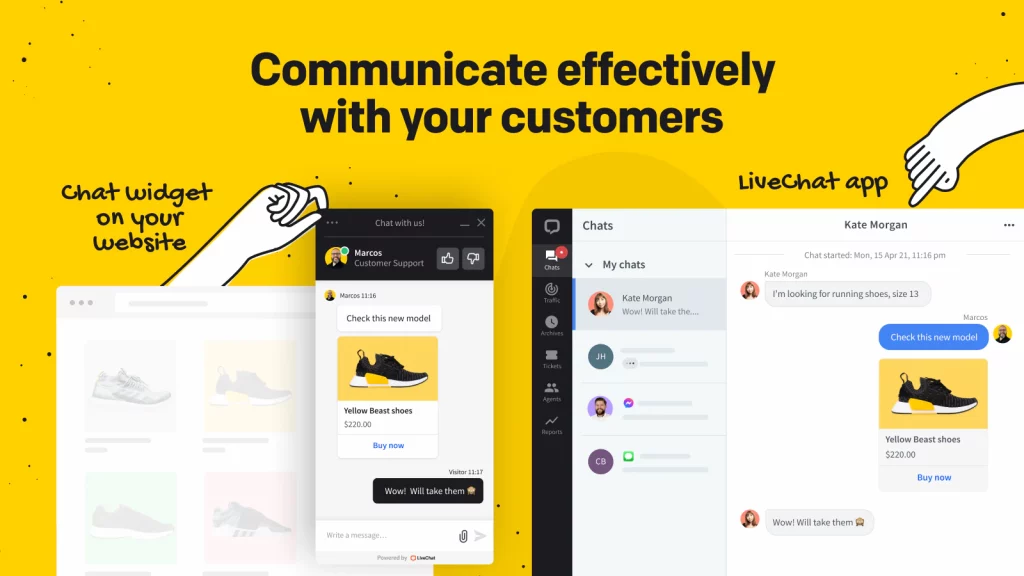 HelpDesk is offered through the LiveChat Agent App intentionally for unified communication between the business and customers.
With the HelpDesk live chat app, a business can automate common questions or concerns to save valuable time.
Key Features:
connected message sources
advanced ticketing
improved teamwork with an emphasis on business productivity
automated support actions
HelpDesk's platform focuses on overall business efficiency by providing quick ways for operators to communicate with clients or potential clients.
Pricing
Live Chat offers four plans: Starter (starting at $16 per month), Team (starting at $33 per month), Business (starting at $50 per month), and Enterprise (for massive Fortune 500 companies, price to be discussed in conversation with business).
The Starter package was specifically designed for a small or home office environment. HelpDesk's Team plan is perfect for a full support team with plenty of attractive features.
The Business package was created to serve a company's whole customer service department. Live Chat has been used by companies such as Adobe, McDonald's, Unilever, and Ikea.
6. Tawk.to Live Chat
Tawak.to is a completely free chat plugin for websites. Yes, its Live Chat can be added to a business's website for no cost!
Tawak.to Live Chat is easy to set up and offers competitive analytics to track progress.
Businesses have access to visitor tracking and can see where potential clients are on a page in real-time.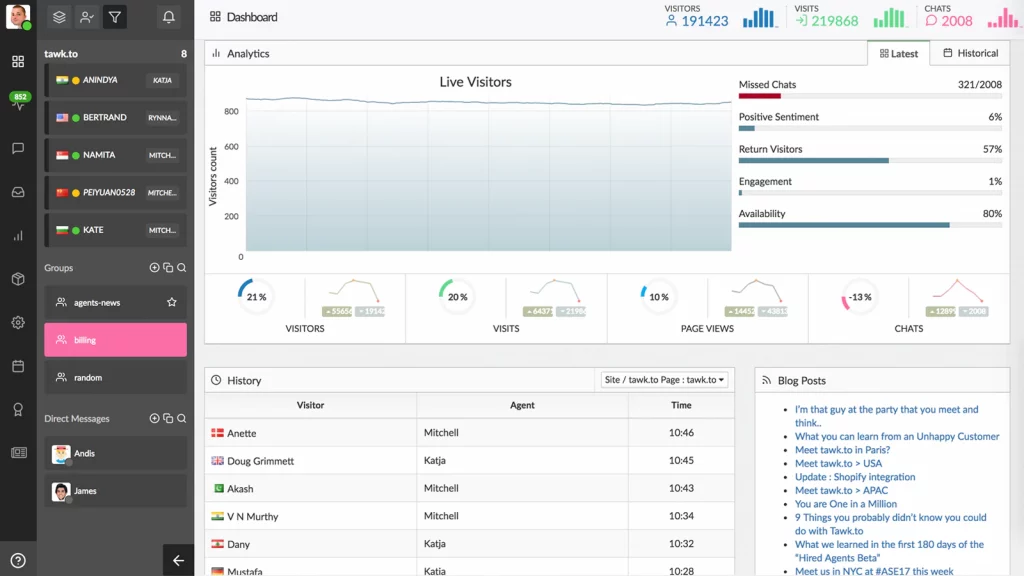 Key Features
can be translated into more than 45 different languages for effective customer communication. Such languages include Italian, German, Danish, Hindi, Swedish, Chinese, Vietnamese, Arabic, Spanish, English, French, and Russian.
not only available on a web browser, but iOS and Android mobile devices
offers shortcuts or canned messages to avoid wasting precious time
group messaging capabilities
JavaScript API
screen sharing
agent-to-agent messaging
geo IP tracking
unlimited history
compatible with Shopify, WordPress, Bigcommerce, and Open Cart, among other integrations
Tawak.to has served countless of businesses in helping provide a more engaging and effective client communication approach.
Companies that have used Tawak.to include the University of Hawai'i, Euronics, Spesati, Dominios, Scribendi, and Chevrolet.
Pricing
A noticeable con is that since the platform is free, businesses may not get adequate support if an issue arises.
In Summary
A live chat application can not only make communication with customers far easier but can help increase company and team productivity and efficiency.
While every option highlighted shares some key features, each live chat application has its strengths and differentiating factors.
Core features that make an attractive live chat application include the ability to create and fulfill a customer ticket, visitor tracking options, and the use of appropriate analytics.
Chaty for Shopify not only has such features but far more.
Chaty is unique in that customers can chat with businesses in their preferred messaging apps. Most popular messaging apps and social platforms including Messenger, WhatsApp, Snapchat, Instagram, Twitter, LinkedIn, and TikTok, among others are compatible with Chaty. Even better, Chaty is available for free!
It is a fantastic live chat plugin for Shopify websites if you're looking for one.