More or less every website you come across, regardless of whether it sells products or offers services, will likely feature customer testimonials on at least one page. Customer testimonials are a powerful way to build trust in your brand and boost engagement and utterly, sales. In this blog post we'll cover a few awesome features of the Stars Testimonials plug-in for WordPress that can be helpful in displaying testimonials on your website in an effective and beautifully designed, fully responsive way.
If you're just starting with testimonials on your website, you're probably wondering where exactly would you place them? This depends on your specific needs, but as a rule of thumb, the first part of your website visitors see is the homepage – a great place to introduce your brand and others' experience with it. If you're selling products or services, you can also include product-specific reviews on the relevant product pages. If you're building your brand, you may also consider adding a testimonials page to your website where you can collect all of your feedback in one place, making it easy for other potential customers to find the reviews. Other customers' feedback can help potential new customers understand the benefits of what you offer.
Now that it's clear where you can consider adding your customer testimonials, let's proceed with 7 awesome features of the Star Testimonials plug-in that can elevate your testimonials game.
1. Create custom testimonials
You can create unlimited customer testimonials on your website and choose among various pre-set fields such as client's name, company name and role, website link, star rating, testimonial text, customer image, testimonial category (for example, if you have different testimonials for different products, you can differ them by category). Although these fields are optional, we recommend adding customer images alongside their reviews (with their permission, of course) as putting an actual face to reviewes makes the feedback feel more genuine, therefore increasing trust. If your customers have businesses or websites of their own, you can add their company name and a link to their site. This is a win-win situation: your customers will get a backlink and the social proof on your page will gain even more credibility.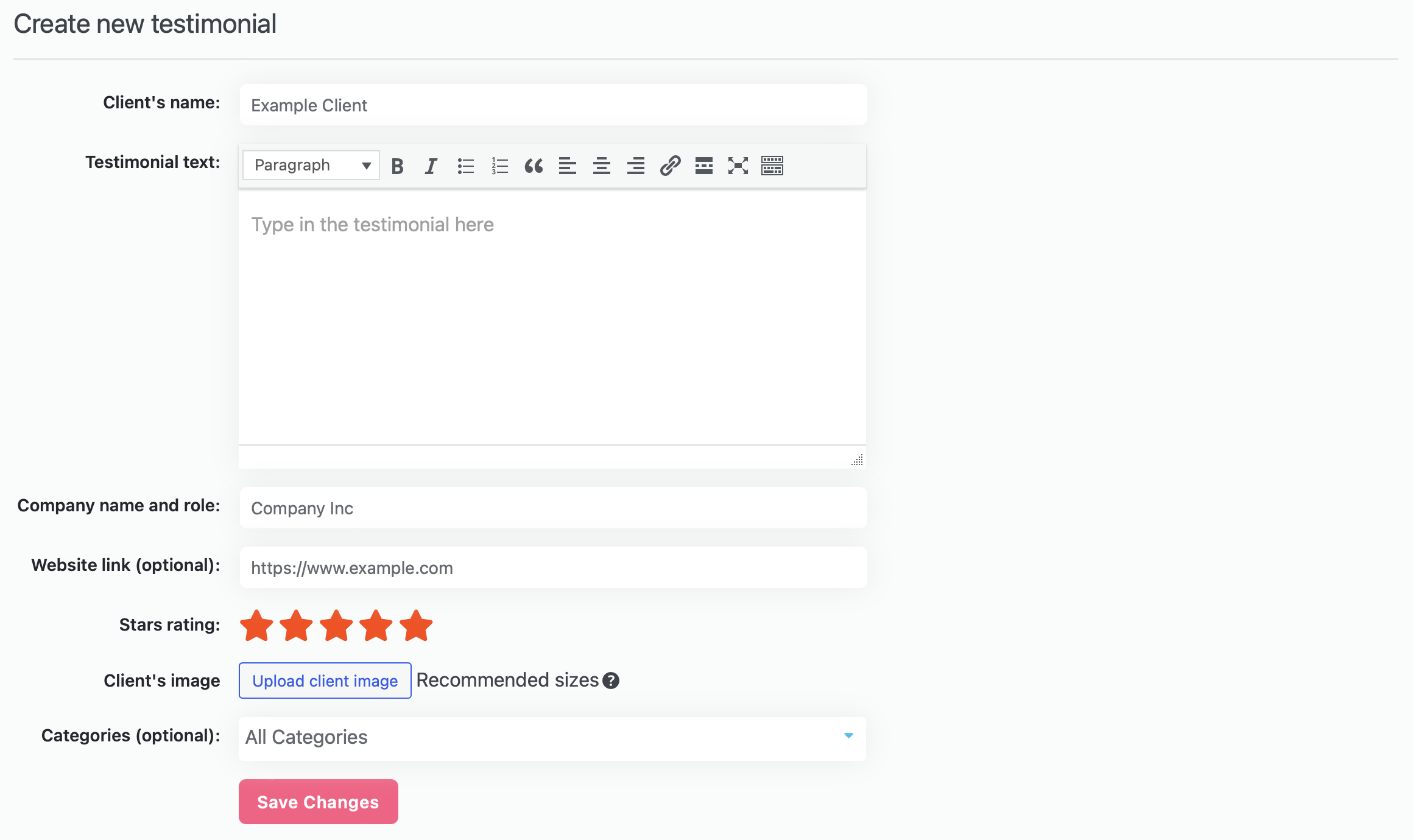 2. Add testimonial categories
As briefly covered earlier, you can add different categories to assign current and future testimonials to. This is extremely helpful if you want to assign different testimonial widgets to different pages, for example different widgets for different product pages. This can be done from the Stars Testimonials plug-in settings directly and you can choose from a dropdown what category(-ies) to assign your testimonial to for each new testimonial on your website.
For example, LawRank does this on its homepage where it displays some of its best reviews in a carousel slider. It is a great way to show new visitors what your company can do for them.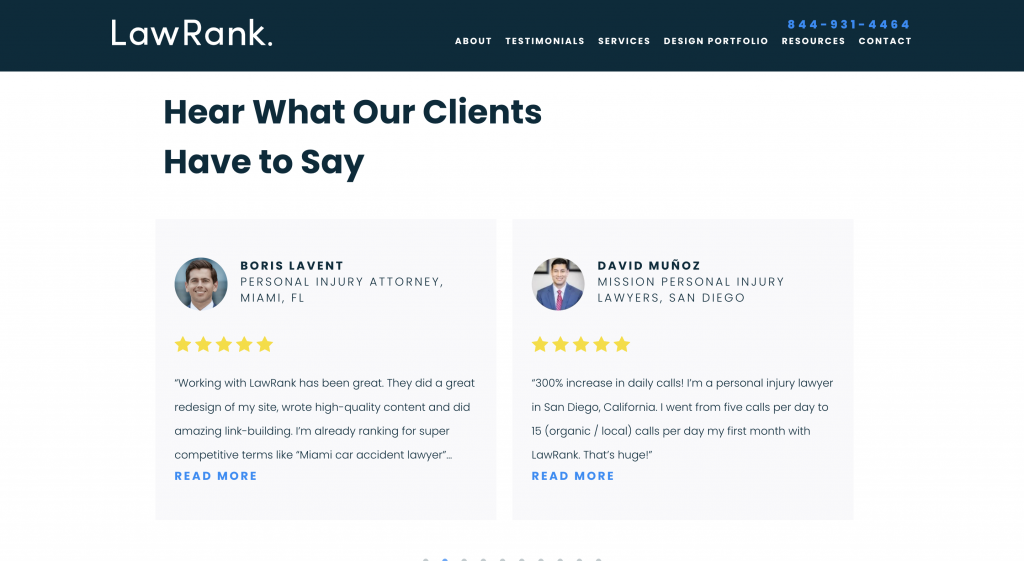 3. Collect testimonials from website visitors
With the Stars Testimonials plug-in you can collect testimonials from website visitors by showing a button under your testimonials that leads to a page where your visitors will be able to submit testimonials. You can also send a direct link for testimonials submission, automatically generated in the plug-in settings, to your customers which also leads to the page users can submit their testimonial. What's best is that you can control which customer testimonials end up displayed – when you receive a testimonial, you can either approve or disregard it. Once you approve it, the testimonial will be added to your website, you just need to make sure you include it in your testimonials widget. Learn more about setting this up here.
4. Create custom testimonial widgets in different styles
The Stars Testimonials plug-in comes with three pre-set testimonial layouts – Grid, Wall (also known as "Masonry") and Slider. Each layout features multiple style presets you can choose from. Once you choose the preset of your liking, you can further customise it by adding custom colours and fonts as well as select the number of columns that will appear in your testimonial widget, testimonial order, ability to collect testimonials from clients, add a "Read more" button and character limit. Once you're done making your modifications, you will get a shortcode that you can place anywhere you want.
5. Add a "Read more" button and character limit
In the latest version of the Stars Testimonials plug-in you can add a "Read More" button to slice off large testimonials with character limit. This is a great way to make sure your testimonials have equal height in order to avoid an uneven look on your site. Apart from character limit, you can also choose when the character limit will be applied. Click here to learn more about this feature.
6. Add your testimonials widget in Elementor
You can add your testimonial shortcodes directly in the Elementor page builder with the newly introduced "Stars Testimonials" Elementor widget. The idea behind this feature is that you can embed your testimonial shortcode directly in the Elementor editor in order to speed up your workflow. It's good to know that while you can see how the actual testimonials will appear on the page, you won't be able to edit anything from the Elementor editor. In order to make any changes, you will need to do this in the Stars Testimonials plug-in settings directly. Read more about this in our help documentation.
7. Compatibility with rating schema
When this functionality is in use, if you have review content on your website, Google search results will appear with rich results, which can help your site reach the right users. Still not convinced about the benefits of adding rating schema? Not only will Google display review ratings, but your website will also be eligible for enhanced Google features in search results and search engines will better understand and contextualise your content. Definitely a feature worth trying. Read more about setting rating schema here.
And we've come to the end of this post – we hope you found this useful in setting up testimonials on your website that can improve your brand performance and growth. If you need any help, check out our how-to guide and don't hesitate to drop us a line at any time.