Companies understand the value of customer interaction. The right message at the right time can make all the difference along the sales funnel. A birthday wish or a thank-you note are some of the simple ways to make a customer feel special.
As a business, you can easily automate these interactions by utilizing triggered emails.
This guide shares six triggered emails you should consider setting up for your business. They can help you engage leads and convert customers. Before we look at these examples, let's quickly touch on how triggered emails work.
How Do Triggered Emails Work?
Triggered emails are sent to subscribers based on their specific behavior or actions are taken on your website. It is a timely follow-up related to those actions. They are also referred to as behavioral or transactional emails.
For example, you can send emails when someone signs up to your email list, adds a product to a shopping cart but does not make a purchase.
You can set up events to trigger an email. For example, you can send emails to a subscriber on their birthday, assuming you have their date of birth, of course.
Unlike promotional emails, triggered emails cater to specific individuals. It gives your messages a personal touch. Depending on your goals, you can either send a sequence of emails to a subscriber or a single email.
6 Common Triggered Email Use Cases
Triggered emails allow you to connect with a subscriber and deliver a message to them in a timely manner based on their actions. Your triggered emails can help create goodwill with the subscriber, incentivize them to make a purchase, check out a resource, or something else entirely.
Here are six triggered email examples to review that you could implement for your business. We'll start with the welcome email.
1. Welcome Email
When someone joins your email list, it's always advisable to send them a welcome email. This gives you a chance to connect with your new subscriber and set expectations about the type of content you will deliver to their inbox. In fact, welcome emails get 4 times more opens and 5 times more clicks than traditional marketing emails.
You can also use a welcome email as a medium to gather information about your new subscriber. For example, we use a quiz funnel on the Nextiva unified communications page. The quiz helps us segment our new subscribers based on data we gathered through the quiz.
After completing the quiz, we ask the person to share their email address. After this, we send a welcome email.
Below are some best practices to follow when sending a welcome email:
Make sure the message delivers on the promise you gave when they signed up to your list. For example, if you promised to deliver a content upgrade, provide them with a link to the resource.
Set the expectations right regarding future communication. For example, inform your new subscriber when you will email them and what type of content you will share. That ensures there are no surprises. It's also good because it makes you think about the goal of your email marketing.
One of your aims is to develop a meaningful relationship with your new subscriber quickly. The best method is to increase the number of touchpoints. You can achieve this by mentioning the social media channels they can follow as part of your email signature.
Don't overwhelm your subscribers by sending too much information in one email.
You can send an email welcome sequence so that you don't bombard them with information overload. I recommend sending up to three emails as part of your welcome sequence.
A typical welcome email sequence follows this formula:
Introductory email: This is where you say hi and share basic information about your business.
Engagement email: Share information about your service. You can discuss the origin story of the business or your USP.
Greatest hits: Provide a link to some of the best content you've created. You can also provide a free bonus. People appreciate free products.
If you send a series of emails, be sure to link to resources on different channels. The basic idea here is that you make your content more engaging by varying the medium of communication. So, you might send your subscriber a blog post in one email and ask them to watch a video in the follow-up email.
By sending effective welcome email sequences, you can create a great impression with your subscriber. This in turn helps in building a certain level of brand loyalty.
2. Reactivation Emails
It's common for your subscribers to start by signing up for a free trial or downloading a lead magnet. But over time, they might stop opening your emails. This can affect your delivery rates.
Reactivation emails maneuver your subscribers to re-engage with your brand and renew conversations with them. There are various types of reactivation emails you can send. Here are two of them:
Special Offers
Special offers are a good way to reactivate a dormant subscriber. You can offer subscribers special deals, discounts, gift cards, etc.
It helps in mentioning the offer in the subject line. This draws people's attention to your email and increases the likelihood of an opening. Here is an example reactivation email using this approach by Sephora.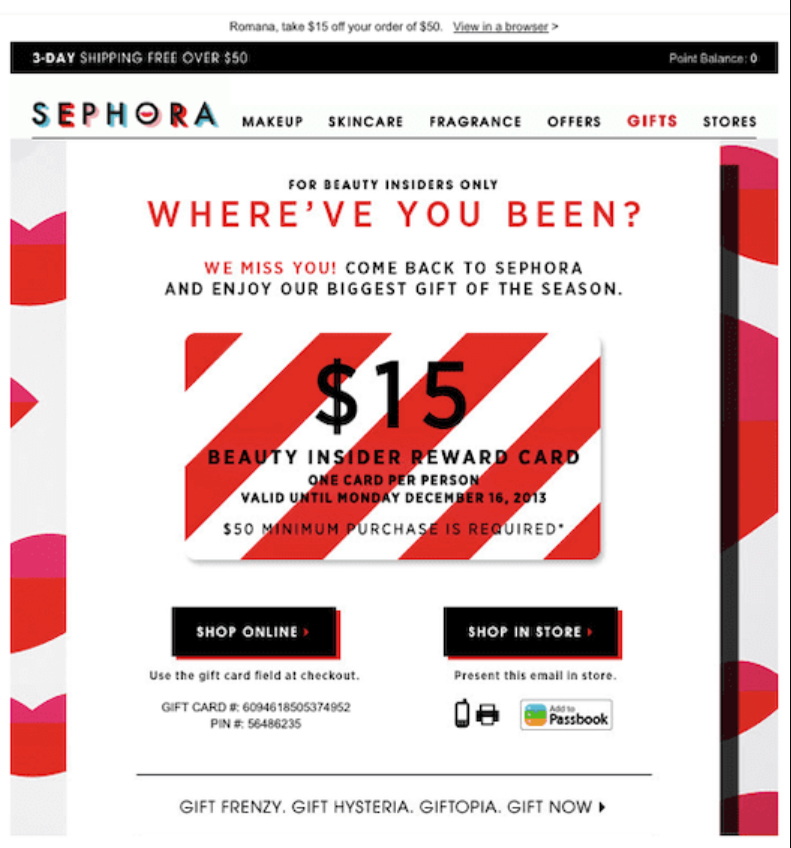 In the email, Sephora offers a reward card to the subscriber. That $15 off coupon might be just the incentive a subscriber needs to open your email and visit your site.
Update Preferences
People often stop opening emails that they feel provide minimal value. Asking your subscriber to update their content preferences is one way of dealing with this issue.
Ensuring that your subscribers only receive relevant content is the best way to maintain engagement. It might sound obvious, but most businesses end up making this common mistake.
3. Special Occasion Emails
Personalized wishes are a great way to appreciate customers. Taking the time to send a message creates the impression that you're considerate, which makes this type of email more effective than the others.
Your message should be short and sweet wishing them that D-day.
Be careful to send the emails at an appropriate time. There's nothing worse than a midnight notification from the email waking up your customers. Not only is it annoying but it's also likely to get all your future emails blocked or sent to spam.
Add in some sort of discount or free gift as a special discount for that specific occasion. Here is an example from Adidas Runtastic sending a subscriber birthday wish email.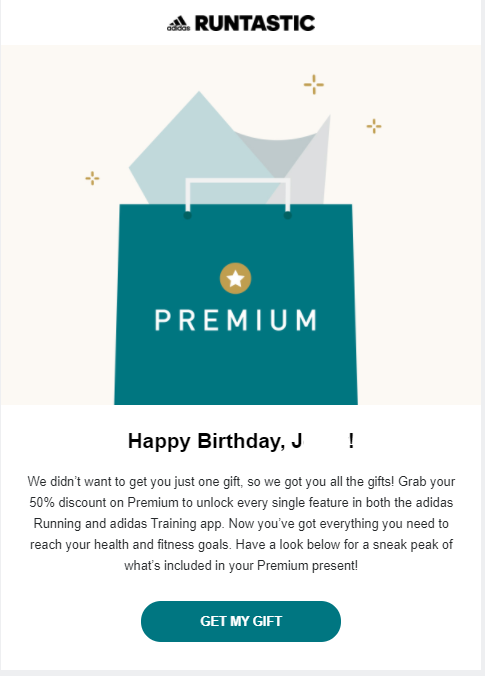 You will notice that the email copy says that Adidas doesn't want to give the subscriber just one gift – they want to give the reader all the gifts! It's a nice introductory sentence that hooks the reader and makes them want to click on the button.
The Call To Action (CTA) button in this example is also very effective. Instead of saying "buy now" or "use discount now", it says "Get My Gift".
4. Abandoned Cart Emails
Customers abandon their carts for several reasons, such as second thoughts about the product or fees added on at the time of checkout.
However, you can still recover abandoned carts and get customers back on track with their purchases. Sending abandoned cart emails can help you pull customers back and get them to finish what they started.
Here's a sample cart abandonment email from Zoom: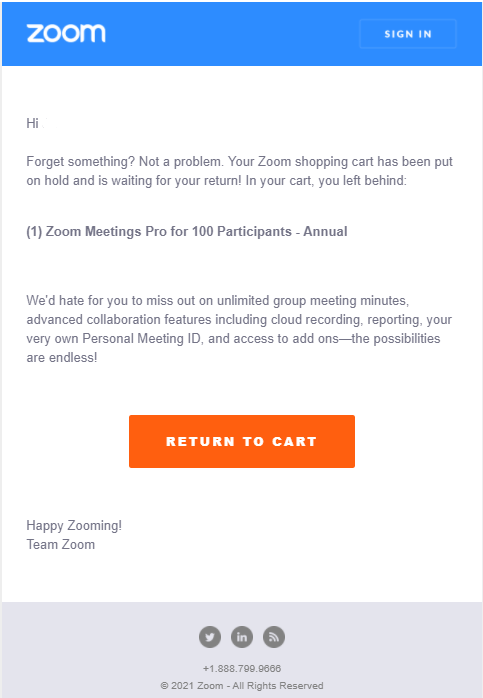 A good cart abandonment email sounds more like a reminder than a sales pitch. In the example above, Zoom assumes that the potential customer simply forgot about their purchase and reminds them that their cart is waiting for their return. It also indicates what the customer abandoned.
Moreover, it gives the customer substantial reasons to complete their purchase by listing its advanced features and advantages over a free account. It finishes with a bright, prominent CTA button that is hard to miss.
You need to remember that your job is to nudge the customer, not push them. Being too aggressive could result in the user avoiding your brand. Being gentle yet persuasive can result in the user completing the purchase.
5. Order Confirmation Emails
Order confirmation emails are triggered when a customer has made a purchase. These emails confirm that a transaction has taken place. It can also act as an alert in case the customer did not make the transaction.
Order confirmation emails give customers the chance to verify a transaction. The email is also a chance to set delivery expectations or start onboarding a customer.
Your order confirmation email should be concise. Your email should contain information about the product or service, a means of canceling the transaction, and relevant contact details.
The order confirmation email from The New York Times uses many of the practices described above. It contains the name of the purchased item, a reminder about automatic payments, and a list of cancellation options.
6. Review and Feedback Emails
You should actively seek feedback from your customers about your products or services. Review and feedback emails help your business get the feedback it needs to develop better solutions for your customers.
By sending survey links to your customers, you can ask customers detailed questions about their experience with your brand. Look at how Ticket Arena invites a recent caller to its hotline to answer a customer satisfaction survey: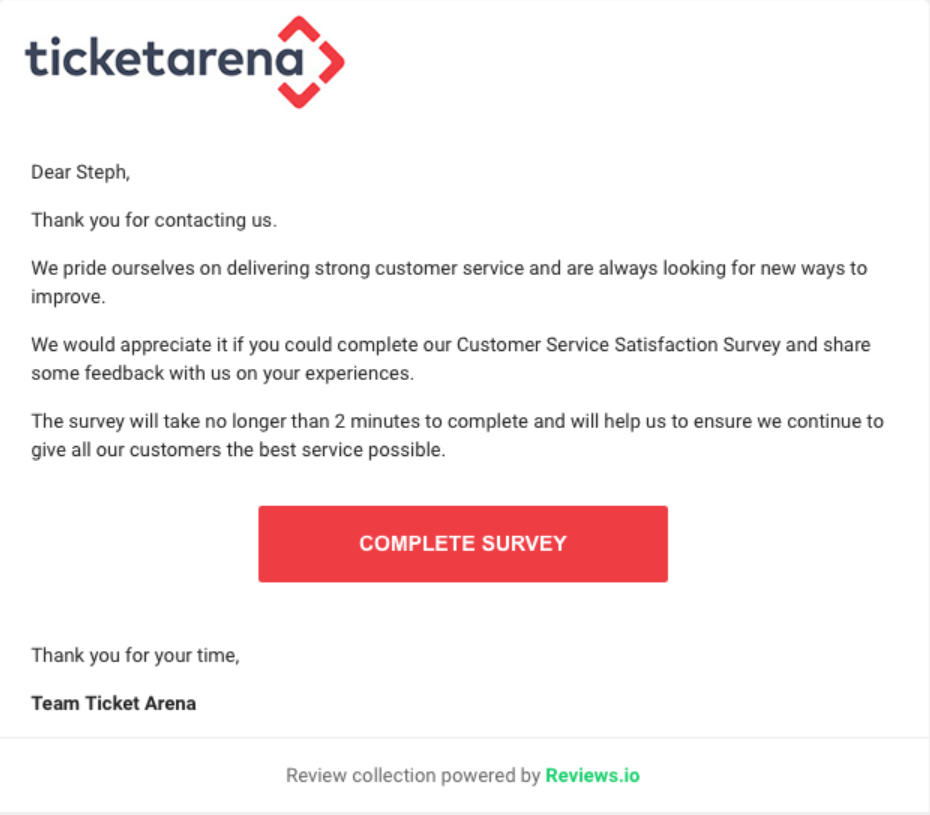 The email gets a lot of things right.
Beginning with an appreciation for the customer making the initial contact, the mail sets a good tone. Secondly, it invites the customer to share their feedback through a survey, explaining how it would lead to better service in the future. Lastly, it gives the customer a rough estimate of the time it will take to do so – in this case, just two minutes of their time.
Finally, the CTA button says "Complete Survey".
It might seem inconsequential, but a verb like "complete" helps the reader think that it will take just a few moments for them to answer a survey. Comparing this to verbs such as "start" or "fill out", which are more open-ended and could possibly imply a longer process than it actually is.
Wrapping Up
Triggered emails are an essential tool in marketing. They are a response to specific customer actions. This makes room for more engagement.
Unique aspects about this emailing system make it stand out. Personalized messages are more effective in converting customers and generating revenue. Having customized emails that are scheduled and sent automatically makes work easier and efficient.
In this guide, I shared six examples of triggered sales emails you could set up for your business. These sales emails correspond to specific stages in the customer's relationship with your business, starting with welcome emails and ending with review and feedback emails.
Through these emails, you can build stronger relationships with your prospects, encourage them to make or complete purchases, reassure them that their orders are on the way, and gather useful information about the way you do business.