Many people assume that the organization is half the battle.
Well, the organization is certainly a must if you want to run your website properly.
When you create your posts, articles, galleries, and similar, you have to maintain some order because it is the only way to keep consistency and not to confuse your visitors.
In the digital world today, everything is causal and consequential.
As we mentioned, if you stick to some kind of order, you will be able to maintain consistency, and if you maintain consistency, your visitors will know what they can expect from you and when, they will always return to your website, and search engines will award your presence.
Of course, your content must be interesting and valuable to your target audience. No one wants to spend time on something that is not worth their attention.
To be able to publish content with ease and keep your organization at a high level, a smart move is to use plugins that can be of great help to you.
One of these plugins is a Real Media Library, which you are probably already familiar with.
But, if you want to try some other plugins as well, here are some of the best alternatives to Real Media Library that you can find on the market.


Overview: Real Media Library
Real Media Library is a WordPress plugin that allows you to sort and categorize your images, files, and documents into folders.

This plugin is also very easy to use because of a drag and drop system. You can quickly create, rename, or delete folders.
You can also create dynamic galleries for your website.
Offered features:
Folders
Drag and drop system
Custom image order
List mode
Bulk selection
Multiple languages
Integrations
The pros and cons of Real Media Library
Here are the most important pros and cons of the Real Media Library plugin.
What are the pros?
Real Media Library is a very simple plugin and you can easily adapt to it.
If you are a developer, they offer you an opportunity to write add-ons and make your plugins compatible with theirs.
This plugin is compatible with all the most popular website themes and biggest page builders such as Visual Composer, Gutenberg, WPBakery, Elementor, and more.
It also has really reliable support.
What are the cons?
Real Media Library is a good option, but it also doesn't have some more outstanding features.
It is a pretty basic plugin with all the most important organization features.

After this short review, let's see which plugins deserve your attention.

Premio Folders is a modern WordPress plugin that can really help you to organize your posts, pages, images, and other files into folders and subfolders.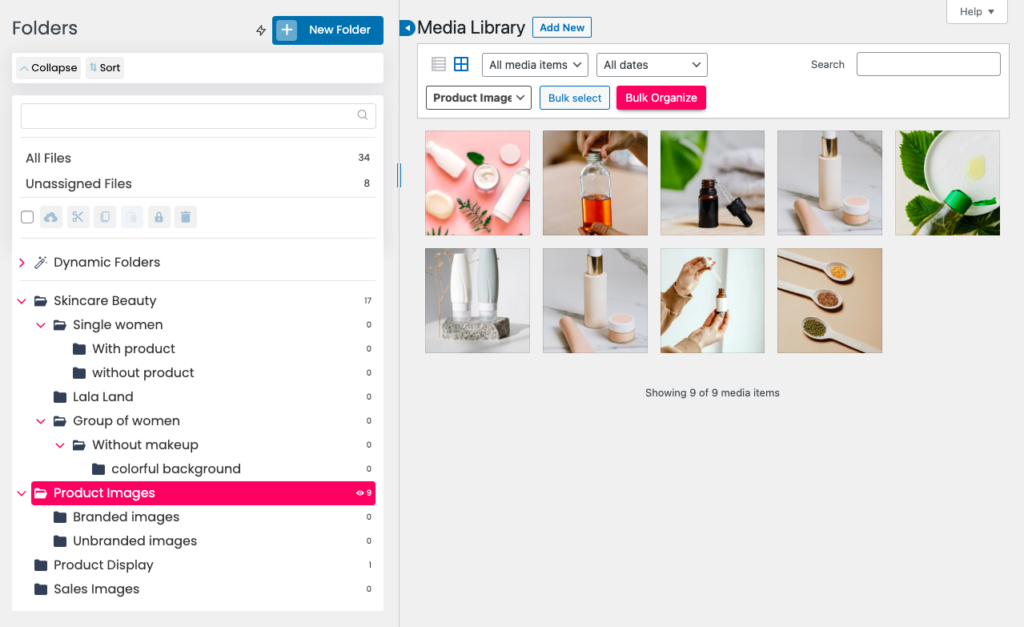 You just need to drag and drop files into directories, and you will save a lot of time.
The control tab is on the left side where you can access all important options for a better organization.
If you want to download multiple folders, you can download a ZIP file.
For the most important folders that you want to always be on the top of your list, there is a Sticky Folders option.
Offered features:
Folders and subfolders
Sticky folders
ZIP file
Drag and drop system
Bulk selection
Progress bar
Integrations
Pricing: Premio Folders has a free plan, and afterwards you can upgrade to some of the paid packages. Each paid package offers you the ability to create an unlimited number of folders.

Why is Premio Folders an excellent alternative to Real Media Library?
Premio folders plugin is an excellent alternative to Real Media Library because of its amazing features which will surely bring your organization to the next level.
Features such as sticky folders, ZIP files, bulk selection, direct uploads, and more are easy to use and intended to save you a lot of time.
If you want to track how your uploads are progressing, you can use a progress bar and see what is happening in real-time.
By adding stars, you will mark your most important directories.
This plugin is compatible with the most popular page builders such as Gutenberg, Elementor, Beaver Builder, and every WordPress theme you can choose.
Premium Folders are also 100% GDPR compliant.

WP Media Folder
WP Media Folder is a JoomUnited plugin that allows you to quickly organize your files and documents.

You can upload multiple files at once, make galleries, easily create folders and subfolders.
Every file you make can be customized with cover photos or coloured images.
Offered features:
Folders and subfolders
Customization
Drag and drop dashboard
Galleries
Integrations
Pricing: WP Media Folder offers three different packages to choose from.

Why is WP Media Folder an interesting alternative to Real Media Library?
WP Media Folder has some interesting features such as Gallery and Cloud addon.
It also allows you to create galleries directly from folders.
If you use editors for your website, you can give them restricted access based on their role in your team.
This plugin also has filters, so you can sort files according to their sizes, titles, or other categories.
WP Media Folder is an SEO friendly plugin and it is compatible with most important 3rd party plugins.

Imsanity
Imsanity is a WordPress plugin that automatically resizes images that you want to add on your website.

Large images can harm your website speed load which will impact users' experience.
If you already put effort and time into creating valuable and interesting content, it is a shame to turn visitors away just because of unnecessarily large-sized pictures.
Imsanity can help you with that, and, most importantly, it will not impair the quality of your images.

Offered features:
Image resizing
Bulk-resize
Files format converting
Why is Imsanity a great alternative to Real Media Library?
Imsanity is not a real substitute for the Real Media Library plugin but it is a great plugin for easily resizing your images, which is an extremely important part of the whole presentation of your content.
With Imsanity, you can also resize already uploaded pictures.
Images can be converted from BMP files to JPG and from PNG to JPG format in order to get higher compression.


The Bottom Line
If you already have your own website or you maintain websites for clients, you understand how important diligent organization is.
Sorting content into folders and subfolders will allow you to know exactly where every file you need is and it will save you time that you would have spent searching for it.
With these plugins, you can store and save all of your images, videos, textual content, graphics, data, and other documents and keep them in perfect order.
Your files would be easily categorized by size, dates, titles, types of content used or unused, or by whatever your needs are.
It is a wise move to use a plugin such as Premio Folders which has numerous features for more effective organization and ability to create an unlimited number of folders and subfolders.
When everything is thoroughly sorted, you are able to maintain productivity and consistency.
Your visitors will know that every time they enter your website there will be fresh content to attract their attention and intrigue them to return again and again.
Search engines will recognize the potential of your website and award you with a higher ranking, too!