How important is security for your WordPress website? After all, who'd want to steal all of your content?
Well, as it turns out – quite a few hackers are looking to infiltrate your WordPress site. In 2017, WordPress accounted for 83% of malware infections, which was an increase from 74% the year before.
And it's also found that 70% of more than 40K WordPress websites in Alexa top 1 million are vulnerable to hackers. Why is WordPress such a hot target?
Maybe because it's one of the most widely used platforms for building websites. Roughly 30.5% of all the sites on the Alexa top 10 million lists use WordPress. So it's evident that hackers to create malware for the largest website builder.
So, it would be best if you did whatever you could to safeguard your site from hacks. This is especially necessary if you have an e-commerce site that processes payment transactions and collects private information about customers.
This could ruin your business if you end up with data stolen, such as emails, names, addresses, credit card details, and so on.
But what can you do about it?
One option is to implement WordPress security plugins. There are a number of them available to choose from. Some allow you to keep track of activities to determine if the unauthorized use of your site has occurred.
And others offer file scanning, active website security check, firewalls, notifications of security threats, and more.
So let's review the top WordPress security plugins you should use for your WP site today.
Sucuri Security
Here's a WordPress plugin that helps with security on multiple fronts. For instance, it offers security hardening, remote malware scanning, file integrity monitoring, and activity auditing.
It comes with a free and paid version. However, many WP website owners prefer the free version. Now, if you want a firewall for your website, you will have to get the premium plugin.
If you choose the free edition, you will get the features above. This will allow you to keep an eye on the activity on your website. Then if there are users you want to blacklist, you can monitor this as well.
Whenever there's a potential security threat, you'll receive a notification.
It's important to note that you get more frequent scans with the paid plugin. For instance, for $17/mo, scans are performed every 12 hours. Some plans also offer advanced DDoS protection.
There are three plans available – Basic at $199/yr, Pro at $299/yr, and Business at $499/yr. You can also opt for custom solutions, such as multiple site monitoring, a dedicated support team, and more.
Wordfence Security
This WordPress plugin is quite popular among WP webmasters. This is likely because it comes with powerful protection capabilities.
For instance, it has login security tools to prevent unauthorized access. Plus, it comes with a security incident recovery tool to revert your site to its pre-hacked state.
But what sets this plugin apart is that it provides insight into the number of hack attempts and your traffic trends. This, too, comes with a free and paid version.
If you opt for the freebie plugin, you'll get enough juice to manage the security of a smaller website.
It's also a cheaper option for webmasters needing keys for multiple sites. They can sign up to get 25 keys at just $29/yr per site.
This makes it an excellent option for webmasters developing and managing various sites.
Some of the top features that come with Wordfence Security include:
Scan features that ward off malware, spam, and real-time threats.
Monitoring live traffic, including logins/logouts, bots, and Google crawl activity.
A full-fledged firewall suite equipped with tools that enable manual blocking, country blocking, real-time threat defense, brute force protection, and a web application firewall.
Mobile sign-in capabilities and password auditing.
Spam comment filter.
As for the pricing, you can expect to pay $89.10 per site. However, you can save money by purchasing 5 or more locations. The price drops to $84.15 to 5-9 sites, $79.20 for 10-14 sites, and $74.25 for 15+ sites.
Jetpack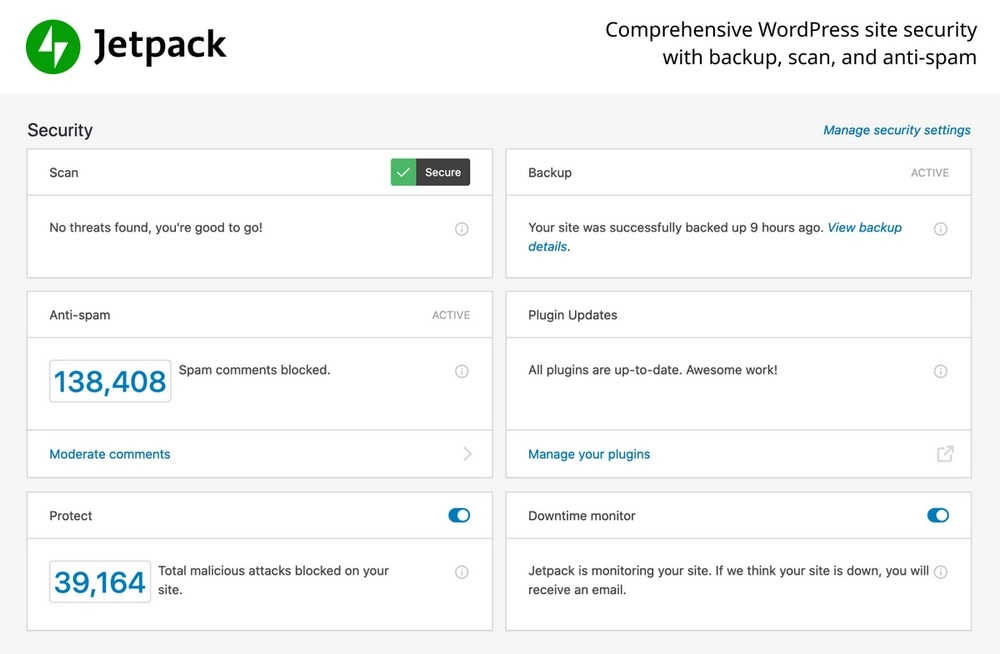 A lot of WP site owners are familiar with Jetpack – this plugin was created by Automatic (WordPress.com). Its features include spam protection, social media automation tools, and site speed monitoring and boosting.
However, it's the security features we're here to talk about. You'll find this plugin is an affordable yet reliable choice. It comes with the Protect module free of charge, which handles blocking suspicious activity.
There's also whitelisting and brute force attack protection within its essential security functions. For just $99/yr, you get all of the robust security features you need.
This includes scheduled website backups, malware scanning, and restoration. Then if you opt for the $200/yr option, you get access to on-demand malware scans and real-time backups.
Like the others, you can get a fair amount of security with the free version of the plugin. But you'll get full support by upgrading to one of the premium plans. These will grant you security scanning, backups, and even spam protection.
Then you also get downtime monitoring for your site – after all, maintaining max uptime is key to keeping your visitors happy.
This plugin is consistently updated, so you'll always have security that works.
It is a popular go-to because it comes with features that eliminate the need for other plugins, such as site customization, email marketing, social media, and SEO.
iThemes Security
No, this isn't an Apple security plugin for WordPress. But it's just as impressive as the famous Macintosh brand.
You may know it by its former name Better WP Security. It has more than 30 features that help protect your WordPress website.
For instance, it helps you to stop unwanted intruders and hacks. Plus, it can spot vulnerabilities in the plugin and weak passwords.
You can find many great features in the free plugin, but it's recommended that you get the paid version. There are three options to choose from Blogger at $80/yr (1 site), Freelancer at $127/yr (10 sites), and Gold at $197/yr (unlimited sites).
The free version comes with strong protection features, with strong password enforcement, database backups, two-step authentication, and monitoring for suspicious users.
But you won't get the same power as the paid plugin, which has 30 security measures. For example, it has file change detection and updates for your WP salts and keys to provide an additional layer of security for your authentication keys, and you can block all users. In contrast, the site isn't updated using the "Away Mode."
You can also detect 404 errors that frequently occur in a short time. In this case, it may be a user scanning your pages for vulnerabilities. When this is seen, the user is locked out.
SecuPress
This plugin hasn't been on the market long, but it's already making splashes in the sea of WordPress security plugins. This comes with a user-friendly interface, and it, too, has a free and paid version.
With the freemium plugin, you get access to the firewall, IP blocking features and anti-brute force login. Then you also get security keys and the ability to block bad bots from visiting your site.
Usually, these don't come free in security plugins for WordPress.
So if you want more security for your WP website, you'll want to go with the paid version, which can run you $70/yr for one site. The price goes down to $18/yr per site for five sites.
So this is a good option for web developers.
With a license, you get access to anti-spam, GeoIP blocking, PDF reports, PHP malware scans, two-factor authentication, and task scheduling, to name a few.
You can quickly check 35 security points within 5 minutes, which is generated into a PDF report. Then if you like to switch themes and plugins a lot, this tool will detect vulnerabilities in them before you download.
Start Protecting Your WordPress Website Today
If you're the owner or developer of a WordPress website, then there's no time to waste. Allowing your website to sit unsecured is a problem waiting to happen.
This list is just some of the leading WordPress security plugins today.
So check them out to see if they work for you. Then if you'd like to find more WordPress plugins, feel free to stop by Premio!