Black Friday is almost here, and your Shopify store needs to be well-prepared to make the most of this massive shopping event. To do that you'll want to have the right tools at your disposal. In this article, we'll introduce you to seven essential Shopify apps that will boost your Black Friday sales. These apps can help you with tasks like getting noticed on search engines, talking to customers in real-time, keeping your data safe, and creating attractive discounts. With these tools, your business will not just survive Black Friday – it will thrive! Your customers will also have a great shopping experience, which can make them loyal customers. Ready to learn about these apps? Let's get started!
#1. Tiny: SEO Image
Black Friday is usually super competitive. To get noticed, your online store needs to show up when people search for products. That's where Search Engine Optimization (SEO) comes in. It helps your store appear higher in search results, so more people see it.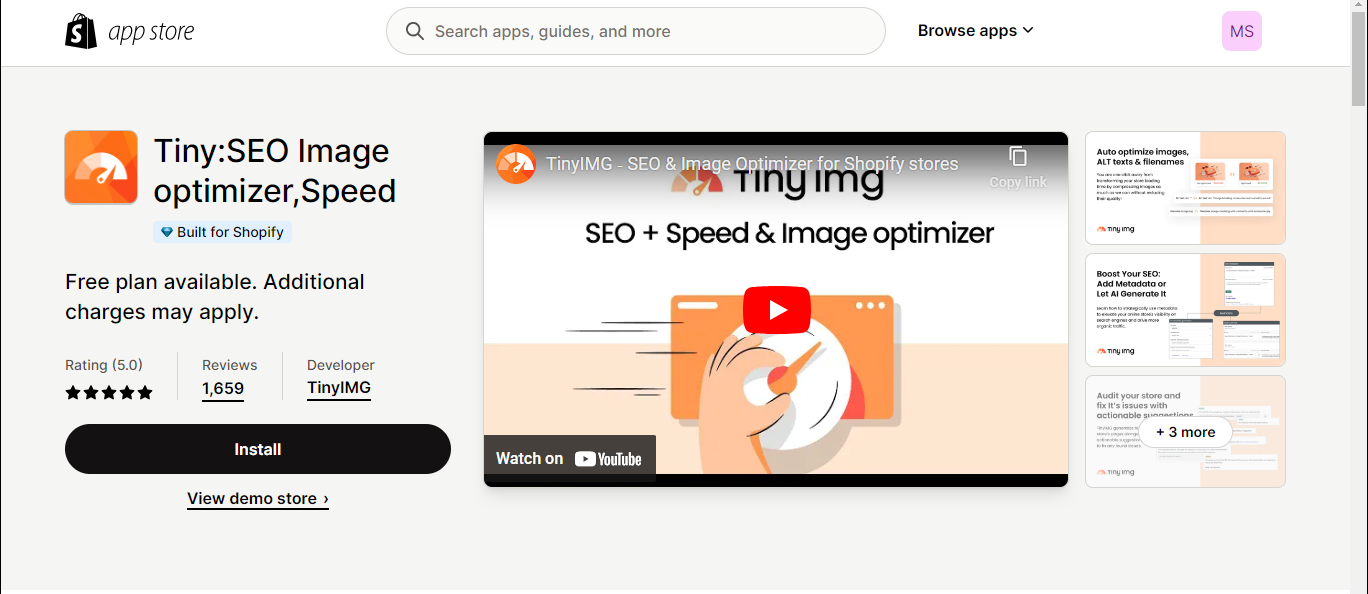 What you should do is make your product pages and content easy for potential customers to find. The Tiny: SEO Image app is a helpful tool for this. It gives you tips and insights to improve your site's SEO. This means your products are more likely to show up when shoppers are looking for deals during Black Friday.
Pricing:
Pay As You Go- Free to install
24 Months- $2.49/month- Billed every 24 months
Beginner- $9.99/month- Billed every month
Advanced- $19.99/month- Billed every month
#2. Chatway
As Black Friday gets closer, you'll want a high quality live chat app for excellent customer service. If your Shopify store isn't already using Chatway, now's the perfect time to start.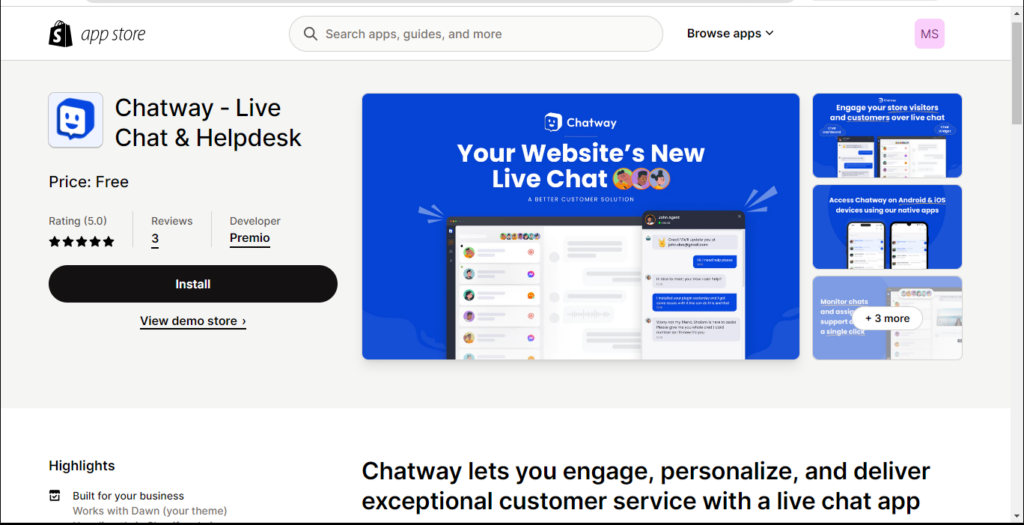 With Chatway for Shopify app, you can easily talk to your Black Friday shoppers and help them right away. This app tells you useful things about the people visiting your website, like where they are and what pages they're looking at. This helps your support team understand what the customers need. The app works on Android and iOS phones, so you can talk to customers on the go. The best part is, all of Chatway's features are free to use. So, you can try it without any worries.
A quick summary of Chatway's features :
Real-Time Customer Engagement
Customer Insights with their data, location, email address, device details and pages visited.
Seamless Integration with Facebook Messenger, Shopify, Wix etc
Excellent File Sharing within the chat
Email Notifications
Custom Branding Options
Multiple Agents
Private Notes
Team Collaboration
Support Activity Overview
Mobile App for Android and iPhone
Pricing: Free!
#3.Coupon X
Are you looking for a way to inform your customers of your Black Friday deals right on your homepage? Look no further than Coupon X. This app allows you to create & customize discount code popups, coupon codes, and promos on your Shopify store.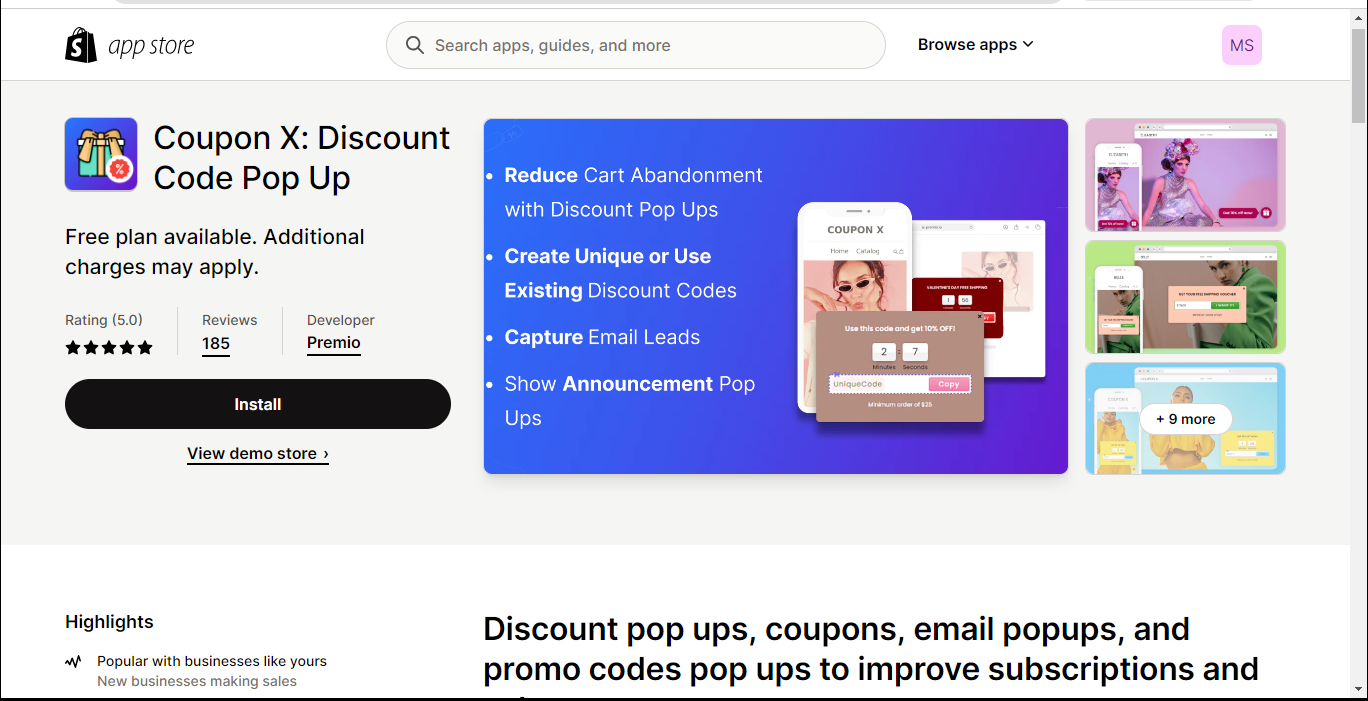 These discount popups and coupons can help you improve your sales, reduce cart abandonment , boost engagement and drive more email signups, especially when you use the countdown timer feature. With features that are user-friendly and interactive you can easily create discount code pop ups to attract new visitors to purchase & reward repeat customers.
Pricing:
Free
Basic- $9/month or $90/year and save 17%
Pro- $25/month or $250/year and save 17%
Growth- $49/month or $490/year and save 17%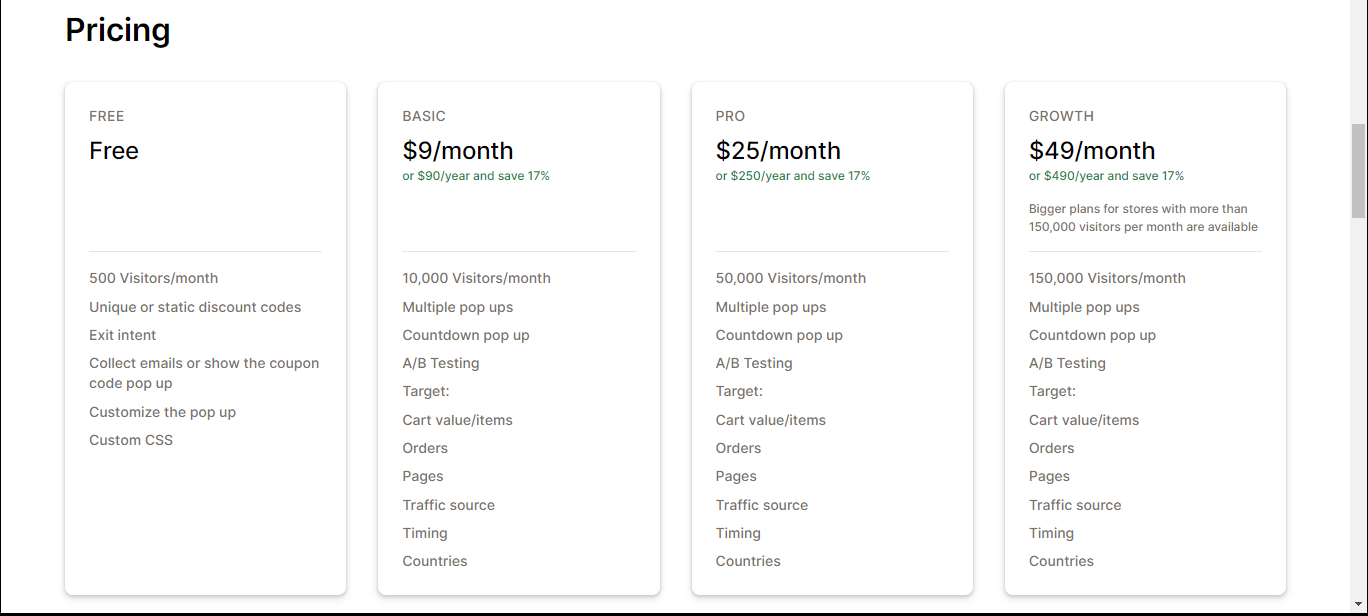 #4. Poptin
Poptin is a conversion optimization tool that helps you create smart pop-ups that can grab your visitors' attention and keep them engaged. These can be used to collect contact information, prevent people from leaving your site, and make more sales during Black Friday.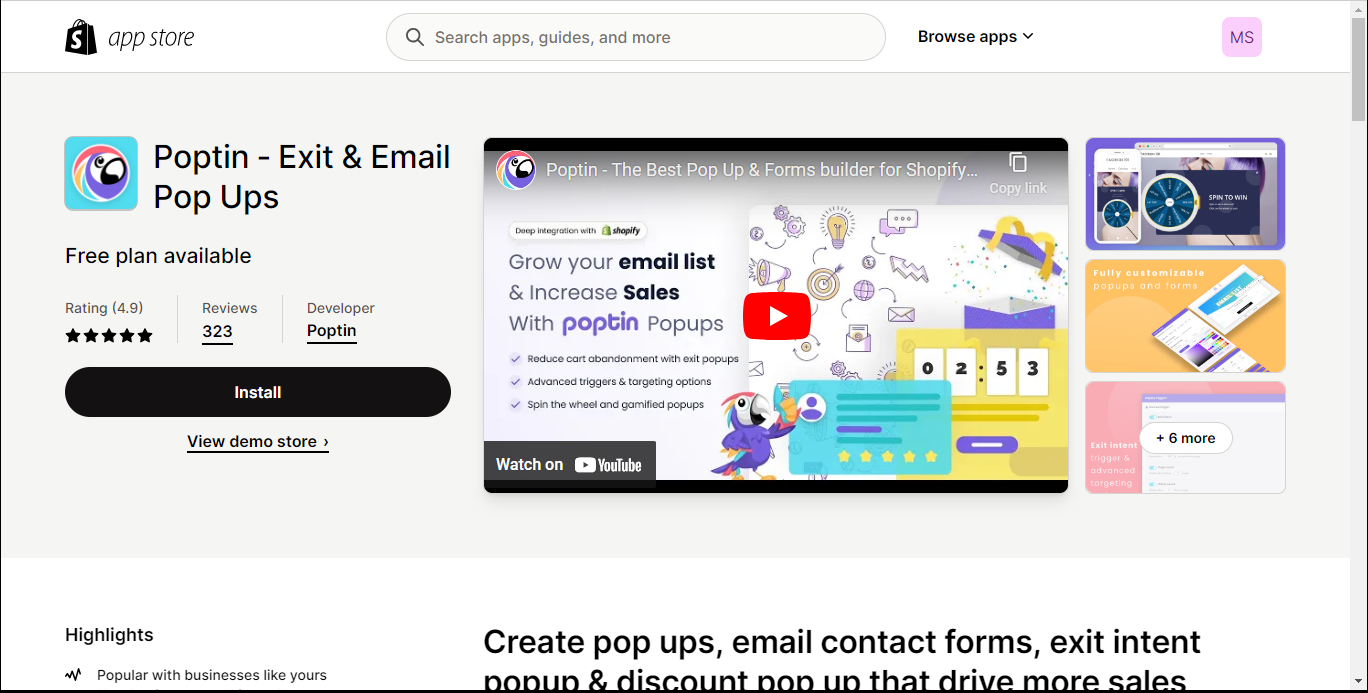 Here's a summary of what you can do with Poptin:
Create exit intent pop ups, email contact forms, coupon pop ups, opt ins & spin the wheel gamified pop ups.
Integrate popups, website forms & sticky bars to your email/CRM tools
Optimize your pop ups with triggers & targeting rules to convert quality leads
Improve your pop ups and forms using A/B testing & analytics
Create autoresponders.
Free Plan
Basic Plan- $25/month or $240/year and save 20%
Pro Plan- $59/month or $564/year and save 20%
Agency Plan- $119/month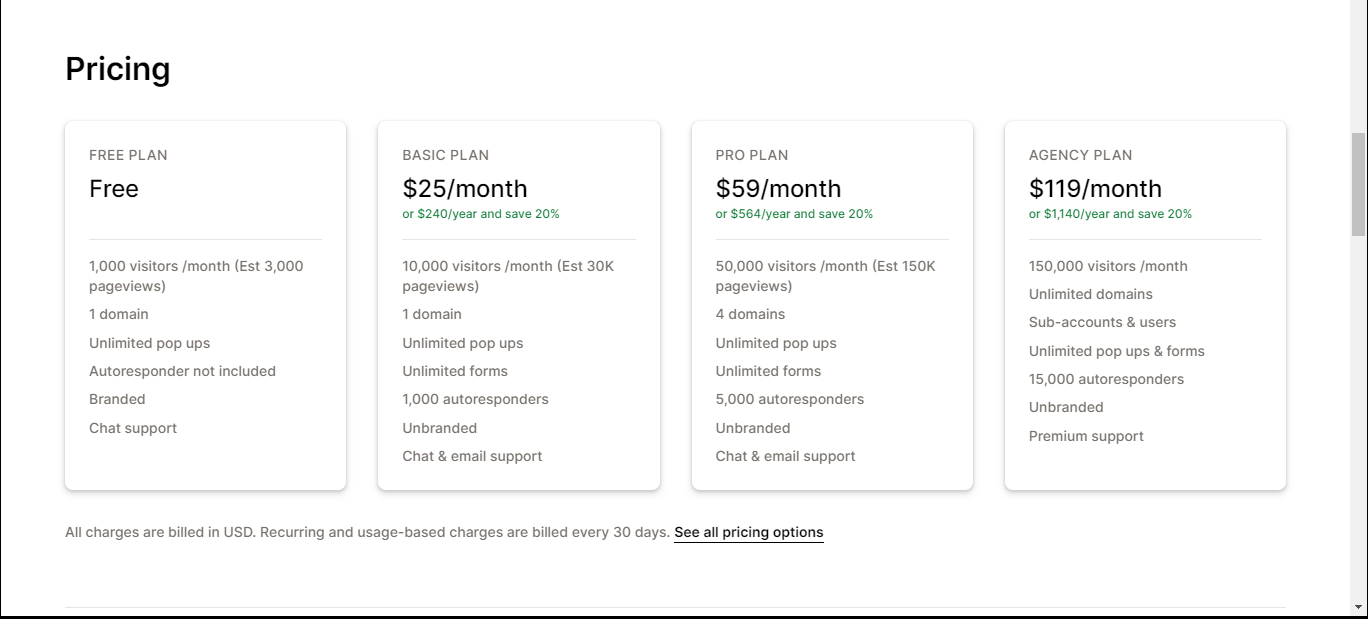 #5. Chaty
Chaty is an all-in-one chat widget that lets customers communicate with you via their preferred messaging app: WhatsApp widget, Facebook Messenger, SMS, email, Viber, phone, WeChat, Skype, Line, Instagram, TikTok, Telegram, & more. You can also add a contact form, a call now button, and a click-to-call button.
This helps you boost sales, generate leads, and improve customer support.
Other things you can do with Chaty:
Tailor your chat widget to match your Black Friday branding – from font and color to positioning, icons, and welcoming messages.
Gain insights into your Black Friday customer interactions by tracking and analyzing them through Google Analytics.
Display the WhatsApp icon and chat buttons on both mobile and desktop platforms using triggers and targeting rules.
Add a pre set tag to the customer's message when they click the WhatsApp chat button. This helps in identifying the page the visitor visited right before clicking the button and allows you to easily provide better assistance.
Free- 500 Visitors/month
Basic- $15/month or $150/year and save 17%- 10,000 Visitors/mo
Pro- $39/month or $390/year and save 17%- 50,000 Visitors/mo
Growth- $79/month or $790/year and save 17%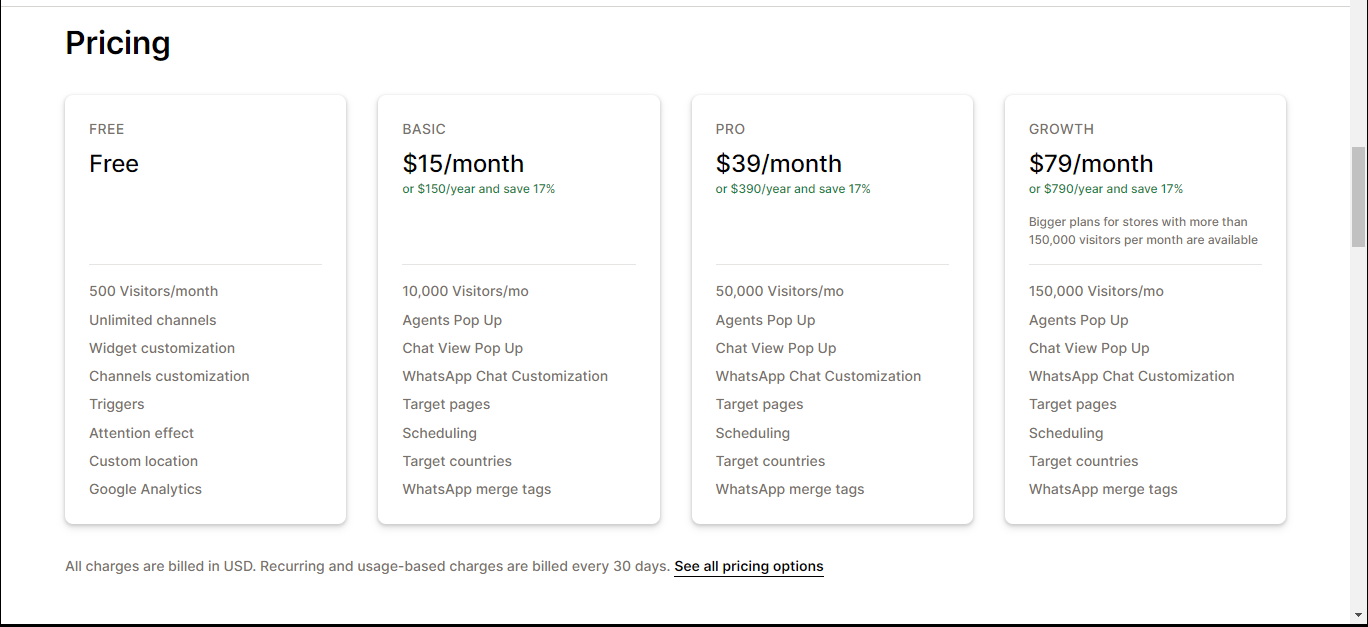 #6. AfterShip Returns
In the pursuit of attracting customers and increasing sales during Black Friday, it's easy to overlook the aspect of handling returns effectively. However, focusing on returns management can be a game-changer for businesses. AfterShip Returns helps to make this process easier for you.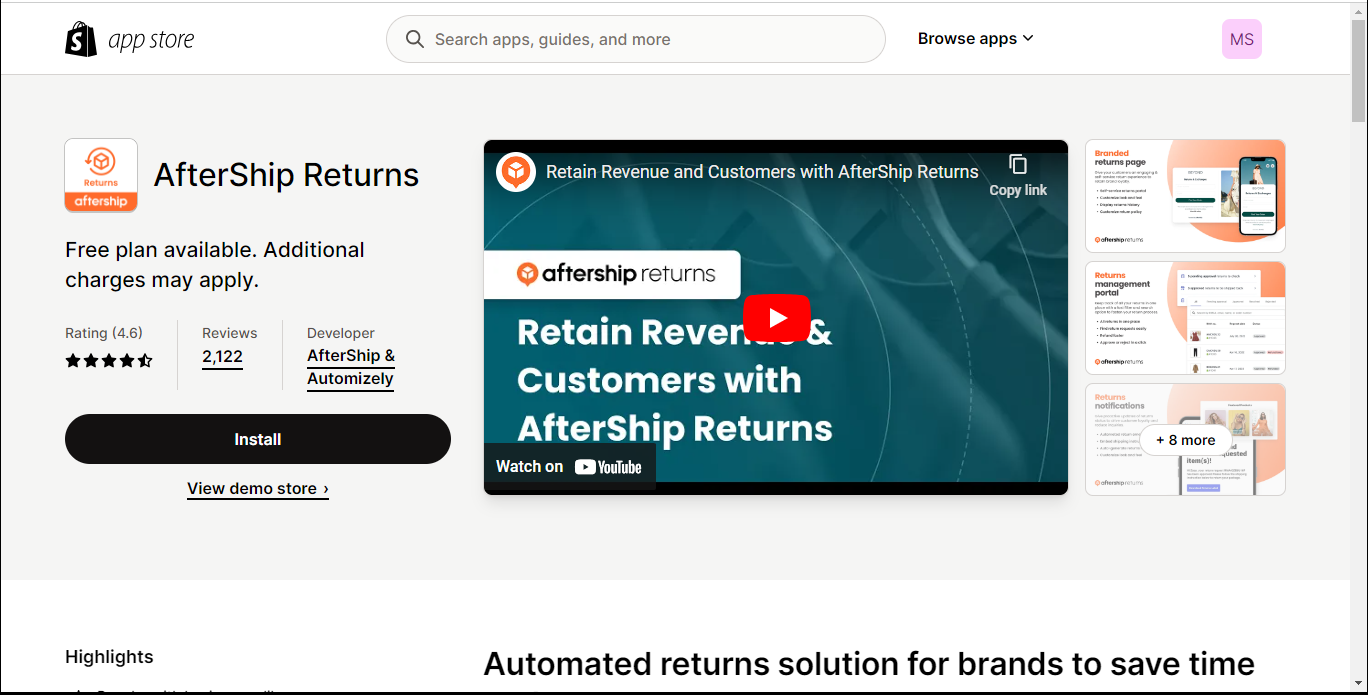 Pricing:
Free- Free to install
Essentials- $35/month or $348/year and save 17%
Premium- $239/month or $2,388/year and save 17%
#7. Rewind Backups
Lastly, ensuring the safety and security of your store's data is important. Black Friday can put immense strain on your website, and the last thing you want is to lose important data.
Rewind Backups is a backup and recovery plugin that protects your store by automatically backing up product listings, customer data, and more. In the event of data loss or errors, you can easily restore your store to its previous state, ensuring business continuity.
Pricing
Standard- $9/month
Pro- $39/month
Business- $59/month
Protection Suite- $79/month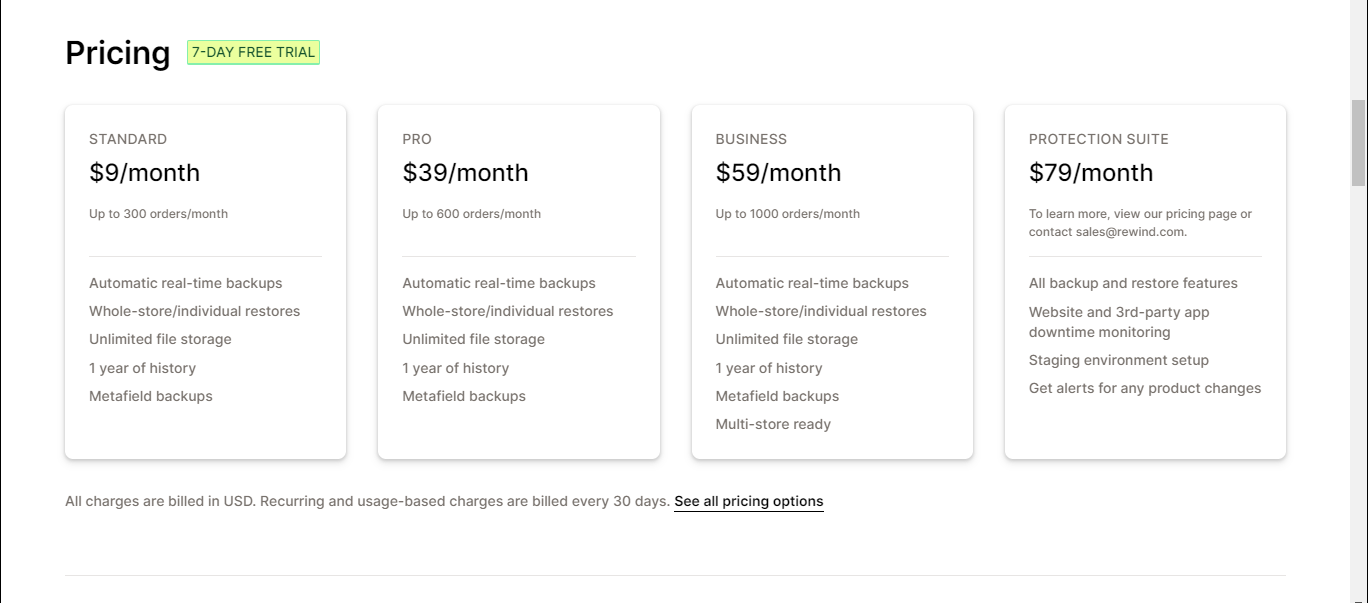 Additional Tips for Black Friday Success
Strategic Product Selection: Carefully curate the products you intend to feature for Black Friday. Focus on items that are likely to generate the most interest and sales. Consider highlighting your best-sellers, exclusive products, or seasonal items.
Pricing and Discount Strategy: Plan your discount pricing strategy well in advance. Ensure that your discounts are competitive, yet still profitable. Be transparent with your customers about the savings they can expect to receive.
Inventory Management: Maintain a real-time inventory management system to prevent overselling and ensure product availability. Monitor stock levels closely throughout the event and consider using an inventory management plugin to automate this process.
Shipping and Fulfillment: Prepare your shipping and fulfillment processes to handle the increased demand. Communicate clear shipping deadlines and options to customers, and consider offering expedited shipping for those seeking faster delivery.
Promotional Material: Create exciting promotional material in the form of banners, social media graphics, and email templates. Ensure that your website and marketing channels are aesthetically cohesive and that Black Friday promotions are prominently featured.
User Experience (UX): Optimize the user experience on your website. Ensure that your website is easy to navigate, loads quickly, and is mobile-responsive. Simplify the checkout process to minimize cart abandonment.
By implementing these tips, you will not only survive the challenges of Black Friday but also thrive, maximize sales, and deliver an exceptional shopping experience to your customers.
Conclusion
As a Shopify store owner, preparing for Black Friday can be a daunting task, but it doesn't have to be. These seven essential Shopify apps are here to simplify and improve your Black Friday preparations. Incorporating these apps into your arsenal will not only improve your store's performance during Black Friday but also provide a lasting impact on your business's success beyond the sales season. So, gear up, install these apps on Shopify, and get ready to make the most of Black Friday.