Today, thanks to the digital world, you don't need to have a physical store. You can make an e-commerce website on the Shopify platform and run your business online.
Having an online store has a great impact on different costs and taxes, but still, your store should be both optimized and user-friendly.
No matter which niche is the one you chose, your website store should be interesting to your customers.
Pop-ups can help you to present your offers in different engaging ways.
Those could be:
Newsletter subscriptions
Discounts or promos
Downloads of guides or demos
Direct purchase
Possibilities are numerous and it is your choice only which one will you decide to use in your advance. And the best thing is that you don't need to do it all by yourself!
Numerous tools can help you to create effective pop-up windows.
Here are the best pop up apps for Shopify.
Premio has different plugins to choose from and one of them is Subscribe Forms. You can also combine this app with some of other Premio plugins:
Мy Sticky Menu
Sticky Elements
Chaty
301 Redirects
Stars Testimonials
Folders
WP Sticky Sidebar
Social Share Buttons
Subscribe Forms app has different effective templates to choose from. They are simple but also very visually appealing.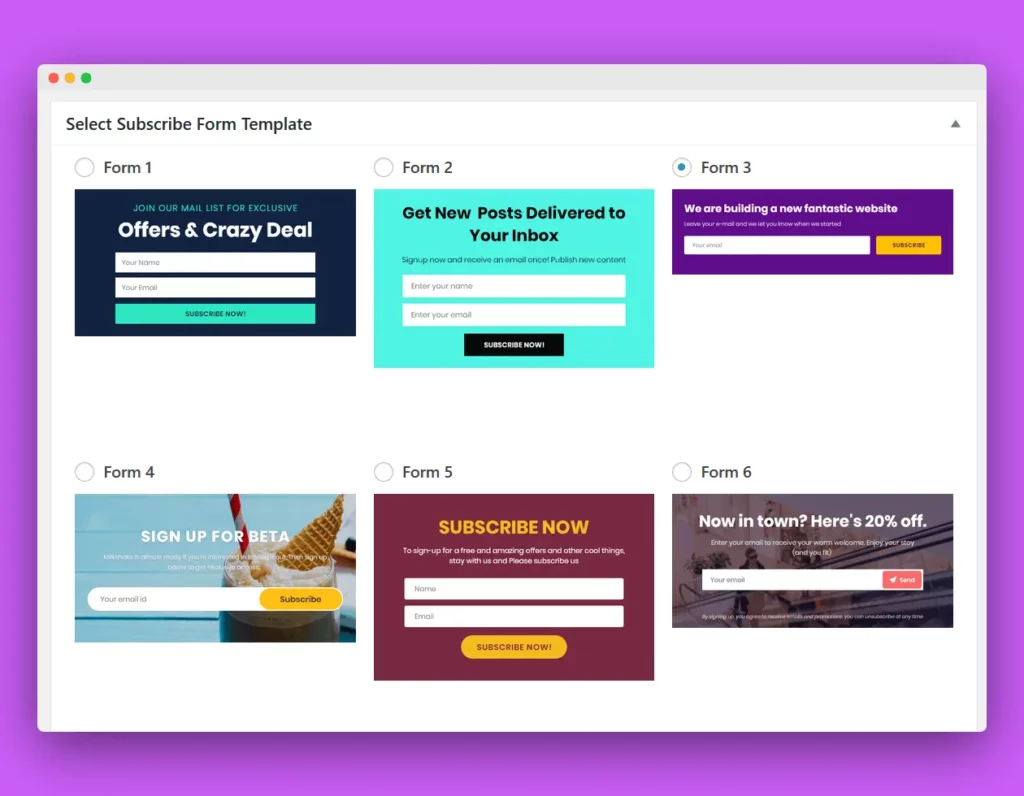 All forms are fully customizable and responsive.
Offered features:
Customization
Templates
Widget supported
Shortcodes
Integrations
What are the advantages?
Subscribe Forms have a simple design and fields are not complicated for visitors to fulfill them.
Thanks to shortcodes, you can show your forms on any part of your website.
This plugin is compatible with MailChimp, ActiveCampaign, GetResponse, ConvertKit, and other important e-mail platforms.
What are the disadvantages?
Analytics is the main disadvantage of this app because it is not one of its main focuses.
Subscribe Forms' pricing
You can try out the free plan or choose some of the paid plans starting from $19 per year.
Why is Subscribe Forms the must-try pop up apps for Shopify?
You can create custom backgrounds, choose adequate colors, and create a form according to your needs.
All of your subscribers can be exported with CSV files. You can import them into any e-mailing platform you use at the moment.
After the visitor's submission, you can redirect them to the wanted URL or a "Thank you" page.
Subscribe Forms' ratings
Here are the ratings of Subscribe Forms:
Ease of use: 5
Customization level: 5
Visual appeal: 5
Features: 4
Integrations: 5
Customer support: 5
Pricing: 5
Total: 4.9/5
Poptin is an all-in-one pop-up solution. It combines three different products:
Engaging website pop-ups
Website embedded forms
Autoresponder for automatic e-mails
The creation of a pop-up itself is happening in a simple drag-and-drop editor.
Easily add background design by choosing only the wanted color or a photo from your gallery.
In a couple of clicks, you can customize your pop-up without any designing skills.
Poptin also offers different types of pop-ups. Some of the Poptin's pop-up forms are:
Lightboxes
Floating bars
Fullscreen
Slide-in pop-ups
Big sidebars
Countdown pop-ups
Social widgets
Top and bottom bars
In the picture below, you can see an example of how one of the Poptin fullscreen pop-ups looks like:
It is important to keep in mind that every part of a pop-up is fully customizable.
Offered features:
Drag & drop editor
High level of customization
Smart triggering options
Smart targeting options
Statistics
Different types of pop-ups
Customer support
Integrations
Advantages of Poptin
Poptin has advanced triggering and targeting options. That means you can set up when your pop-up will appear and who will see it first.
Statistics are also one of the great sides of Poptin because you can learn more about your customers and their behavior.
Disadvantages of Poptin
The editor can freeze from time to time because of the new updates. In that case, you need to refresh the tool.
Poptin's pricing
If you decide to use Poptin, you can choose between a free plan or you can choose some of the paid ones.
Why is the Poptin one of the perfect pop up apps for Shopify?
Pop-ups made with Poptin are visually appealing and can easily grab your customers' attention.
One of the main features is A/B testing which helps you choose the pop-up with the best results. When you find out which pop-up is performing the best, you can use it in your future campaigns.
Chat support is reliable and available via chat, phone, and e-mail.
Poptin's ratings
Let's look at Poptin's ratings following the next criteria:
Ease of use: 4
Customization level: 5
Visual appeal: 5
Features: 5
Integrations: 5
Customer support: 5
Pricing: 5
Total: 4.9/5
Getsitecontrol
Getsitecontrol is another tool that can help you grow e-mail list and get higher ROI.
This app includes several important things:
Pop-ups
Live chats
Surveys
Social share widgets
It is up to you to choose whether you would rather make a pop-up from scratch or use some of the templates from the Getsitecontrol template library.
Getsitecontrol's features:
Template gallery
A/B testing
CSS editor
Multipage widgets
Triggering and targeting options
Autoresponder
Integrations
What are the advantages?
Getsitecontrol has great features that can help you to make a user-friendly website experience.
This app is very simple and easy to use when it comes to implementing its pop-ups on your website.
What are the disadvantages?
Customization is a very important part if you decide to use pop-up windows. It lacks these options, which can be a problem if you want to create a pop-up entirely as you envisioned it.
Pricing
Getsitecontrol has a simple pricing plan.
Why is the Getsitecontrol the great pop up app for Shopify?
Getsitecontrol has a built-in CSS editor. You can use it to change text, color, animations, and more.
There are different targeting options to choose from.
You can easily create time-limited offers and schedule them to appear to your visitors at certain times.
Getsitecontrol's ratings
Here are the ratings for Getsitecontrol:
Ease of use: 5
Customization level: 4
Visual appeal: 4
Features: 4
Integrations: 5
Customer support: 5
Pricing: 5
Total: 4.6/5
Justuno
Justuno is one of the pop up apps for Shopify that operates on the principle of AI or artificial intelligence.
Thanks to that, it recognizes every visitor that enters your website and reveals their identity.
Justuno has an editor with customizing options on each side of the dashboard.
Offered features:
Pop-ups
Push-up notifications
Geo-targeting
Design canvas
A/B testing
Targeting options
Triggering options
Analytics
Integrations
Advantages of using Justuno
Justuno provides you with an option to choose to whom you want to show your pop-up, based on age. This is a great option if you are selling some products that are age-restricted.
Some of the pop-up forms you can create with Justuno are:
Countdown timers
Cross-selling forms
Exit offers
Upselling forms
Banners
This pop-up for Shopify has many customizing options that can help you make your pop-ups visually effective.
Disadvantages of using Justuno
Be careful when setting pop-up because your pop-up may appear to the same visitors too many times.
Justuno's pricing
Justuno is a tool with numerous paid plans to choose from. You can see some of them below.
Why is Justuno another interesting pop-up app for Shopify?
Justuno has some very interesting types of pop-ups that can help you make your website look more interesting to your visitors.
There are numerous features and you should use them all in your advance.
If you want to offer free shipping for just some countries, for example, you can use geo-targeting.
Justuno has integrations with HubSpot, Shopify, and many other important platforms.
Justuno's ratings
Let's see how Justuno appears following the criteria:
Ease of use: 3
Customization level: 5
Visual appeal: 5
Features: 5
Integrations: 5
Customer support: 4
Pricing: 4
Total: 4.4/5
The bottom line
Even though running an e-commerce website as your online store doesn't bring the same kind of issues as running a physical store, this way of doing business can be a challenging task, too.
Fortunately, there are some tips and tricks such as using pop-ups, to help you create a successful strategy.
Use these pop up apps for Shopify to achieve more with less time and effort.
If you are looking for a simple but powerful solution, try out Subscribe Forms right away.
Bring your e-commerce business to the next level!