Have you ever experienced frustration when encountering issues while shopping online? That's terrible, right! And for sure, you don't want that happening to any of your online shoppers as well. In situations like that, we want an immediate solution.
One way to eliminate client frustration is to implement live chat on your website, which allows customers to quickly and easily get in touch with a representative for assistance or support. This can help to resolve issues in real-time and improve the overall customer experience.
Many chat plugins are available on Shopify, and the top choices will depend on your specific needs and requirements.
Lucky for you, we've collated some of the top chat plugins on Shopify that offer a wide range of tools and features to supercharge your website performance this year.
Why is live chat necessary on your Shopify website?
Chat is the most popular customer communication channel.
When designing an eCommerce website, it's essential to focus not only on the visual appeal and product offerings but also on ways to increase conversions. Otherwise, everything will just be nonsense.
One way to do this is by adding a live chat feature to your website. Live chat can help to remove buying objections and increase credibility, leading to higher conversion rates.
In fact, research shows that people who chat with customer support agents during the purchasing process tend to spend 60% more per purchase.
Ultimately, live chat can improve customer support. You can also increase engagement. It makes it easier for visitors to ask questions or get help, which can lead to increased satisfaction and loyalty among your visitors. Plus, live chat can enhance the overall user experience. It provides a quick and easy way for visitors to get the information they need, which can reduce frustration and streamline your customer support process.
So, if you're business is experiencing high volume of chats and leaving some unanswered, or if it takes your team to reply to queries, you might consider some pretty powerful chat plugins on Shopify to help you solve the root problem. Here's the top 3:
Top 3 Chat Plugins on Shopify
1. Chatway
Chatway is a cutting-edge live chat plugin designed to empower your Shopify store with enhanced customer communication and engagement.
With its user-friendly interface and powerful features, Chatway ensures that your online visitors have a seamless and interactive shopping experience.
Here's why Chatway should be at the top of your list when considering a live chat solution for your Shopify store:
Real-Time Customer Support: Instantly connect with your customers and provide real-time assistance, addressing their queries and concerns promptly. Chatway enables you to be there for your customers when they need you the most, enhancing their shopping experience.
Increased Conversion Rates: Engage with potential buyers at the right moment, guide them through the purchasing process, and reduce cart abandonment. Chatway's proactive approach can help boost your conversion rates by turning hesitant visitors into satisfied customers.
Easy Installation and Integration: Setting up Chatway on your Shopify store is a breeze, thanks to its intuitive interface and straightforward integration process. You don't need to be a tech expert to start enjoying its benefits.
Mobile App available: With the increasing use of mobile devices, Chatway ensures that you can provide excellent customer support on the go.
Pricing: Chatway is available for free. Try it here!
Chaty is a fantastic chat app for Shopify stores. It allows you to add a live chat widget to your website, including 20+ communication platforms and social widgets.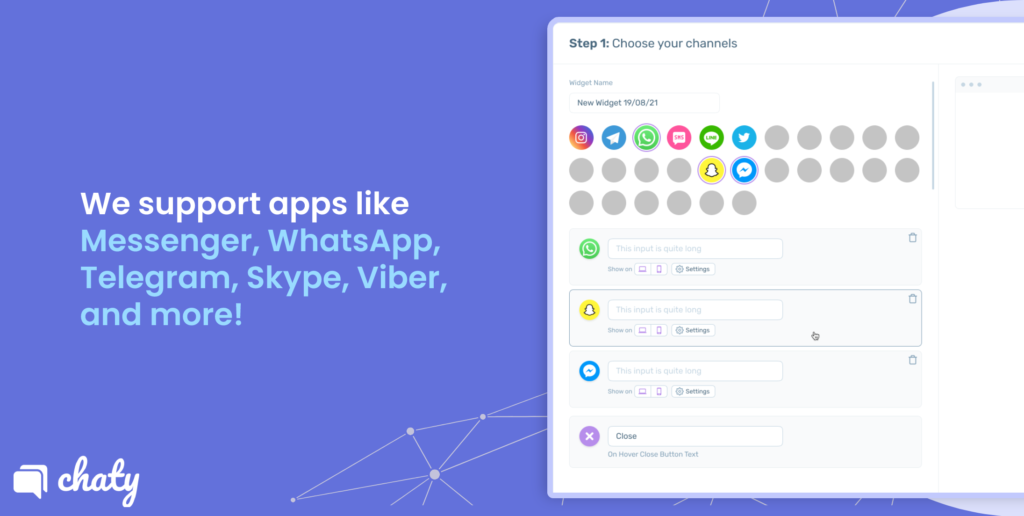 Among the most common widgets available on Chaty are WhatsApp chat, Facebook Messenger, Skype, Telegram, WeChat, Line, SMS, email, call button, and contact forms. This allows you to communicate with your visitors in the channels they prefer, even if they have left your website already. Chaty includes the following cool features:
Customize your Chaty the way you want it, including fonts, colors, size, position, texts, and more.
Create a chat widget with multiple platforms for easy and fast customer support
Choose from more than 20 chat buttons and communication platforms, including WhatsApp chat and Facebook Messenger.
Google Analytics integration for easy tracking
Preset messages
WhatsApp popup, for paid users
Multiple agents feature for easy delegation and faster response time
Device compatibility
Behavioural triggers
Targeting rules
Ability to add custom channels
Pricing
Chaty is free to use. Its paid plans start at $9 a month. See full pricing here.
Tidio
Tidio is a customer communication platform that allows businesses to communicate with their customers through various channels, including email, chat, and social media. The platform offers a range of features and tools to help businesses streamline their communication and improve customer engagement.
Tidio aims to provide businesses with a single platform for managing all their customer communication needs, allowing them to connect with customers and quickly improve their experience.
Top Features
Live chat
Sales Chatbots
Integration with popular CRM
Ticketing
Analytics
Tidio AI Response bots
Pricing
Tidio is free to use. Paid plans start at $15.33 a month.
Gorgias Helpdesk and Live Chat
Gorgias is a customer service platform that helps businesses streamline customer interactions and improve support operations. The platform offers a range of features, including a helpdesk, live chat, and integrations with popular CRM and e-commerce platforms.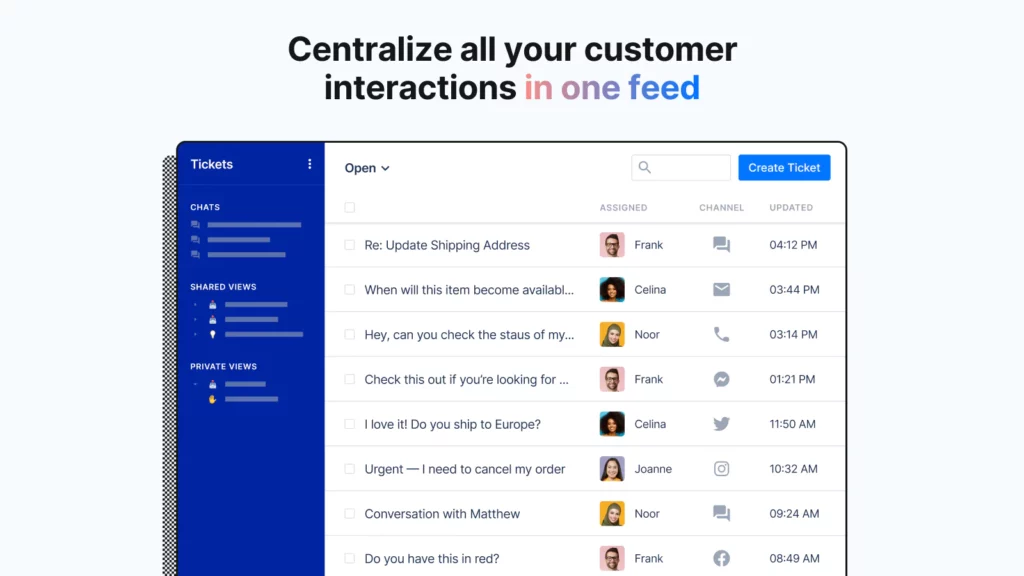 The helpdesk feature is handy for organizing and tracking customer inquiries. And the live chat feature lets businesses communicate with customers in real-time, which can be a big help when they need immediate assistance. Plus, the integrations with CRM and e-commerce platforms make connecting customer service with other business processes easy.
Top Features
All types of communications in one single platform
Get full context about the customer, including conversation and purchase history
You can view, edit and cancel orders
Improve customer support with live metrics
Save time and speed up support with self-service menus
Pricing
Gorgias has a 7-day free trial. Its Starter plan starts at $10 a month.
Final Thoughts
Live chat is such a great tool for e-commerce businesses, and it can be a real game-changer for your Shopify store! By allowing customers to chat with you in real time, you can provide them with immediate assistance and support, which can help improve their overall experience and keep them coming back. Not to mention, live chat can also help reduce abandoned carts and increase conversions by providing customers with the help they need when they need it.
And with the top 3 chat plugins on Shopify, you can gather valuable insights into what they're looking for and use this information to improve your products and services. Plus, who doesn't love a little friendly chat with their customers? It's a win-win for everyone!
Tip: For a fast, easy, and free chat app for Shopify, head on to Chaty. It has all the amazing tools you need to improve your chat conversion rate efficiently and affordably. Try it here.