Don't have an official WordPress website for your business yet?
What is WordPress?
WordPress is an open-source content management system licensed under GPLv2. This means that anyone can use and modify the WordPress software for free.
In simple words, WordPress is software that can be used to develop websites. It is the simplest and the most used software to develop websites or blogs. In fact, WordPress powers over 37.6% of all the websites on the Internet. This means 1 or more websites in every 4 websites is powered by WordPress. This is the power of WordPress.

Matt Mullenweg and Mike Little created the first version of WordPress in 2003. It was developed as a platform that lets users upload their blogs on the web, but gradually it transformed into a powerful and flexible tool that can be used to develop any type of website.
Types of WordPress Website you can make:
Thanks to the changes in the core code, WordPress can now be used to create any type of website that you want. WordPress is not limited to developing business websites or blogs, it is also used to create huge E-commerce stores. Here is a list of websites that you can create using WordPress:
Blogs
E-commerce Websites
Business Websites
Resumes
Portfolios
Forums
Social Networks
Membership sites, and many more…
Why do you need a Website?
The world has shifted online. We search for everything online nowadays. Whether it is a recipe, some problem, or if we are looking to find something new, we just simply Google it. Google has become the hub of every known thing in the world.

If there is something that we don't know, we simply Google it. People are looking for everything online, and if you want to grow, you have to come online, or else you won't be able to survive the competition.
Here are some reasons why you have to move Online:
Target a broader audience.
Break the geographic limitations.
Serve your customer 24*7
Build your Brand.
Create a positive image.
For effective Marketing.
To grow your business and many more reasons.
Moreover, simple advertisements over the Internet cannot help you anymore as many users who were frustrated by unnecessary advertisements and pop-ups have installed Ad-blockers and pop-up blockers, to get rid of them. Your online presence won't stand in the advertisement, you have to create a proper digital presence to make sure that you are standing out in this digital world and that people can easily find you.
Why Small Business Needs WordPress Website To Grow Online:
WordPress is Totally Free: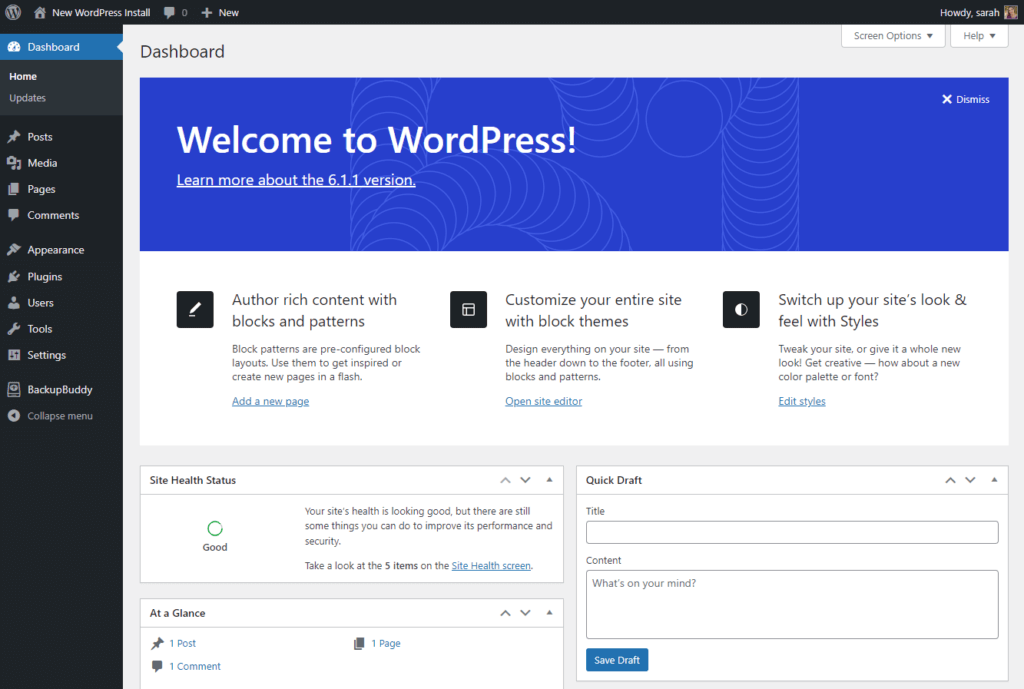 Yeah, you have read this right!
WordPress is free-to-use software. You can download it for free and you can also install and use it for free. As a small business owner, you would wish to keep the expenses to the minimum, and therefore this is the perfect choice for you. WordPress is a blessing to all the people out there who want to develop their website at the minimum cost.
This way, the website development software for your online presence will cost you nothing.
Quick and Easy Website Setup:
Another reason to opt for WordPress is that WordPress is a website development software that can be installed by just a single click. There is no need to have a server or hosting knowledge to install WordPress.
You can choose the hosting plans from Bluehost (just $2.95/mo for shared hosting) and Cloudways, just choose WordPress while setting up your account and they will install it for you. You can also choose the hosting plans from the top Webhosting providers from various reputable companies to make the process easier.
After the installation is done, you will be able to access various features and functionalities that will help you in website development. WordPress offers a clean, informative, and extremely easy to use dashboard and therefore it makes the website setup easy for all the users.
Open Source Development Platform:
WordPress is an open-source development platform, this means that anyone can download and use the codes available in WordPress Codex for their website.
You can even reuse the code in any way you like. This is an advantage for the small business owners as many of them won't be able to create codes and therefore they can simply download the codes that they like and they can use it.
If you know nothing about this, you can also hire a WordPress developer to get your website developed. You can also outsource your work and use communication tools to know about the development completion.
User-Friendly Interface:
Website development project execution is an easy task if you are using WordPress. It is developed in such a way that technical and non-technical, both types of people can use it to their advantage.
This is the reason why WordPress is so famous. Using WordPress you can easily develop your website, your blog, your posts, your forums, and you can even manage your videos and images.
Large Community Support:
WordPress is a very popular open-source software and therefore there is a huge community of WordPress users.
WordPress is famous for its community support as well. It is a global platform with millions of users and therefore you don't have to worry if you are caught in between anything, you can simply ask the community for a solution and in no time, you will be flooded with solutions of all kinds. This is why WordPress is known to be user-friendly and beginner software.
Vast Varieties of Themes:
The looks of the website are totally dependent on the theme that is used. You can hire a designer to design a perfect theme for your business, but it can be too expensive. The better option here is that WordPress offers 1000+ free designs that you can choose from to use as a theme for your website.
As there are so many options available, you will definitely find a theme that you will love.
In addition to the free themes, there are paid themes also that you can use if you do not like any of the free themes, This all depends on your budget and your preference.
Plugins for every Features:
The project roadmap of a perfect website has various functionalities. To add various functionalities to your website, you can use WordPress plugins. There are free and paid plugins that you can choose from.
Thousand+ pre-developed plugins are stored in the WordPress Directory that you can select from and use on your website to add various functionalities.

Plugins are very easy to use and install to add functionalities to your website.
SEO Optimized:
A website that does not have a Search Engine Website is the same as having no website. To be ranked at Google searches, your website must support Search Engine Optimization.
All the websites that are developed daily or all the blogs that are published are developed keeping SEO perspective in mind.
SEO optimization can be very easy using WordPress as all the websites that are developed using WordPress are default SEO optimized as the structure that WordPress follows is acknowledged by all the search engines.
Conclusion:
For a small business, establishing a strong web presence can be tough. To develop the perfect website, one has to invest a lot of cost, time, and effort, which can be hard for a small business.
But as this is the digital world, having a website is a must for all the businesses to grow. Therefore, using WordPress to develop the website is the easiest and the most obvious option.
Author's Bio: Shyamal is the Founder of SmartTask, an online work management tool that's helping teams be more productive by having clarity on who's doing what by when. Has a penchant for researching and sharing strategies that could benefit a team's productivity.