The theme is an integral part of a well-crafted WordPress website. WordPress themes can be easily set up and then modified. They make your website more appealing to visitors, which is really the most important thing, right?
However, what worries many is whether posting a particular theme or changing the themes will affect the content on the website itself.
Your posts, homepage type, plugins, the information will remain the same as they were before you decided to change anything.
What can undergo change are the items that are related to the theme itself. For example, if a particular theme has widgets associated with it or shortcodes, they will stop working.
To conclude, anything that is not related to a particular theme will not be changed.
Once you've chosen the WordPress theme you want, it is very easy to set it up. However, you might want to see how it would fit with your website before you activate it – fortunately – almost all WordPress themes have online demos that you can check.

Now let's see the best and the most popular WordPress themes.
Divi is definitely one of the most popular WordPress themes. It gives you complete control over the designs.
You will be able to customize every part of your website to the smallest detail.
It is very easy to use, and everything that you change you can follow directly so you can see in real-time what's happening right there on your website.
Divi's features:
Build visually
Effects
Shape dividers
Bulk editing
Layout library
Transform control and effects
Hover state styling
Find & replace
Animations
You can add sliders, testimonials, call to action, galleries, and much more for less time.
It has more than 1000 layouts for all kinds of niches: health, e-commerce, fashion, restaurants. You just need to mark the specific niche and it will list many adequate layouts that you can choose from and make your website magnifique.

When you are making custom layouts, you can save them into Divi's library and use them whenever you want.
As of late, Divi also offers split-testing possibilities. This way, you can optimize every part of your website and improve its listing in Google and other browsers' search results.
Pricing: You can choose between yearly access that costs $89 and lifetime access for $249.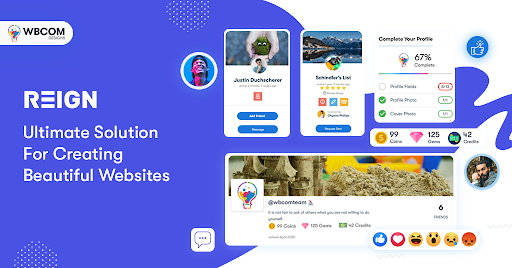 The Reign Theme created by Wbcom Designs is one of the top themes that can be used on any site. If it's an E-Learning platform or the E-commerce platform or an online social media site such as Facebook. The Reign theme is sure to offer you the best design and performance.
Reign will be a good fit for you no matter if you're a fresher to WordPress or an experienced web designer. The theme comes with a solid knowledge base that can aid you in making use of the theme to its fullest.
It is a special BuddyPress theme. It incorporates all the capabilities of BuddyPress. Reign lets users build interactive social-community websites by using Activities and Groups, Members' Friends, and so on. Reign has unique customizable options for BuddyPress which allow users to modify the settings.
Reign Theme Features:
Pre-Built BuddyPress Website Designs.
Multiple Header Variations.
Multiple Member & Group Directory Layout.
Multiple Member & Group Header Layout.
Fully Customizable.
BuddyPress Customization Options.
BuddyPress Extra Widgets.
Consistent and Responsive For All Major Devices.
Inbuilt Social Profile Module.
WooCommerce Ready Theme.
Integration With Elementor Page Builder, and much more.
Reign Theme Pricing:
The Reign BuddyPress WordPress theme can be purchased directly through the Wbcom Designs website. There are two options for purchasing Reign theme:
Single site license: $69
5- sites license: $99
20-sites license: $149
Each of the three options gives support and theme upgrades for one year. These updates are released via the WordPress Dashboard. If a new version of WordPress is available the notification icon is displayed to notify you of the new update's availability. This will help you keep your website's content up to the latest.
Ultra is another extremely popular WordPress theme. It is especially recommended for designers and developers.
It has an easy drag and drop builder so coding isn't necessary.
Ultra offers its users design skins and pre-made demos that you can customize as you like according to your needs and content.

If you are creating clients' websites, this will save you a lot of time. With a single click, you can import the demo setup and make a sample website for a couple of minutes.
In Ultra, you have complete control and you manage everything from header to footer.
This popular WordPress theme offers more than 60 pre-design layouts, 6 footer layouts, 6 header background options, 5 single post layouts, and many more options.
The important Ultra features are add-ons, too. When you purchase Ultra theme, you get free access to the following add-ons:
Image Pro
Countdown
Progress Bar
Counter
Typewriter
Timeline
WooCommerce
Contact
Maps Pro
Slider Pro
Pricing Table
Audio
These addons will help you create a responsive and engaging website that is far more interesting to your visitors.
Other Ultra features are:
Smart layout options
Preset typography and colours
Scrolling section
Mega menu
6 archive layouts
Animating colours
Image filters
Social icons
Six archive layouts include slider, mansory, grids, fullwidth, polaroid, and overlay posts style.
It is important to mention that Ultra is also created to be SEO optimized so you don't have to worry about whether your WordPress theme will negatively affect your positioning in search results.
Pricing: Prices for the Ultra theme range from $49 in the Standard pricing plan to $89 in the Master Club plan.


Astra Theme is definitely one of the most popular WordPress themes since more than 600,000 users have chosen it for their website so far.
It is a multi-purpose theme that you can use for any type of website.
Astra offers the opportunity to take advantage of some of the pre-built websites from their library or starter websites and save you time.
You will not need coding skills to customize the theme you want as it is very easy to use and it offers many possibilities when it comes to the WordPress Customizer.
Some of the customization features are:
Layout settings
Header options
Colours and typography
Blog and archive pages
Astra also integrates with some of the most important tools in the market such as WooCommerce, Toolset, Elementor, and more.
This WordPress theme does not use jQuery, as it is possible for the render to block it, but instead, it uses Vanilla JavaScript.
Astra offers really huge pre-built websites' library so the choice is really big.

Astra also works perfectly with page builders and since it is very easy to use and customize it is a great option for WordPress beginners as well.
Pricing: Astra Theme offers three different packages: Astra Pro, Mini Agency Bundle, and Agency Bundle, with prices ranging from $59 to $249 for an annual subscription. Packages also vary in features available.


Source: WPBuilder

OceanWP has more than 2 million downloads which also makes it one of the most popular WordPress themes.
It is a fully responsive theme and it is optimized for any device, so no matter where your visitors are coming from, their experience will be equally good.
When it comes to speed testing tools, OceanWP has a very fast loading time. It also has an SEO base built-in, so it can only contribute to your Google ranking position.
It is great for e-commerce websites because of some of its powerful features:
Native Cart Popup
Floating Add to Cart Bar
Off Canvas Filter
Product Quick View
OceanWP works with the best available page builders such as Elementor, Breeze, BeaverBuilder, and more.
With OceanWP demos, you can create websites with more ease and efficiency.

It also offers extensions that will make your website even better and attract more visitors.
Some of OceanWP extensions are:
Cookie Notice
Stick Anything
Full-Screen scrolling website
White Label
Popup Login
Sticky Footer
Posts Slider
Custom Sidebar
Pricing: OceanWP offers three packages: Personal (for 1 website), Business (for 3 websites), and Agency (for 25 websites). Accordingly, prices range from $39 to $129 for annual access.

The bottom line

With the advancement of the digital world and technology, many things are becoming simpler. One of those things is certainly building WordPress websites.
Thanks to it, more and more people can do their jobs online today. Building quality and engaging website is no longer a problem.
The WordPress themes we mentioned in this article are definitely the most popular ones for a number of reasons:
They are very simple and easy to use.
They are all SEO optimized, which plays an incredibly important role when people submit a query and you want to be found in search results.
They offer a variety of features that enhance the visitor experience. Valuable content plus visually appealing website make a winning combination to interest your audience and keep them on your website for as long as possible.
Numerous customization options will make it possible for you to express your brand identity in the right way and to become recognizable.
Extensions and plugins are that additional something that makes the whole concept of your online presence even better and makes your website look more professional.
Therefore, it is advisable to use them to make everything work even more functionally.
For example, testimonials are one of the most important types of social proof and also a nice detail on your website.
In addition to previously mentioned benefits, they have an even more important one.
The experience of already existing users creates trust when it comes to those who have yet to become one. People's stories are really what sells, and a good word or two will give you and your business credibility.
To find out what testimonials can do for your business, try the Premio Stars Testimonial plugin.
You will see an increase in conversion rate shortly.
In addition to this one, you can add other plugins that may fit what you have to present to your audience perfectly.
To conclude:
The possibilities are truly endless today. With a little effort, you can build a special website that people will gladly return to.
Your content must also be of good quality, and this is where you actually spend most of your time.
Therefore, take full advantage of one of the most popular WordPress themes and its ease of implementation, and save yourself precious time.
Start right away!