Setting up a website that's appealing, professional, and engaging to your audience is a part of building traffic.
In case you didn't know, Google and other search engines determine your ranking based on your design's responsiveness, organization, and design.
It's all about delivering a great user experience. So if your website loads too slow, is confusing, or irrelevant to your audience, then this will hurt your ranking.
On that note, we're going to explore some of the best free WordPress templates you can use for your blog.
Let's take a look.
Best Free WordPress Templates for Writers
Having a blog is one of the best ways to showcase your skills as a writer. As you begin looking for themes to design your WordPress blog with, you'll come across many to choose from.
At the end of the day, you want to select a template that's responsive so your visitors can read your posts on any device they're using.
Here's a look at some great options.
Hoffman Theme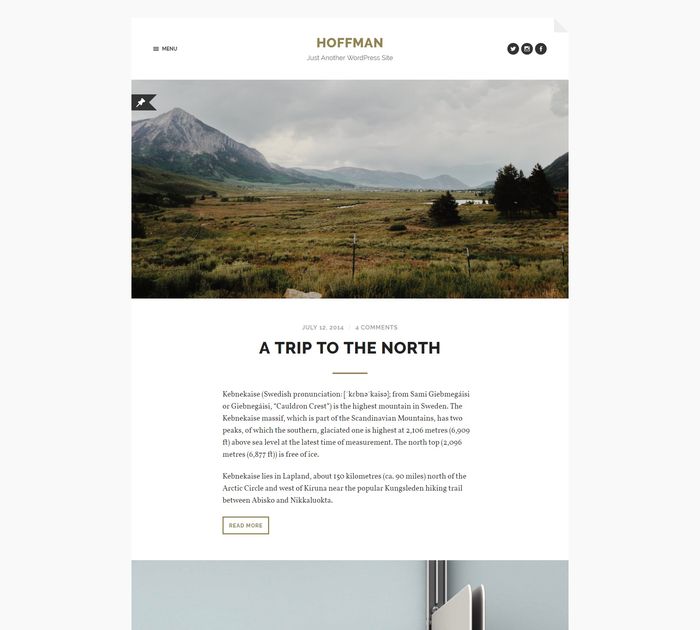 Hoffman is a template that comes with a responsive, flat design. It looks great on desktop and mobile devices.
While it has a minimalist design, you can definitely spruce it up using slideshow photo galleries. Plus, you can get creative by adding your own colors and backgrounds to give it more personality.
It also comes with three custom widgets you can use for your recent blog posts. This includes creating thumbnails, recent comments that contain avatars, and Flikr.
If you're a fan of Jetpack, then you'll be happy to know you can integrate it into this theme. If you're not familiar with it, you can use it to create infinite scrolling and a tilted gallery.
Adler Theme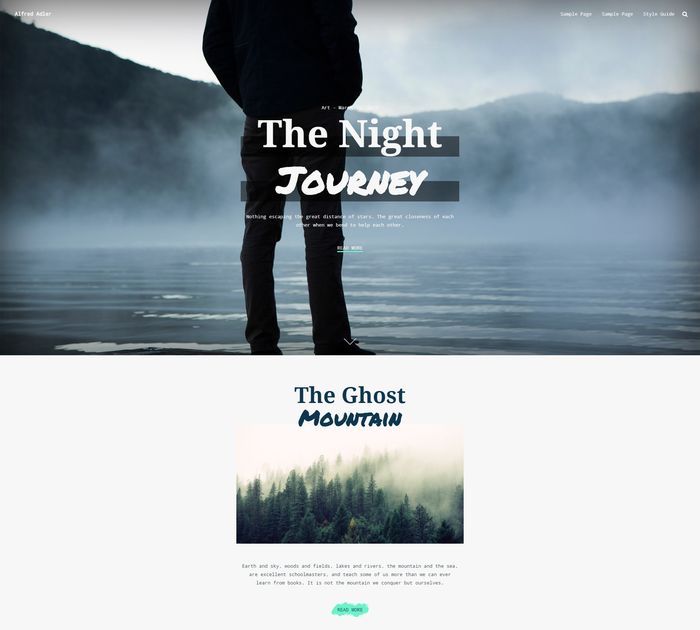 Here's a responsive theme you can use for your WordPress blog. If you're into photography or like collecting beautiful images, then you can showcase it here.
It comes with a photo-friendly design, allowing you to create visually appealing layouts. The design is also flexible so you can play around with it until you come up with your own unique look.
Its full-screen layout adds a modern touch and makes it easy for visitors to browse your site.
Zillah Theme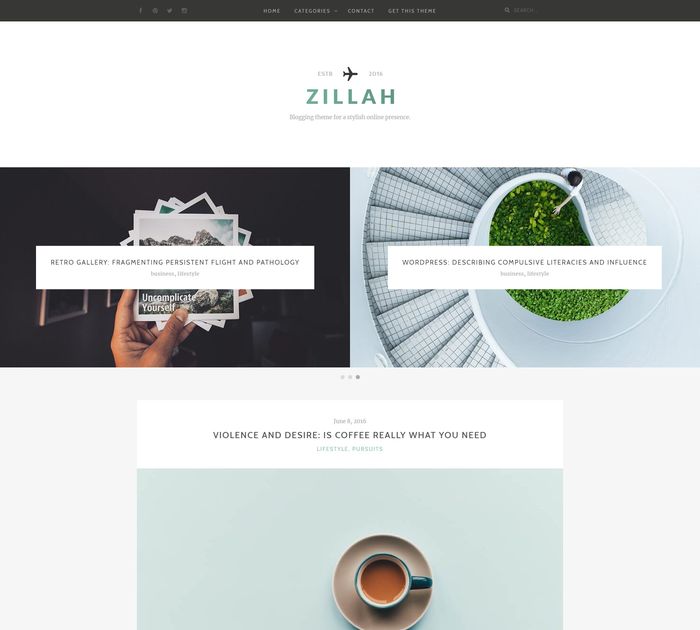 You don't want to build a WordPress blog that doesn't come built for speed and SEO. After all, one of the reasons you're creating a blog is to get found by your target audience.
Whether you're writing for business or pleasure, you need a template that's going to allow you to optimize for search engines. This means having the ability to insert on-site SEO for your title and meta tags/descriptions.
Plus, the site speed needs to be fluid — visitors today are quick to leave a site that takes longer than three seconds to load. Google will also penalize your site for having a poor user experience.
It comes with a variety of other features as well, such as a featured slider, social menu, live customizer, and widgetized footer.
Less Theme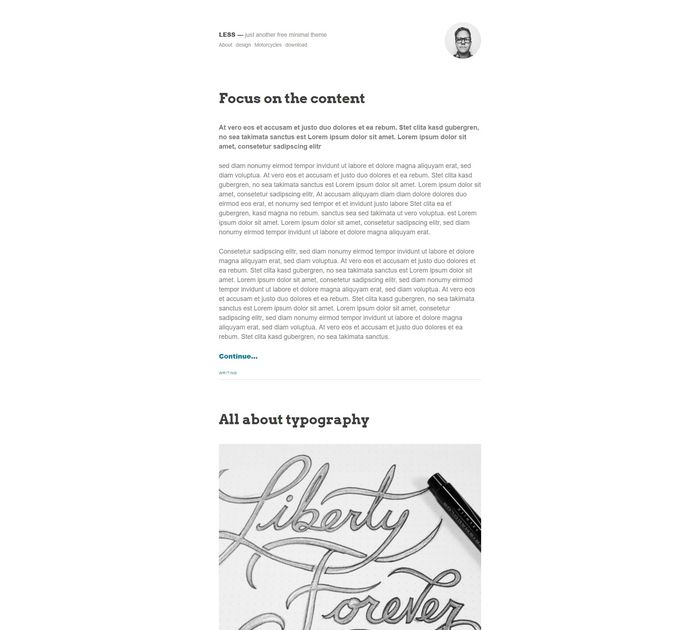 Minimalism is definitely the theme for 2019. Here's yet another one with the perfect name — Less. It's just as simple as it sounds too.
What most like about this theme is that it comes with a clean interface. There's also a single column layout, which allows you to direct the focus of your visitors' attention to your content.
The typography is large, making it easy to see on the small screens of mobile devices. If you decide to add any images, they will show up as full-width photos.
Then you can also include a custom menu in the header. Overall, the Less theme is lightweight and fast (which is excellent for SEO).
Lavender Theme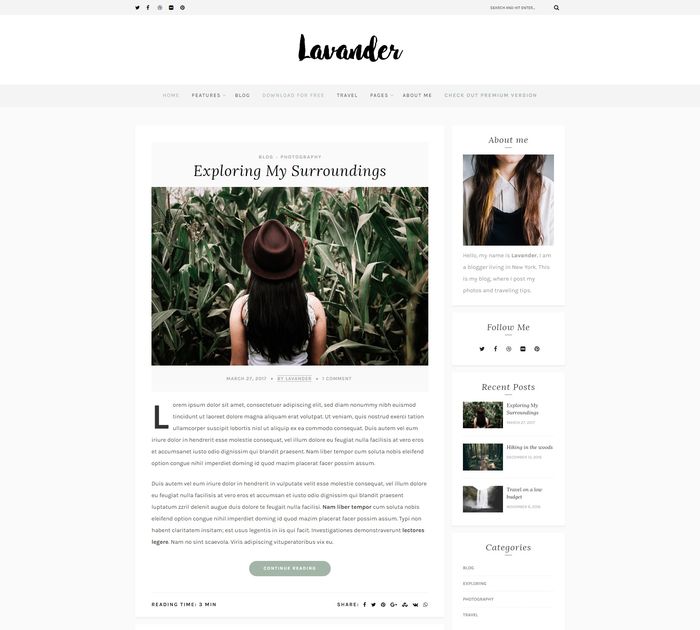 Now, here's a WordPress theme for the journalist and blogger. It comes with a beautiful one-column layout and large feature photos.
Plus, you can insert your own photo and bio on the side, so all of your visitors know who you are and what to expect from your site. This theme is responsive, so it works optimally on any size screen.
You can also browse through the pre-built page templates to find the one that best matches your taste.
The typography is high-quality, making it easy to read. You may also like the fact that it comes with a one-column layout. But you can also set up pages to share other content and information.
The overall design is classy and professional — everything a writer aspires to create.
Editor Theme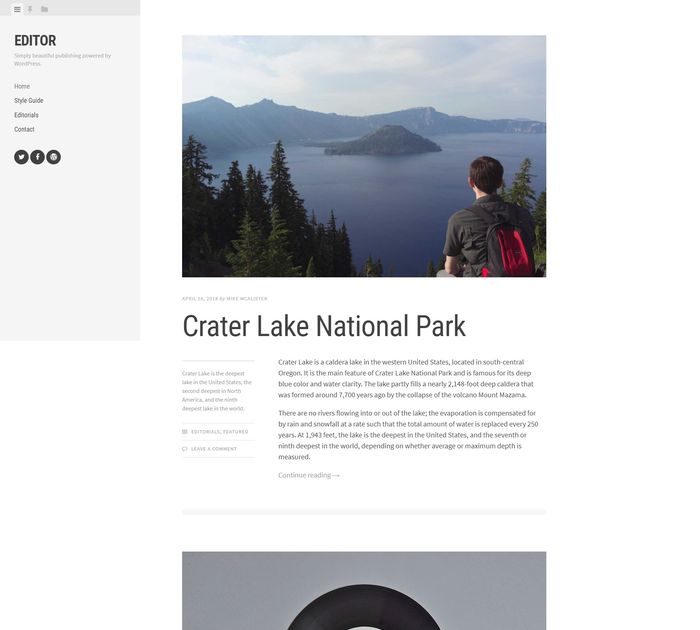 No, you don't have to be an editor to make use of this theme. However, it does have the gorgeous appearance of a magazine or newspaper.
The design is overall clean, and the typography is high-quality. Responsiveness is a must-have, and this comes with that. You can expect this theme to work optimally on both desktop and mobile devices.
It has excellent speed and is easy to optimize for search engines, which is ideal for ranking in the search engine results pages (SERPs).
It also comes with a versatile sidebar.
The layout of the site is full-screen and allows you to upload beautiful large featured images for the home page and your blog posts.
Amadeus Theme
This name sounds like something out of a Hercules movie. It has a captivating layout that you can use to capture the attention of all who visits.
At the top, you can insert a cover photo. Beneath it, you can upload large images for each of your blog posts. Then off to the side, there's room for your author photo and bio.
The design is minimalist (are you surprised?) and the typography is easy to read. It's also easy to optimize for search engines.
Some of the other features it includes are a Parallax header, responsive design, social header, and video embedding widget.
With these add-ons, you can transform this theme into a blog or vlog with personality and flair.
Serene Theme
Customization capabilities is a huge must for some writers and bloggers. If that's the case for you, then you should check out the Serene theme.
This comes with a fully responsive design that's easy to access and use on any device. Plus, you can easily translate the text on each page.
As for the custom look, you can use unlimited color options to design your site. Then to help spread the word about your new site, you can add social links.
The layout comes with a single column for your blog. However, you can spice it up by adding large images and fonts.
Verbosa Theme
Maybe you want even more customization options for your WordPress blog. If so, then the Verbosa theme is definitely for you.
This one is highly customizable and comes with easy optimization options. You may also like the Google fonts it comes with. However, there are other typography options as well.
The theme is overall lightweight and fast, which are always two great attributes for a website design.
You can also have your pick from over 100 different social icons.
Pepper Theme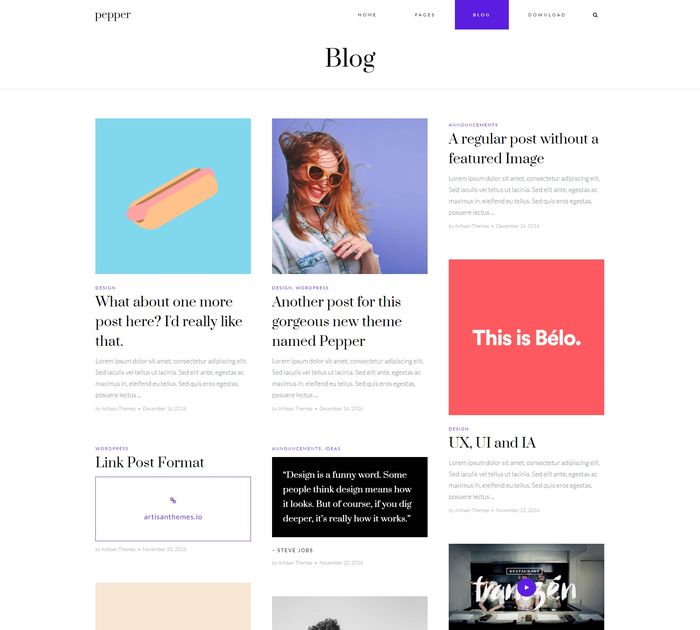 Alright, so maybe you want a WordPress blog that's fun and hip — not so much minimalistic. In this case, you should consider using the Pepper theme.
This is highly visual, resembling the look of Pinterest. It comes with modular functionality, and cute pin-style blog posts complete with photos and text snippets.
The typography also resembles magazine styles to give it more appeal. Plus, you can choose from various Google fonts. It comes with a three blog layout and continuous scroll, modern interface, and parallax ribbons.
And best of all, it comes with a front-end editor that allows you to design your new site on a whim.
Then if you want to set it up so visitors can contact you, you can set up the contact form plugins.
You're not just a writer — you're an author. If you enjoy crafting print and online books, then you may want to build a site to showcase them. With the Author theme, you can create a minimalist site just for that.
It has a content-first interface, which is perfect if you want to blog about being an author and update your readers on recent news.
The photos are large scale, giving the site a magazine style complete with excerpt control. The theme is also mobile-friendly.
The black and white interface gives it a serious and professional tone. You can also add social media icons for shareability. And it allows you to create a custom logo and avatar for your website.
Pick Your Free WordPress Theme Today!
Owning a WordPress blog is one of the best moves you can make as an online brand. Whether you're a freelance writer, personal blogger, or author, you can use these themes to build a fantastic website.
View the demos for the themes on this list to see which matches the look and style you're looking for. You can always look for curated lists of the latest classified WordPress themes.
Then if you need additional plugins to grow your WordPress site, then check out Premio!