No SaaS or any other company can prosper without a website. It's not only a venue for presenting your business but a powerful tool for a company's development.
You launch your website and start to track its success. How do you keep it functional and profitable? You need to fix it, work on its optimization and usability. That is, this channel takes a lot of effort, time, and professionalism.
SEO promotion includes gathering the semantic core, linking, working with meta tags, texts, and removing duplication. If you're an online merchant, you need to improve the performance of your Magento store.
However, site owners frequently overlook such a crucial metric as the bounce rate. Let's discuss in this article why you should keep in mind this parameter and how to reduce it.
Bounce Rate Overview
Bounce rate is the ratio of one-page visits to the total number of visitors. It refers to people who have only looked at one page of your website. This indicator in Google Analytics is one of the most confusing for SEO specialists and analysts.
Does bounce rate affect site rankings? A high bounce rate doesn't lower your site in search results directly. Instead, it indicates that the resource isn't attractive to the audience and doesn't meet visitors' needs. But there's another reason for it.
If a website promotes services or is a one-page resource, a high bounce rate is inevitable. It's because people simply get all the information at their request from one visit.
Other site owners need to reduce this parameter because it negatively affects conversions and, in general, the user experience of the resource.
7 Tips to Lower Your Bounce Rate
1. Adjust Your Site's Bounce Rate in Google Analytics
The most effective way to reduce your bounce rate is to adjust it by the user's time on the page. It also shows the actual bounce rate. Thus, you assess the quality of your traffic better.
There are many situations where a user converts, but the system counts it as a bounce. For example, it often happens in the case of blogs.
Users come and stay on the page without further clicks. The fact is that many people come to such venues just to read the latest news or articles. But since visitors don't go to other pages on the site, Google Analytics will show a 100% bounce rate.
The adjusted bounce rate allows you to set a time limit. You change the Google Analytics code so that the system will consider a bounce after a certain period. For example, you want to set 30 seconds. If the user has spent more time on the page, it won't be considered a bounce.
2. Check the Load Speed
The reason for a high bounce rate may be evident. It's your page load time. Users won't wait more than 2-3 seconds for the information they need. Especially if the system provides them with dozens of similar search results. They exit a site that is taking too long to load and try to open another.
According to Deloitte data, load latency is the leading cause of site abandonment in the United States. Did you know that 70% of consumers won't buy from a slow-loading store? So, aim for two seconds or less.
From the moment the analytics.js script is launched, Google Analytics will consider the visit a bounce. So, remove all the frictions to obtain information and make transactions swift and efficient.
Besides bounce rate, site speed affects the following essential metrics:
time spent on the site;
conversion rate;
the site's position in the search results.
So, when you find an increase in the bounce rate, pay attention to the Page Timings report. Compare your bounce rate results and average page load times. At this stage, you can determine if the reason for the increase in the bounce rate is the site's speed.
3. Optimize for the Mobile Audience
The number of sites not optimized for mobile devices is staggering. Every year, the number of mobile Internet users increases. As a result, your site should meet these needs. Otherwise, you're wasting money because visitors will cancel their intentions and visit your competitors' sites instead.
To reduce the bounce rate from smartphones, make the mobile version of your website a priority.
What is preventing site owners from taking this action? Unfortunately, mobile optimization can add to a business's costs. Also, it's not an easy task from a technical perspective. Despite all this, it's difficult to overestimate the importance of mobile optimization.
First and foremost, Google considers mobile-friendliness when ranking websites, as the search engine follows trends and favors sites with adaptable mobile designs.
If your Google Analytics data reveals a high mobile bounce rate, keep up with that audience. Use the Google Mobile-Friendly Test tool to check this parameter.
Here's how this tool looks like. I checked if the SurveyMonkey, an online survey SaaS, website is mobile-friendly. The screenshot proves that it is.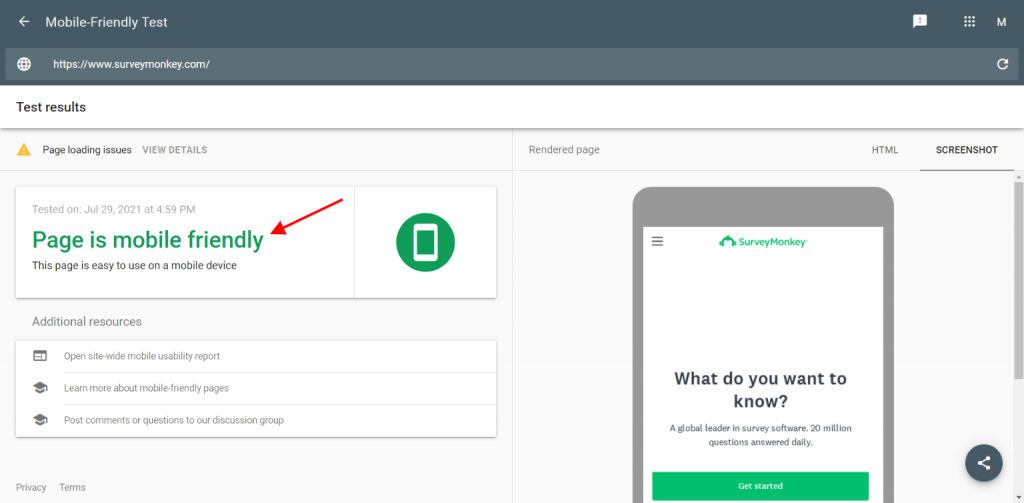 4. Reconsider Your Website's Navigation
Unclear navigation is another reason why users bounce and leave your site.
How can consumers guess precisely where to click? Navigation menus and calls to action on your site should direct your potential client to other pages. That's how they lower bounce rates. Visitors should understand their place within the site's structure and fulfill their intention.
The Google Analytics extension's report includes:
a link map;
visitors' interaction with the website;
which parts of the page visitors see without scrolling.
The data shows which elements on the site are the most redundant or, conversely, missing. It answers the following questions:
why a visitor stops scrolling;
makes a short click;
returns to the search page;
the click-through rate for different elements.
Based on the information gathered, you can limit distractions on the site and organize navigation in a user-friendly manner. You can minimize the bounce rate while also increasing targeted user actions by making the site convenient and straightforward.
5. Use Keywords and Platforms That Drive Targeted Traffic
You improved your content and user experience. But why does your bounce rate remain high? The reason may lie in the incorrect audience.
Your target audience searches the Internet using a precise set of expressions with high traffic potential and user transactional intent.
Contrary to popular belief, some pages that match searcher intent perfectly might have a high bounce rate naturally. For example, if you search for a guide explaining how to cook lasagne, and find a page with a perfect explanation and recipe, there's a good chance the visitor will leave without visiting other pages on the website. However, most websites with high bouce rates are usually that way because they haven't quite got the user experience right. For this, it's always good to recommend going back to basics and cleansing the user journey. – Matt Janaway, MarketingLabs
Having many visitors doesn't guarantee conversions if you turn off all targeting. Attract the right groups to engage and get positive responses.
Did you know that bounce rate is an excellent metric for evaluating your marketing activities? If you select incorrect keywords, then people will bounce. They just won't be interested in the information you provide.
Finding successful keywords, engaging your audience, and converting them is the main problem to tackle.
Employ your keywords intelligently to acquire visitors. Detailed content and engaging pages with keywords will increase the time spent on your site.
More time will lead to greater trust and the possibility of taking the desired action. You may also acquire more backlinks and increase your site's authority by using quality keywords.
6. Compose a Relevant CTA on the Landing Page
The majority of visitors leave within the first few seconds. They rapidly scan a website without studying the page in detail. As a result, focusing on the above-the-fold area is critical.
Write a clear statement of what you're offering as well as a conspicuous call to action. Your visitors should get the main idea in three seconds or less. Is there a free trial? Do they need to sign up? Is it necessary for them to input their credit card information?
Don't leave it up to the user to decide what to do next. Each page of your website should have a clear and compelling call to action.
People need to know where they are and what you want them to do right away to reduce bounce rates and increase conversions. A clear CTA should include the following:
contrasting colors and bold wording;
placed above the fold or duplicated below the fold;
give an idea of what will happen if viewers click the button.
For example, the CTA color contrasts with the above-the-fold area on the Shopify home page. The text of the CTA is clear. The company writes in a less bright font below that leaving an email address enables Shopify to send letters to the user.
7. Fix Pop-Ups
Avoid overloading the site with ads and pop-ups appearing from above and on the side. Why do users frequently leave the site? Because they see an overwhelming amount of advertising banners and pop-ups that overlap the page or prevent them from concentrating on the information they were seeking. It irritates and discourages visitors.
However, you don't need to eliminate pop-ups for good. Set a timer on pop-ups so that they appear sometime after opening the site. When can a pop-up also appear? When a visitor hovers over the close button, for example. To put it another way, use a method that isn't too intrusive for people.
Pop-ups on the HubSpot site only appear while reading the blog. The site offers to download a free template on the topic of the article at the bottom right. Then, a pop-up appears at the top, offering to subscribe to the newsletter.
To Sum Up
No matter what you sell, be it clothes, webinar software, or services, you need to check your bounce rate. A high bounce rate, in most cases, implies that the site doesn't satisfy the user's expectations.
How will it affect your business? Although a connection between them is indirect, a significant bounce rate harms the company's profitability and search engine rankings.
There are numerous methods for lowering your site's bounce rate. They should help you acquire more visitors and conversions. Concentrate on making your site faster and mobile-friendly, generating meaningful and relevant content, and improving navigation.
About the Author
Kate Parish is the chief marketing officer at Onilab.com with over eight years of experience in Digital Marketing in the sphere of eCommerce web development. Kate always aspires to broaden her competency in line with cutting-edge global trends. Her primary areas of professional interest include SEO, branding, PPC, SMM, Magento 2 migration, and online retail in general.