A floating sidebar can make customers click a call to action on your website and bring in new client queries when used correctly.
You can also create a floating contact form or floating sticky menu to give your customers support for getting help.
What Makes a Good WordPress Sticky Sidebar Plugin?
If you want a contact form in WordPress, a sticky sidebar plugin is one of the best ways to present it. A WordPress sign-up form is a great way to gather customer details or inform them of your latest newsletter.
A sticky sidebar plugin ensures that the widget remains attached to your web page's side while scrolling. Users can sometimes struggle to view the information on the sidebar when it is not held in position.
What is fantastic about a floating sticky menu is that it allows a person to take action without being too intrusive in their browsing. If a sticky menu WordPress plugin is set up correctly, website visitors and overall conversion rates could increase.
Why would you not want to get the most out of your website? You can improve customer satisfaction by displaying important information to your customer through a sticky floating side widget.
This article shows you five of the best sticky floating sidebar widget on WordPress to check out their pricing and explore their features. Without further delay, it is time to begin this piece.
Best Sticky Sidebar Plugin on WordPress
My Sticky Elements displays essential elements and helps you get more leads for your business. The plugin can display your email address's social media availability, opening hours, and icons.
With My Sticky Elements, you can post your contact details on a floating tab, show your accounts on desktop & mobile, and get people to sign up for your subscriber newsletter.
What is excellent about the application is that there is a free plan that you can use to test out the features of My Sticky Elements. If you upgrade to the pro version, you can upload your icons, send leads to email, and create a custom CSS-style floating sidebar.
Another fantastic thing about the My Sticky Elements widget is that the app has compatibility with many prominent social platforms. Use this application to boost promotions, link to external channels, and even launch a Poptin Popup.
Good read: 13 Cool Elements You Can Embed in Your My Sticky Elements Widget
Pros
Super affordable
Excellent customizable features
Integrates with multiple social media websites
Cons
Only has compatibility with the WordPress CMS (content management system)
Features
The My Sticky Elements platform features help business owners communicate with customers more efficiently. You can use the software with over 70 media platforms, including Viber, Telegram, WhatsApp, Facebook, etc.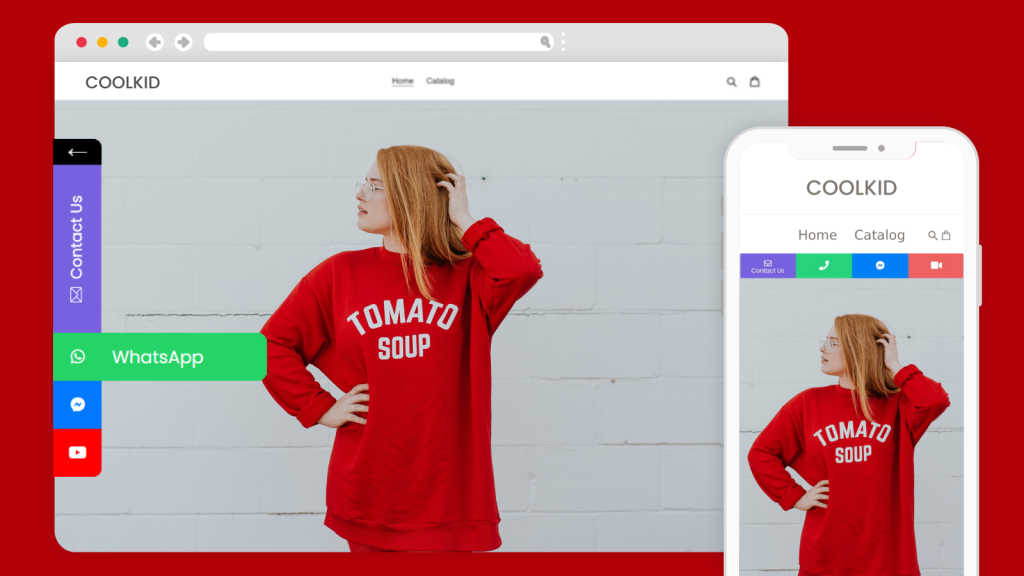 Engaging customers across different platforms is an excellent way for companies to make the person feel like they are dealing with a friend. This form of marketing has become more prevalent in recent years, and rightfully so.
Using the customizable contact side form, you can allow your customer to communicate with you more conveniently and faster. This accessible customer communication allows your customer's questions to be answered when they need it most.
Another thing about My Sticky Elements is its retina display ready and exceptionally mobile responsive. The app will be displayed beautifully on various devices, including smartphones, laptops, iPad, and MacBooks.
Overall, this is an excellent floating sidebar plugin that can be used to communicate with your audience and answer their most important questions.
Pricing
Basic – $39 – Per year – One website
Plus – $89 – Per year – Five websites
Agency – $149 – Per year – 50 websites

With this plugin, you can ensure that the sidebar on your website remains in place when the user scrolls up and down your homepage. You can promote the content and links you want, plus your users can easily navigate your website.
Pros
Easy to use
Engage with customers on social media
Discount on one-year packages
Cons
Non-existent customer support
Limited CMS compatibility
Features
WP Sticky Sidebar is a great application that allows you to add top and bottom margins to your sidebar. This can help you fill the space with more information so that your clients can get the answer they are searching for.
In the pro version of the software, you can adjust things so that the widget is more aligned with your customer communication strategy. You can also use the application to prevent certain pages from loading or add a CSS style to your website.
Pricing
Basic – $19 per year – One website
Plus – $39 per year – Five websites
Agency – $79 per year – 50 websites
3. Sticky Menu & Sticky Header by Webfactory LTD
This plugin allows you to make any element on the pages of your website "sticky." Whether in the top, bottom, right or left position, you can use the Sticky menu & Header by Webfactory LTD to make your floating sticky sidebar dreams a reality.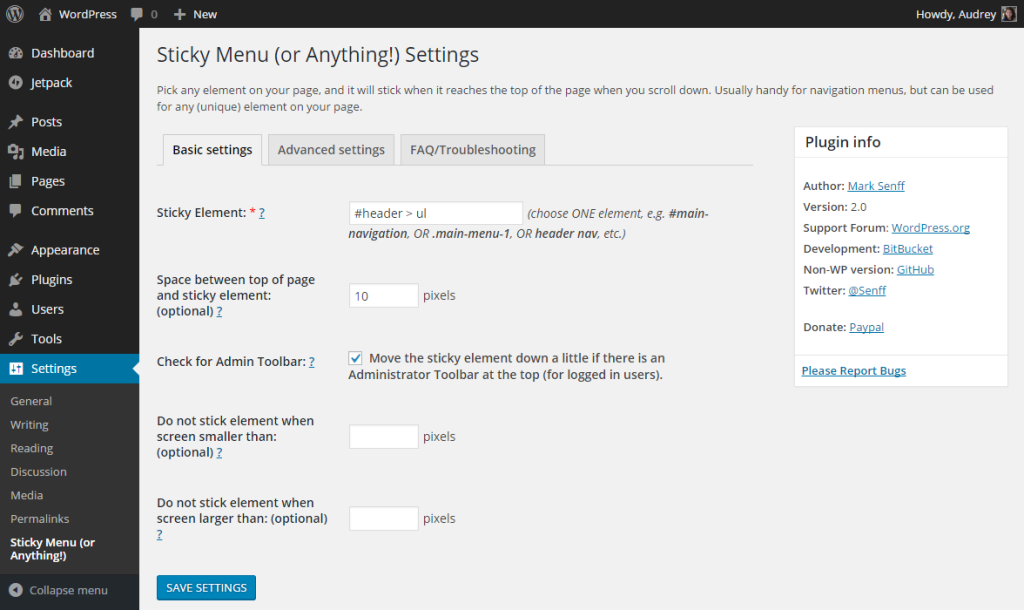 Pros
Simple user interface
Quick installation process
It runs on the latest version of WordPress
Cons
Some settings may be a bit complicated for people with minimal technical experience
Does not have a client support team, you can only receive community-based help
Features
With this app, you can create a floating menu, a sticky call to action, a sticky log, a sticky widget (fixed widget), a sticky header, or a sticky menu. It would help to select a unique and correct piece for the elements you want to make sticky.
This application allows you to set the floating stick widget to appear on only particular screen sizes. In most cases, you don't want your sticky element to be displayed on a smaller screen as it may hinder the responsiveness.
One of the best things about this app is that it comes as a free version for anyone who uses WordPress as their preferred CMS.
Pricing
4. ElementsKit Elementor

This application claims to be an all-in-one add-on for the Elementor Page Builder. Under the hood, it includes a layout library, mega menu builder, and a header plus footer builder. You can choose from all the comprehensive modules to help you communicate with your customers faster.
Pros
Integrates with Elementor perfectly
Works on WordPress version 5.0 or higher
Has over 600,000+ active installations
Cons
Limited customizability options
Features
ElementsKit Elementor makes it easy to manage all your website tasks within a single application. You don't have to worry about additional plugins or widgets to get the most out of your eCommerce store with the software.
You will love this application's super-fast installation process and the excellent community support.
If you have any issues with the application, it's suggested that you upgrade your WordPress or the plugin itself. You will be pleasantly surprised by the performance you get from this WordPress sidebar plugin.
The only thing about the software is that it has somewhat limited options, giving you the bare essentials for a sticky floating sidebar.
Pricing
Free – $0 – Free WordPress plugin
5. Fixed Widget and Sticky Elements for WordPress by Advanced Ads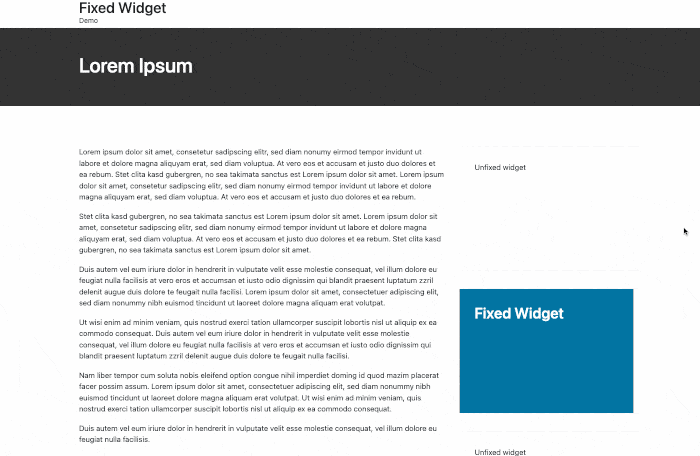 Advanced Ads designed this fixed widget and sticky element for WordPress. You can use this app to create other features, sticky blocks, and sticky sidebars that stay in place when the user scrolls up or down your homepage.
What's incredible about this WordPress website plugin is that it can be customized to remain visible on the screen, significantly increasing your website's click-through rate.
Pros
Place useful tools within reach of your audience with this application
Design custom elements for your marketing campaign
Stick the widget anywhere on the screen
Easy parameter adjustments
Cons
No customer support
The application requires some CSS knowledge
It may not be the best option for people who want my customizability
Features
One of the best things about this WordPress plugin is its easy integration with Google and sticky AdSense ads. This allows you to earn money from your floating sticky widget and adjust it to your custom screen size.
There is an issue with this application that fails to be compatible with specific WordPress themes. Sometimes, people experience problems with this plugin that may require getting someone with technical know-how to assist them.
If any CSS incompatibility occurs, it may be good to reinstall the plugin and see if that helps the problem. This app can help you create sticky floating sidebars for your site but only with limited features.
Fixed Widget and Sticky Elements for WordPress by Advanced Ads is perfect for someone starting in the online world. It is cost-effective to make a floating sticky sidebar without breaking the bank.
Pricing
Free – $0 – Minimal personalization options
Conclusion
Using a sticky floating sidebar can help you get your message across to the customer in the most convenient way possible. With an app like My Sticky Elements, you can grab your client's attention and get them to sign up for your monthly newsletter.
What are you waiting for? Why don't you give My Sticky Elements a try to find out all the fuss is about!