The organization is half the job done. This is what the founders of the folder creation plugins had in mind when they decided to develop them, knowing how many benefits sharing material for websites can bring.
In folders and subfolders, you can add pictures, texts, videos, graphics, and other types of content you need.
After you have done your research and planned your posts, you can collect, save, and organize all the material into categories for easy viewing.
One of the folder tools is FileBird. If you have already used it but have not been satisfied with its features, here is our in-depth comparison of the four best FileBird alternatives.
Before diving into those alternatives, we will briefly overview FileBird – WordPress Media Library Folders.
FileBird: Overview
FileBird is a simple WordPress plugin with which you can easily organize thousands of media files. It allows you to create folders, rename them, and arrange them so you can easily find and use them later.
FileBird is easy to use, and you can create your layout in your media library in just a few clicks.
FileBird's main features:
Drag and drop system
Smart context menu
One toolbar control
Supported RTL languages
Integrations
FileBird: Pros and cons
Pros and cons are certainly an essential part of the overview, so let's see what FileBird's features are.

What are the pros?
FileBird has a user-friendly interface. Using a drag-and-drop system, you can manage your pictures and media files according to your needs.
It is compatible with Elementor, Gutenberg, Beaver Builder, WPBakery, and other page builders.
FileBird supports many languages, including Arabic and Hebrew.

What are the cons?
FileBird should also allow media files to be organized according to the users' needs within the upload folder.
The Lite version may have some bugs while using the drag-and-drop function.

FileBird is a very good tool, but now let's see why the following 4 FileBird alternatives deserve to be on this list.

Premio Folders are just part of the Premio offer, plugins that are designed to elevate your website to a higher level and create the best user experience possible.
In addition to Premio Folders, there are also:
Chaty
My Sticky Elements
Stars Testimonials
Subscribe Forms
My Sticky Menu
WP Sticky Sidebar
Social Share Buttons
Quick 301 Redirects
With the Premio Folders plugin, you can easily manage your media files, pages, and posts.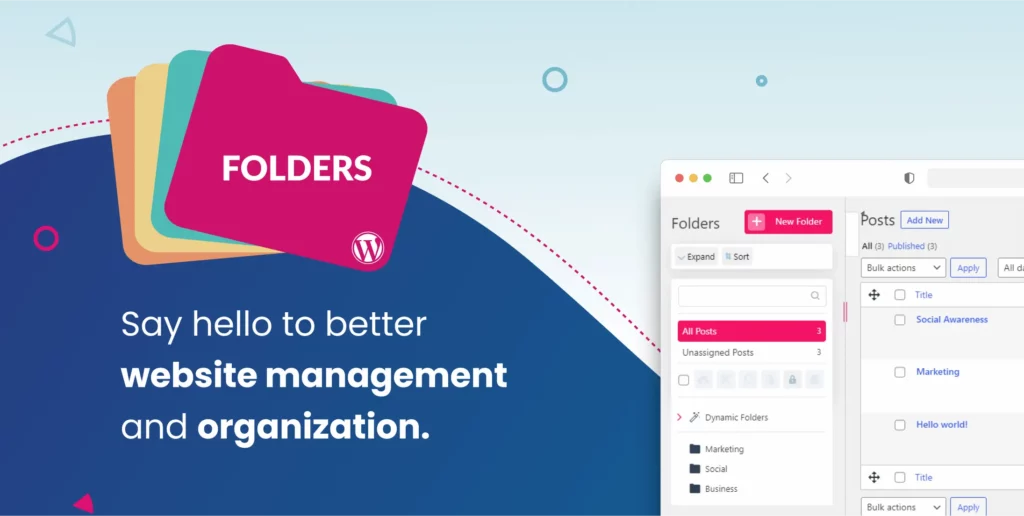 The dashboard is clear and straightforward to use, making it easier for you to arrange all the important content segments for your website.

Premio Folders' features:
Drag and drop interface
Folders and subfolders
Customizable tree view
Bulk selection
ZIP download
Default folder
Stars for important folders
Supported RTL admin panel
Integrations

You don't need any coding skills to use Premio Folder; implement it and you can start organizing everything with ease.

Advantages of Premio Folders
In addition to facilitating organization, Premio Folders also saves time by arranging media while adding them to directories.
The paid version allows you to create unlimited folders and subfolders.
If you need more space, you can reduce the size of the folder and increase transparency.
By using asterisks, you can mark the most critical folders to highlight their importance and reach them more easily.

Disadvantages of Premio Folders
The free version allows you to create up to 10 folders, which is the case with the FileBird plugin.
But once you switch to a paid plan, you can create unlimited folders and subfolders.

Premio Folders's pricing
Premio Folders has a free plan and three paid plans from which you can choose the one that works best for you and your business.

Why is Premio Folders the best FileBird alternative?
Premio Folders has plenty of features that make sorting and using all kinds of media files a piece of cake.
It is also GDPR compliant and doesn't use any user's data. The picture or page does not change its URL when uploading a post.
It is compatible with every WordPress theme and the most crucial page builders, such as Gutenberg, Elementor, Visual Composer, Divi, and more.

WP Media File Manager
WP Media File Manager is a well-known FileBird alternative.
It has a drag-and-drop interface to make it easier for users and an option for Bulk Select to make it easier to move multiple files at once.
You can also make shortcuts for files and, in that way, create the same file appears in all those folders where you want to place it.

WP Media File Manager features:
Drag and drop interface
File shortcuts
Regenerate thumbnails
Sliders and carousels
Integrations
Advantages of WP Media File Manager
You can choose whether to regenerate thumbnails for specific files or your entire library all at once.

WP Media File Manager allows you to get updates for free.

Disadvantages of WP Media File Manager
It has great customer support, but it should add mobile support, too.
WP Media Files Manager has very good features, but it would be easier to organize everything if more file management options were available.
WP Media File Manager's pricing
This WordPress plugin has one paid package, which allows you to choose the time during which you will have access to the support team.
Why is WP Media File Manager a good FileBird alternative?
With this plugin, you can upload files directly from your computer or laptop and organize them in your library.
While the files are uploaded, a pop-up window will show your upload progress so you can know where you stand.
WP Media File Manager constantly works on its updates, so if you come up with a new idea, you can send it to their customer support team and make suggestions for improvement.

Real Media Library
Real Media Library is a WordPress plugin for organizing many pictures, documents, and other files.

Using the Gutenberg editor, one gallery folder you can create a dynamic gallery.

Real Media Library's features:
Drag and drop system
Files shortcuts
Filter files
List-mode
Integrations
Advantages of Real Media Library
Real Media Library is easy to use and supports folders, collections, and galleries.
If you work as a developer and you want to make add-ons for the plugin that you can use, you can contact the Real Media Library team to help you.

Disadvantages of Real Media Library
It is compatible only with the most popular WordPress themes and supports only the most spoken languages.

Real Media Library's pricing
As a WordPress plugin, the Real Media Library has the same pricing concept as WP Media Files Manager.
Why is Real Media Library another great FileBird alternative?
It allows you to create a custom image order that suits your needs, create dynamic galleries, track the upload process, and create shortcuts.
It is a simple tool with a drag-and-drop system for even easier use.
Using this FileBird alternative, you can import folders from other plugins such as FileBird, Advanced Media Library, WP Media Folder, and others.
Wicked Folders
Wicked Folders is another WordPress plugin for organizing multiple media files.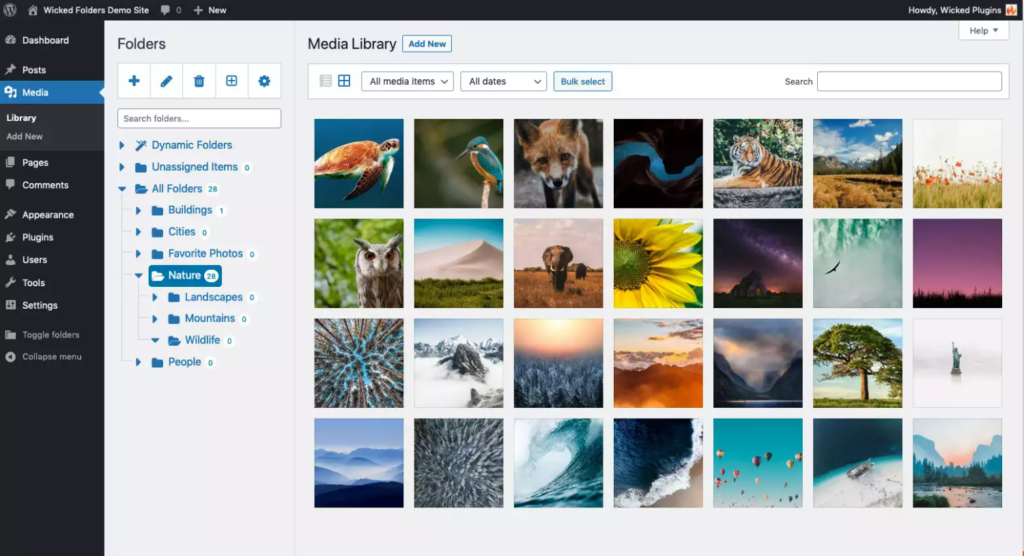 As previously mentioned FileBird alternatives it has a drag-and-drop concept for better organization, too.

Wicked Folders' features:
Drag and drop concept
Tree view
Bulk selection
Clone folders
Dynamic folders
Advantages of Wicked Folders
You can filter pages and posts with dynamic folders, for example, by date or author.
You can browse specific content files by folder.
Wicked Folders do not change the permalinks of your pages or posts you upload.

Disadvantages of Wicked Folders
Wicked Folders is an excellent FileBird alternative, but it offers straightforward features regarding the free version.
Paid packages have more useful features such as organizing Gravity forms and WooCommerce products, but it is definitely on the more expensive side if we consider their competitors.

Wicked Folders' pricing
Wicked Folders offers free packages, and there are two paid plans.
Why is Wicked Folders one more interesting FileBird alternative?
Wicked Folders is an excellent plugin for organizing different types of media files.
As we have already mentioned, it includes some pretty exciting options such as dynamic folders, WooCommerce organization products, and similar.
This alternative is beneficial if you have a large website with huge amounts of different documents.
Also, if you purchase some paid plans, you get access to plugin updates on unlimited domains for one year.

The bottom line
If you want your website to provide your visitors with a great experience, make sure your media library is always perfectly organized.
Consistency and post-planning are critical when it comes to maintaining the attention of your audience.
Take full advantage of the Premio Folders plugin, and take your organization to the next level.
You don't have to limit yourself to a certain number of folders, but create the perfect order for your website to work flawlessly!