Having a website is a must in today's business world.
It is almost certain that people who want to make a purchase from you will first do research through the web before anything else.
And because of this, making a website, uploading quality content, and being consistent are very important moves. For you, better said your business, it is beneficial to maintain communication with your target audience.
In the 21st century, everything is about the customer and you should have that in mind when creating a website. One of the main characteristics of a website should be user-friendliness.
After you attract people to your website by showing them quality content, you can create amazing offers that will convert them into buyers!
The best way to present these offers and announcements is by using powerful announcement bar plugins or pop-up windows.
Now, we will show you which tools are the great choice to make your announcements effective and encourage visitors to take action!
Let's dive into it.
Sticky Menu is one of the Premio plugins. In addition to this announcement plugin, Premio has more plugins that can be helpful to make a user-friendly website or blog:
Chaty
Folders
Stars Testimonials
My Sticky Elements
Subscribe Forms
WP Sticky Sidebar
Social Share Buttons
Quick 301 Redirect
Sticky Menu is a responsive WordPress plugin that you can use to share important news, announcements, and offers with your website visitors.
If you want to make a sticky header visible to your audience when they scroll down through website pages, you can do that with this Premio plugin easily.
Sticky Menu can be installed on any domain you want and paid packages allow you to use it on 5 or 20 different domains.
When you install this plugin, you don't have to make adjustments. It will be ready for implementation immediately. Sticky Menu can recognize your menu in a second.
After you install it, you can choose which devices, mobile or desktop, you want it to show on, choose fade or slide effect, choose the background and text colour, and more.
Because of its ability to customize, you can adapt it to your website's visual identity in a couple of minutes.
If you want to disable Sticky Menu on small sizes screens, you can do it with one single click.
Sticky Menu has a really user-friendly interface, so everything you want to change and design will be a piece of cake for you.
This plugin now has a new feature called Welcome bar.
Offered features:
Show menu on scroll down or scroll up
Welcome bar
Fade or slide effect
Customization options
No showing on smaller screens
Background colour options
Opacity options
Transition time options
You can make even more changes by adding custom CSS code and you don't even have to have developer's skills.
Sticky Menu is compatible with Elementor, Divi, WPBakery, Visual Composer, and many other page builders.
Pricing: Sticky Menu offers three different paid plans to choose from starting from $39.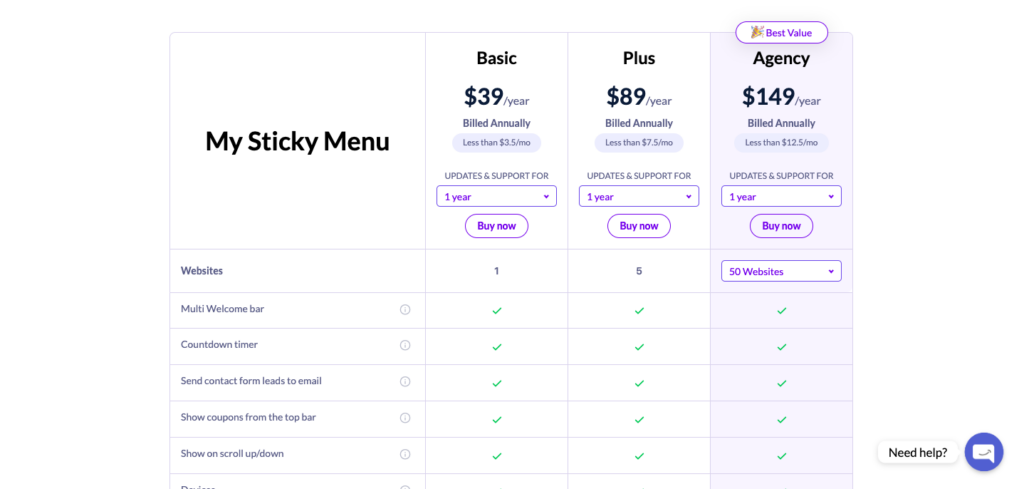 2. Hello Bar (Freemium)
Another great announcement bar plugin is popular Hello Bar. It offers the possibility to add notification bars and pop-up windows.
Hello Bar is a very simple plugin, and it is very easy to install.
The creator of Hello Bar is Neil Patel's team, so this plugin is firstly invented from marketers to marketers.
With pop-ups and announcement bars, you can run effective lead generation strategies.
You will need no more than 5 minutes to start Hello Bar and customize it according to your needs.
When it comes to integrations, Hello Bar supports various email platforms, so you can have a seamless email campaign workflow.
Offered features:
Customization
A/B testing
Targeting options
Exit-intent technology
Integrations
Hello Bar offers over 200 different targeting options to show your announcements to the right audience.
Pricing: If you decide to use Hello Bar, you can choose between one free and two paid packages.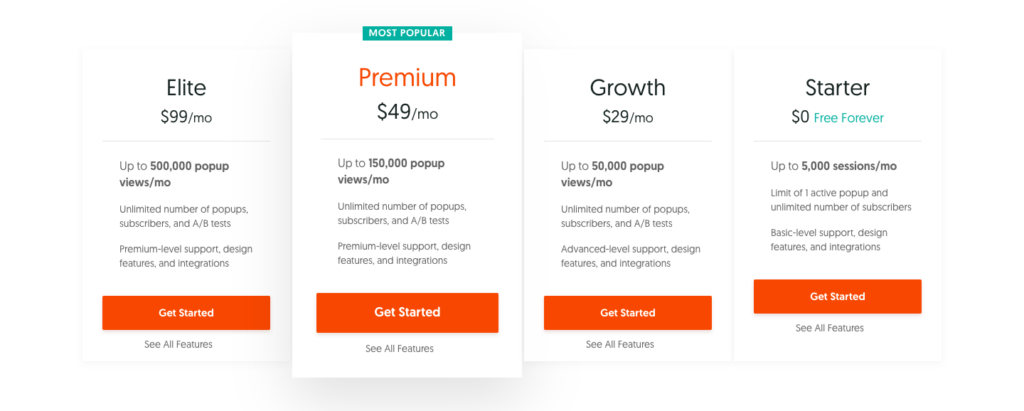 The last, but not the least important, tool for your website that we will mention in this article is Poptin.
Poptin includes three different products:
Popup windows
Embedded website forms
Automatic emails
However, our focus will be on creating pop-ups as a way to announce important information for your audience.
Poptin has a really easy editor with many options for customization.
You can change the colour of your pop-up window, background, CTA button, size, and similar.
With a simple drag and drop interface, you will be able to add or remove different fields and elements.
All the pop-ups that you made with Poptin will be responsive to both desktop and mobile devices.
Your announcements can be shown through different types of pop-ups such as:
Lightboxes
Countdown pop-ups
Full-screen overlays
Slide-in pop-ups
Top and bottom bars
If you made more than one pop-up and you can't decide which one you should use than the option for A/B testing will be of great help. It will give you powerful insights about their performances and you will see which one has the best qualities.
Targeting and triggering options are crucial parts of using pop-up windows.
By using them, you are able to show your offers to the right audience at the time when they are most likely to interact.
Poptin also uses smart exit-intent technology so you can prevent losing visitors from your website. Just show them the irresistible offers that will convince them that you have exactly what they are searching for.
Offered features:
Drag and drop interface
High level of customization
Advanced triggering options
Advanced targeting options
Different pop-up formats
Analytics
A/B testing
Integrations
Poptin integrates with many mailing systems, has more than 40 native integrations, and over 1000 integrations through Zapier.
Pricing: Poptin offers one free package and three different paid packages to choose from.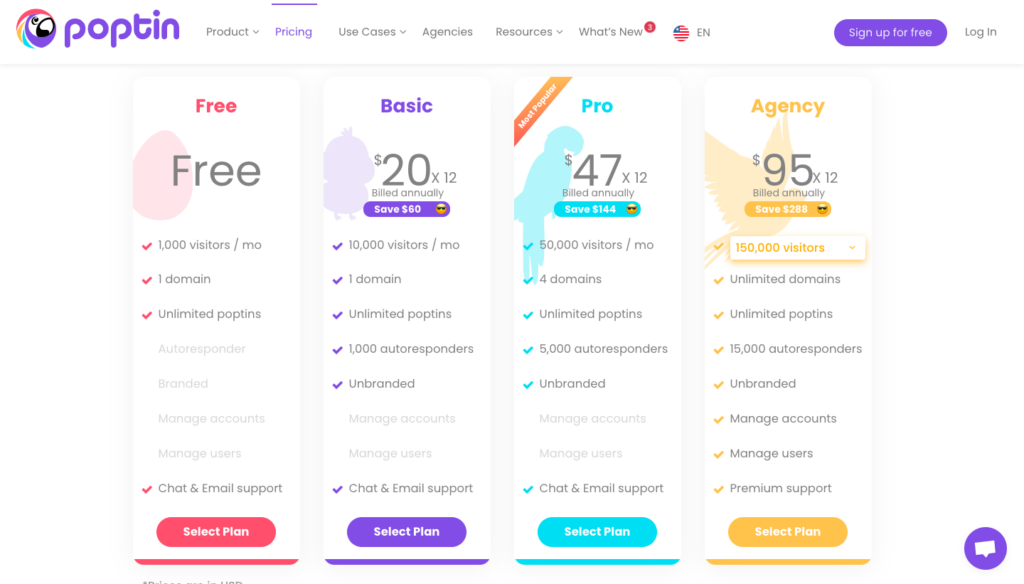 The bottom line
Announcement bar plugins and pop-up tools are powerful ways to keep your audience informed. Through different announcements and offers, you can offer them a privilege and encourage them to take some action.
In this way, you will be able to collect email addresses, contact information, and grow your mailing list.
When you maintain communication with your audience, brand awareness will be spread which is extremely important if your main goal is to run a successful business.
By knowing your target audience, you will be able to create offers that are important to them, no matter if you are selling a product or a service.
But don't forget that announcement bars and pop-ups are just one part of your overall website content.
Your primary focus must be the quality of content that you provide to them. If your goal is to collect their contacts, then announcements and pop-up windows are the final steps of that process.
Nevertheless, your job is still not done.
After you collect email addresses, it is time to fulfil the promises you gave to them. For example, if you promised that they would get a free e-book as soon as they leave their contact, then an e-book should be waiting for them in their mailboxes.
Consistency is the key.
Continue to provide valuable content and information to your leads, and you will see how they start converting into your loyal customers!
This process may look a bit complicated at first, but with the right tools, everything will come to its place.
We recommend you to try out the Sticky Menu announcement plugin bar right away and see how simple tools can be highly effective when it comes to achieving your business goals.