SEO is the foundation of growth – and if you don't set it up correctly, you may end up missing a ton of leads and potential customers.

Many factors affect the ranking in Google search results.
One of those factors is certainly the speed of your website. If you take care of the page speed and load time, you'll rank faster.
Google's study shows that the load speed of 1-3 seconds can increase your bounce rate by 32%.
When you already invested a lot of time in quality content, website design, and organization, you do not want loading time to spoil everything.

By speeding up your website, not only will you yield positive results in terms of page views and conversions, but you will also provide your visitors with better user experience.
Statistics say that most people leave a page that takes more than 3 seconds to load.

This is why, in this article, we offer you the best plugins for speeding up your website loading time.
Using various mechanisms, these plugins accelerate the load speed of your page.
1. WP Fastest Cache
If you have created a great website that gets more and more reviews each moment, you certainly do not want it to slow down because of the high traffic.
WP Fastest Cache is a great solution to this problem.
This plugin will create a static HTML file. Thanks to it, more users will get to the same static page instead of having the page render repeatedly.
The product is easy to use and if you're struggling, there is great customer support that will assist you.
WP Fastest Cache is used by over 200,000 people and it comes with a great set of features, balanced with ease of use.

The only downside?

To take full advantage of all the features will require a premium version – but fortunately, it's the one-time fee that you will pay after installing the product.
2. WP Super Cache
WP Super Cache is one of the most widely used caching plugins available for WordPress.

It is free and comes highly recommended by many of the top WordPress hosting companies.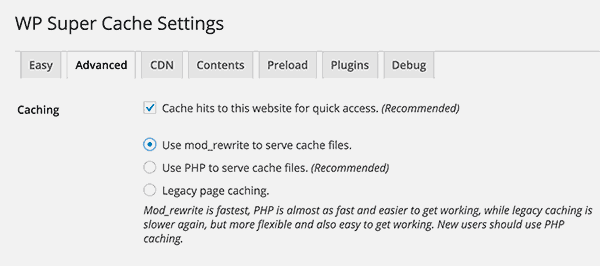 It includes all recommended caching features that you will need to speed up your website – gzip compression, page cache, cache pre-loading, CDN support, advanced-cache reload, and more.

This plugin generates static HTML files from your dynamic WordPress blog. After an HTML file is generated, your web server will serve that file instead of processing the comparatively heavier and more expensive WordPress PHP scripts.


3. WP Rocket

WP Rocket is maybe the best WordPress performance plugin.
You get all of the caching functionality you would expect, along with a bunch of features you probably would not expect.
WP Rocket is the easiest and most beginner-friendly caching plugin, which is a big help when it comes to the setup process.
It includes features you would normally have to install a few extra plugins for. For example, you get image lazy loading, database optimization, and even the ability to host Google Analytics code on your own website.

It allows users to instantly cache their website with one-click.

It's crawler automatically fetches your WordPress pages to build up the cache. The plugin then automatically turns on recommended WordPress caching settings like gzip compression, page cache, and cache pre-loading.
4. W3 Total Cache

Beginners may find W3 Total Cache a bit difficult to use, but it is nevertheless one of the most popular WordPress caching plugins.

A caching plugin is a must for all webmasters, and a plugin like the W3 Total Cache will be highly effective at improving your load time.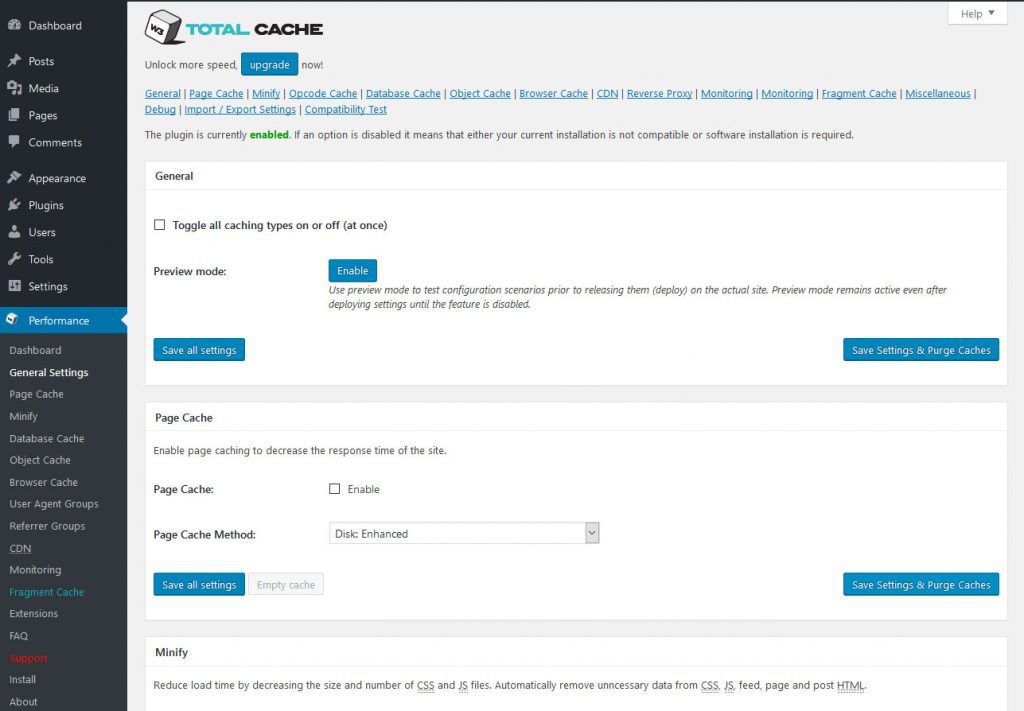 It includes all the features you will need to properly set up WordPress cache – page cache, object cache, gzip compression, limited minification support, CDN support, and more.

W3 Total Cache is a big-time plugin with a monstrous number of features. For high volume, high traffic sites, a plugin with these capabilities is essential.

But, on the other hand, these same features can be overwhelming and, honestly, too complicated for the small-time user.

It is also worth noting that uninstalling this plugin can be tricky as it takes more than the typical deactivating and deleting to get rid of it.
5. Cache Enabler
Cache Enabler is a great plugin from the team at KeyCDN.

This plugin requires minimal setup time and allows you to easily take advantage of the benefits that come from using WordPress caching.


It creates static HTML files and stores them on the server's disk. The web server will deliver the static HTML file and avoid the resource-intensive backend processes (core, plugins, and database).

Cache Enabler comes with the option to set the cache expiry time, minification setup and a few other options.

Other than that, it is sparse on features but that is the entire point of this plugin.

6. WP Smush
WP Smushis an award-winning, image compression plugin.

Ensuring your images are properly optimized is another way to shave off some of that vital load time.

If your images are too large, not only are they carrying some needless file size, but your server also has to use extra resources just to adjust how the image is displayed, which is an unnecessary waste.
The WP Smush plugin works by stripping away all metadata from JPEGs, as well as removing unused colors from indexed images. The result is – smaller file size, quicker load time, and no noticeable loss of image quality.

WP Smush is the go-to plugin for image optimization.


7. WP Super Minify

The idea of minifying is to combine JS, HTML and CSS files so that they can be compressed and served to visitors, and at the same time, to reduce website loading time.

The three-step process for installing this plugin include downloading the plugin, uploading it to the directory, and activating it through the plugins menu which makes it very simple.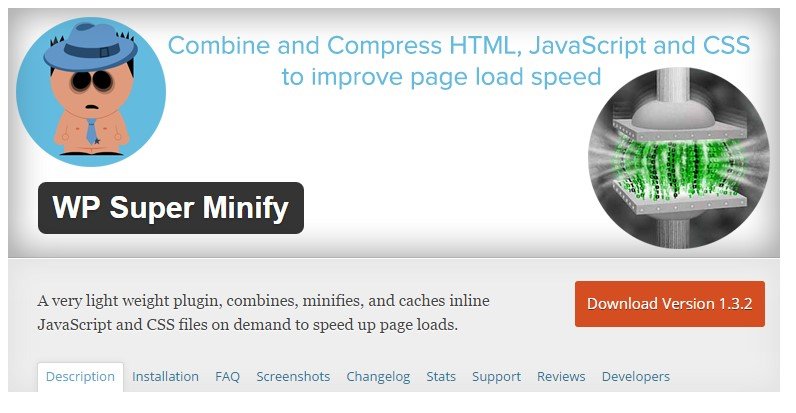 WP Super Minify won't increase Google page speed as much as some of the more technical plugins. However, many users can expect an increase of 2-4 percent.
8. BJ Lazy Load
The default procedure for loading a WordPress webpage is to load everything simultaneously. If you have a lot of images, asking your server to do all the heavy lifting upfront can significantly slow your load speed down.
The BJ Lazy Load plugin improves your website's load speed by using what is known as lazy loading.
Rather than loading content that the viewer is not ready to ready, BJ Lazy Load delays loading it until the user is prepared.

As the viewer scrolls along, content IFrames are replaced with placeholders so that the page loads bit by bit, rather than loading everything at once.

The visitor won't notice this, and that's exactly the point.

9. WP-Optimize
WP-Optimize allows you to clean up and optimize your database to make it run better.

You can also remove all those comments and post revisions automatically in order to ensure your database is running neat, fast, and efficient.

Once enabled, you can define a schedule which will automatically clean-up your database by removing all unnecessary data like spam comments, trashed content, etc.

It will also show database statistics and potential savings, and more.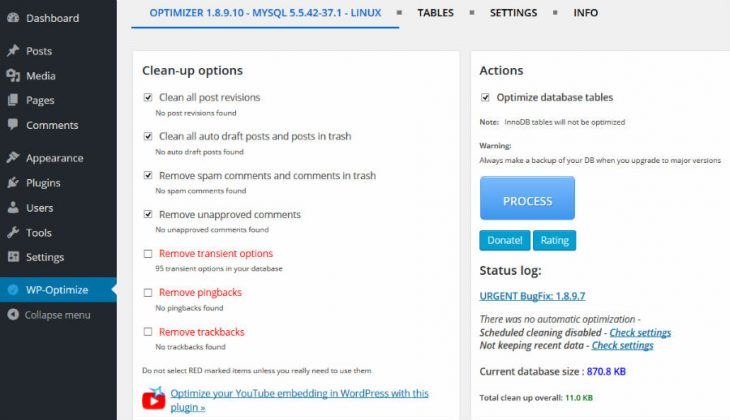 As a revolutionary, all-in-one plugin that cleans your database, compresses your images and caches your site, this simple and highly effective tool has everything you need to keep your website fast and thoroughly optimized.
10. Plugin Organizer
Slow load time is often attributed to having too many plugins.

However, in most cases, we need those plugins, so removing them just isn't going to work with you.

Perhaps a better question is not whether you need a particular plugin, but whether you need it on each and every page.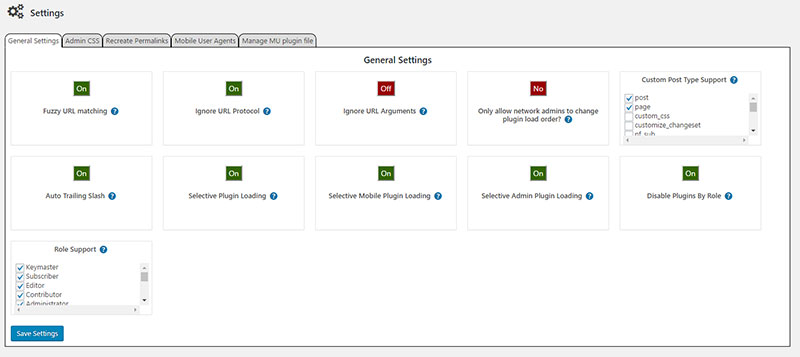 By using the
Plugin Organizer plugin
, you can suppress WordPress's default urge to load each plugin, and tell it which plugins you want loading on each page.
This is done via a simple checkbox system. By loading only the plugins you absolutely need, you can reduce your load time greatly.
Another neat feature of this plugin is the ability to prioritize the order in which plugins load by adding a drag-and-drop function to the
Installed Plugins
section.
For example, the comments section is typically the last thing a user is going to see, so it makes sense to load this last, right?
This can improve user experience by making the page usable more quickly. The plugin allows you to group together related plugins to simplify the task of organizing them, too.
The Bottom line
The one thing that can kill all the hard work that you put into building your website before it even has a chance is speed.

As the Internet users, today are an impatient bunch, loading speed is essential to your website's success.

A faster website improves user experience and encourages users to visit more pages. This also helps you boost engagement and the time users spend on your website.

With hundreds of other websites just a click away, you really need to grab a user's attention. It is only a matter of seconds before your visitors decide that your website is not worth the effort, and escape out, back to Google, where they will eventually make their way to your competition.

However, there is help in the form of a plugin.

To help you narrow down which is best for your website, we have narrowed down some of our favourites, each above mentioned.

Take all factors, including loading speed, into consideration, and you can expect great success for your website.