Best Email Marketing Tools And Services
Online marketing is the marketing of products or services using digital technologies, mainly on the internet, but also including display ads and any other digital media. The rise of online marketing since the 1990s and 2000s has changed the way brands and companies use technology to market their solutions.
Email marketing is primarily a customer experience strategy that starts with acquisition and focuses on repeat purchases and building lasting relationships.
It is suitable for any type of business, but it will differ in strategy and set of triggers (automatic emails). The strategy is drawn up as a separate document and is an action plan that is implemented step by step.
Digital platforms are increasingly incorporated into marketing plans and daily life, and people are using digital devices instead of physical stores. So, it's no surprise digital marketing campaigns are becoming more prevalent and effective.
So, what are the best digital marketing types to use to boost your website traffic and quickly find the target audience?
We will gladly share them in the article, along with the email marketing automation tips and email search, verification, and campaign tools that will help you improve your marketing and sales performance.
Best marketing services
There are numerous digital marketing tools now. So, it's important to understand the advantages and disadvantages of at least the main ones to choose what is most suitable for your business.
1. SEO promotion
Choosing effective marketing tools, you can't ignore this method. It allows you to make your resource attractive in terms of popular search engines. This, in turn, brings the site to the top in the ranking of search engine responses to user queries.
2. Contextual advertising
These advertisements appear below the search bar or to the right of it after the relevant keywords have been entered into the search. Such ads are marked with an "advertisement" icon.
The advantage of contextual advertising is that your site will immediately be at the top of search results without any special settings, and you will be able to independently determine the budget and duration of the advertising campaign.
At the same time, contextual advertising is more expensive than search engine promotion, and the price for it is not fixed but determined according to the principle of an auction. Also, of course, there is an intrusiveness effect and, due to this, click-through rates are usually low.
3. Banner advertising
This is a tried promotion method to attract the attention of a large audience. The development of modern technologies has made it possible to make banner advertising brighter and more effective; it instantly attracts attention and increases the reach of the target audience.
4. Social networks
Social networks are another effective tool for attracting new customers. To reach them, groups are created that allow you to establish live contact with existing and potential clients, organize promotions, and provide information about new products and upcoming sales.
The undoubted plus of social networks is the rapid spread of information from your subscribers to their contacts, which ultimately expands the audience of your influence.
5. Mailing lists
This is the cheapest and most convenient option for an advertising campaign, especially if you consider that you can pre-select mailing recipients based on important criteria for you, get reports, and analyze the effectiveness of your campaigns.
And even though there is a risk of your emails getting into the spam folder, it can be easily avoided with email marketing automation tools.
Now let's dive deeper into the email marketing automation software.
Email marketing – what is automation?
Email marketing is one of the most effective digital marketing strategies, which involves sending emails to prospects and existing customers. Such emails can be of different types: information emails, digital newsletters, product updates, transactional emails, follow-ups, etc.
But before you create your email marketing campaign, you need to build your prospect list that will contain valid email addresses only. And this is where different tools come into play.
Email marketing automation is the minimization of time and effort spent on routine processes in the marketing department through the use of the software.
The main function of automation is to simplify and speed up work in the following areas of marketing:
Content creation and distribution.
Campaign management.
Lead management.
Measuring results.
Most commonly, email automation is used in such cases:
Marketing. In such services, you can upload your contact database and send mailings to it. Email sequences are usually created in a drag-and-drop editor or with the help of ready-made templates.
Transport. Distribution transport services are used by programmers. With their help, they send automatic emails.
Plugin. These are microservices that are embedded in other services. For example, there are dedicated WordPress plugins that have limited email marketing functionality. These are not specialized services, so they are quite cheap.
There are several important factors to consider when choosing the right email automation tool:
Audience segmentation options.
Simple user interface with friendly functionality.
Integration with other software.
Automatic category updates.
Email search options.
Email verification.
Email drip campaigns.
These are some of the services that cover all or almost all of the above criteria.
Types of email marketing services in 2021
Snov.io
Snov.io is an all-in-one toolset with an email finder, email verifier, and email drip campaigns offered on the same platform. With its Email Finder, you can find email addresses anywhere – by companies, professional social profiles, or domains via the app or on company websites, search results, and LinkedIn using the Chrome extension.
Email Verifier is a tool that clears your email list from invalid addresses with the help of a 7-tier verification process. You can verify email addresses individually or in bulk by uploading your prospect list.
Besides, there is an Email Drip Campaigns tool that helps automate your outreach. This is a huge plus of the service in comparison with other email marketing automation solutions.
Pricing: Snov.io gives you the maximum opportunity at the most affordable price to keep your business thriving. Paid plans start at $39/month. The optimal rate for medium-sized companies is $169/month for 20,000 credits and 30,000 mailings.
You can also use Snov.io tools for free on a freemium, renewable plan.
Disadvantages
Steep price tags.
Limited number of users.
Rather complex service.
Lack of components.
No free trial.
GetResponse
This is a one-stop online marketing platform for business development. They offer email marketing campaigns, high conversion landing pages, and webinar software. It is worth noting that this service has a Russian-language version of the panel and support in Russian – which is very convenient for solving emerging problems.
GetResponse is an intelligent automation tool. Using its functions, you create several additional conditions for automatically segmenting your contact lists. Getresponse service allows you to customize the main page of your personal account, so that it is convenient for you, it consists of widgets that you can add or remove.
Pricing: The cost starts at $34/month, includes all basic functions plus, webinar up to 100 people, funnels for webinar and for sales.
Disadvantages:
Long registration. Email marketing is really worth it, but you have to fill out a lot of fields when registering, so don't expect to complete it in a couple of minutes.
The Russian-speaking support service works less efficiently than the English-speaking one. If you know English well enough, then this is unlikely to be a big difficulty for you.
The inability to set payment for the letter/subscriber.
Good read: 4 of the Best GetResponse Alternatives For Small Businesses
AWeber
More than 100,000 marketers use AWeber, which has the best features for small businesses. With high-quality email and phone support, along with helpful articles and videos, you can get the answers you need quickly and focus on growing your business.
Aweber offers visual drag-and-drop email marketing tools, list management tools, and analytics reports. With Aweber Lists Management, you can import an email list and create a database from common file types.
Email service makes it easy to manage your lists using any rules that you create automatically. In addition, with marketing automation tools, you can create an autoresponder workflow based on opening emails, clicking on links, visiting sites, and shopping.
Pricing: Monthly Billing Cycle – $29, $49, $69, $149.
Quarterly Billing Cycle – $79, $139, $199.
Disadvantages
This is not the best value for money on the market: there are cheaper options that can give you more functionality for specific things, such as automating your marketing campaigns.
Not all templates are perfect: While AWeber offers many templates to choose from, it's important to remember that quality should matter as much as quantity. Some of the templates just won't appeal to modern businesses.
Segmentation is limited: When it comes to segmenting your campaign listings and excluding specific customers from broadcasts, AWeber doesn't make it any easier. If you really want to update your strategy for custom email content, you may need a different email provider.
ConvertKit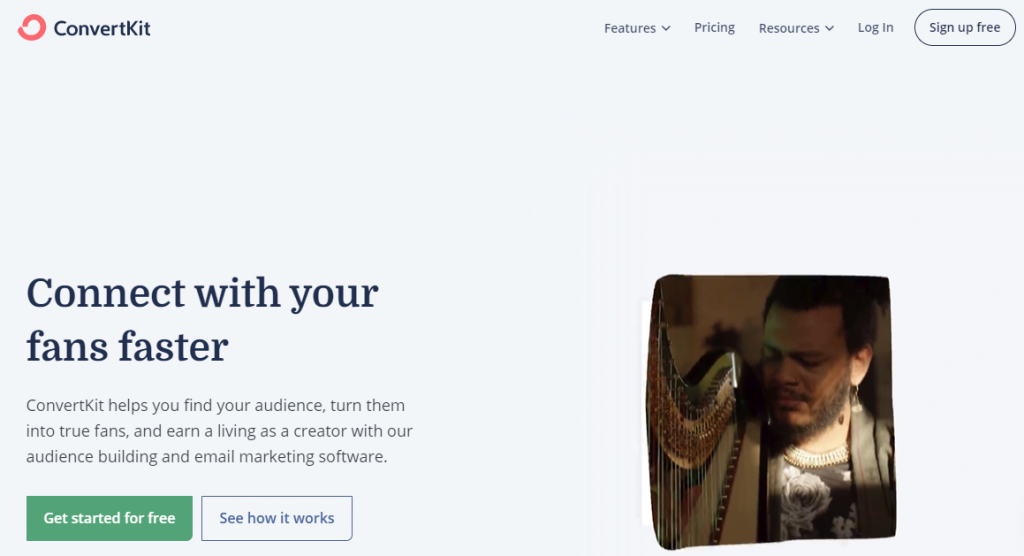 There are many attractive forms of this service, and with the help of automated emails it is quite easy to increase the conversion rate and organize the maximum engagement of your subscribers
The service offers some pretty advanced email autoresponders based on both blog actions and actions within email newsletters. You can use advanced action-based segmentation to personalize your email funnels Your text emails look professional and don't have the "annoying branding" of the email service The service has out-of-the-box integrations with a variety of e-commerce platforms.
Pricing: Prices start at $29 a month for a maximum of 1,000 contacts, $49 per month for up to 3,000 subscribers or $79 monthly for a list of 5,000 contacts. There is also a freemium plan for those with less than 1,000 subscribers.
Disadvantages
Expensive service.
Small selection of landing pages and form templates. The editor is the main one.
Less focused on the visual design of emails. The email editor is basic and designed for simple text emails.
Fixed Chat: While it works fine when it is available, it is often unavailable even during official hours.
The security measures are not very clear and could possibly be a sub-clause.
Constant Contact
Constant Contact's goal is to help small businesses maximize their opportunities and exploit the full potential of the Internet.
The service has over a hundred modern, mobile-optimized email marketing templates for engaging visitors and converting them into customers, real-time reporting and analytics, and bonus features such as coupons, polls, and events.
One of the most interesting is the events function, which allows you to invite subscribers to events, with online registration and payment.
Pricing: The basic Email plan starts at $20/month for 500 contacts, while Email Plus starts at $45/month. A 15% discount applies to 6-12 month plans, and a 30% discount is available to nonprofits.
Disadvantages
All in all, one of the most expensive email marketing platforms out there.
Specifically: If you have a lot of contacts but don't have a lot of revenue from it, the plan's pricing structure can be problematic. You need to stay within a certain number of contacts to avoid raising the price of your plan.
Automation is slightly limited to two or three basic tools. This is probably fine for most small businesses and marketers, but other platforms have more advanced offerings.
Some sales might annoy customers.
Drip
Email drip marketing strategies focus on the following:
Providing relevant content;
Using email newsletters as a communication tool with subscribers;
Customer focus.
The most important thing in Drip marketing is to provide the subscriber with the kind of content that would meet his needs at one stage or another of the buying decision.
Drip email marketing is not limited to the above campaigns. It all depends on the imagination and experience of the marketer, as well as the market specifics of the activities of the owner of a particular business.
Pricing: The advertised price sparks consumer interest in the product and as he / she continues to purchase, all sorts of fees. Drip pricing has come under intense pressure from governments and other regulators as it is ethically suspicious.
Disadvantages
Expense specially initial cost is high.
The lifetime of the tubes used in drip irrigation can be shortened by the sun causing wastage.
May cause clogging if water is not filtered correctly.
Lemlist
This is another great alternative that helps warm up your domain, improve deliverability, and automate follow-ups! The tool will immediately impress you with an easy-to-use interface and creative menu item names.
Campaigns are created in 5 easy steps:
Name your campaign.
Upload the contact list.
Create a chain of emails.
Schedule them.
Set up your general settings.
What's good: you can stop the campaign not only after the answer but also after the recipient opens the emails or follows the link.
Pricing: The cost starts at $29/month (1 email account, 100 mailings per day). The optimal rate is $59/month (500 mailings per day, teamwork, image personalization, integrations, and a/b testing). At a rate of $99/month, landing page creation, chat, video integration are available.
Disadvantages
Doesn't Support Email Attachments. Lemlist doesn't let you add email attachments, like presentations or reports, to your emails.
Expensive Pricing Plans.
Works As a Separate Interface from Gmail.
Daily Limits on Email Sending.
Reply.io
Reply.io is a service for automating cold email campaigns and streamlining the workflow with native CRM integrations. Here you can assign tasks to managers, book appointments, and schedule phone calls. And all this can be included in follow-up sequences. A separate card is created for each lead.
Pricing: The cost starts at $70/month per user and depends on the number of team members and contacts. If you want to work with large databases and teams, pay extra.
Disadvantages
The worst part of the reply platform is that once you segment in a list it pulls it out from the prior list. This makes ongoing reporting difficult.
Minor features are missing. Everytime you upload contacts and some of the contacts are skipped, the app should notify you.
The reports didn't include the names of the campaigns.
HubSpot
HubSpot is one of the most fully-featured free solutions on the CRM market. It allows you to:
Maintain a database of contacts, organizations, and transactions;
Store any information on contacts, organizations, and deals by adding fields for each contact, tracking where they came from, and monitoring the entire history of their actions on the site;
Carry on correspondence with clients;
Make appointments/calls with customers directly through the website;
Create and post forms and pop-ups on the site to collect emails and other data about the user;
Add a chat to the site and communicate with site visitors.
Pricing: Hubspot itself is free. But there are paid extension packages: Sales Pro (sales automation), Marketing Pro (marketing automation), CMS (website engine, landing pages, and blog), and Service Pro (customer service automation). Paid plans start at $50/month.
Disadvantages
Insufficient extensibility. You cannot create your own objects in Hubspot (for example, if you want to see "Project" as a separate system object).
Lack of interface in Russian. Like most Western systems, Hubspot offers its system in English and several other languages.
There is no integration with Telegram.
Marketo
Marketo is an online marketing automation platform that powers fast-growing small businesses and global businesses. The service can help increase efficiency, optimize marketing processes, and improve sales productivity.
Marketo is required for marketing analytics. Here are some of its main characteristics:
Email newsletter.
Marketing automation.
Inbound marketing.
Lead management.
Event marketing.
Landing pages and forms.
Lead counting.
Social marketing.
Instant CRM integration.
Unlimited users.
Pricing: The minimum price is $895/month, but the tool is available for a trial period.
Disadvantages
Complicated pricing. First, the complex pricing of Marketo's tools can easily cause a headache for businesses that want a simple marketing solution.
Complicated setup.
Poor customer service.
How does email marketing work?
Email marketing is primarily a customer experience strategy that starts with acquisition and focuses on repeat purchases and building lasting relationships.
It is suitable for any type of business.
In a simplified form, the email marketing steps look like this:
1. Collecting the base.
2. Newsletter.
3. Analysis of the results.
4. Improving the effectiveness of mailing.
Email marketing best practices
1.Choose the right email marketing tool.
To get started with email marketing, you'll need the right tool. Permanent Contact allows you to easily create contacts per contact, list memberships, and contact details.
2. Add the desired contacts to your mailing list.
Your mail tool does not have an updated list of the contacts you want. Solve this problem with reliable two-way contacts between your tools, especially if you collect your contacts in a regular contact system like CRM.
3. Make it as simple as possible.
Strive for simplicity when you are just getting started with list segmentation. To start, choose 2-3 segments that will make a big difference without introducing unnecessary complexity. A good starting point is to identify the main key values ​​of the buyer's personalities and distinguish between them, such as type of business, location or purpose.
5. Remember user preferences.
Be sure to pay attention to your subscribers' preferences – give your contacts what they ask for and don't send them what they don't want. If you're collecting data based on your preferred email frequency and email types, take the time to create segments for it.
6. Synchronize your data.
One of the most important list techniques is data synchronization and relevance. If you cannot rely on your segments and data, you will run into problems. Make sure you collect the correct data in your forms, keep your organization clean with simple, well-documented processes, and clean up your data quarterly.
7. Combine mailing list with automation.
When you combine email segmentation with automation, you can send the most relevant messages at the right time. Then, set up your email automation to send your newsletters, emails, and activity-based emails at the right time.
Wrapping up
The most important thing in choosing an email automation service is to determine your goals and objectives. If you aim to fully respond to your clients and send out relevant campaigns, then this service is the right fit for you.
Marketers and sales reps love emails for their accessibility, high return on investment, and the ability to use this channel for both generating a profit and communicating with customers.
Email marketing is primarily a customer relations strategy that starts with client attraction and focuses on repeat purchases and building long-term relationships. It's suitable for any type of business, but it will differ in strategy and set of triggers (automatic emails).
We hope we helped you choose an automation tool that will work for your business!