In this guide we'll show you how to connect your TikTok account to Chaty.
To learn more about how to use the Chaty plug-in click here, and don't forget to check our entire Chaty knowledgebase to make the most out of it.
So let's dive in. Open the Chaty settings from your WordPress dashboard and add the TikTok channel from "Step 1: Choose your channels", as shown below:
In the field that will show up below, type your TikTok username with an @ in front of it, as shown in the example.

That's it! Easy as 1,2,3 ☺️Don't forget to hit the "Save changes" button to make sure all changes will be displayed on your website properly.
Below is an example of how the TikTok channel may look on your website.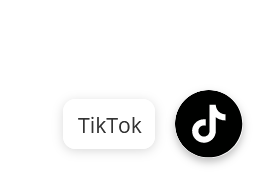 ---