In this Help Guide, we will try to illustrate how to use My Sticky Elements.
Download the My Sticky Element plugin for WordPress on Premio for WordPress if you haven't still got it.
My Sticky Elements aims at getting new leads through a floating contact form on your website along with social media icons to connect visitors to your Facebook Messenger, Whatsapp, and much more.
You can use the form and the social media icons tabs individually or together as required.
Please follow through the steps below to understand the process:
Login to your WordPress Admin Dashboard and go to My Sticky Elements
Step 1: Select the text fields you want in your contact form like Name, Email, Phone number, etc.You can edit the Placeholder text as per your requirement as well. You can also add custom fields and Dropdown fields, you can also choose whether you wish to keep these fields as Required or not.

Step 2: In this step you get to customize the Submit button in terms of its color, text, text color, redirecting the users to a different page etc. It also enable you to further customize your Contact Tab settings in terms of choosing device type to display on, direction of text feeding, text and background color, etc. You can also add new custom fields from here
Step 3: You can choose to select the text in the contact tab and choose where you want to send the leads from here. You can also set custom form CSS from here too
Step 4: You can select to have additional tabs for Social Media Channels as per your requirement from here:

Step 5: For a selected Social Media Tab, you will get the following options in settings like choosing the background color, icon color and much more.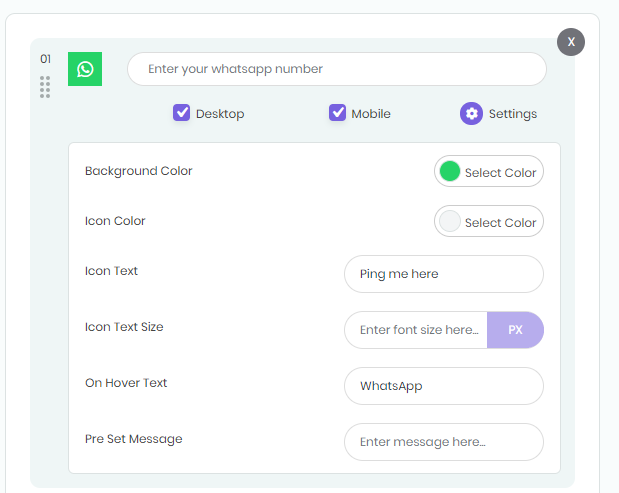 Step 6: Now, you get to customize the General Settings like Template design, Position of widget on desktop and mobile, widget size, font and much more.
Step 7: Further onwards, you get to choose any animated entry effects you may want for the widget, any certain pages where you may want to place the widget exclusively, custom CSS for tabs and so on. 
Step 8: Once you are satisfied with the changes made, just click on Save Changes tab in the end to save the settings.
This is how the widget may look on a website:

Click on the Tab to make the fields appear, that may look like this on your website: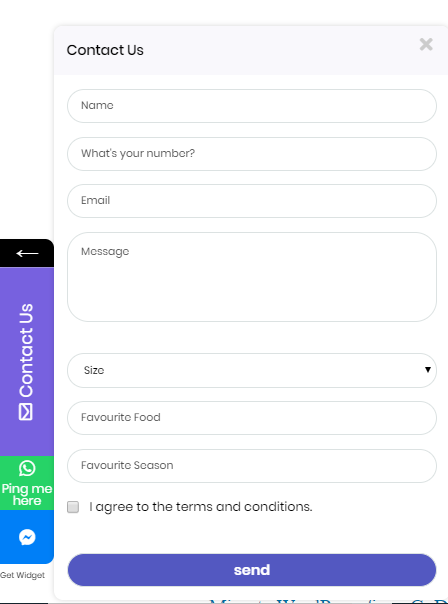 ** Please note that some of the features mentioned above are paid features only