In this guide we'll show you how to activate Folders for your media library, posts, pages or any other custom post.
To learn more about how to use the plug-in click here, and don't forget to check our entire Folders knowledgebase to make the most out of it. You can learn how to set default folders here.
First, go to your Folders Settings.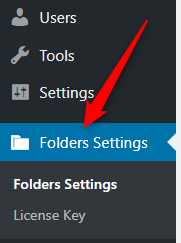 Then, enable all the places you'd like to organize by clicking on the checkboxes.
If you have any plugins that have some other type of custom posts (e.g. Elementor templates) you'll be able to enable Folders for that custom post type from your Folders settings like this:
Important! Please note that this is a Pro feature only! Check our Pro plans here 🙂
---