In this guide we'll show you how you can add date schedule targeting to your Coupon X widget in a few super simple and quick clicks. Click to read more about how to use Coupon X for Shopify or Wix.
With this feature you can schedule in advance to show your Coupon X widget on specific dates and in specific hours, for example for an upcoming holiday. This feature is also useful if you want to offer time-limited discounts or to start a promotion from a specific date.
First, open the Coupon X app in your Shopify or Wix admin panel and click on the "Edit" option next to your widget.

Click on "Triggers and targeting" in the page that will open.
Scroll down the page and look for the "Date scheduling" option. Please note it's available for pro users only.
Now you need to select your start and end date – the dates from which the widget will respectively start and stop to be displayed, keeping in mind the start and end dates are included.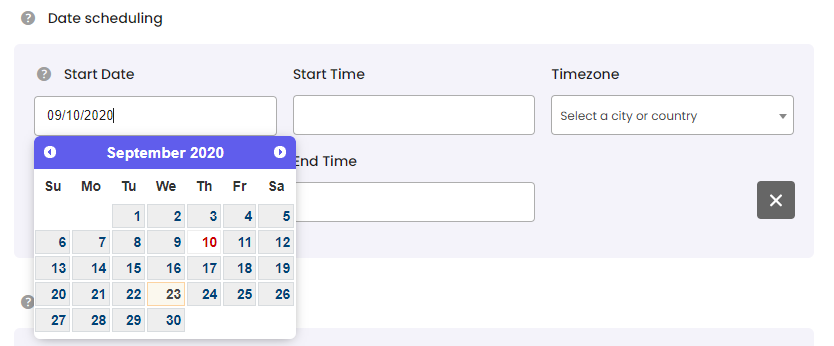 Then, add a start and end time of your preference and choose your timezone correctly by selecting your location from the "Timezone" field.
That's it! When you're done setting up your cart targeting settings, don't forget to hit "Publish" at the bottom of the page. Easy as 1,2,3 ☺️
Now your Coupon X coupon code will only be displayed starting from and unit the date and hour you have just selected.
You can also read more about how to display the widget on specific days and hours, add page targeting to display the widget on specific pages, add country targeting to display the widget for specific countries, choose to display different widgets based on the time of the day, set up cart targeting rules, set up date schedule targeting, set up traffic source targeting or set up customer tags targeting by clicking on each of the hyperlinks.
---