You have your website, blog, or even a regular landing page. It looks great, it got you to indexing in the search engines and has people finding out about your business.
Next, you want to get them to convert into leads or start shopping for services. How do you do that?
That's where contact forms come into play! You need contact forms so your visitors can leave their name and email address to get in touch with you.
However, WordPress' contact form functionality is limited. That is, you have to provide the contact form's content manually. This may be okay if you are creating a quick contact or feedback form. If not, you need a plugin.
It is also important to remember that there is no one size fits all approach when it comes to allowing visitors to reach out for help with your website. You'll want to assess what you want your contact form to do.
This post will point you in the direction of some simple and advanced contact form plugins.
Here are my top picks for the best WordPress plugins if you want to create simple or advanced contact forms.
Subscribe Forms WordPress Plugin helps you create sign-up forms and capture email addresses. You can use the forms however you want – create a simple, 1-form-fits-all landing page or something more elaborate for your email list. You can also leverage form templates to create the type of form you want.
Features:
10+ different form templates.
You can create and add unlimited forms.
Extensive customization, including custom colors, background image, text, size, and more.
Send leads to email and get an email every time someone subscribes.
Integration with major marketing tools.
Pricing
Starts at $19 per year and goes up to $79 per year.
Download here.
Poptin is an intuitive inline form builder that will help you build sophisticated custom forms. The tool comes with built-in templates that you can customize and embed into your WordPress site. It also lets you choose a location on your site and target a specific segment of visitors.
Features
A separate email field to capture your visitors' email addresses.
The ability to add checkboxes, radio buttons, dropdowns, and more.
Add the calendar widget to let your visitors select a specific date.
Advanced targeting options and stats.
Trigger a thank-you message, a popup, fire conversion codes, send an autoresponder, or redirect to a URL after form submission.
Pricing
The Basic plan costs $25/mo, the pro plan costs $59/mo, and the Agency plan costs $119/mo. There's also a free version.
Download here.
3. WP Forms
WP Forms is an easy-to-use, feature-packed contact form plugin for WordPress. Whether you need a contact form or a custom-built questionnaire, WP Forms has you covered! WP Forms makes your life easier by adding fields with shortcodes, conditional logic, spam detection, email notifications, and more.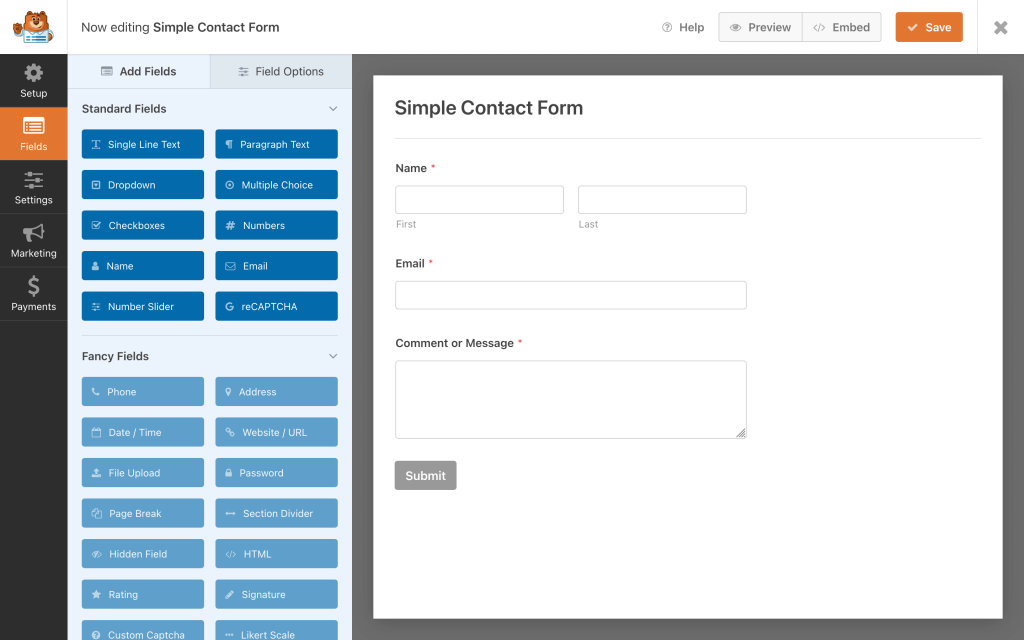 Features
The Drag and drop feature lets you create contact forms in minutes. You don't have to write any code.
You can use the pre-built form templates to save time.
WPForms is fully responsive.
You can get features such as basic form fields, instant notifications to respond to leads quickly, captcha for spam protection, and a thank-you page to confirm form in the free version.
It allows you to streamline your workflow as you can view all your leads in one place.
You can easily gather payments, donations, and online orders.
The forms are embeddable in blog posts, pages, footer, sidebar widgets, and so on.
With the premium version, you can build any type of form, including multi-page forms, payment forms, email subscription forms, etc.
Pricing
The Basic plan starts at $39.50/ year, the Plus plan costs $99.50/ year, the Pro plan is their best deal and costs $199.50/ year, and the Elite plan costs $299.50/ year.
Drawbacks
It doesn't have the more advanced features that other form builder plugins have.
4. Formidable Forms
Formidable Forms is one of the highest-rated form builder plugins that will help you to build advanced contact forms.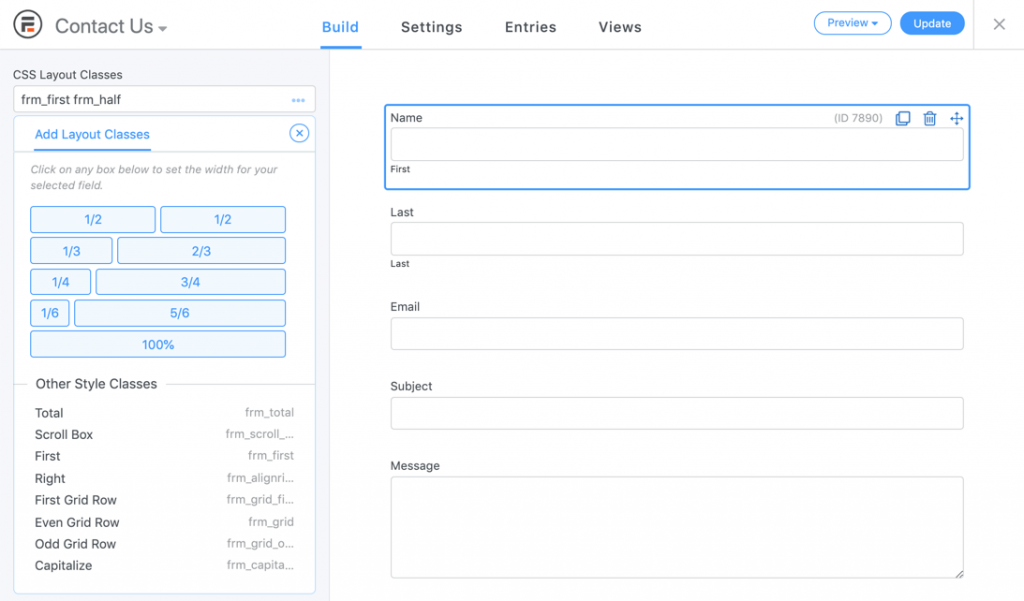 Features
The Drag and Drop builder will help you to build complex forms easily. You can even style them to look amazing in your theme.
It offers more than 30 add-ons that you can install with your license in one click.
The form templates can get you started quickly and then customize to suit your requirements.
It allows you to change entries into listings, calendars, directories, and powerful front-end content.
You can create attractive mobile responsive form layouts that fit with your theme.
It lets you gather multiple sets of data, such as team registrations, events, and work history.
You can turn your forms into automated quizzes.
You can easily customize your forms with more than 125 hooks and customizable HTML that are available.
It lets you link your forms with popular CRMs and more than 3,000 other services with Zapier.
Pricing
The Basic plan costs $39 .50 /year, the Plus plan costs $99 .50 /year, the Business plan costs $199 .50 /year, and the Elite plan costs $299 .50 /year.
Drawbacks
It is not very intuitive as their target is advanced users and developers. You can always hire a WordPress expert with website development services if you find any difficulty in building the forms.
5. Ninja Forms
A user-friendly WordPress contact form builder that boasts of more than 1 million active installations, Ninja Forms can help you build professional-looking contact forms with ease. It is very beginner-friendly.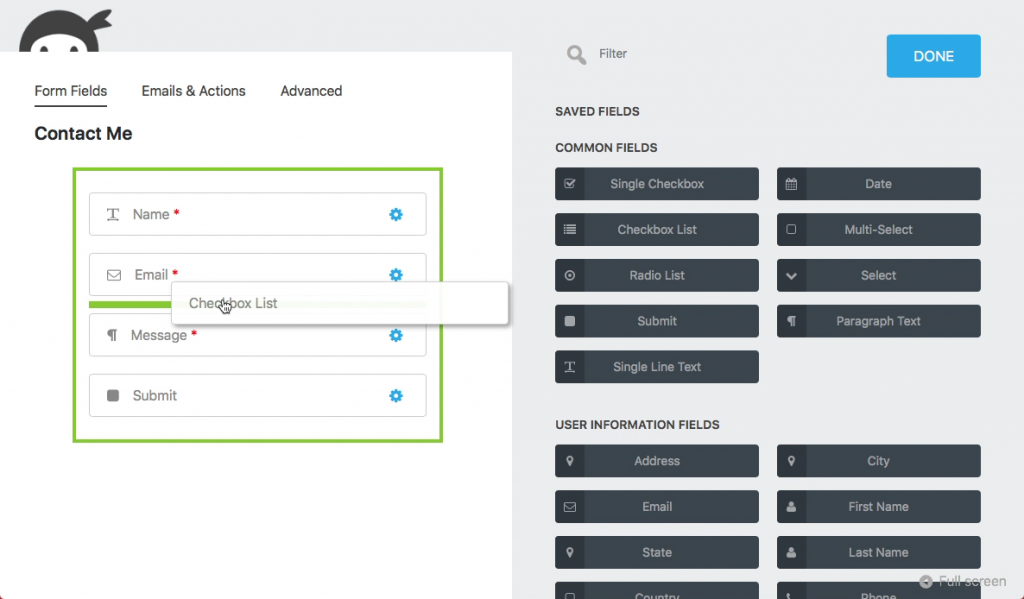 Features
You can design beautiful, complex forms with a dedicated support team helping you throughout. You don't need coding skills.
The Drag and drop feature can let you create any type of form, starting from the row and column layouts to multi-page forms and conditional forms.
Users can upload files and send or export submissions as a Microsoft Excel file, PDF, and even Google Sheets.
You will be able to accept PayPal and credit card payments securely.
It integrates with MailChimp, Constant Contact, Campaign Monitor, and more.
You can use pre-built templates for your contact form.
It offers accessible design and is mobile responsive.
It is GDPR compliant.
Pricing
The À la Carte plan costs $29-$129, the Personal plan costs $49.50, the Professional plan costs $99.50, and the Agency plan costs $249.50.
Drawbacks
It is a high-end form builder plugin as compared to other plugins.
Wrap-Up
Have you ever wanted to get in touch with someone but weren't sure where to reach them? Whether you are trying to reach an organization or just get in touch with a company, it's always best to use a contact form instead of leaving them a message.
But dealing with forms can be hard! Most people don't have time to create their own form or install a plugin. That's why I've compiled this list of WordPress plugins that will make creating simple contact forms easy! If you're looking for an easy-to-use form plugin, head over to Subscribe Forms. It integrates with major email marketing tools, and it's entirely customizable and free.