Black Friday is the biggest sales day for most of the world's business owners, and many eCommerce website owners rely on their websites to sell their goods and service.
Suppose you are a WordPress eCommerce website owner. In that case, you can benefit from WordPress plugins to help generate eye-catching advertisements, pop-ups, and other optimization and administrative features that reel in customers, generate interest in your Black Friday deals, close sales, and facilitate the payment process.
Here are some of the best-rated Black Friday WordPress plugins to take your business to the next level this Black Friday.
Shoppers are often in a great hurry when shopping for deals online because they do not want to miss out on anything. If they have questions or have trouble completing a purchase on your website, they may lose patience, switch to another site, and forget about yours. To keep users engaged after they have left your website, you can use a plugin called Chaty.
Chaty is a WordPress plugin that uses all your customer's favorite social media platforms, such as WhatsApp, Instagram, and Facebook Messenger, to continue a conversation and follow up on your customer's most pressing concerns.
You can also use it to post advertisements to users' social media platforms, so they can see your Black Friday deals while scrolling through their social media platforms. Statistics show that the average person spends 145 minutes daily on social media, so advertising on social media platforms will boost your Black Friday sales.
BLACK FRIDAY OFFER: Get 40% OFF when you avail/upgrade to any of Chaty's paid plans. Use the promo code PREMIO40BF2022 from November 14 to December 3, 2022. Use the code now!
The average person spends about 45 seconds on each website, which is hardly enough time to make a purchase or subscribe to your Black Friday newsletters. You can stop users in their tracks or add calls to action through interactive, responsive popups and embedded forms using Poptin.
With Poptin, you can generate eye-catching popups and forms that display your Black Friday deals using Poptin's interactive editor, so users are tempted to find out more about what you offer.
Choose and customize a template to suit your preferences, so you can prompt users to subscribe to your email list to find out more about your Black Friday offers long after they have left your website through an embedded form. You can also encourage them to stay and shop with a popup displaying your best Black Friday offers.
This Black Friday WordPress plugin also has an autoresponder feature, so you can send a potential client a follow-up email when they contact you, so they are never left to feel like you don't care about what they have to say.
BLACK FRIDAY OFFER: Get 35% OFF when you upgrade to any of Poptin's annual paid plans. Use the promo code bfpoptin22 from November 14 to December 3, 2022. Use the code now!
Many online store owners spend a lot of time designing their product pages in preparation for Black Friday, so it would be a shame if no one visited them. Many need a little help getting their website visitors to their product pages.
If this sounds like you, you may need MyStickyMenu. With Black Friday WordPress plugins like MyStickyMenu, you can encourage users to browse through your deals by adding practical page elements that stick around as they browse.
This WordPress plugin allows you to place a button directly on your Black Friday sales web pages through the MyStickyMenu welcome bar feature. Therefore, as soon as visitors land on your page, they are instantly reminded that you have products on sale for Black Friday.
It doesn't just disappear when the user scrolls but remains at the top of the page as a constant reminder to check out your special offers.
BLACK FRIDAY OFFER: Get 40% OFF when you avail/upgrade to any of My Sticky Menu's paid plans. Use the promo code PREMIO40BF2022 from November 14 to December 3, 2022. Use the code now!
Users who scroll through your website should be assured that you are within reach or want them to reach out to you throughout their browsing experience. Without WordPress plugins like MyStickyElements, links to connect via social media and the option to reach out to you may be hard for users to find.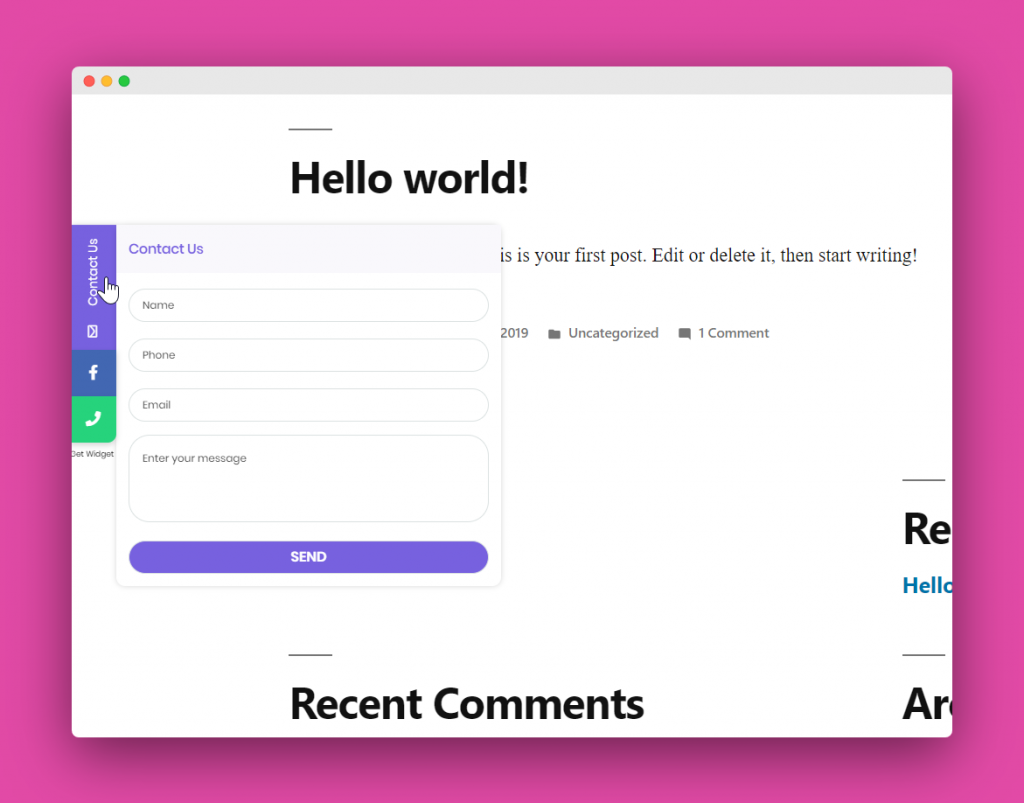 Your users may not realize this, but when they browse a website and see a professional contact section, it subconsciously registers that you are a trustworthy brand.
MyStickyElements lets your contact menu stick around while users browse so they feel you are ready and eager to reach out to them. The plugin allows you to display your contact links while users scroll up or down, include a slide or fade effects for emphasis, and change details such as the background color and opacity.
Choose from various social media links, including Facebook, Instagram, and live call.
BLACK FRIDAY OFFER: Get 40% OFF when you avail/upgrade to any of My Sticky Elements' paid plans. Use the promo code PREMIO40BF2022 from November 14 to December 3, 2022. Use the code now!
The key to building trust with new potential customers is by letting them know that your products or services are tried, tested, and loved by other customers. When you sell online, customers may be hesitant to purchase since they cannot judge the quality for themselves. The only way to secure business from reluctant shoppers is through testimonials.
Statistics show that 84 percent of online shoppers only purchase after seeing positive testimonials from other shoppers. Even though people may do a lot of impulsive buying on Black Friday, they still want to know that they are making high-quality purchases.
With Stars Testimonials, you can create testimonials on your website, add star ratings and company names, insert customer images for a more personalized approach, and manage your testimonials efficiently.
BLACK FRIDAY OFFER: Get 40% OFF when you avail/upgrade to any of Stars Testimonials' paid plans. Use the promo code PREMIO40BF2022 from November 14 to December 3, 2022. Use the code now!
You may have a lot of website visitors, but not all of them are easy to convert. Don't let visitors leave your site without buying anything or subscribing to your email newsletter. Email marketing is a huge aspect of every business's success, and building your list is one integral way to achieve your target, especially during the Black Friday shopping season.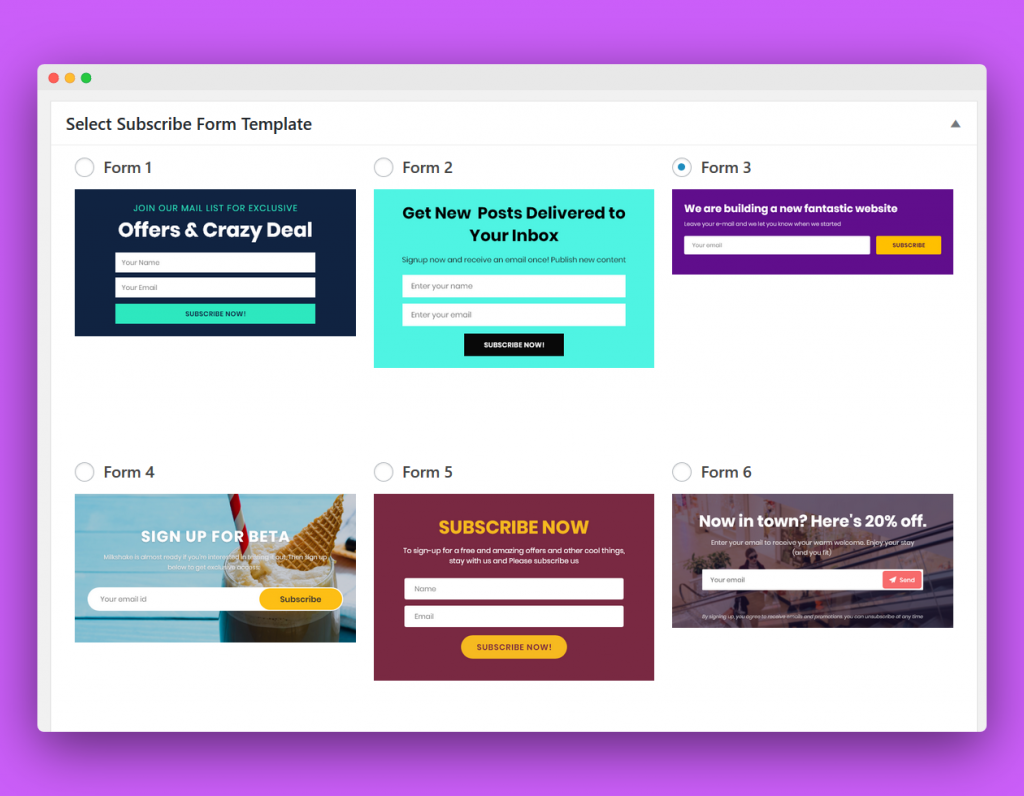 With Premio's Subscribe Forms, you can beautifully design highly targeted forms on your website that entice visitors to subscribe. You can even integrate your forms into your favorite mailing systems, MailChimp, GetResponse, and ActiveCampaign. Doing so allows you to experience a seamless email marketing funnel without needing to input all your visitor data into one database manually.
Use Subscribe Forms to capture more leads, subscribers, and potential customers.
BLACK FRIDAY OFFER: Get 40% OFF when you avail/upgrade to any of Subscribe Forms' paid plans. Use the promo code PREMIO40BF2022 from November 14 to December 3, 2022. Use the code now!
Black Friday is a busy season for your website. This is the time you launch new shopping campaigns to attract more visitors. Some even launch new products and services. That's why it's beneficial if you have a plugin that organizes all of your media files, folders, and pages in one library so that you can keep everything in place.
The WordPress Folders plugin allows you to organize your website and put your files into separate subfolders or types.
BLACK FRIDAY OFFER: Get 40% OFF when you avail/upgrade to any of Folders' paid plans. Use the promo code PREMIO40BF2022 from November 14 to December 3, 2022. Use the code now!
Boost your Black Friday sales and reduce cart abandonment with Premio's Coupon X. Show enticing discount pop ups, coupon codes, and promotions on WordPress that you can design in minutes. Enjoy using Coupon X's user-friendly interface with no coding required.
You can also utilize Coupon X's targeting rules to convert the right visitors based on order history, items in the cart, location, and more.
Start using Premio's Coupon X this Black Friday and get excellent sales results in no time!
BLACK FRIDAY OFFER: Get 40% OFF when you avail/upgrade to any of Coupon X's paid plans. Use the promo code PREMIO40BF2022 from November 14 to December 3, 2022. Use the code now!
Build cool email & SMS workflows that sell your products on complete autopilot without getting overwhelmed.
Sender is not just another run-of-the-mill email and SMS marketing platform. Instead, it stands out in that it features an easy-to-use automation builder to help you create everything from basic sequences to complex workflows, even if this is the first time you're doing it.
What's more, if you're looking for lead generation, remember that unlimited popups and forms are included in our packages, including the free tier.
Black Friday Offer:
20% off all plans with code FRIDAY
Valid until December 1
+ when buying an annual plan – 2 months free
+ when buying a PRO plan – free SMS credits (values from 35 dollars)
See Sender's pricing here.
Ays Pro team is introducing its Black Friday deal. Get all the most potent plugins created by Ays Team. The Great Bundle includes five plugins that can help you make your websites even more advanced. The Quiz Maker plugin will help you to create advanced Quizzes and entertain your audience. WordPress Survey Plugin is the proven method for getting real-time feedback from your audience.
Dropshipping involves purchasing products without needing to store them and is common practice for those with eCommerce sites.
DropshipMe is one of the free WordPress plugins designed for dropshipping on AliExpress. It carefully selects a database of AliExpress's top-selling, already-edited products that integrate with WordPress-powered stores.
It lets you easily search for and import the finest and most profitable products from trustworthy wholesalers into your online store. All the products have been hand-selected by DropshipMe's expert team and include information such as titles, descriptions, variants, and so on manually edited.
The plugin can help you get pre-optimized product pages for your potential customers. Simply import the products you want into your online store and begin your Black Friday sale.
Prior to 2020, approximately 40 percent of Black Friday purchases were made online. However, in 2020, this number grew to more than 60 percent, as users were more inclined to social distance, and a preference for shopping Black Friday deals online increased.
For your Black Friday sale to be successful in 2022, you have to be able to accept online forms of payment. The truth is that more people are planning to shop online this year because of the pandemic, but if a user cannot make payment through the payment methods you offer, they are more likely to abandon their cart.
Stripe for WooCommerce is a WordPress plugin that lets you accept primary forms of payment such as credit card, Google Pay, ACH, and ApplyPay. It also allows you to include local forms of charge too, so you can rest assured that you are ready for sales this Black Friday.
In the hype of Black Friday preparations, it is easy to forget essential business elements such as generating PDF invoices and packing slips. However, when conducting international business, these elements become mandatory.
The WooCommerce Invoice Printing, Packing Slip, Label, and Delivery Note plugin allows you to create and personalize PDF invoices, packing lists or packing slips, shipping labels, and delivery notes directly from the WooCommerce order page.
You cannot print any of these documents directly from the WooCommerce order page, so this WordPress plugin is essential. Adding this plugin can simplify your online store's order and shipping procedures.
Points and Rewards for WooCommerce
Rewards resonate with your customers and improve brand affinity. Points and Rewards for WooCommerce is a well-built plugin that helps you run a reward program and reward customers with points conversion, fixed discounts, a percentage discount, free shipping, and free products.
You can reward customers for any action like signing up, purchasing a product, order value, spending pattern, referrals, social shares, reviews, and more. Points and Rewards for WooCommerce help you run your BFCM marketing campaign successfully. Rewards build loyalty, and loyalty generates repeat purchases. Take advantage of their Black Friday deals.
Buy the WPLoyalty Plugin and Save 30%
Coupon Code: BFCM30
Offer Valid Till: 05 Dec 2022
MailPoet Email Marketing
Black Friday marketing often begins ahead of time. You may want to grow your list of email subscribers, so you can send them Black Friday deals so they can prepare themselves for exciting upcoming offers.

Email marketing is one of the best tools to get the word out there, and MailPoet can help you do that. Your site visitors can sign up for your newsletter and be added to your email subscriber list with MailPoet, which allows your users to do this without leaving your WordPress admin.
Its newsletter builder seamlessly integrates with your WordPress website, allowing any site owner to create stunning emails from scratch or by with templates which look great on all devices. Use MailPoet to schedule your newsletters immediately or automatically send new blog post alerts with just a few clicks.
Conversion funnels are the journey a user takes through a search or advertising system and are currently the most efficient way to sell goods and services, especially on Black Friday. CartFlows, a WordPress Funnel Builder, was formed to assist every site owner in generating more leads, increasing conversions, and maximizing profits without having to spend a fortune.
The WordPress plugin uses one-click sales funnels with fast and easy checkout, personalized thank you webpages, and more to let you make more successful sales on Black Friday.
It allows you to use some of its optimized templates or use a page builder of your own to enrich a user's experience and streamline the conversion process for greater customer satisfaction on the busiest eCommerce day of the year.
A slider is a design element to display videos and images on your website. This can be a useful tool to help you generate user interest in your Black Friday deals. According to studies, more than 84 percent of shoppers are more likely to purchase a product or service after seeing an instructional video or slideshow.
Soliloquy is one of the best plugins for WordPress that enables you to create attractive and responsive videos and images for your website in minutes. With Soliloquy, your slideshows or pictures always look good on all devices, whether a user visits your site from a mobile device, laptop, tablet, or desktop computer.
The plugin creators have considered speed for efficient conversion, so Soliloquy has been highly optimized for server and web performance, making it one of the fastest WordPress plugins of its kind on the market.
It's no secret that users are in a hurry on Black Friday, and the last thing they need is to be slowed down by a time-consuming query made to your database. When images take forever to load or other page elements are missing, users are more likely to leave your website.
LiteSpeed Cache for WordPress is a one-of-a-kind site acceleration plugin that includes an exclusive server-level cache and a slew of optimization features that improve your users' experience when they visit your website.
Its features include image optimization, object cache support, database cleaner and optimizer, the ability to load CSS asynchronously, and browser cache support, to name a few. Black Friday shoppers rush to grab those deals before others do, so this website optimization plugin for WordPress is essential.
What use is having a Black Friday sale without showcasing the products on sale in a way that makes them more attractive to the end-user? You may be competing for sales in a global market, so it is essential to present your products uniquely to capture potential customers' attention.
Smart Product Viewer lets you do just that! It is a 360-degree product animation plugin for WordPress websites. This plugin is ideal for showcasing your products and gives customers a detailed, 360-degree spin view.
It also allows the user to better understand how the product works with step-by-step animations. It is simple and easy to set up, and all elements are highly customizable, with a multitude of options from which to choose.
OSI Affiliate Software
If you want to get your customers to promote your business, you must implement a referral program. This year, you can get 20% off OSI Affiliate Software for Black Friday and Cyber Monday!
The software can help you achieve the success you want. It is easy to use and offers a variety of features. Once you have your team of customers and affiliates using it, they can easily promote your products across social media platforms and online. Their efforts will be tracked and managed through a user-friendly administrative panel where you can reward them for their promotional efforts.
Woo Sell Services
A dedicated service selling addon is a great way to sell services online. It offers all the necessary features to make it easy and profitable. Woo Sell Services is one such add-on to WooCommerce by Wbcom Designs, it is fast, customizable, and has various features.
This plugin provides all of the functionality you need to create and maintain a service selling section on your website. The plugin offers advanced options to create a customized customer buying experience.
Woo Sell Services, as we mentioned, is a WooCommerce addon that allows you to sell services through your website. It also has many valuable features, such as the ability for vendors to ask multiple questions of customers. It also offers advanced features for customers, admin, and vendors. You will then be able to create your version of Fiverr or Upwork.
Acowebs
Acowebs is an online store for your eCommerce site where you can find the best WooCommerce plugins, WordPress plugins, and Magento extensions that help eCommerce website owners to improve their productivity and improve their sales.
Appmaker
Appmaker is the easy-to-use mobile app builder that converts your WordPress websites into a top-end mobile application. Integrating content with eCommerce, the Appmaker plugin helps you build eCommerce mobile apps which are fully compatible with WooCommerce. Its drag-and-drop builder creates beautiful, native Android & iOS mobile apps for your WordPress website with zero coding.
Appmaker offers top-notch features such as real-time sync with the website, push notifications, extensive third-party integrations, and easy customization options to fit your branding. In addition, it also provides easy social sharing and deep linking features. With its simple four-step process, Appmaker builds your app in a DIY no-code ecosystem within minutes.
Sender
SendX is an Intuitive and Affordable Email Marketing Software for marketers & business owners. SendX prides itself on enabling marketers with one of the simplest UIs in the industry. SendX provides unlimited email sends with every plan, powerful automation capabilities, 24×7 live support, and best-of-breed email deliverability. 3000+ companies worldwide tr.ust SendX for their Email Marketing. **Start with 14-day free trial (no credit card required) **Pricing starts at $7.49/month.
Woosuite Wholesale
Many online store owners spend a significant amount of time handling wholesale products in their WooCommerce stores. If you are looking for a quick and easy way to do this, WooCommerce Wholesale Suite is a great option.
With Black Friday WordPress plugins like WooCommerce Wholesale Suite, you can maximize your store's potential, regardless of whether you are selling to B2B or B2B and D2C.
This WordPress plugin provides you with all the tools that you need in one place to easily run an online store. More specifically, it allows you to have different pricing for the same products. You can also set dynamic discounts such as lower prices with increased quantity.
WooCommerce Wholesale Suite enables you to generate WooCommerce wholesale registration and login pages that can be automated with approval or rejection emails. It allows tax exemptions and dynamic shipping rules to cater to each user group.
With WooCommerce Wholesale Suite, you can easily control and manage stock levels, set minimum, maximum, quantity breaks, and quantity increments by-product, wholesale level, and more. In addition, store owners can enable or disable payment methods depending on who is going through the checkout. You can also create a customized Wholesale registration form to collect extra information such as a business incorporation certificate and tax number.
SE Ranking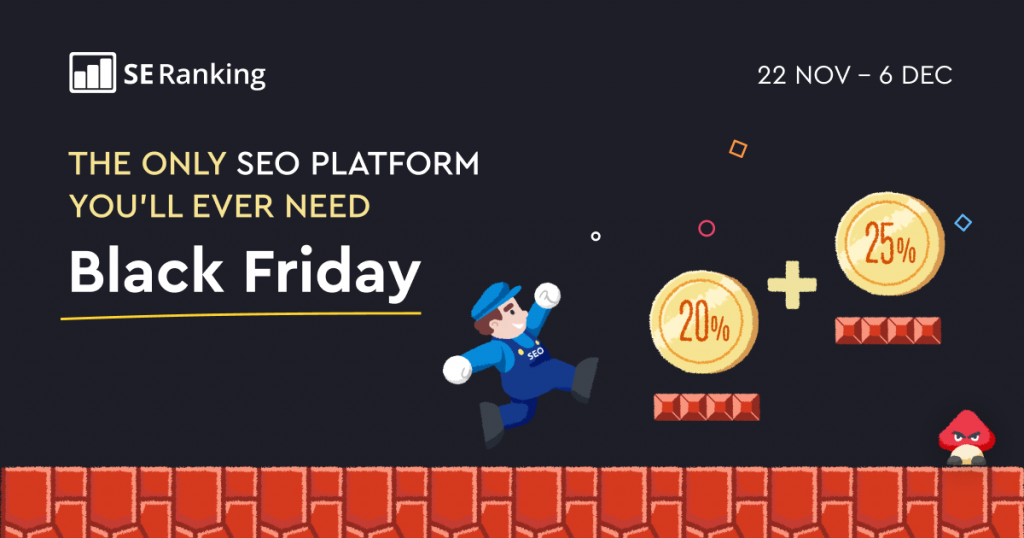 SE Ranking is an all-in-one SEO and digital marketing platform for business owners, SEOs, and digital agencies. The platform excels at keyword rank tracking, but it also offers a complete toolset that helps businesses of all sizes spy on and analyze competitors, run an in-depth on and off-page website audit, find and cluster keywords, keep tabs on backlinks, receive SEO reports on autopilot, and perform several other tasks related to SEO and digital marketing.
Key Takeaways
Black Friday signals the start of the holiday season, the best time of the year for eCommerce. Your website can do all the work for you, provided it is optimized and ready for the influx of visitors on Black Friday.
Use these critical Black Friday plugins to ensure that your user gets the best experience when shopping on your eCommerce site and that you exceed your sales expectations in 2022.