Around 40% of websites in 2021 are driven by WordPress – an increase of nearly 5% from 2020. So, what WordPress alternatives power the remaining 60%?
Even though WordPress is the most popular CMS, the reality is that it might not be for everyone. WordPress actually necessitates some level of expertise – a level that not everyone possesses because they are too preoccupied with expanding their business or pursuing their ambition, which does not involve coding.
If you happen to be one of those people, don't be concerned. There are ways to build and run a fruitful website without the frustration and stress of not knowing which plugin to use to make design modifications, create a contact or web forms, or add a toolset.
Top WordPress Alternatives
Joomla is a well-known open-source content management system that allows you to create online sites and designs suitable for various purposes, including small business and corporate websites. It's powerful, inexpensive, and highly reliable.
Joomla CMS comes with some excellent fully-integrated functionalities, most notably multiple languages web page management, but it's a tad complicated. While WordPress can feel like an introductory website builder at times, Joomla is a bit more complex.
On the plus side, Joomla is a far more secure CMS than WordPress. It includes 2-factor authentication, making it much more difficult for unpermitted guests to gain access to your website. It's so safe that Joomla powers the National Crime Agency's website. If a national agency trusts this platform, then you can as well.
Flaws: Because it is open-source, you'll need time to learn about the platform and how it works, as opposed to using a framework with a drag-and-drop option. Furthermore, you are limited in your ability to add particular types of modules to your website.
Using this hosted website builder, you can design and develop your own internet site business without any coding or web design skills. Other popular platforms can't compete with its customization capabilities. All layouts are brandable and configurable, which means you can create the site you've imagined. They're expendable and adjusted to deal with high traffic and complex activities, and they're all kitted with search criteria to help visitors find what they're searching for.
Wix includes most of the elements needed to create a website, so all you have to do is pick and move them around, then select from a few options, and you're a step away from your perfect website.
When you sign up for a Wix account, you'll gain access to a bit-by-bit setup box that guides you through the process, explains how everything works, and even develops the first version of your website for you using artificial intelligence.
Flaws: You are not allowed to alter your template after your site has been launched without doing the whole process again, and you can't have unlimited bandwidth or storage on any Wix website.
You think of the website type and the website name you'd like to use. The website builder displays a customized template to you. Sound too good to be true? That is precisely what SITE123 does. SITE123 can assist you in getting a website up and running in minutes, regardless of your level of knowledge of websites. Furthermore, the free SSL certificate ensures the security of your data.
SITE123 is one of the most adaptable and user-friendly website builders. A distinctive feature of SITE123 is that it provides unrestricted web hosting services. Because of this, the only cost of building your website is purchasing a custom domain name. But, if you want more storage and bandwidth, you'll probably have to upgrade to the premium plan.
Whether on the free or premium plan, you can use all of the out-of-the-box functions. Besides blogging, SEO, and web design tools that you would expect from a website builder, SITE123 provides more sophisticated options, such as using multiple languages, accepting online orders, and uploading audio files.
Flaws: Not well suited for large websites because its functions may be limited for them, the website speed and performance are a bit slower than with other platforms, and you cannot add any code to your website.
Jimdo is a one-stop shop for creating websites and online stores. There are a variety of ways to make use of it, based on your strategy and goals.
It is a hosted platform, which means that it runs in your browser and does not necessitate any software or hosting. Jimdo will deliver all required website elements, such as a domain, layout, and hosting. Add the content, and you're done. If you're looking for a solution with assistance, Jimdo is a good option. Jimdo has hosted over 20 million websites, and there is a free basic plan that you can sample.
What distinguishes Jimdo is its "Dolphin" styling mode, which creates a basic website for you in a matter of minutes based on your responses to a few questions and material drawn from your social media pages. It is worth noting that once your site has been formed, Dolphin configuration only allows you to make minor adjustments to it.
Flaws: Its free plan includes advertisements and a Jimdo subdomain, template collection is limited, and support is only reachable via mail.
If you're thinking of selling goods and services online, you'll need a hosted shopping cart platform like Shopify. Shopify's system is the most user-friendly e-commerce alternative, which makes it an excellent choice for new online businesses looking to start an online store.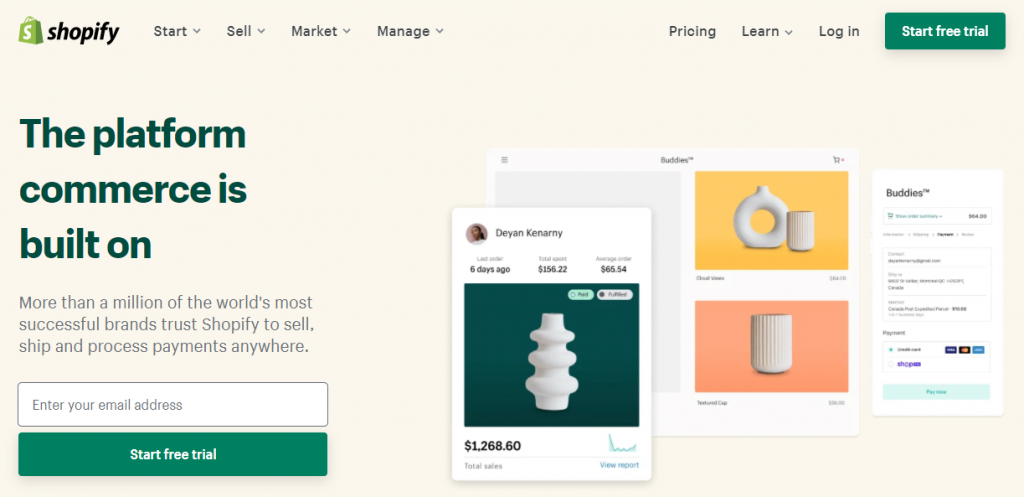 Shopify allows you to create and oversee an entire store. Their theme collection makes it simple to choose a clean shopfront design rather than bothering with designing and building one yourself. You'll start by selecting an e-commerce style from over 70 options and then adding posts and pages with Shopify's drag-and-drop option.
In addition to blog posts and user reviews, Shopify's cheapest plan offers an all-set payment feature, abandoned cart retrieval, and insights on web traffic and product sales.
Due to its unlimited disk space, Shopify can display an unrestricted number of items, which is perfect for dropshipping stores that intend to grow. Furthermore, it offers advanced reporting, various delivery options, and discount code choices. It's easily integrated with PayPal – or you can use the Shopify POS for a more convenient payment transaction.
Flaws: Due to its payment fees and the need for additional applications, it's more expensive than other solutions.
Weebly is an easy-to-use hosted website builder that you can use to create and design various websites such as corporate websites, blogs, and online shops. Weebly, like Wix, allows you to select your favorite template from its online portfolio and assemble your website using its drag-and-drop option. Its interface is highly user-friendly, and it lets you create a fantastic website in a matter of hours. Since Weebly takes care of all the technical aspects of hosting, you only have to worry about customizing your pages.
Even though Weebly has fewer themes and functions than Wix, it's a wiser alternative for larger sites. Why? Weebly's editor allows you to add elements such as forms and photo galleries to blog posts to build more sophisticated layouts. Wix blog posts can only contain text, photographs, and videos. Furthermore, Weebly makes it easy to create an advanced navigation bar with unlimited sub-levels. When it comes to sub-levels, Wix only has one to choose from.
Another great thing is that changing templates is as easy as it gets – once you've made the swap, all of your content will be moved to the new template.
Flaws: Occasionally, the platform can be buggy, and it isn't the fastest at presenting upgrades or new capabilities. Also, when adding photos, you have to wait for them to finish uploading before shifting to another section of your site, or you'll lose your progress.
In addition to Joomla, Drupal is another excellent WordPress substitute. It's also a free and open-source content management system that you can use to build blogs, personal websites, forums, and even social media sites. Although it's appropriate for almost everyone, it's not as user-friendly as users would like.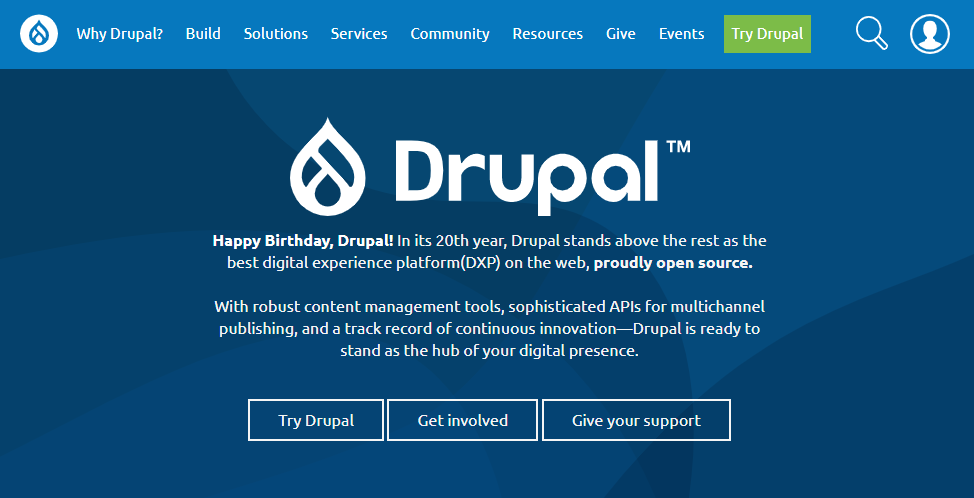 Even though Drupal has fewer modules and themes than WordPress, they are fully customizable. This means you have complete control over the features and visual appeal of your website.
Arranging a Drupal site is more difficult and time-consuming than building a WordPress site, given the number of customization options available. But, the outcome will be a super-secure and tailored site that can manage large amounts of data and heavy traffic.
While there are Drupal themes available for purchase from third-party websites, it doesn't include the drag-and-drop option. However, it is still an excellent CMS for those seeking a customized website with greater control.
Flaws: It's not suitable for beginners since they might find it complicated, the blogging modules are inferior to those found in WordPress, and, as most Drupal themes are custom-coded, you may have to work with a developer to create one that fits your needs.
Conclusion
WordPress may power a little over one-third of the internet, but other website builders are picking up quickly. Building a website is now easier than ever, thanks to clever people who created a way to avoid all that coding.
Furthermore, choosing the best CMS or site builder for your requirements is a critical step, so don't rush it. However, none of these options – nor WordPress itself – can get you through bad design. Whatever platform you opt for, you must ensure that your website has the appropriate visuals, design, and functionality for your business.
Author:
Andrej is the creator and the one-person owner of the InterCoolStudio. As an experienced marketer, he is driven by turning leads into customers. His goals always include White Hat SEO. Except for being a boss, he is a real team player with a great sense of equality.