After putting a great deal of effort into building and growing a business, seeing people unsubscribe can be pretty tough to take. It can also impact a marketer's morale seeing unopened emails lying in subscribers' inboxes- especially after all the thought and care that went into crafting them.
Hope is not lost! Writing the best unsubscribe email can become the perfect tool for winning people back and even upping their engagement with your brand. Here is all you need to know about how to win back inactive subscribers.
Why Do Customers Unsubscribe?
First things first- what makes people unsubscribe? Knowing the cause is always the best way to get ahead and implement more effective strategies.
Retaining customers starts with understanding the things that could drive them away.
TOP TIP: Using great email marketing tools to create excellent email marketing strategies is a great way to avoid these problems in the first place.
There are three key reasons people unsubscribe to email lists:
The volume of emails is too high.
They feel that the content of the emails is irrelevant.
What they are receiving is not what they expected.
Let's take a closer look at each reason and discuss possible solutions.
1. Too Many Emails
The answer here may seem slightly obvious, but don't overdo it with emails. You may want to communicate with your customers as often as possible, but there is a fine line between enthusiasm and spam.
Do you enjoy receiving email after email and constantly chasing away the little red box on your inbox icon- only to find out it is yet another marketing communication? No, probably not- and neither do your customers.
It is about quality, not quantity- so take a step back and consider the balance.
Read this interesting blog post on Premio about helpful email marketing strategies that can help reduce email volume and enhance revenue engagement.
2. Irrelevant Content
This goes hand in hand with email volume: the content must be worth reading. Otherwise, people will stop opening them. Think about what your customers want to read- ask them if you aren't sure!
Engaging your subscribers and letting them know you care about their opinions and want to do better is a great way to boost brand awareness and loyalty.
Look for email marketing strategies that apply to your business and focus on highlighting the most important, relevant content for your customers.
3. Not Quite What They Expected
If there is one thing that annoys subscribers and drives them away, it is feeling like they have been misled. Trust and integrity go a long way in business- especially online businesses that rely solely on electronic communication. Companies that say one thing and do another have difficulty creating brand loyalty or building a solid reputation.
Don't tell people they are subscribing to informative newsletters on your subscribe forms if you plan to send sales emails.
Don't say you send a monthly update, then bombard clients with daily spam. It is all about meeting expectations and delivering what you say you will.
How Can I Write an Unsubscribe Email?
Now, what to do if people unsubscribe?
The first thing to remember is that these things happen- and it is not the end of the world!
That said, winning them back is always preferable.
Knowing how to write an unsubscribe email to win back customers is one of the most effective tools in a marketer's arsenal- and here is how to do it.
Find a great email marketing tool that can help craft attractive, impactful emails quickly and effectively. We recommend Premio's Subscribe Forms for businesses of all shapes and sizes that want to up their subscriber numbers and conversion rates.
Look for examples you like and think would work for your client profile. See 15 of the best examples below! Remember- it is acceptable to take inspiration, but originality is essential.
Consider what your users want to hear and weave it into your email. You know your business better than anyone, so what is it about it that can win people back? Can you offer a discount or deal if they stay? What else can you offer as an incentive? Get creative!
Make it look good. Visual impact has a lot to answer for. People think first with their eyes, so make sure it looks appealing and stands out.
Pick an attention-grabbing subject line. Your clients will only get to see the clever, subscriber-winning email you have created if they open it, so think of the best email subject line caption to entice them to click.
If you are asking yourself, "do win-back emails work?" then consider the following information. Studies shows that 45% of people who receive a win-back unsubscribe email go on to open further communications from a brand or business.
If there is a chance that these emails can get half the number of subscribers lost, it is certainly worth a shot!
15 Examples of Effective Unsubscribe Emails
There are many ways to implement these ideas. Depending on the nature of your business and the tone you tend to take with clients, the route taken can vary greatly.
Humor, emotional appeals, business-like direction, and fact-based offering are all possible ways to write emails to win back clients, but they must be relevant to your subscriber base.
Here are 15 great unsubscribe email examples of winning back customers and why they work so well.
First, in the emotional category:
Puma: It's Not the Same Without You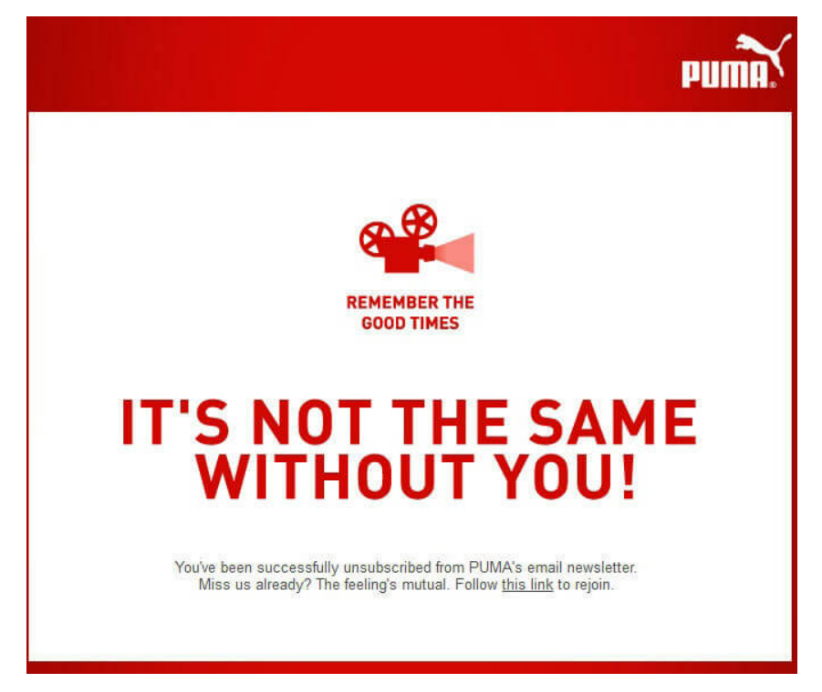 This is a great example of a low-key emotional appeal. It doesn't go overboard but adds a personal touch that speaks directly to the unsubscribed client.
It subtly lets people know they are missed and may stir up a feeling of loyalty that encourages the person to visit the site once again.
Marine Depot: Follow Us on Social Media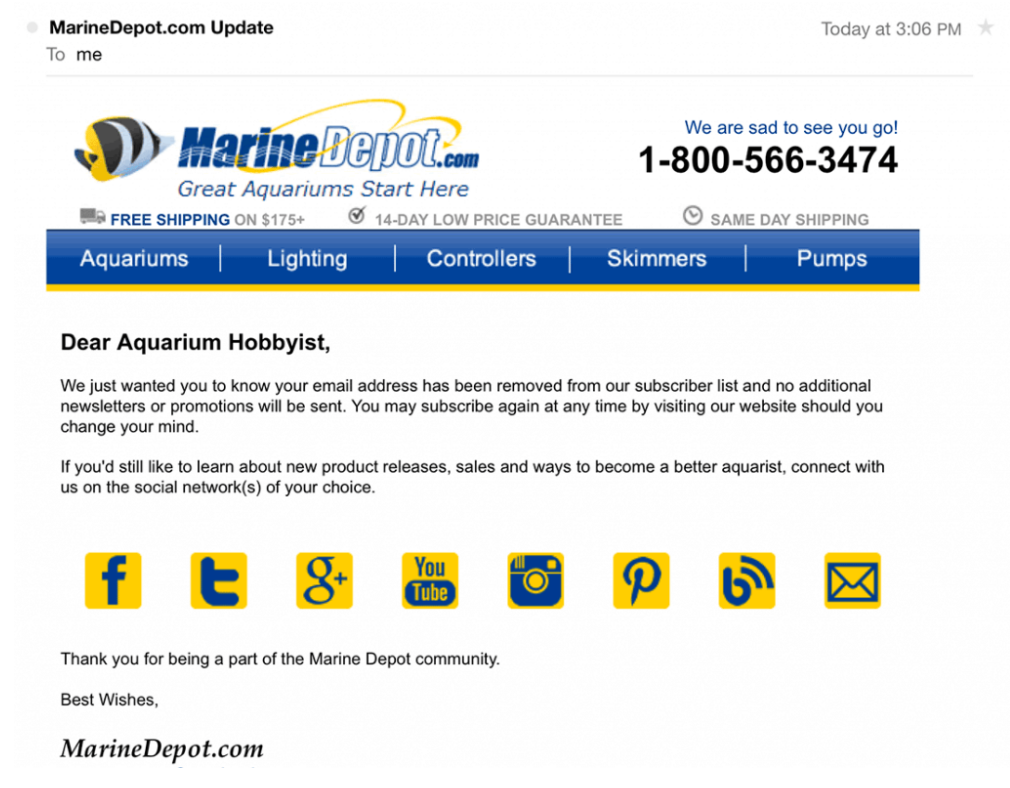 In this example, the business offers an alternative way for clients to stay connected with what they are doing. It lets them know what they are losing by unsubscribing to emails but doesn't necessarily ask them to come back. Instead, it tells them to check social media to see what the channels offer.
Last Object: Something You Might Have Missed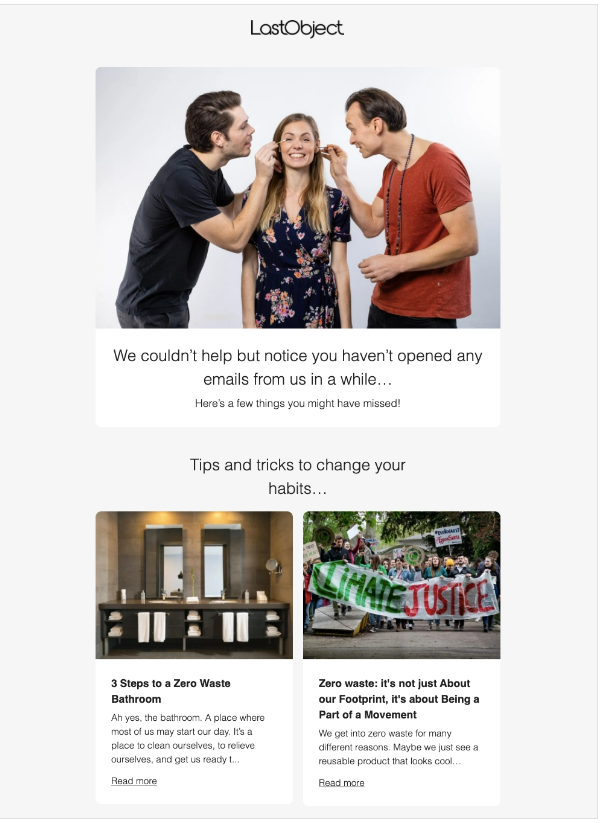 Some companies prefer avoiding unsubscribes by attempting to refresh and re-engage dormant users. If you see somebody who hasn't opened an email in a long time, consider creating an email to remind them of your brand and what it offers.
Make it interesting and relevant, and give them something to spark their interest.
BIRCHBOX: We Get You, We Miss You, and We Have a Deal for You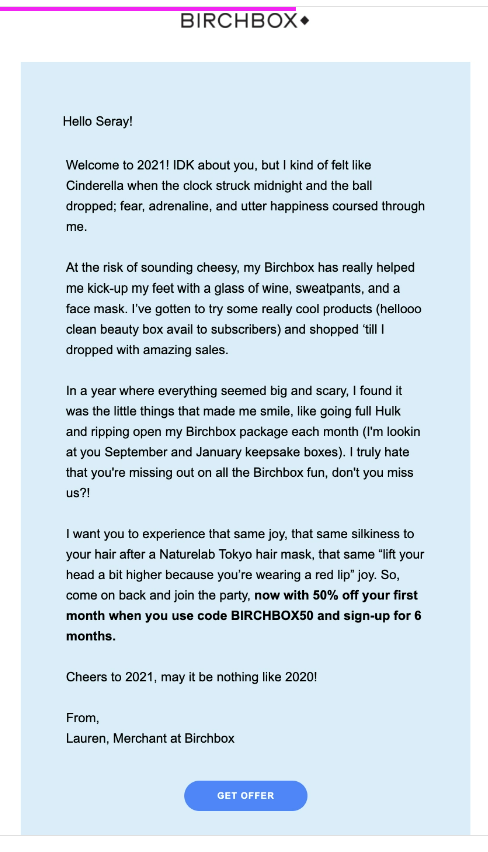 Combining an emotional appeal with a financial incentive is a match made in heaven. Draw the client in with a personal and relatable message, then seal the deal with a great discount offer they can't refuse.
jetBlue: Let's Stay Together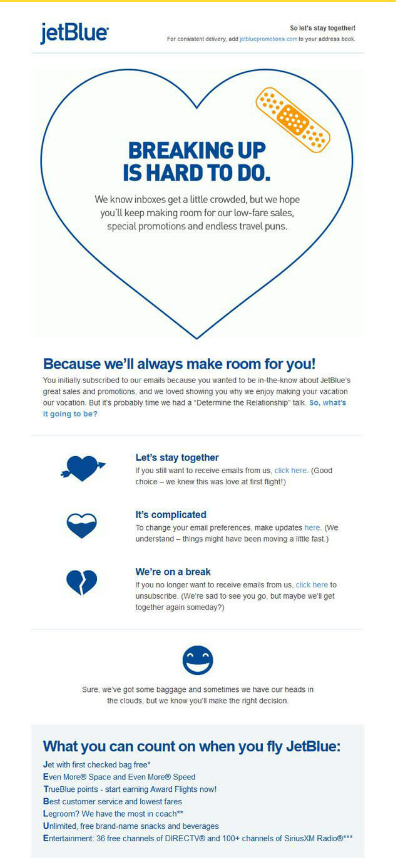 A touch of humor is often a big winner- especially when working on an emotional message related to your brand. This airline booking company uses a break-up theme littered with puns and references that are likely to bring a smile to the reader's face- which could be enough to bring them back.
Proven: We Would Love to Hear from You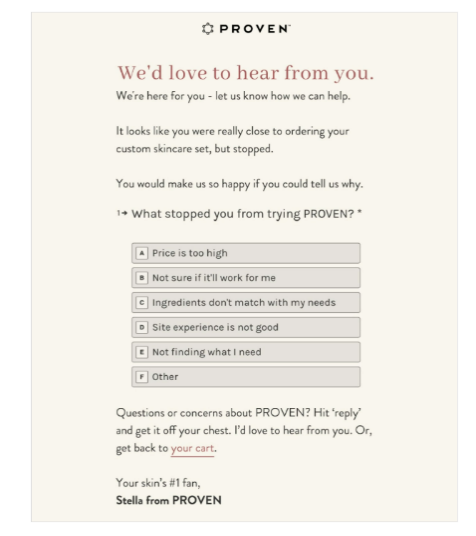 People love to feel like their opinions matter and are far more likely to re-engage with a brand that asks them what they think and wants feedback on the decisions they made.
Using an unsubscribe email to find out what went wrong and what could work better helps you as a marketer and business owner while encouraging the unsubscribed client to stay connected a little longer.
Charity Water: Lure them Back with Humor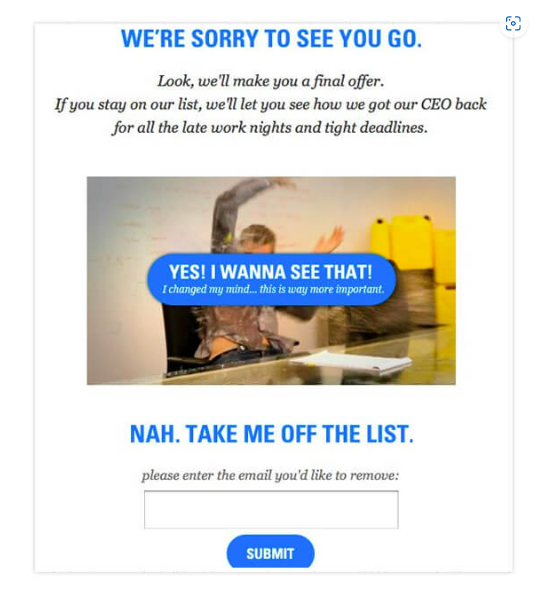 Many people can't resist the temptation of a funny video. If it is relevant and appropriate for your business, why not use it to your advantage?
This example from Charity: Water shows just how enticing it can be.
Vimeo: Let's Communicate Better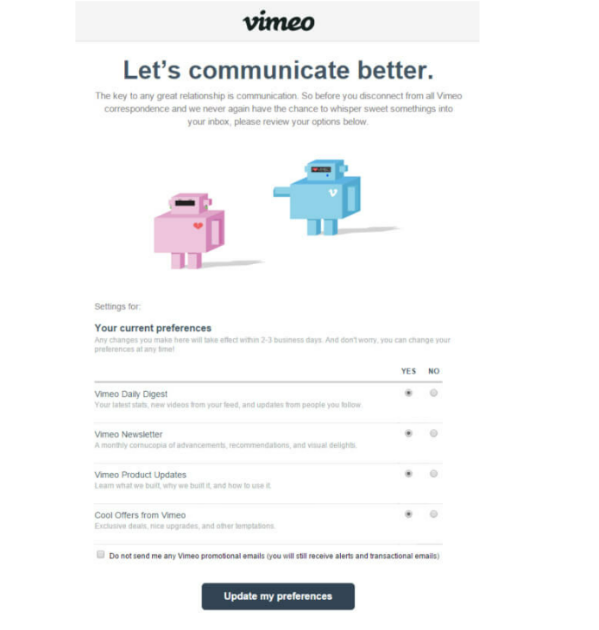 Taking responsibility and asking the client how to improve communication is a good way to win back subscribers.
Maybe they don't want to cut all ties but also don't want the same communication volume. An approach like Vimeo's is a way to get a happy medium that suits marketers and customers.
Tattly: Are You Still There?
A gentle nudge with a friendly, lighthearted message could be all it takes. Try a simple message to dormant subscribers to see if it shakes things.
Dinnerly: Give Us a Second Chance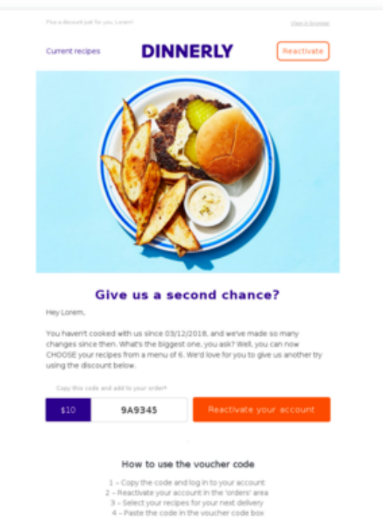 Appeal and let them know how things have- or will- change if they decide to stay.
Here is a great example of how to do that effectively.
Basic Man: 50% Off Next Month
Discounts are a great way to incentivize people to stay a little longer.
Maybe one more month is all you need to turn them back into loyal clients.
Third Love: Remind them of the Benefits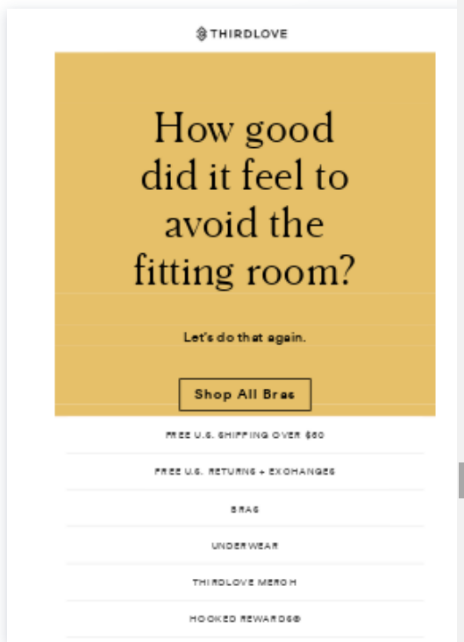 Third Love subtly but effectively points out the benefits of its brand and services without being in your face about it, and it plays well. Consider this as an option to bring people back into the fold.
Bonobos: What Do You Want?
Ask what your customers want and give them options! Better to have someone on reduced marketing than to lose them altogether- plus, it allows you to see what content your customers value the most.
Cat Lady: Have a Free Gift!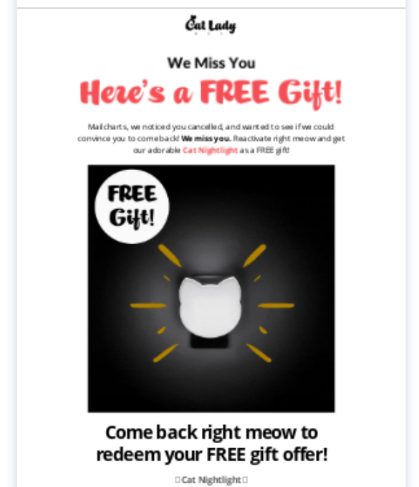 Cat Lady shows another example of using financial incentives to win people back. Gifts may be even more appealing than discounts if it is something your business can afford.
Groupon: Punish Derrick (Not as dark as it sounds!)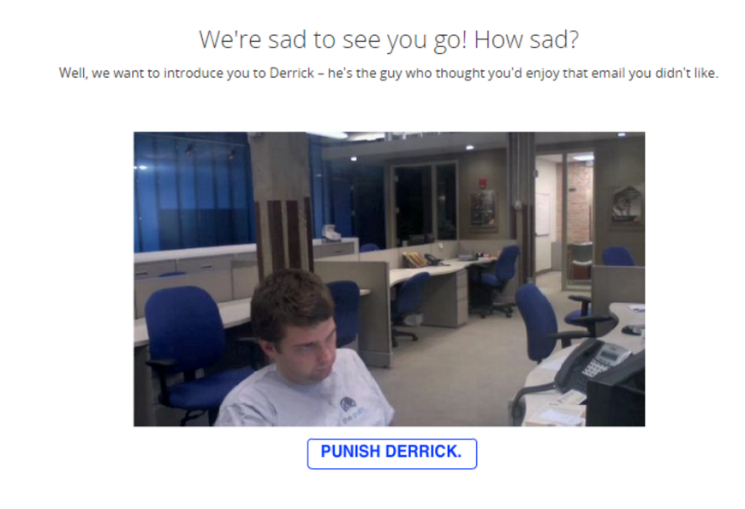 Again, who doesn't love a funny video? People are also a little twisted sometimes, and the right type of business can appeal to that sense of humor to keep people engaged and make your marketing feel more human.
Final Thoughts
Understanding how to use the best unsubscribe email techniques to win back inactive subscribers can save a business in the long run.
After working hard to build a follower base and grow your reputation, losing valuable subscribers is not something to let go of without a fight.
These tips, tricks, and effective unsubscribe email examples can help keep those clicks and maybe even enhance subscriber engagement. Don't let unsubscribes get you down: turn to valuable tools and turn them into opportunities to help your business grow!