One of the best ways to boost sales is through customer service- no matter your industry or where your business is based. When patrons feel engaged with a brand, they are more likely to buy.
Connecting directly with consumers is a great way to boost engagement and increase conversions. What better way to communicate than with an integrated chat feature on your site?
If you are looking for a top-quality multi-level chat widget for your e-Commerce business, you are in the right place. You may have come across Tidio already, but what about these eight great alternatives?
What is Tidio?
Tidio is one of the best-known chat apps for e-Commerce businesses. It is about generating leads and increasing conversion rates through chat-based customer service.
Live chat software combined with customizable artificial intelligence helps business owners create a comprehensive and competitive service plan that stops people slipping through the cracks, abandoning their carts, or losing that all-important brand engagement.
It has dedicated plugins for multi-channel uses, meaning no coding is required to get set up. Tidio works with more than 20 chat templates for simplicity and efficiency- but it also lets people integrate their style to keep things in line with their brands.
People love Tidio for its budget-friendly monthly bundles- which start as low as $10 for a basic package. There is also a free trial version, but the best access starts from $32.50.
The Best Tidio Alternatives
1. Chatway
Chatway emerges as a formidable alternative to Tidio live chat, boasting an array of features that streamline customer service while fostering meaningful connections between businesses and their clientele.
With its contemporary and user-friendly live chat interface, Chatway ensures a seamless experience right from the start.
Support agents wield the power to transform every customer interaction into a tailored encounter, weaving a personalized touch into each engagement. In response to inquiries, agents can swiftly extend a helping hand, addressing individual needs with immediate precision.
Features
Real-time messaging
Customisable chat widget
Automated greetings
Multi-channel support
Chat routing through multiple agents
Pros
Free to use
Excellent customer service
Available on mobile and desktop
Pricing: Chatway is available for free. Try it here!
The best Tidio alternative in our eyes is Chaty. This excellent communication tool and chat widget do everything from interactive chat buttons, and responses, to user analytics.
Shopify users, in particular, should consider this option, but any e-Commerce business can thrive using this chat widget. Small to medium enterprises are the ideal Chaty clients.
Multi-channel communication is critical, and Chaty does it seamlessly. Solo users and teams can create and coordinate an efficient, professional customer service plan to boost sales. You can communicate with customers using well-known chat apps and messaging channels such as WhatsApp, Facebook Messenger, Viber, Telegram, email, SMS, Skype, TikTok, contact forms, click to call, phone button, and more.
Key Feature Overview
Social media integrations and chat apps with more than 20 platforms, including WhatsApp, Facebook Messenger, and WeChat
Customizable preset messages
Auto response templates provided
Targeted trigger messages
Contact forms
Intuitive builder
Metric tracking through Google Analytics
See all Chaty features here.
What Makes Chaty a Good Alternative?
Chaty is right up there with Tidio as the best e-Commerce chat widget, but we prefer Chaty for its versatility. Both services are ideal for lead conversion and boosting sales, but Chaty allows for more targeted responses and pre-emptive solutions.
It is also one of the best-connected chat apps, offering seamless integration with all the leading social media platforms and messaging channels. Businesses can connect with their users through popular messaging services but keep their brand identity, thanks to Chaty's excellent customization features.
Chaty is available on WordPress, Shopify, Wix, Ecwid, and all other sites if you use its SaaS version.
Pricing Structure
Chaty is excellent value for money, with all packages coming in at affordable rates for exceptional service.
There are three paid options. All prices are per month and come with a 20% discount if you opt for an annual subscription.
Basic ($9)- 10,000 visitors per month
Pro ($25)- 50,000 visitors per month
Growth ($49)- 150,000 visitors per month
Chaty also has a free version. It allows up to 500 visitors per month- which is bound to run out quickly once you start seeing exciting growth thanks to your new chat function!
On the other end of the scale, Chaty offers tailor-made larger packages on request.
3. HubSpot Chat
The next Tidio alternative for e-commerce chat widgets is HubSpot Chat. This is the chatbot branch of the flexible WordPress plugin that helps brands capture leads, boost brand awareness, and improve customer experience through intelligent marketing and communication.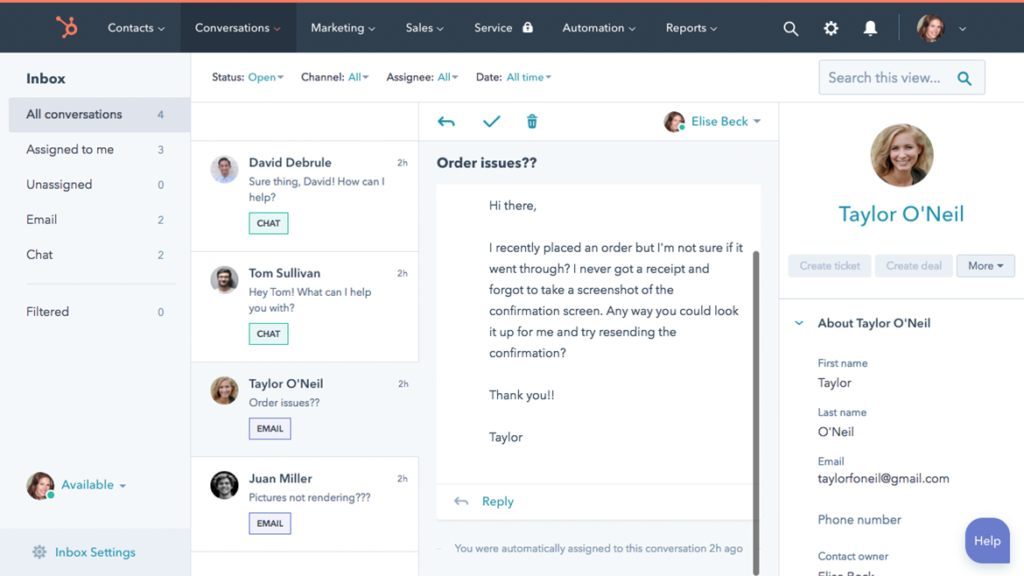 Key Feature Overview
Built-in CRM (customer relationship manager)
Great email marketing tools
Custom chatbots, forms, and chat pop-ups
Landing page creation
What Makes HubSpot a Good Alternative?
HubSpot is one of our top Tidio alternatives because of its well-rounded approach to lead conversion. The chat function is a big plus, but HubSpot takes things further with email marketing assistance and effective landing pages.
Pricing Structure
Hubspot's free version provides simple live chat and AI chat features. It doesn't come with the bells and whistles of the paid options, but it is enough to get on as a small e-commerce business just starting out with a small budget.
Paid subscriptions start at $23 per user per month and go up to $120. The platform also offers custom plans for teams at better rates, which start at around $500 a month.
4. Getbutton.io
Getbutton.IO is one of the best WordPress chat plugins for e-Commerce. It uses well-established messaging services to connect business owners and consumers on and off the website.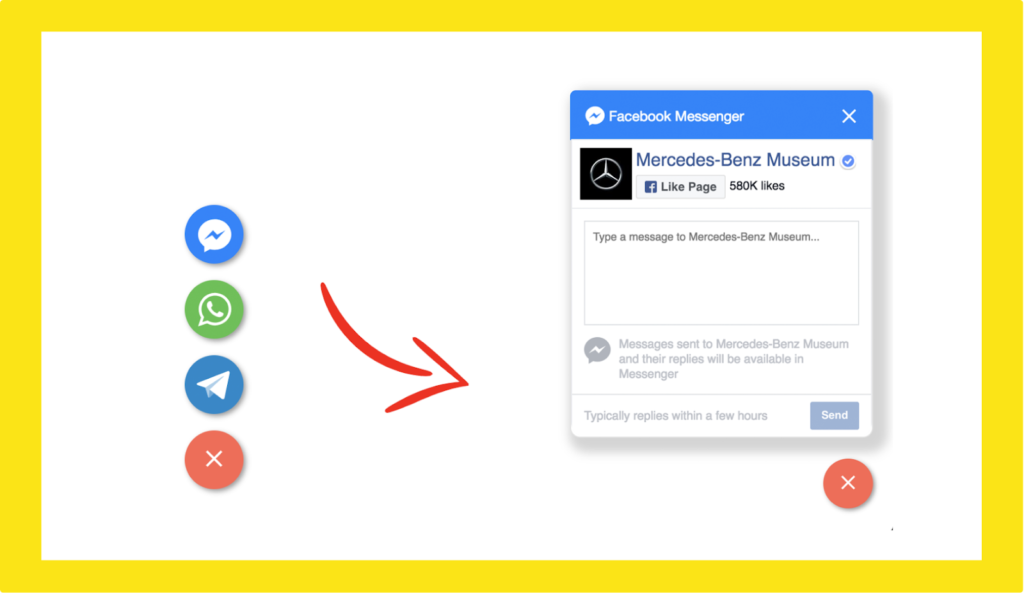 Key Feature Overview
Mobile support
Fast plugin installation
Multilingual settings
Customizable auto greetings
What Makes Getbutton.IO a Good Alternative?
This plugin is a simple alternative that uses social network messaging apps to increase engagement. Businesses who want to take a personal approach to customer service should consider Getbutton.IO.
Pricing Structure
On a budget? No problem! Access to the PRO version starts at just $1.99 per month if you sign up for a three-year subscription. You can also buy lifetime access for a one-off payment of $99.
5. Buttonizer
Buttonizer is all about floating actions- and the chat box is the specialty. It is a great way to introduce instant coms between you and your clients.
Key Feature Overview
Calls, SMS, email, social, and on-site chat communication
Social media integrations
Floating action buttons
Custom targets and triggers
What Makes Buttonizer a Good Alternative?
People who want to include click-to-call as part of their customer service might prefer Buttonizer. It is also great for social media-based e-Commerce businesses.
Pricing Structure
If you are not bothered about Buttonizer's more advanced features such as analytics, animations, and customization, then you can use it free of charge.
The pro version is charged as follows:
$15 per year or $59 for a lifetime subscription (one site only)
$89 per year or $269 for a lifetime subscription (up to 10 sites)
$149 per year for unlimited sites (technically capped at 1000- no lifetime option)
6. JivoChat
JivoChat is a business messenger tool for accessible communication between customers and team members. It is a simple but efficient tool for connecting with site visitors and collecting valuable information about improving service and engagement.
Key Feature Overview
Live chat software
Integrations for social media, phone, and email
Service quality surveys and analytics
View tracking and reporting
What Makes JivoChat a Good Alternative?
JivoChat is an excellent alternative for team-based customer service solutions. It allows for better coordination and multi-agent planning than Tidio and makes communicating more manageable for more streamlined service.
Pricing Structure
The free version is limited to only chat and message responses and does not include any additional features. The cost is $19 per agent per month to access all the features.
If your team has more than 10 people, JivoChat can create customized plans to suit your needs.
7. Wise Chat
Wise Chat is a WordPress plugin that helps brands boost engagement and conversions through social network integrations. It is easy to set up and run as a small business that wants to connect more with consumers and increase sales.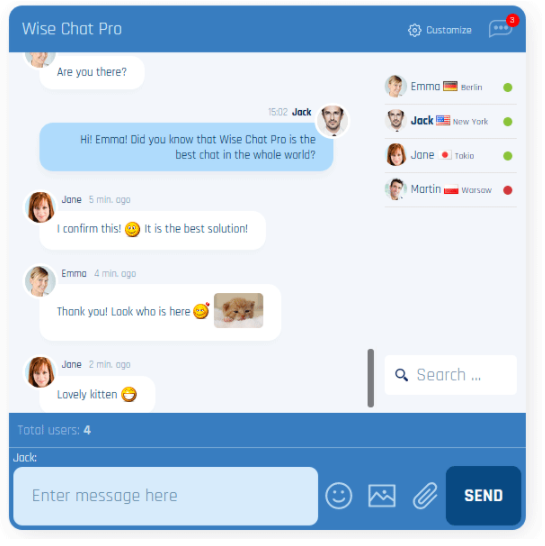 Key Feature Overview
Option for anonymous messaging
Simple chat channel management
Easy internal setup
Moderator accounts
Smooth connections to social media platforms
What Makes Wise Chat a Good Alternative?
If you use a lot of social media posting as part of your e-Commerce business and brand strategy, then Wise Chat is a great Tidio alternative.
Pricing Structure
Wise Chat is a free plugin, but the pro version costs $60. It is a one-off payment rather than a subscription. More expensive options are available with additional support and more extended access.
8. Intercom
Anyone looking for a professional, sophisticated, and comprehensive approach to chat-based customer service should seriously consider Intercom. It works well for any business, but e-Commerce companies can particularly benefit from the detailed conversion rate reports and the insights they provide.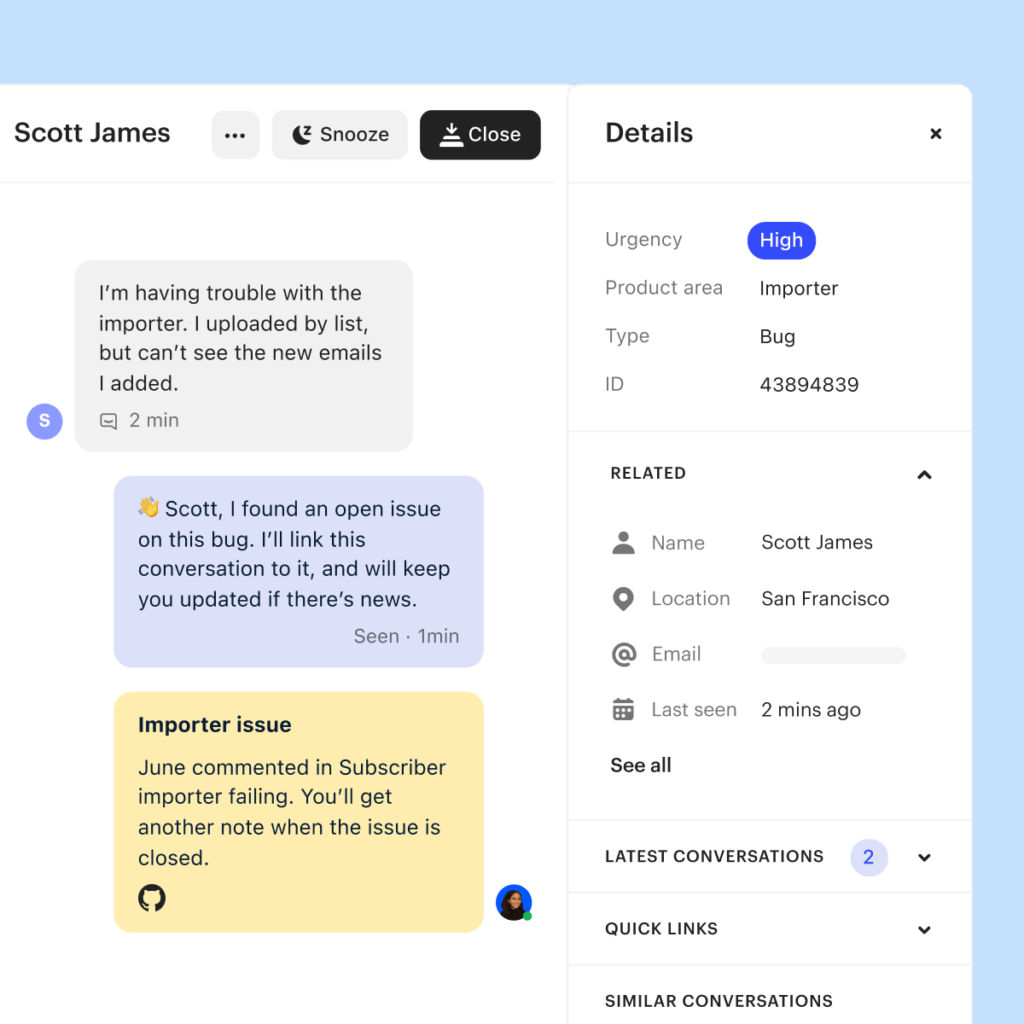 Key Feature Overview
Conversion reports
Custom AI FAQ responses with third-party integrations
Messenger, SMS, and in-app communication tools
Advanced live chat software
Excellent data security
What Makes Intercom a Good Alternative?
Intercom is a good alternative for new businesses who want to invest in an effective and professional live chat function for their websites. It doesn't offer much analytics but is a flexible and helpful live chat tool for sales through service.
Pricing Structure
The essential plan costs $106 monthly, and the PRO version costs $132. New businesses are eligible for a discount on request.
9. Crisp
We love the streamlined efficiency of the Crisp chat widget. It uses intuitive, easy-to-manage controls to help people create a great communication flow between them and their consumers. Crisp is an excellent tool for comprehensive small-scale customer service for e-commerce businesses.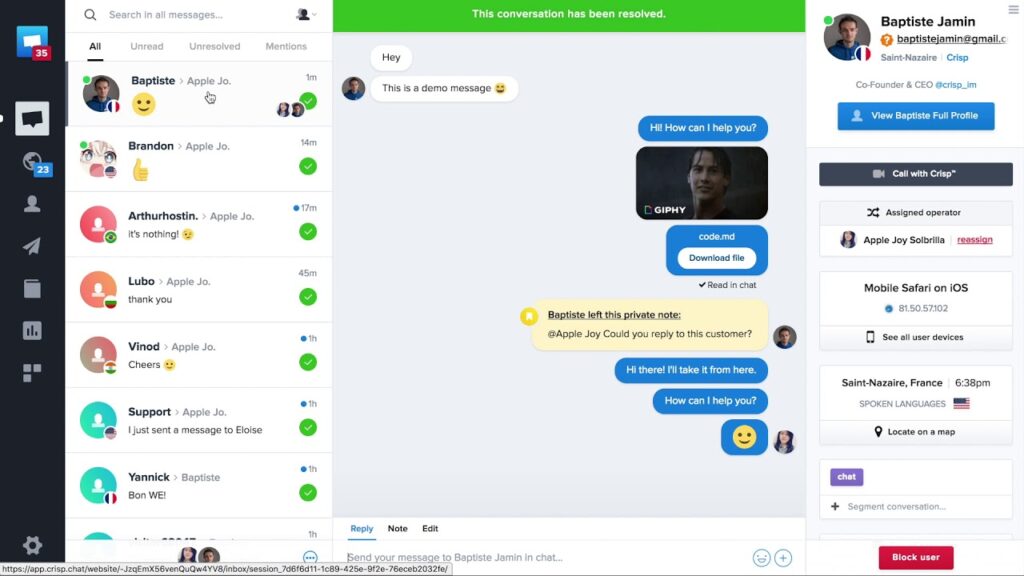 Key Feature Overview
Advanced and flexible live chat capabilities
Automated chatbot software
Email marketing tools
Service Analytics
More than 20 integrations
What Makes Crisp a Good Alternative?
Crisp is a straightforward yet powerful chat tool. It is beginner-friendly and a good alternative for small to medium e-Commerce business owners who want to use chat communication to boost their sales.
Pricing Structure
If basic live chat functions for one or two agents are enough, you can use Crisp for free. More features are available in the basic package- which costs $25 each month and works with four profiles.
The best and most versatile Crisp package is $95 for the full package. All options can be trialed for 14 days without payment to see if it feels worthwhile.
Summary
There are plenty of alternative chat widgets for e-Commerce that can meet the high standards of Tidio. You can level up your customer engagement and conversion levels with the comprehensive and impressive package offered by Chaty.
Chat apps and widgets are valuable e-Commerce tools, and all the names on this list can make a difference.