Gutenberg introduces a new editor for WordPress. It was named after the inventor of the printing press – Johannes Gutenberg.
The goal of the contributors who worked on the Gutenberg WordPress editor is to make adding quality content easier.
A regular editor requires the use of the codes and the HTML.
The Gutenberg editor is easier to use and it is especially recommended for the beginners.
In this article, we bring you a list of the best WP plugins that will help you get the most out of the Gutenberg editor.
Chaty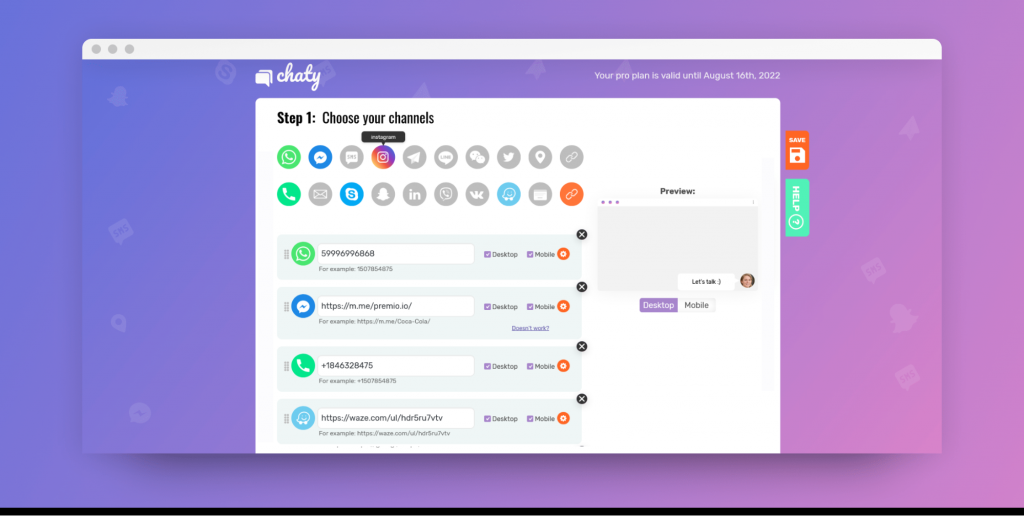 Chaty is a great plugin that allows you to communicate with your visitors.
Communication is paramount to building strong relationships with your visitors.
When you get in touch with them and enable them to find out everything that they are interested in your website, business, and similar, they feel that you are there for them.
If your goal is to build great customer support, then this plugin is the right option for you.
The chat button is displayed on your website and allows visitors to communicate with you directly when they wish.
You can choose from 16 different channels like WhatsApp chat, Facebook Messenger, SMS, Email, Telegram and more.
Chaty lets you customize the chat widget and choose from 3 different chat buttons or upload the one you want.
You can track clicks with Google Analytics.
This plugin is optimized for both mobile devices and computers. You can even choose which channels will appear on which type of device.
For example, if you want the WhatsApp option to appear only on mobile phones, you can adjust it.
Getwid
Getwid is a WP plugin that contains the largest collection of more than 29 comprehensive blocks for Gutenberg and they are still working on new blocks.
It was founded by MotoPress, and they have more than six years of experience in creating WP plugins for content building.
Using this plugin, you can create landing pages, service pages, custom page sections, and effective portfolios.
It is integrated with WordPress core and it is tested with an HTML validator.
With Getwid you can just open a WP editor and you can easily create your quality content.
This plugin has its own theme, Getwid base, but it works with any other theme as well and doesn't override their style.
Add galleries, slideshows, Google map, Instagram feed and similar without using third-party plugins.
You can use colours and schemes as you wish and customize everything.
Using Getwid will greatly speed up and facilitate the site-making process, whether you are a developer or own your own website.
Some of the Getwid blocks are Testimonials, Section, Price Box, Social Links, Image slider and many more.
Ultimate Addons
This plugin comes from the founders of hugely popular WordPress products, such as Astra theme, Convert Pro and Ultimate Addons for Elementor.
All you have to do is select favourite blocks from Ultimate Addons to speed up the website building process.
The settings are extremely easy to work with and customization of blocks is enabled.
You can create pages and posts without using codes.
Ultimate Addons offers blocks such as Post Carousel, Social Share, Testimonial, Google Map, Info Box, Content Timeline and more.
You can optionally activate or deactivate blocks.
For this plugin to work, you need the Astra theme and to install Ultimate Addons for Gutenberg on your website.
It uses completely clean code, so it does not affect the loading speed of the website.
Ultimate Blocks
Ultimate Blocks is another WP plugin and includes several blocks for Gutenberg.
It is a great option to use blocks for marketers and bloggers.
The intention is to make the content as simple as possible, which will be engaging for visitors to the website.
It has many blocks such as:
Table of Contents
Feature Box
Notification Box
Star Rating
Image Slider
Countdown
Divider
Call to action
It offers 17 different blocks, and there will be more in the future.
It also has Content Toggle which allows you to add content in accordions and let visitors expand them and see the whole content.
You can use Block Manager and choose what you want to disable or enable.
WooCommerce Blocks
WooCommerce Blocks is a WordPress plugin for integrating eCommerce features into your website.
With WooCommerce Blocks you can post products on your pages in a very simple way.
You can display a grid of:
hand-picked products
best selling products
top rated products
newest products
on sale products
by category products

There are many ways to present your products to the audience and you can easily choose which options suits you the most.
You can use multimedia and text content to get the best results for your products.
Advanced Gutenberg
Advanced Gutenberg has been invented by JoomUnited which also make products for WordPress and Joomla.
It is especially important to note that this plugin allows you to create edition profiles and assign them to specific WordPress users or groups.
Some of Advanced Gutenberg blocks are:
Advanced List
Advanced Image
Advanced Video
Tabs
Advanced Tables
Accordion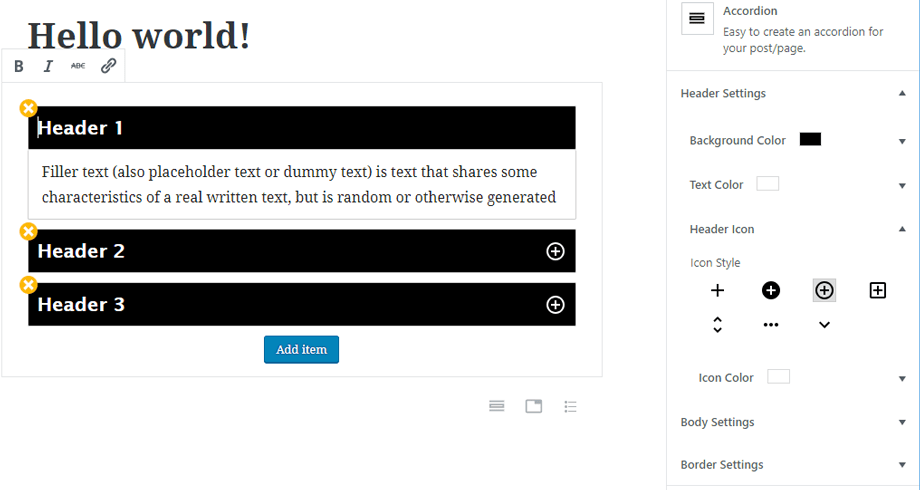 Also, if it deals with sales and you need features for eCommerce, it also has blocks for that kind of purpose.
You can add pictures, prices and enable people to add your products into the cart.
Caxton Gutenberg Layouts Plugin
With Caxton you can create various and great WordPress pages.
You can add backgrounds, create parallax rows and nested rows, make transitions between blocks and more.
Caxton has blocks such as:
Slider
Button
Hero
Social Icons
Posts Grid
You can customize your layouts and make better user experience for your visitors.

Block background
Block background is a great simple plugin to customize wallpapers for different blocks.
You can add a background colour or image.
Choose gradient or change opacity.
With this plugin, you can create effects as you wish.
WordPress only allows background changes in some blocks, and with this plugin, you can change the background of any Gutenberg block.
Before making the changes to the site public, you will see via live preview whether you have achieved the effect you wanted or not and whether everything works flawlessly.
WPForms
WPForms is a drag & drop WordPress form builder.
This is a plugin for creating contact forms, surveys and pools.
By using this plugin, you will be able to easily and quickly create different subscription forms for your needs and collect your visitors' mailing list information.
It allows you to quickly and easily design a contact form without using a variety of codes.
You can use pre-built templates to save time or you can start from scratch.
Since it allows you to receive real-time notifications, you will be able to respond instantly to your leads.
You can customize your forms as you wish.
With WPForms you can easily connect with the email service you are using.
Envira Gallery
With Envira Gallery you can create quality and responsive photo and video galleries that will look great on your website.
It will help you to improve the user-friendly experience.
You can create impressive galleries with just a few clicks.
Whether your visitors come to your website via mobile phone, desktop or tablet, it looks great.
You can choose which social networks you want your users to be able to share images from your website to.
You can import pictures from Dropbox or Instagram.
To improve page load time, you can choose to split your gallery into multiple pages.

It also offers features such as watermark protection, password protection, and image proofing.
You can embed websites such as YouTube and Vimeo into your video gallery.
It is very easy to use and it offers many gallery templates.
ZeGuten
ZeGuten is a block builder plugin, which can assist you in building any kind of website, from an online store to a fitness blog. Thanks to its responsiveness, your website will look stunning on any device. ZeGuten provides you with 15 flexible and easy-to-customize blocks. Apply animated and parallax effects, structurize your content into 5 layouts, apply custom backgrounds, like gradients or shapes, and free your wildest dreams.
ZeGuten requires no page builder and you don't need a line of code to make your website eye-catching. Moreover, each block is already SEO optimized and completely hassle-free.
TinyMCE Advanced
TinyMCE Advanced is a very popular WordPress plugin that replaces the classic editor and offers many more formatting options.
You can add, remove and arrange buttons located in default Gutenberg blocks.
With this plugin, you can easily choose fonts, fonts sizes, and colours for blocks.
You can also design different tables.
Google Maps Gutenberg Block
A Google Map for Gutenberg is, as the name implies, a WP plugin to place a map on your website.
If you plan to set up a map and you don't want a plugin that has more features but you want one that performs only one simple function, this is a great option for you.
You just need to install this plugin, activate it and it is ready to use.
You can place a map on the page itself or within a post.
With the API key, you can set up a map on different pages of your website.
As with most Google Maps, the visitors can zoom in the image of a map and see what interests them.
The bottom line
Each of these plugins has its own function, and developers are working hard to improve them over time and keep up to date with innovations.
The goal of these plugins for Gutenberg is to make website design as easy as possible.
Considering their simplicity, you can manage different segments of your website without hiring a developer.
It is up to you to choose the features that suit you the best and to customize them as you wish.
No more complicated processes and long codes.
In just a few clicks, you can make a great and functional website!