Customer service can be the make or break of any business, particularly in the current business environment with so much competition.
If the support system is not good enough, customers quickly take their business elsewhere. For this reason, it is worth investing in a live chat app to improve communication between a company and its customers.
Why Do You Need a Live Chat on Shopify?
Investing in a live chat for websites requires money, so businesses need to know what benefits they should expect in return. After all, many companies have survived over the years without free chatting apps for a long time now.
However, that is all rapidly changing as the world becomes more and more digitalized than ever before. The massive increase in online business means a need to invest in a proper Shopify chat plugin or risk being left behind.
Thus, the following are some of the advantages for any business that has a free website chat tool:
1. For Customer Support
The main reason why live chat apps were designed was to improve customer support. All other features were added later, but this has remained the essential tool on any live chat system. Most live chat systems are made to improve communication channels between support teams and customers.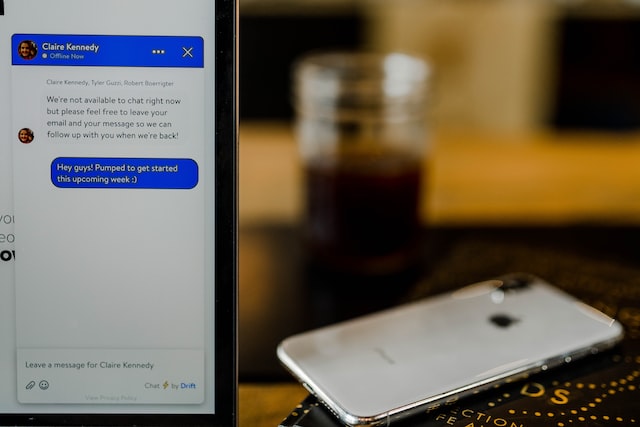 These apps use sneak peek messaging, chat archives, and canned responses to further open up the customer experience for individuals seeking help from the support team.
Live chat apps depend on such features to fulfill their fundamental role of being the backbone of customer support. The importance of live chat apps will only increase because business is becoming a lot more digital.
2. To Drive Sales
Driving sales and making profits is the reason why business people wake up every day. Any tool that can give them an advantage over their competitors is greatly welcomed. Live chat apps have gradually evolved to the point where they can now add more value to a business in other ways besides customer support.
Live chat will boost sales figures significantly in businesses that have already made progress by utilizing online sales platforms. Some products can be quickly sold over the internet and live chat, meaning companies can now use every customer interaction as a chance to make a sale.
Although using chat apps for sales is still relatively new, many forward-thinking entrepreneurs are already making significant sales. New strategies for improving sales are being introduced every day, and live chat apps are a big part of that innovation.
3. As a Marketing Strategy
When used as a marketing tool, live chat apps have a lot of advantages over traditional marketing strategies. They offer the chance to have a compelling visual impact on the customer thanks to their uniquely designed, user-friendly interfaces.
Practical marketing possibilities are greatly improved by ensuring the customer is welcomed with a pleasing software design.
Usually, the pop-up widget is the first thing that customers see when they open up a webpage because, in many cases, it is colorful and animated. Businesses can now utilize those precious seconds when the customer is engaged to introduce a few products or services they wish to promote.
Support teams that are kept up to date on any products on special offer can casually mention these to customers while handling their queries and complaints. With proper sales training, many positive results can be generated through live chat marketing strategies.
10 Live Chat Apps for Shopify Users
There are so many Shopify chat plugins that Shopify users can choose from, making the selection process difficult.
The best Shopify live chat app for any organization was tailor-made for that same type of business. With that said, the following Shopify chat plugins for your website are worth considering:
1. Chatway
Providing impeccable customer support is non-negotiable. One effective way to achieve this is through integrating live chat apps on your Shopify store. Among the myriad of options available, Chatway stands out as a leading choice for enhancing customer engagement and satisfaction.
Chatway offers many benefits that can help you take your customer support to the next level on your Shopify store including the following:
Real-Time Interaction: Engage with your customers in real time, addressing their queries and concerns instantaneously. Chatway's intuitive interface ensures swift communication, enhancing customer satisfaction and loyalty.
Personalized Conversations: Tailor your responses to individual customers based on their purchase history, browsing behaviour, and preferences. This personalized touch establishes a strong rapport and boosts the chances of upselling or cross-selling.
Visitor Insights: Gain valuable insights into visitor behavior and trends. Chatway's analytics provide you with data on frequently asked questions, peak visitor times, and more, empowering you to make informed decisions.
Customization Options: Match Chatway's appearance to your brand's identity with customizable colours, branding elements, and chat widgets. Create a cohesive and professional customer experience.
Easy Setup: Implementing Chatway on your Shopify store is a breeze. With user-friendly installation and configuration, you can have live chat up and running in no time.
Pros
Free to use
Excellent customer service
Available on mobile and desktop
Pricing: Chatway is available for free. Try it here!
More than 150,000 users worldwide have put their trust in Chaty for a reason.
It regularly features on lists of the most versatile and user-friendly live chat apps on the market. This is because the developers of this app have gone all out to provide a chat plugin that is tailor suited for fast-growing businesses wanting to provide multichannel chat customer support but also has an eye on making sales in the process.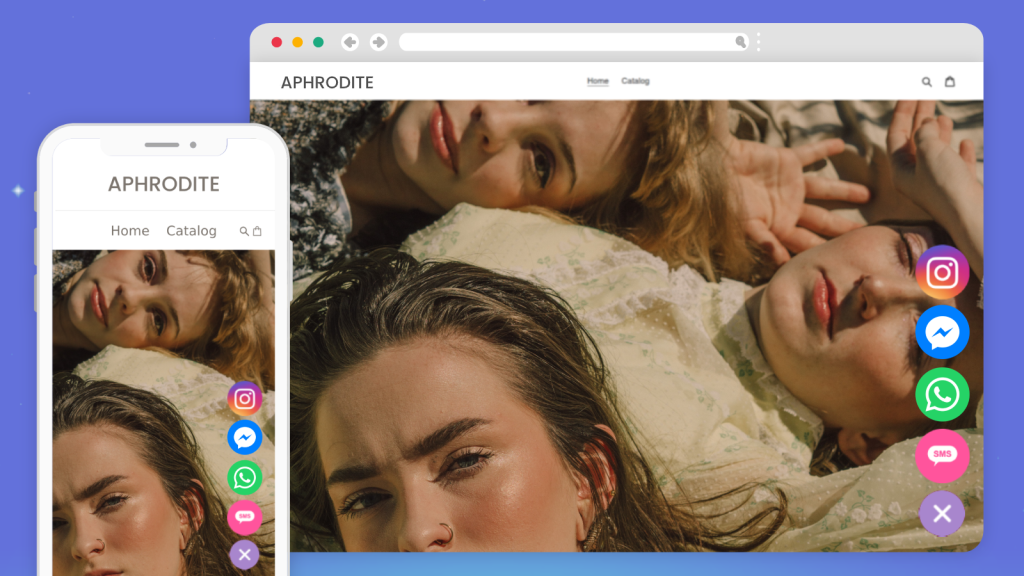 With Chaty, it is not just about giving customers the support and feedback they need; it is also about building solid relationships by improving the business's overall reputation. Frictionless communication is something that both team members and customers value. It builds trust, and Chaty is the best way to achieve that.
Due to the large number of social media platforms available nowadays, it is normal for people to feel more comfortable with one platform. Thanks to Chaty's ability to integrate flawlessly with platforms such as Facebook, Whatsapp chat, Instagram, and Telegram, customers are not forced to use any platform they are uncomfortable with. No matter where they are on social media, Chaty can reach them easily.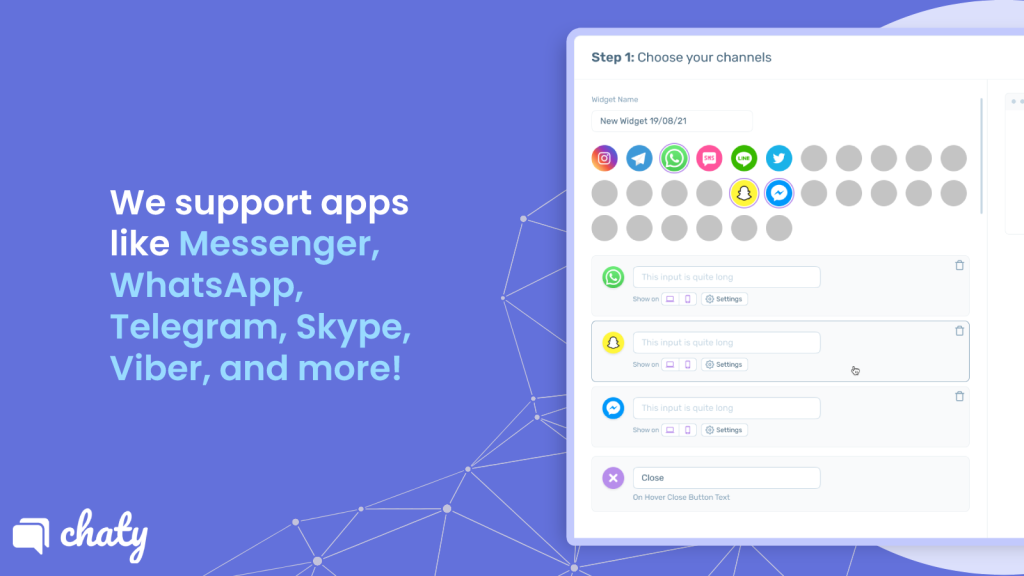 Businesses looking for a chatbot that can adapt and be customized to the brand colors and design will appreciate how easy it is to change how the Chaty app looks. This versatile chat plugin for Shopify also allows users to select customers based on how long they spend on the website and other factors.
Chaty offers free chatting for up to 50 visitors per month, as well as these exciting features:
Full social media compatibility
Highly customizable
Excellent triggers and targeting features
Awesome interface
Pricing: Free to use. Paid plans start at $9/month
3. Intercom
This Shopify chat plugin has many tools that Shopify users can use. Generally described as a customer communications platform, Intercom can do so much more thanks to its versatility. It allows users to create personalized customer messages, improving the overall user experience.
Most users love the real-time chat inbox feature, which gives customers direct access to the support team whenever they need it. Other notable features are:
Knowledge base integration
Social media compatibility
Customizable pop-ups
Pricing: Unavailable without signing up
Good read: Intercom vs. Crisp: Which Live Chat App is Better
4. LiveAgent
LiveAgent features such as ticketing, live chat, and email integration are standard on this platform. Social media integration is absolutely top of the range, and users can seamlessly switch from one platform to another.
It offers a 14-day free trial period during which users can get a natural feel of the software and see how well it fits into their business model. Some other exciting features to consider are:
Great user interface
Integration of chat plugin for website
The top-tier help desk team
Pricing: From $15/month
5. Zendesk
With Zendesk, the most important thing is customer satisfaction and being able to meet all of its users' needs. Businesses that incorporate this app into their model immediately see improved customer service and business reputation.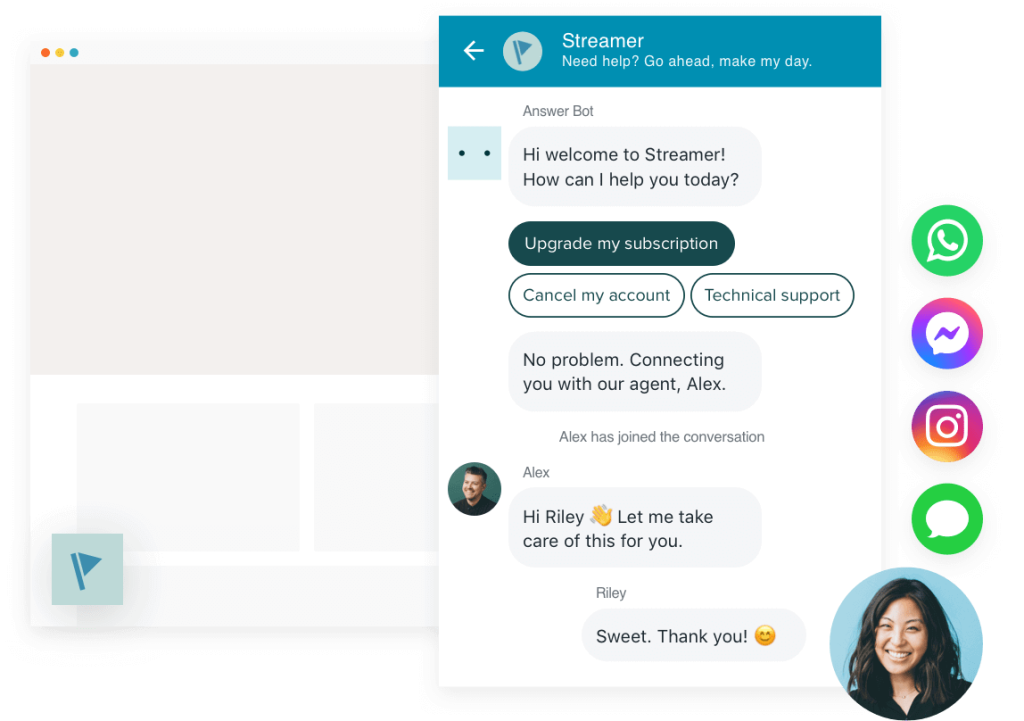 Zendesk's flawlessly integrated platform allows users to give customers the instant connectivity they are looking for at all times. Customers can even use the self-help features to handle minor issues on their own, leaving the support team free to tackle other problems. Zendesk also offers the following:
Personalized AI bots
Simple-to-use platform interface
Free trial
Innovative collaboration tools
Easy workspace management
Pricing: From $19/month
6. Tidio
Even first-time users report finding Tidio to be a very easy-to-use platform with an excellent user interface. This is part of the reason why it is regularly listed as a top 10 Shopify chat plugin.
It has a long list of great features that users will appreciate, such as Lead generation, email integration, and social media compatibility.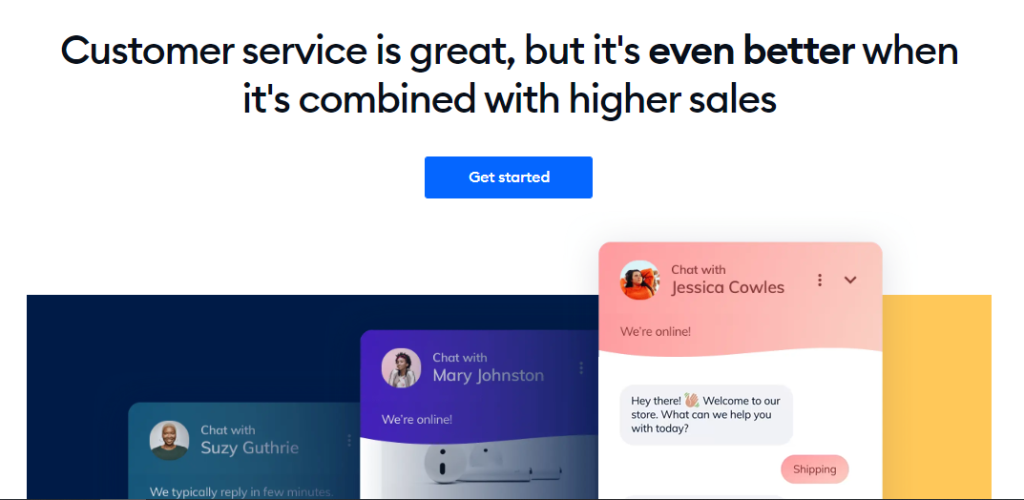 The mobile version of Tidio is also quite good, offering all the app's great features to Android and iOS users. It also has other great features such as:
Email and website integration
Shared team inbox for improved productivity
Multichannel capability
Preview of all visitors to the site
Instagram, Whatsapp chat, and Facebook integration
Pricing: Starts from $39/month
7. Olark
Built with start-up businesses in mind, Olark is a chat widget with many great features for Shopify users to enjoy. It has a long list of valuable tools, including its file-sharing system and chat transfer capabilities which bring the whole team together and allow communal solving of problems.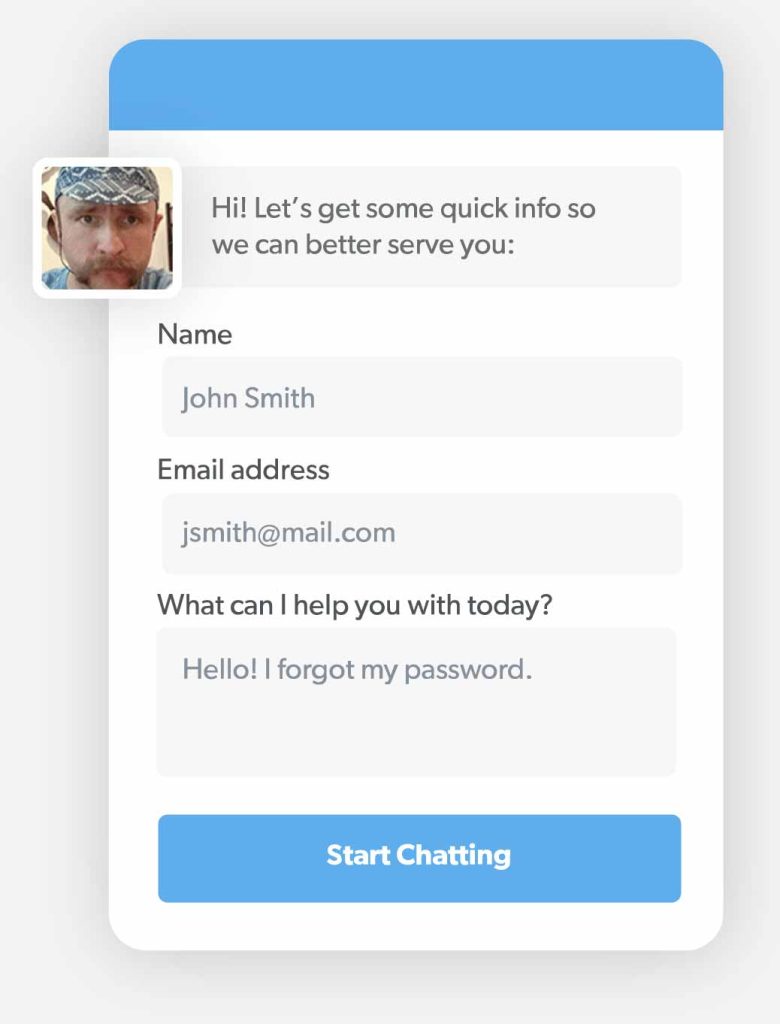 This Shopify chat plugin also has a built-in chat analytics system that allows users to monitor chat volume, add custom tags, and generate trends based on customer feedback. On top of all this, Olark also offers:
Easy customization
Live chat widget
Automated messaging
Chat routing
Pricing: From $19/month
8. MobileMonkey
The excellent user interface is the first thing that catches users' eyes when they sign up for this superb messenger plugin for websites.
Everything about MobileMonkey is designed to make life easier for its users. This platform also provides users with a wide range of chat widgets to build their chatbot tailor-made for their needs.
Creating a personalized chat experience takes only a few clicks, and users can add the customer's name at the start of a chat. Mobile Monkey also has:
360-degree customer view
Appointment scheduling
Whatsapp chat plugin for website
Pricing: From $19/month
9. Chaport
The Chaport chat widget allows users to rope the whole team together when a problem requires all members to chip in. It has a unique feel, usually one of the first things users like about the platform. It is a free app only makes it even more popular.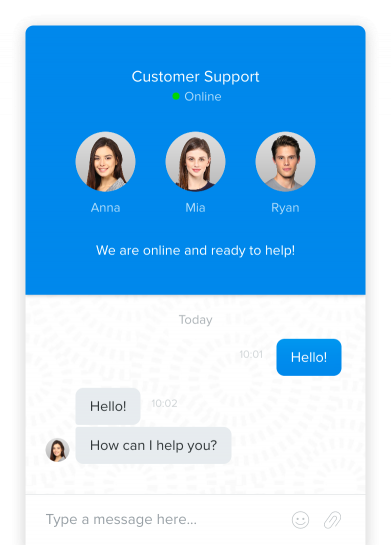 Customer support and sales generation are made easy thanks to the versatile nature of Chaport. The auto-inventive tool makes it easy to identify what type of customer users are dealing with, allowing them to tailor-fit their support structure according to customer needs.
Other Chaport features include:
Easy to use free chat on the website
Live chat
Knowledge base
Pricing: Free
10. Freshchat
Get your teams to work together when solving customer problems using the team inbox feature of Freshchat. Switching back and forth between chats is made easy thanks to the conveniently located chat button.
The routing feature also means if one team member comes across a problem they cannot solve, they can simply pass it on to someone else more qualified.
That's not all! Freshchat also offers multilingual messaging, giving users a broader range of customers they can target. A few more useful features include:
OmniChat compatibility
Rich media support
Additional personalization with team member support
Pricing: From $15/month
11. Getbutton
Nothing makes customers feel more at home than a beautiful greeting message, such as the one offered by the Getbutton app. It adds more to that unique user experience by having a beautifully designed interface that is easy to use and navigate.
Social media compatibility is a must-have for any software, and with Getbutton, linking to Whatsapp chat or Facebook couldn't be easier. Some other features to look forward to being:
Customer feedback
Easy setup
Facebook and Whatsapp compatibility
Customizable pop-ups
Pricing: Starts at $25/month
Conclusion
Each business is different, and its requirements for a live chat app are also very other. Shopify users have access to a wide range of chatbots they can use, and while this is a good thing, it also means that making the right choice is difficult.
If you're looking for a free, user-friendly, easy-to-install Shopify chat plugin, you can try Chaty! It has a wide range of customization options and fully supports 20+ messaging channels for maximum conversions.
You can also check its standalone version that lets you install a chat app on any website you have. Check Chaty's SaaS version here.