Expecting excellent customer service from a company has become a standard expectation. We all adjudicate a brand based on customer service, but did you know that a company's sales and customer service departments collude to improve customer retention?
If you buy a new smartphone from a well-known brand but experience poor customer support, will you buy from that brand again, or would you recommend it to someone else?
No, right! and this is how that brand's sales will plummet.
Studies suggest that modern customers have higher customer service expectations than they did a year ago, according to 54% of all customers.
This is the rudimentary issue: the products with distinct attributes that orchestrate everything according to market trends fail. Do you want to know why this occurs and the solution?
We all know that sales is a decisive factor in any company's success, but often we lose sight of our customers in the process. It is critical to understand how sales and customer service work together.
Since today's client relationships are less transactional than they formerly were, sales customer service aids in the oligarchy of a customer and market base.
Scroll down if you want to augment your sales and customer service!
Why is sales and customer service coordination important?
Do you dream of a large and satisfied customer base? Then it would be best if you had coherent synchronization between your sales and customer service.
In today's hyper-competitive market, it's critical for sales and customer service to work together to build trust and customer loyalty.
As per a Hubspot report, 93% of customers receiving customer service are more inclined to make repeat purchases.
Customer retention is something that every business strives for to grow its customer base. The company's sales department entices consumers and seeks to keep them in their court, which may end because customer service affects sales.

While sales keep clients in their court, customer service tries to keep the court's boundaries with tantalizing services.
Customer service is the new sales engine.
More than 79.1% of the population today prefers online shopping to traditional shopping. However, your company's online sales team can only incentivize customers with deals and offers; to have a long-term strategy with your customers, you'll require customer service.
Coordination of sales and customer service will increase your visibility and offer you long-term impulsive buying clients. You should also take time to answer to customer reviews, either positive or negative. It's important to learn how to respond to negative restaurant reviews so that they don't damage your reputation.
As per a recent study by New Epsilon, 80–90% of customers find a personalized customer experience more appealing while purchasing any product.
Any business model's frontline marketing strategy is sales and customer service, and these two must keep them engaged and at par with market dynamics.
Consequently, customer-centric models are the most popular, as they assist in providing clients with a tailored experience.
How do sales and customer service work together?
Usually, the companies are more focused on B2B sales yet sales and customer service when placed together deliver and produce better results. Companies can take a more collaborative approach to keep the customer on their edge.
Let's say there's a tech brand like Nvidia; obviously, sales are handled by a specialized team, but in establishing a client base for the brand, customer service and sales work in collaboration.
Customer service leverages their consumer experience with exceptional services, and sales evangelize the customers with offers and deals. The icing on the cake is the personalized customer service provided by companies.
To get sales and customer service working together, the following must be followed to get the optimum experience in bringing together these silos.
1. Align sales and customer service teams
The alignment of sales and customer service is paramount for customer acquisition; if the sales and customer care teams are not aligned, it will be impossible to fulfill the customer's expectations.
The sales team must close the deals and equip the customer. In contrast, the customer service team must reassure the consumer that they are investing their money wisely and that all services are provided to corroborate customer retention.
The sales force can fit the oddball square consumer into round holes, but customer service is the key to victory because it is the only thing that can coax customers to stay.
According to reports, 68% of consumers are willing to spend more for items and services from a company that is regarded for providing excellent customer service.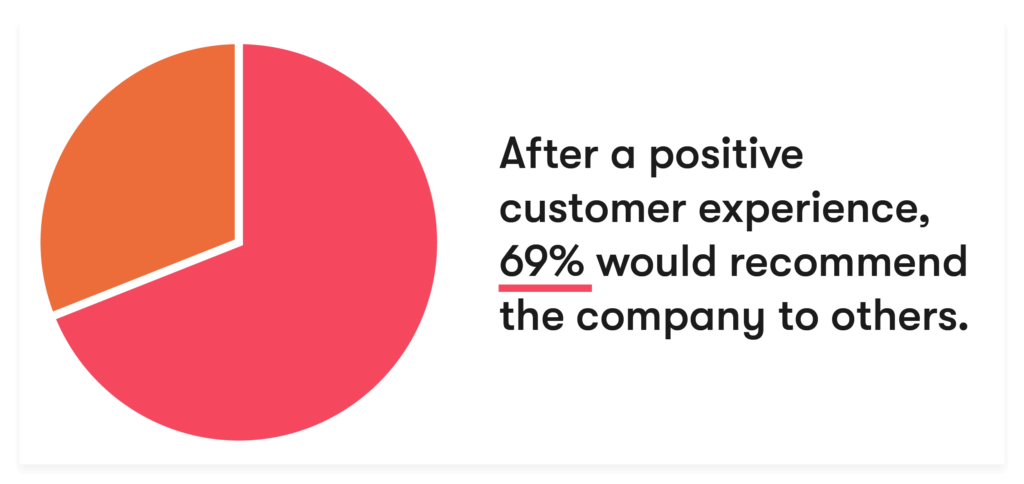 2. Customer service should know the sales process
Cross-team training is like adding a dash of yoga to your workout! It enables all of the company's teams to collaborate better and understand each other's processes thanks to their hard work.
It all starts with defining the most important task and talent at the heart of client engagement. This aids in the excellence of the company's work and ensures a higher return on investment.
Suppose, there is an ambiguity about how sales and customer service interactions work. In this case, the best approach is cross-training between customer service and sales, which aids in a better grasp of the entire process.
When the customer support team understands the sales process, they can generate more organizational energy while corroborating consumers' claims.
Look no further if you're seeking some call-to-action ideas to increase sales through team collaboration.
Check out practical call-to-action tips to get more sales.
3. Customer service should exchange customer data
Gather, Organize, and Exchange! These three parameters to sustain a client base must be done virtuously in the sales and customer service departments.
Customer data exchange between customer service and sales will boost them both in switching to better win rates.
Cold calling and prospecting can be time-consuming and exhausting. Still, if you have pre-defined data of your customers, you can quickly entice them to join by providing all the relevant details for their needs and claiming brand loyalty.
Almost three out of five customers say that providing excellent customer service is fundamental to brand loyalty.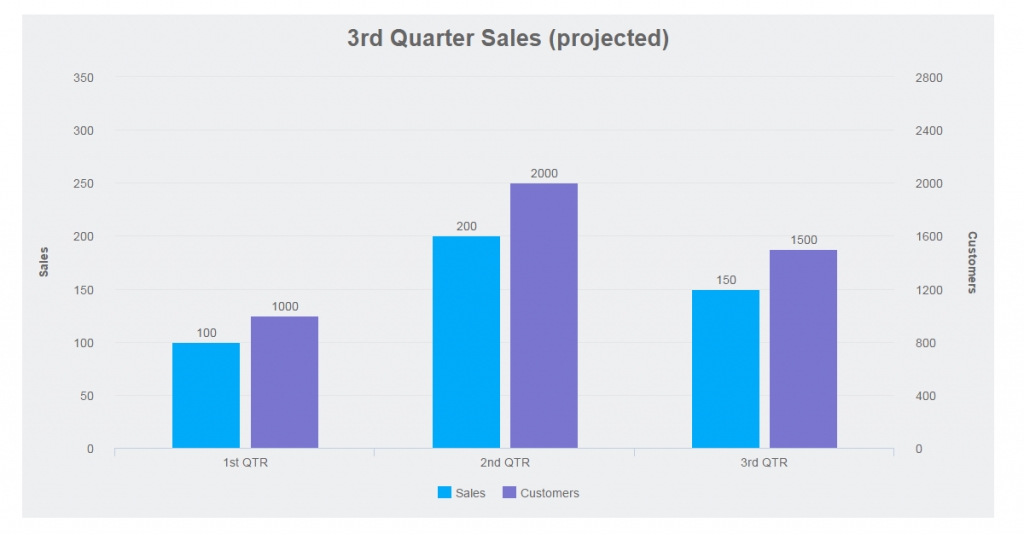 4. Customer service representatives should provide feedback
Customers' needs have changed radically as the world has shifted to impulsive online purchases. Customers expect the company's sales personnel to read their minds for all customizations and tweaks, and they expect their bugs to be fixed fast.
According to numerous studies, 72% of customers expect customer service representatives to "know who they are, what they have purchased, and have insights into their previous engagements" when they call.
Shopping brands like Shein always try to ask and post their reviews to create a better partaking environment with the customers.
This can be accomplished quickly if the customer feedback is conveyed to the sales team via customer service and can be easily automated via an email marketing software. This will help them fine-tune their customer promotional mix; after all, both teams strive to achieve the same goal.
5. Customer service should generate customer referrals
According to a study by Bright Local, 72% of customers will mention an average of six people about positive experiences.
Suppose you build a positive customer base by offering testimonials that always benefit your business. In that case, customers are not only a credit to your firm, but they also help in brand evangelism.
A positive customer review is a terrific asset that can be easily leveraged to strengthen customer relationships and elevate brand value.
Because you have a good relationship with your customers, you can easily ask for reviews and testimonials, which work as customer referrals and reinforce your company's credibility with new clients.
According to a survey by Bright Local, 93% of customers examine reviews of local businesses to gauge their quality.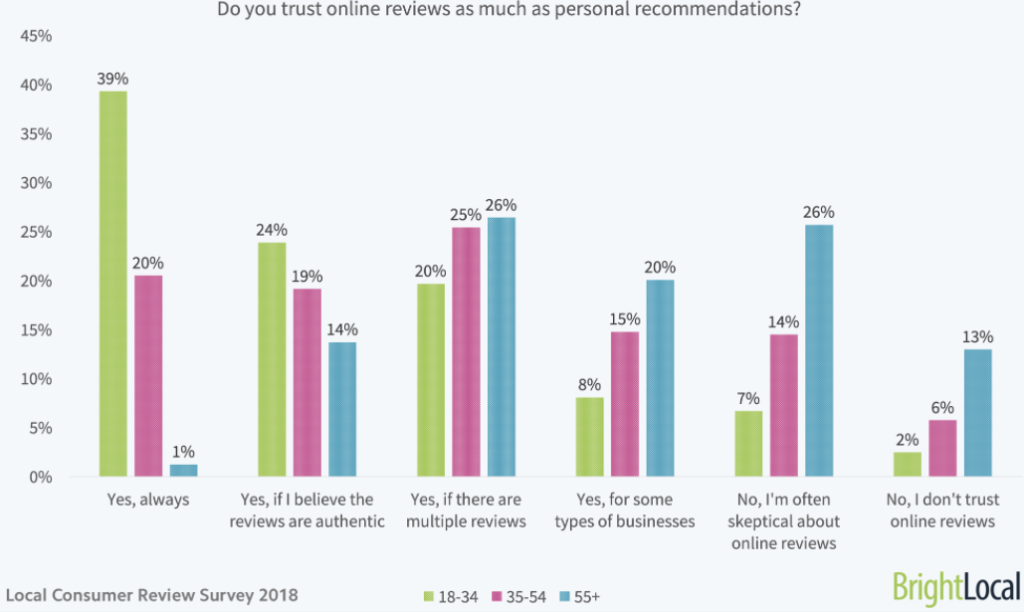 6. Sales must work with customer success
Customer win rate is a metric that measures how successful a brand's customer service is. If there is an issue with the customer service success rate, sales customer service team can rectify it by assessing the situation.
Another advantage of customer success is that it provides a database to the sales team, which allows them to identify opportunities for upselling and provides an upscale customer experience.
The sales team can ease their branding strategy by broadcasting all notifications to customers, which are analyzed by customer success.
It's critical to communicate with your customers because 83% of customers say that firms that respond to and resolve their complaints have a higher level of loyalty.
7. Timely train employees in both departments
Every member of both teams should be overhauled with fresh content they can implement into their work and time management plan regularly.
For example, instead of constantly pushing the sales team to approach new clients and enticing them with the new strategy, they should be encouraged to do so. They should also be well-versed with the database of existing long-term customers. To find such strong team members, consider Upwork or even Upwork competitors, as they have huge databases of candidates.
The same is true for customer service; they should focus on providing elevating consumer interactions and tracking customer contentment, customer response time, and average contact rate.
8. Cross-selling at every turn
Cross-sells can be a new learning opportunity for the customer service team to explore because they are constantly in contact with customers and are well attuned to their needs and the suitable choice of the client. However, it may be high time for the customer service team to upsell the product using their skills.
Customer service may quickly assess new prospects to provide upmarket items to clients, connect with them on new investment recommendations, and ensure the product's quality and benefits.
Customer service is crucial, and 70% of the purchase experience is determined by how consumers are treated.
9. Implement clear lines of communication
Communication is the key to any team's effective conversion efficiency. Communication and exchange of details and plans between sales and customer support teams are critical for a higher corporate rate with high success.
Any customer retention may be comprehensive if there are clear lines of communication between the teams.
Regular meetings between both teams must be held to strategize effectively and eradicate any communication issues.
Customer service can be harmed by a lack of communication between team members, and over 42% of users have left a company owing to bad customer service.
Tools that help in improving customer service and sales coordination
There is a multifaceted order in sales and customer service coordination because when there is a large customer base, certain tools to help customize the insight for clients will be required. This service software anticipates a smart and intuitive setup for customer service coordination.
With the correct tools and resources, managing those varied roles becomes much easier and more efficient.
With so many options, knowing where to start when looking for your assistance stack cannot be easy. We have got you covered!
1. Chaty
Chaty is a live chat customer support tool that lets you communicate with your visitors via 20+ different messaging channels. You can chat using WhatsApp, Facebook Messenger, Skype, Viber, email, and more. This plugin increases your chances of conversion and drives more calls, leads, and messages.
It has a user-friendly builder that lets you customize your chat widgets. You can even add preset welcome messages on WhatsApp chat pop ups.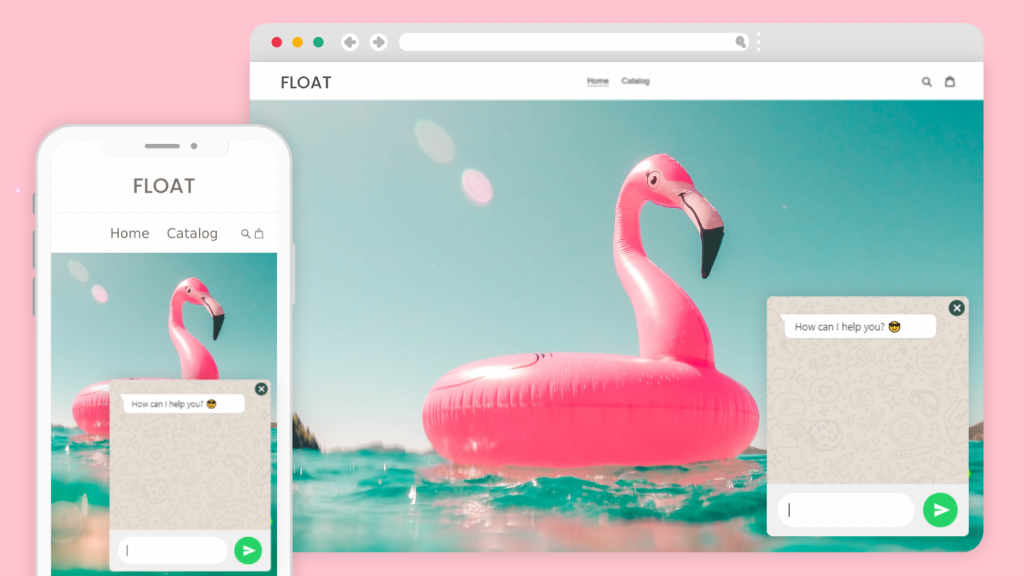 Plans:
Chaty is free to use. Its basic plan starts at $39 a year only.
Try Chaty here! You can even use Chaty's standalone version that you can install on any websites that you have.
2. BIGContacts
BIGContacts has great contact management features, allowing you to provide more tailored experiences to your customers.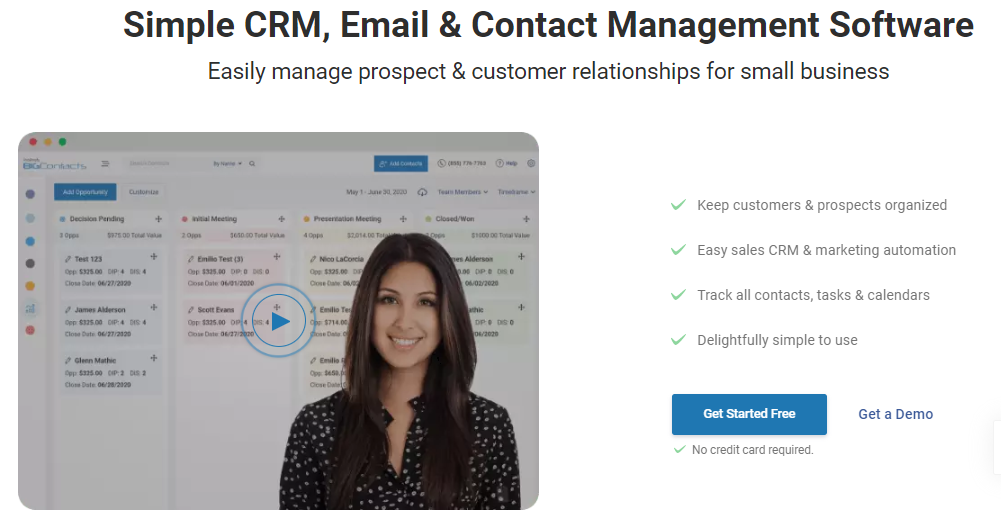 It shows all of your client's contact information, prior interactions, orders, social media profiles, and forthcoming activities on a single screen.
You may also use the tool to add additional information with customization options, take notes, and use Google Maps for addresses. It also offers bulk actions, which helps with contact management.
Plans:
Free version available
Plans start from $45/month
3. ClickUp
ClickUp is without a doubt one of the best. It helps reduce automated memos, makes task delegation simple, and demonstrates the standing of all tasks from a single central dashboard once it is set up.
It is appropriate for customer service departments since it makes reporting bugs and other recommendations to your project team much easier. For starters, you can go with some free project management software.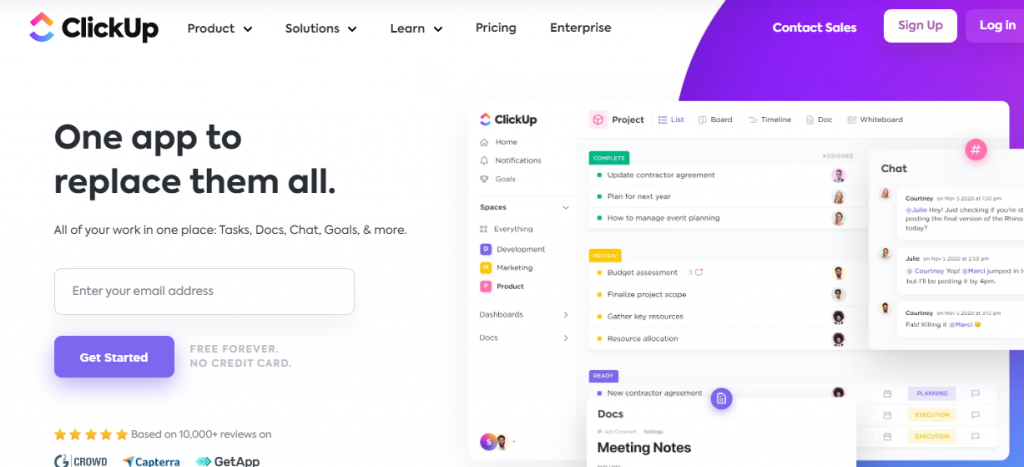 Plans:
Unlimited: $5/month per user billed annually or $9/month per user billed monthly.
Business: $9/month per user billed annually or $19/month per user billed monthly.
4. Chanty
Chanty is a cloud-based collaboration software that helps teams collaborate more successfully by combining interaction, project management, and automation.
You can use this tool to: Organize a meeting with your teammates, Use group and one-on-one audio/video calls to communicate and share your screen.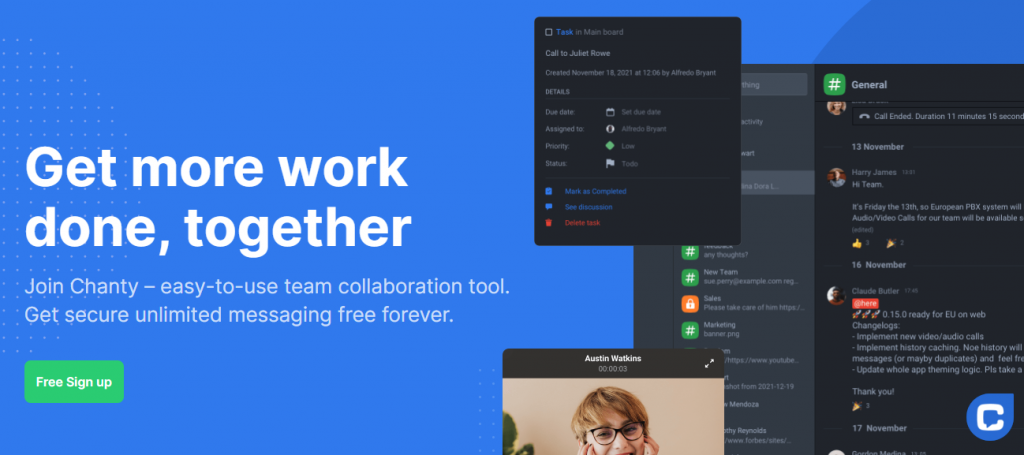 With Chanty, you can create, assign, set deadlines, and discuss tasks directly for better collaboration between sales and customer service.
Plans:
Free plan: For teams with up to 10 members.
Business plan: starts at $3 per user, per month, and delivers additional features and unlimited members.
The Bottom Line:
Salespeople and customer service representatives have much more in common than you might imagine. They shouldn't be split into two development teams on two different islands. For every company to succeed at its highest levels, sales and customer service must operate together. Consider investing in project management software that lets your sales team and client base communicate and collaborate with each other.
As a result, sales and support staff should strive to connect with their clients to provide them with the highest level of service and products possible.
This has enhanced sales statistics because your organization will be renowned for offering outstanding customer service long after the transaction.
Author's bio:
Joy Dcruz is a content marketing specialist who is currently working with SaSHunt. He likes researching topics related to B2B and SaaS. During weekends, he likes spending time watching YouTube.