Businesses need a highly effective solution when they want to hire several teams for a specific development project but still want to reduce costs.
In the past, most businesses have turned to outsourcing companies to provide them with suitable talent. However, increasingly more businesses have also realized the benefits of setting up a dedicated offshore development center (ODC) in an outsourcing country.
While ODCs are not a new concept or hiring model, few businesses are aware of the many advantages of setting up an ODC. In this article, you'll learn more about ODCs and how to set up offshore development center successfully.
What is an Offshore Development Center?
An Offshore Development Center is an extended team, typically specializing in IT or development, built overseas to work on your projects. This offshore team acts as an extension of your in-house team and has the task of fast-tracking your projects.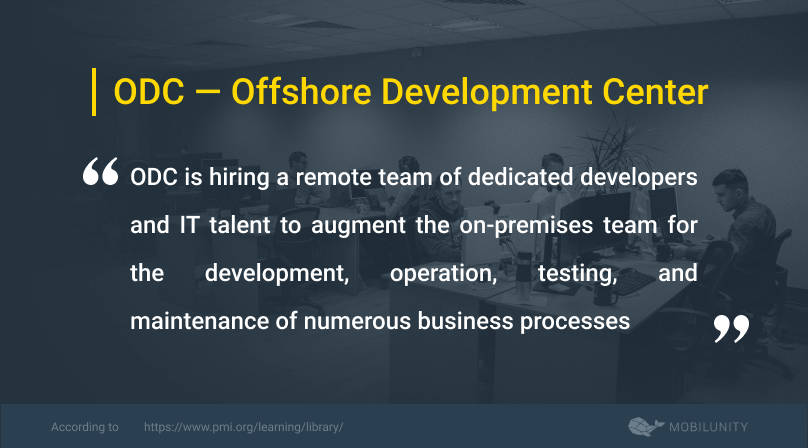 Usually, with setting up an ODC, a partner company operating in the offshore location provides this facility and assists in sourcing, mentoring and managing top quality resources for enhanced productivity.
The benefits of setting up an ODC include:
With an OCD, you can hire talent at a lower salary rate compared to sourcing local workers that also require HR costs.
Attracting more talented resources
You can set up an OCD in a country that has a larger talent pool compared to your own. This allows you to hire more skilled and experienced workers.
Reduces infrastructure investment
Building in-house infrastructure to complete certain tasks and processes can be very costly. By setting up an OCD, you can get access to technology and physical and organizational structures and facilities that meet your requirements at a lower cost.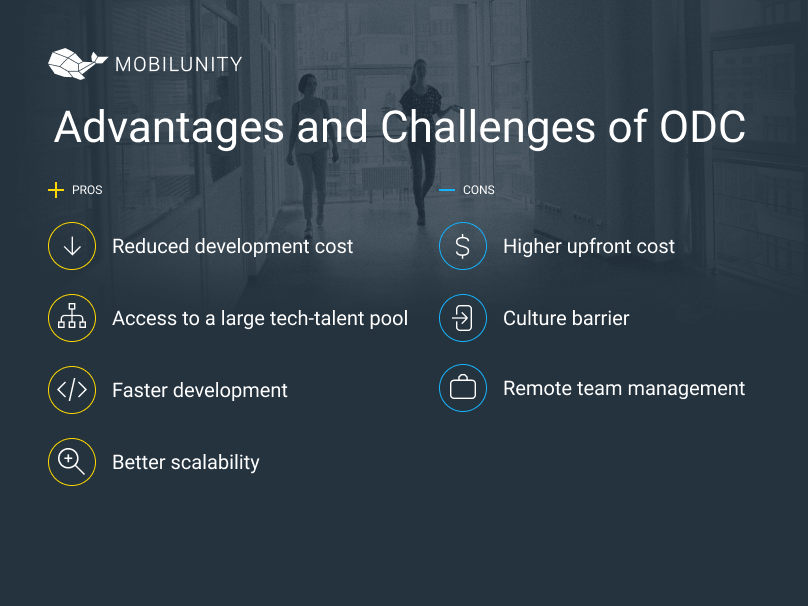 Opening an ODC includes a few important steps to ensure you tick all the boxes when it comes to meeting project needs and overall compliance with legal entities. Here are all the steps of successfully setting up a center:
Identifying a suitable location
Finding an office
Recruiting experts
Hiring legal support
You can set up an ODC independently, but engaging a professional local agent can be less time-consuming and more cost-effective.
It is important to note that the ODC format is different from pure offshoring. With offshoring, you also hire dedicated teams from distant countries. But since you outsource them, the provider is the legal employer of your technicians who only contracts their offshore development service
solutions to you. With ODC, your company holds the branch, pays rentals, owns the equipment, and hires offshore developers and administrative staff.
At this point, you probably see that incorporating an offshore development center isn't always simple and requires proper time and capital investment. Expenses may also grow once you contract the local provider to help you set up such a center. Still, in the long-term perspective, you'll spend significantly less on tasks and processes, your brand will get a presence in another country, and you have the opportunity to scale in your industry.
Popular IT Companies Using ODCs for Offshore Development
Many IT giants and tech startups have Offshore Development Centers. Many of these companies call them R&D (Research & Development) Centers. Such branches operate under the same brands, so they share the same corporate culture and comply with internal requirements for in-house teams. However, developers often enjoy a more relaxed work environment and flexible schedules.
Among the well-known brands that have ODCs in different countries are Google, Amazon, Grammarly, Oracle, Samsung, People.ai, Lyft, Boeing, Snap, ABBYY, TemplateMonster, and many more. And they benefit not only from lower hourly rates of local developers, but also secured IP rights, and growing brand awareness.
These popular companies are very successful with their ODCs or R&Ds, but there are, however, some risks to be aware of. These risks include:
Involving too many recruitment agencies
Ignoring office location details
Having unadaptable company policies
Not having any IP rights agreement
Keeping these risks in mind and finding suitable solutions to overcome them can be the difference between successfully setting up an ODC or R&D, and failing.
Benefits of Outsourcing Services for Your R&D
Effective managing business processes and investing in quality IT solutions is the nervous system of most modern businesses today. From a small startup to growing to a large firm with hundreds of employees, it pays to take business management and IT seriously.
However, many businesses do not have the resources to effectively manage these tasks. As a result, they turn to outsource. But which tasks are most often outsourced to a BPO services provider?
BPO services
Business process outsourcing (BPO) involves contracting work processes to an external service provider. These services typically include accounting, payroll, sales, telemarketing, data recording and management, digital marketing, customer support, and more. Services can be either technical or non-technical and usually fills supplementary business functions.
IT services
Today, businesses have to consistently improve their IT infrastructure and offerings to ensure they stay ahead in a digital business world. Some of the IT services that are typically outsourced include hardware maintenance, software and systems development, networking, IT development service, IT consultancy, security solutions, testing and backup services.
Outsourcing core business tasks and IT services is often seen as a management strategy for businesses to maximize the level of service they get for as little cost as possible.
While this is a major advantage of outsourcing, it's not the only reason companies should consider outsourcing certain processes. Here are all the benefits of outsourcing services, including IT and BPO tasks:
One of the most popular reasons for outsourcing IT and BPO tasks is to have access to expert knowledge and experience that in-house employees may not have. A big benefit of this is that there is also no need to pay for any training of your IT personnel. Outsourced workers already have the skills, knowledge and experience required.
Covering personnel-related risks
You often can't predict when an in-house employee decides to quit. This can happen due to bad relationships with coworkers, too much workload, family problems, health issues, and other reasons. But for your business, high employee turnover means additional recruiting and onboarding costs. But with outsourcing, you hire teams only when required and don't run the risks of losing key employees.
Once you understand that your business consistently grows, you'll need to increase the number of employees supporting its operation. And, increasing internal teams is usually time-consuming. Placing job descriptions on various portals, selecting and interviewing candidates, official hiring, and onboarding can take several weeks. However, with outsourcing IT and BPO specialists, you can grow workflow volume almost immediately and with minimal price changes.
Upskilling in-house teams
By outsourcing specialists, your in-house team has the opportunity to learn from them. These specialists have valuable skills and knowledge that can help your team upskill and grow.
More time to concentrate on core tasks
When you delegate routine but vital business tasks to top specialists, you can focus on core processes. This way, you improve and monitor the workflows that directly impact revenue generation. With outsourced IT and BPO services, you can rest assured knowing that your back office functions run smoothly and remain compliant with the official regulations.
Access to global resources
Often, some countries roll out more advanced programs and tech tools before others. With outsourcing, you get access to these resources. These global resources can assist with enhanced business processes and more innovative projects.
Better security compliance
The software and programs you use to manage business processes all need to be secure, and regularly require updates or security fixes. By working with a dedicated outsourced content team that knows exactly how and when to perform these important tasks, your business can demonstrate that it has processes in place and can meet any security compliance requirements set by your specific industry.
Many businesses choose to specifically outsource software development because they don't have the required resources such as skilled developers in-house. The benefits of outsourcing software development include:
The Final Word
With the continuous developments in technology and the high demand for tech specialists, it's becoming increasingly difficult to find specialists with the required expertise for businesses' development projects. Hiring new talent, putting infrastructure in place and integration of new employees can also require significant investments from businesses.
As a result, many tech companies feel inclined towards setting up an offshore development center (ODC). Today, this model is seen as an upgraded solution for IT business, as it offers many more benefits compared to traditional outsourcing.
Opening an ODC is a great way to cut costs for product development and research initiatives. However, doing this on your own in a country with different cultures and traditions can be tricky and time-consuming. But with a local provider, you can set up an ODC quickly and effectively.
Moreover, you'll be able to outsource the required BPO service to ensure the continuous operation of your branch and its compliance with local regulations.