What is a notification bar?
If you're looking for a subtle, yet powerful way to share site-wide messages that can increase your conversion and engagement rates and ultimately influence your sales and leads, you should consider adding a notification bar to your WordPress website. You can also find it under the names "announcement bar/ banner" or "welcome bar".
Simply put, this is a banner that is placed usually on the top of your website and provides your visitors with helpful information without getting in the way of the main content. Already convinced to try it out? Look no further and check out the free My Sticky Menu plug-in for WordPress that features a floating welcome bar.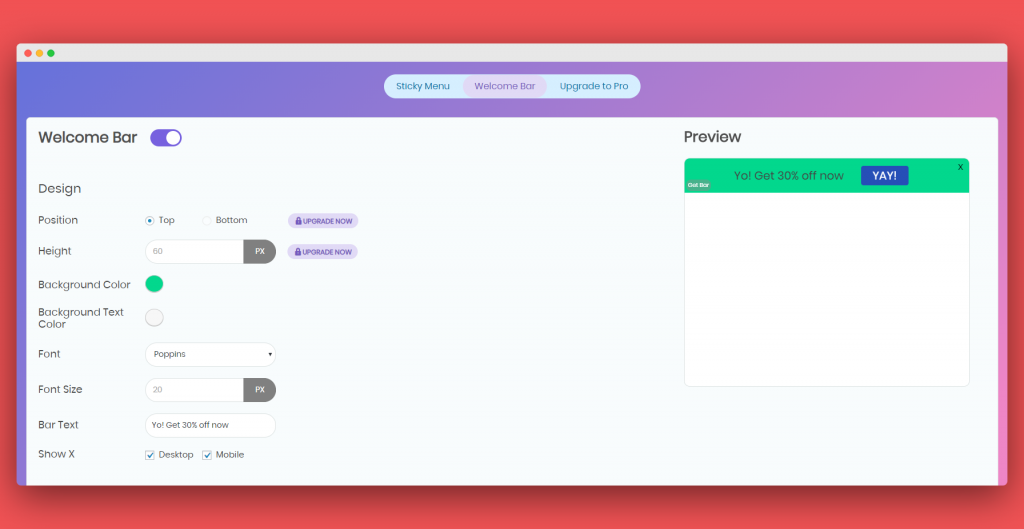 What are the benefits of adding a notification bar to your website?
As mentioned, you can use the notification bar in order to provide your website visitors with important information of different kinds.
The best thing about it is that it takes up merely 5% of the entire page, website visitors don't necessarily have to interact with it and it's non-intrusive, meaning it won't affect users' experience on your website.
At the same time, since a notification bar is most often placed at the top of the page, website visitors automatically see the announcement first thing when opening the page.
Being non-disruptive is a big plus because visitors don't feel the need to dismiss the bar (like it may happen with some popup boxes) and without realizing it, they may get to engage with it for a prolonged period of time.
How can you benefit from the most frequent notification bar use cases?
Keep in mind that a good notification bar should be designed in a way that will make it pop in the general color scheme of the website while keeping it subtle at the same time. Keep on reading to find some good examples of how you can benefit from adding a notification bar or even different notification bars on different pages on your website.
Announce offers or campaigns
Add a notification bar to announce a discount or a sale campaign on your website. Did you know that a discount code can be the difference between a new customer and an abandoning visitor?
You can display a discount code that can be copied and used at checkout or provide a code to a visitor after an action, for example after submitting their email. A great way to increase conversion would be to consider time-sensitive offers.
This can be achieved by using the My Sticky Menu plug-in countdown timer functionality – a powerful tool to create urgency.
By providing your visitors with a clear timeframe to complete an action, for example, display how much time remains until a sale ends – you provide an extra motivation to convert without losing time.
You can also add a countdown to a sale in order to build anticipation for the event and even include an email opt-in to grow your mailing list – keep on reading to find out how.
Please note that adding a countdown timer to your My Sticky Menu welcome bar requires upgrading to a paid plan.
How your My Sticky Menu welcome bar countdown timer may look like
Generate or grow your email list
As hinted previously, you can benefit from the notification bar to generate or grow your mailing list. The easiest way to do this is to display a Poptin popup next to your notification bar announcement message.
For example, you can have users sign up to your mailing list before sending them a discount code they can use on your site. This is a great way to get more leads. You can read how to launch a Poptin popup through your My Sticky Menu welcome bar in our knowledge base.
How launching a Poptin popup from your My Sticky Menu welcome bar may look like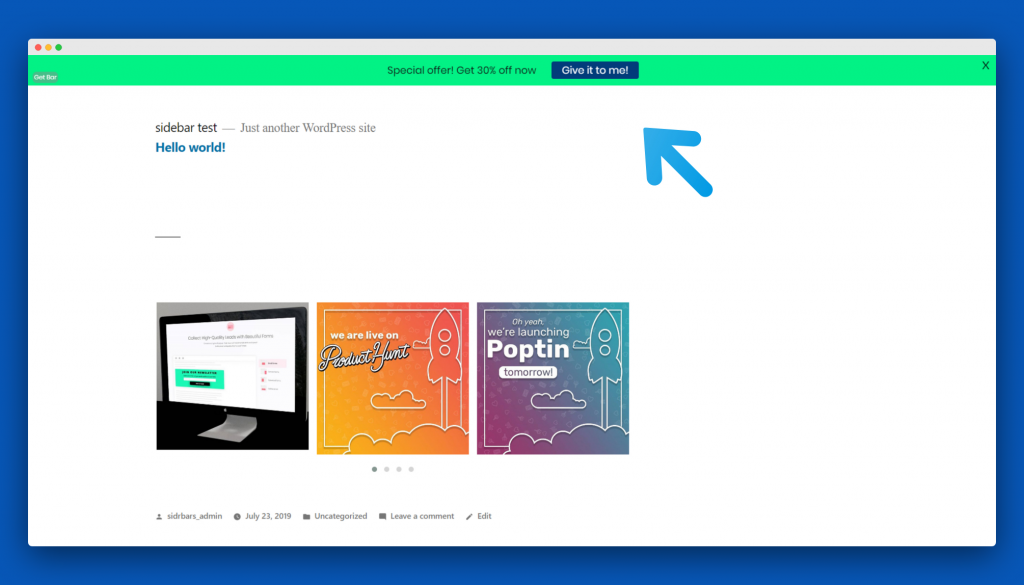 Announce a new product or service
If you have recently introduced a new service or added a new product/ feature to your site, you can announce this using a notification bar. This is also a great way to direct traffic to a specific page – for example, the featured page of the new product or service – instead of waiting for users to get there by themselves. This too can be an easy way to drive more sales and eventually increase your website conversion rate.
Announce important information and updates
You have recently updated your terms and conditions? A notification bar is a good way of informing your users of important news that can sometimes be tedious to look for on other pages of the website. Include your shipping cost, delivery times, free shipping qualifications, changes or updates in your terms and conditions, new business hours, and so on into your notification bar.
If you are already convinced a good-looking notification bar can help you improve your website performance, download the free version of the My Sticky Menu plug-in from the WordPress repository and have fun creating your first bar!
For further assistance, check our plug-in knowledge base and feel free to drop us a line.