You may have heard the terms micro and nano-influencers tossed around a lot lately. You may not know that they can be incredibly powerful when it comes to promoting your eCommerce store.
Micro-influencers are individuals with a following of anywhere from 10,000 to 100,000 people on social media. Nano-influencers' following is below 10,000. These creators are seen as more relatable and trustworthy than celebrities, so they can promote your products in a way that feels organic and authentic.
When you work with small-scale influencers, you don't have to worry about them promoting products that their followers don't actually want or need. They only promote items that they believe in and would personally use themselves – so you can trust them to sell your products in an honest way.
Read the guide below to find out why and how to leverage nano- and micro-influencers. We'll discuss strategy, payment, channels, and many more.
Why and How Should You Use Micro- and Nano-Influencers?
Without further ado, let's see why micro and nano-influencers are your e-commerce store's secret weapon.
1. Getting More Useful Insights
Companies usually ignore this opportunity instead of leveraging it. However, micro-and nano-influencers:
Know their audience intimately. Sharing this knowledge with you will give you better ideas on how to improve your products or messages.
Are well-spoken and assertive. After sharing your products with these creators, conduct a market research-like interview. The findings will help you improve product delivery (e.g., less or more packaging) or certain features. You can even find new angles for your messages to sharpen your copywriting.
2. Engaged Audience
People prefer genuine, unfiltered content over traditional ads. That's nothing new under the sun. What is new is the rise of social media, which allows companies to deliver branded content in a palatable way for consumers.
And that way is through micro- and nano-influencers.
Side-note: Sure, you can hire mega-influencers or even celebrities. However, statistics show that the engagement rate is inversely proportional to the number of followers.
Nano- and micro-influencers can elicit more engagement because:
They're genuine. These creators are invested in the topics they discuss, having previously spent hours researching them.

For example, Fay is a beauty nano-influencer who promotes hair toppers and wigs. Fay has been baling female alopecia for some time, so she knows the struggles of women going through this experience.

As such, she is relatable, believable, and trustworthy because she's going through the same thing. So, when Fay is recommending a hair topper or wig, her followers trust her research.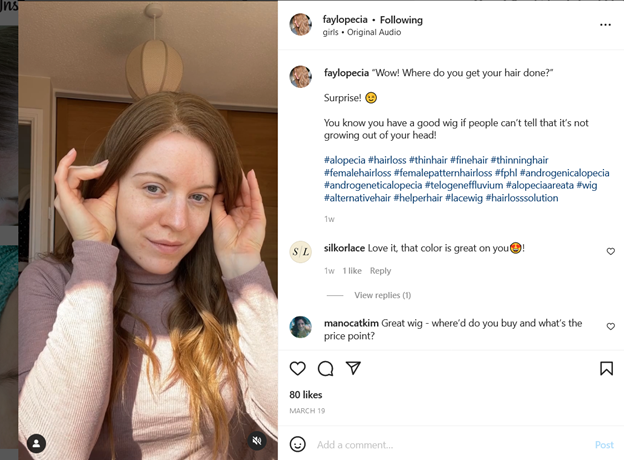 Quick fact: 61% of people trust influencers' recommendations over traditional ads.
They can engage with their followers. Marketing experts suggest that building relationships with potential customers is one of the best lead conversion strategies. A micro- or nano-influencer has the time and the interest to communicate with its audience. That means people can get the answers they need about a specific product by simply DM-ing that content creator.
Your e-commerce company can benefit from that authenticity and direct connection to your audience. And don't forget to leverage the insights your influencers are getting as we discussed in the previous section.
Here's the problem:
Some "influencers" have fake followers and engagement groups meant to trick you.
Here's how to suss them out: check audience quality.
If all comments look the same and are very flat (e.g., "great product," or "beautiful"), your influencer has a red flag.
If the profiles lack details (e.g., photos, personal info), chances are they're fake.
So what is a good engagement rate?
For micro-influencers, 3% and beyond is good. For nano-influencers, you should aim at least 6-10%.
3. Brand Discovery
Micro- and nano-influencers help with brand discovery too.
Let's say your company sells vintage shoes. If someone knows they want this product, they can Google it. If they find your website within the first results, you score one point for traditional brand discovery.
What if some people don't know they like these shoes? Or if your brand doesn't rank well on search engines?
That's where social media comes in.
Imagine it from the PoV of a potential customer. They're scrolling on Instagram, when suddenly, one of their favorite influencers posts some beautiful shoes.
And not only that.
The content creator they trust is also offering precise insights, such as choosing a specific color or going for a half-size larger. The potential customer is now aware of your brand and already trusts in it.
The purchase is just one step away.
This phenomenon is worldwide. Statistics show that 90% of people find out about the brands they want to buy through social media. Besides, 82% of people are more likely to purchase following micro or nano influencers' recommendations.
Lucy Williamson for Live Like Louise is an excellent example.
The company retails online fitness services, so they:
It's difficult for them to stand out in a crowded industry.
Most competitors promise "long-term results," which often don't even appear.
As a result, people's trust in these companies is fairly low.
However, Lucy Williamson is credible.
She is a mother to four children and she details her relationship with exercise on her social media. Her followers know about her family, her struggles, and her passion for weight lifting and ballet.
These people perceive Lucy Williamson as a run-of-the-mill person, not a walking-talking ad.
As such, her recommendations are as trustworthy as those of a friend, especially when she:
Shares her progress pictures.
Delves into difficult topics, such as mummy tummy and C-sections.
Details the offer from Live Like Louise.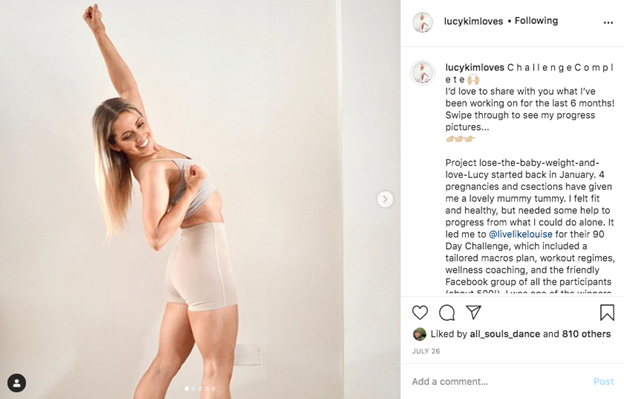 4. Research versus shopping
Nano- and micro-influencers will help you get more purchases than a traditional ad.
X% of people purchase products following nano-influencers' recommendations.
X% purchase products from online stores after seeing influencers using it on social media.
But you have to make things easy for them.
Luckily, platforms like Instagram have developed shopping features that:
Allows content creators to add product tags in their posts.
Allows people to click on those pictures to see relevant product information (e.g., price, material, size) and even purchase the product directly.
Pro tip: Make nano- and micro-influencers part of your entire sales funnel.
One common mistake that e-commerce companies make is thinking that influencers are only effective for the first stage of the funnel. However, content creators can do more than educate or create brand awareness.
They can also help you during the other stages of the funnel, such as:
Consideration
Intent
Evaluation
@barefacenusi is an excellent example. Struggling with acne and constantly seeking solutions to this problem has given her an aura of expertise among her almost 9,000 followers.
So, recommending products from a specific brand will help more people with acne decide to buy these products on the spot.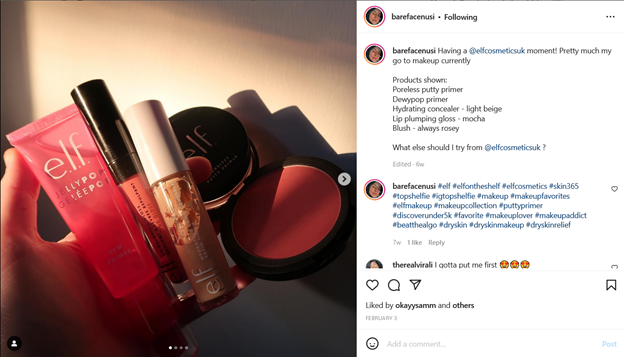 5. Better ROI
Let's look at these numbers:
The average click-through rate on Facebook is 0.9%, while the CPC can reach $50. That means a lot of people block your social media ads.
Nobody blocks nano and micro-influencers, though.
That's because these content creators produce engaging, relevant content. Sharing their life experiences and expert advice creates:
Credibility
Expertise
A loyal community
Story-time: Martin Lindstrom, author of "Buyology: Truth and Lies About Why We Buy," assimilates branding with creating a religion. This religion is created through the central figure, rituals, specific language, and stories.
What Lindstrom didn't anticipate is that influencer marketing is more similar to religion than branding.
Nano- and micro-influencer can elicit a high degree of trust and even love from their followers. Thus, the brands they recommend can be seen as ritual props that strengthen the community.
Take Ed Latimore's post, praising @drinkmonday for its fantastic non-alcoholic gin he received for Christmas. Traditionally, Christmas is associated with downtime, family, and spiced eggnog. It's also not unusual for men to receive bottles of alcoholic beverages as presents.
Besides, alcohol consumption rises around Christmas, partly because of that downtime and partly because of family.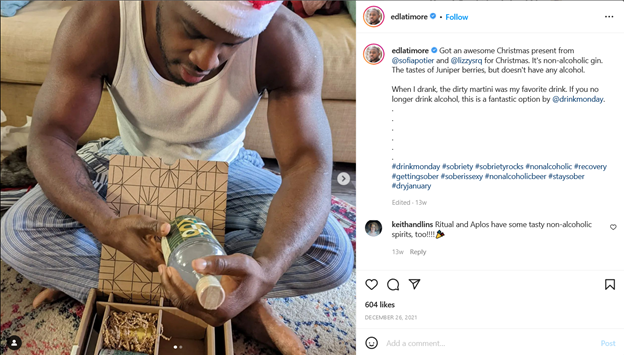 That's a huge problem for those trying to stay sober.
Thus, a non-alcoholic gin recommendation from someone they trust at Christmas time will give them the necessary impulse to buy.
How much Do Micro- and Nano-Influencers Get Paid?
Now that you've seen why micro- and nano-influencers are the secret weapons for your e-commerce store, let's see how much you owe them.
The typical payment is:
Money, or:
Products with no strings attached.
Let's break these down one at a time.
The usual cost per post varies from $50 to $500-600 at the most. This sum depends on several factors:
The number of posts
The type of content
Channel
Frequency
The industry you're in
E.g.: If you have a fin-tech app, prepare to be charged to premium. Also, video content costs more than an Instagram photo.
Pro tip: Evaluate the market to gauge the budget.
Conversely, influencer seeding may be more successful. This technique implies using a platform or software to find hundreds, if not thousands of influencers.
You will then give your products for free to these people so they can test and write their impressions.
Warning: The strategy works best for low-cost products.
Also, you must contact the content creators before sending your products. E-mail or phone them and have a short conversation about sending these products.
Remember that you want them to show interest, so, ask them to fill out a form with their details.
Personalize your approach as much as possible. Include a handwritten note or customized package when sending the goods.
Pro tip: Keep things light throughout your interaction, with no hard close. A few days after sending the products, give them a complimentary call and ask for feedback about your product/service.
If you follow this advice, more influencers will post about your brand – and that's your endgame here.
Pro tip: Influencers' biggest motivation is having a mission or fighting for values they believe in. People love promoting brands that make a change. It's more powerful than money, which is few already at an average of $300/post.
How to Find the Right Influencer
Finding the right influencers isn't easy, but, luckily, you have plenty of tools at your disposal:
Search your databases. Think of people who already know and trust your products. Your loyal customers and employees are good places to start. That's why companies like EarthLink are using their employees as brand ambassadors. Alternatively, some of your loyal customers may already be trusted nano-influencers.
Follow related hashtags on social media. This strategy points you toward influencers in your industry (e.g. for a fitness e-commerce website: #fitspo, #gymlife, #gymwear, #activewear). So, if you have a strong USP, you can easily attract these creators.
Attend conferences, seminars, and trade shows. These places allow you to connect face-to-face with influencers from your industry and talk business with them directly. As such, you're ensuring your intentions are clear and that you click with a specific creator.
Use an influencer platform. Influencer platforms are excellent because you can find relevant creators using keywords. Besides, these tools allow you to check engagement rates and avoid fake influencers. If you're new at this, an agency can intermediate communication, deal with incentives, and monitor your campaign.
The tough part is how to connect with nano influencers (or micro-influencers) if you haven't met them face-to-face at a conference:
The answer is sending a cold e-mail that outlines your expectations and budget. You can also leave a gateway for negotiation, so ask the influencer to tell you their fee and the need to meet them halfway.
Pro tip: Set your goal before sending that first message. This goal can be to:
Drive sales. In this case, you will need to offer your influencer an actionable CTA, clear USP, and coupon code.
Create content. If you want the influencer to create content on your social media or e-commerce website, you will need commercial writing (e.g., a business blog). So, make sure the influencers you're reaching out to can deliver this type of content.
Gain market insights. At this point, you may simply want insights into your target audience. So, you should interview the influencers using market-research-like questions. You will then use their answers to improve your products, website, or copy.
Pro tip: If you're holding many online conferences with your influencers, learn how to conduct an engaging virtual team meeting.
What Channel Should You Use?
There are two types of products:
Low-cost, low-impulse (around $10-40): Instagram and TikTok work best because the sell-cycle is short. Users see your products and they're immediately tempted to purchase.
More expensive: Channels like YouTube work better because the influencers can give more in-depth explanations.
But you also have to consider one more thing:
What's the best way to display your USP?
If it's a picture, then use Instagram. If it's more controversial or needs an angle to differentiate, use YouTube. For example, CBD-based products may require more explanations because they're fighting some biases. Also, financial products/services need more details to educate the audience.
A good example of that is Carter Sullivan for Mogo.ca.

This gen-Z nano-influencer shares to her audience how Mogo helped her get out of debt and start saving. This generation is interested in their finances and uses apps. That's why a relatable figure who explains precisely how using an intuitive app to reach their financial goals works so well.
How Do You Monitor Sales?
Many companies using micro and nano-influencers don't bother with monitoring sales because:
The posts cost very little.
The marketers find tracking and measuring results difficult.
A good hint about these challenges is that marketers usually set awareness as the main goal of an influencer campaign.
However, increasing sales is better – and easier – especially if you have an e-commerce company.
Besides, you should monitor your sales and other campaign results to see where to focus your future efforts. If one influencer brought you 80% of your sales, that's who you should keep. If a specific message brought no sales, that's what your audience doesn't want to hear.
And the list of reasons can go on.
That said, there are two ways to monitor sales:
Lower-cost items. People make their minds faster for affordable products, so the funnel is shorter. In this case, give your influencers a promo code or discount code to keep track of who's selling what.
Expensive items. People decide slower about expensive items, even if they trust your influencers. In this case, you need a UTM code to track the initial traffic source. Google Analytics will tell you where visitors are coming from to your website, and what influencer brought them there.
Wrap-Up
Nano- and micro-influencers are powerful secret weapons, even though everyone knows about their existence. The problem is plenty of e-commerce marketers don't know about many of the strategies we discussed in this article.
So, remember to set your goal before contacting influencers – and don't just focus on raising awareness. Then, keep things light but clear as you connect with content creators.
Remember to use their help to connect with your audience, but also to get more useful insights that would sharpen your copy and improve your products.
As you're running your campaign, track your KPIs and monitor results. You'll need this input for your future campaigns.
Of course, make sure your products and customer experience are top-notch.
That said, have you used influencer marketing before? What type of content do you think would work best for your store? Let's chat in the comment section!
Author Bio:
David Morneau is the co-founder and CEO of inBeat, a hybrid micro-influencer marketing SAAS/agency that helps brands scale their marketing efforts. He has helped over 200 DTC brands to date.