Spotting a handy little chat button on their favorite site, blog, or business makes people instantly feel more connected and lets them know that support is just a click away.
Integrating chat support into your customer service and engagement plan is much easier than you think!
Have you heard of JoinChat, but have you considered the other options? Here are seven JoinChat alternatives that level up your online business.
What is JoinChat?
JoinChat is a code-free WordPress chat plugin that helps website owners interact with clients and capture more leads by connecting them to customer service through their favorite instant messaging programs.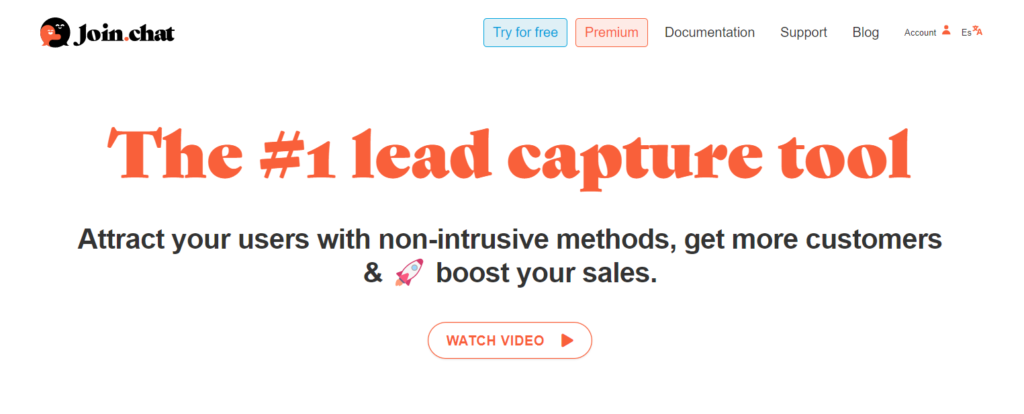 At the click of a button, customers can chat directly with brands through WhatsApp and other messengers.
The chat app comes with customizable displays to match your brand. Personalize the user experience with balloons, QR codes, text, and images- all helping drive engagement, conversion rates, and sales!
JoinChat is excellent for managing customer chat support for teams of all sizes. Create profiles, plan schedules, and even implement AI responses for a more rounded service. It also supports text and click-to-call functions to reach beyond social media.
It costs $39 or $99 per month- depending on the account type.
All in all, JoinChat is a great chat app- but it is not the only possibility!
The Best JoinChat Alternatives
Here are seven alternative chat plugin choices that match- or beat- JoinChat.
1. Chatway
Chatway stands as a compelling alternative to Joinchat for live chat services, distinguishing itself with a robust array of features that streamline the customer service journey. Designed to fortify the connection between businesses and their clientele, Chatway's modern and intuitive live chat interface ensures immediate usability.
Within this user-friendly environment, support agents possess the power to craft personalized interactions, transforming each customer engagement into a unique experience. When queries arise, Chatway empowers agents to promptly respond with tailored solutions that directly address specific needs.
Navigating inquiries is effortless, as support agents effortlessly channel interactions to the most fitting department – whether sales, technical, or product-related – for specialized service. This dynamic platform further empowers agents to communicate visually, allowing them to share images and files that vividly illustrate concerns and subsequently enhance the quality of assistance provided.
What's more, Chatway grants support agents real-time access to customer profiles and purchase histories, enabling them to mold their responses based on individual preferences and prior interactions, resulting in a more personalized and impactful engagement.
Features
Real-time messaging
Customisable chat widget
Automated greetings
Multi-channel support
Chat routing through multiple agents
Pros
Free to use
Excellent customer service
Available on mobile and desktop
Pricing: Chatway is available for free. Try it here!
Our number one pick for the best JoinChat alternative is Chaty. It covers 20+ communication apps and social channels – allowing for flawless, convenient, and efficient client communication and service organization.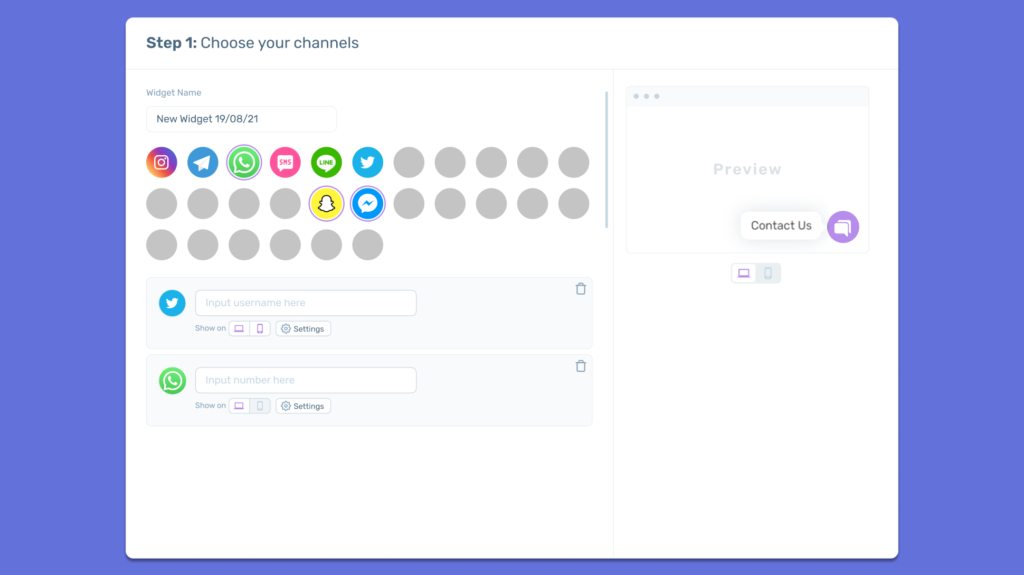 Chaty is excellent for brands, businesses, blogs, and site owners. Customizable widgets let you mold the chat features to fit seamlessly with the rest of your site- so your clients know they are connecting directly with the source.
Key Features
Google Analytics and metric tracking
Targeted automatic triggers
Pre-set automatic messages with full customization available
More than 20 social platform integrations
Seamless, multi-channel communication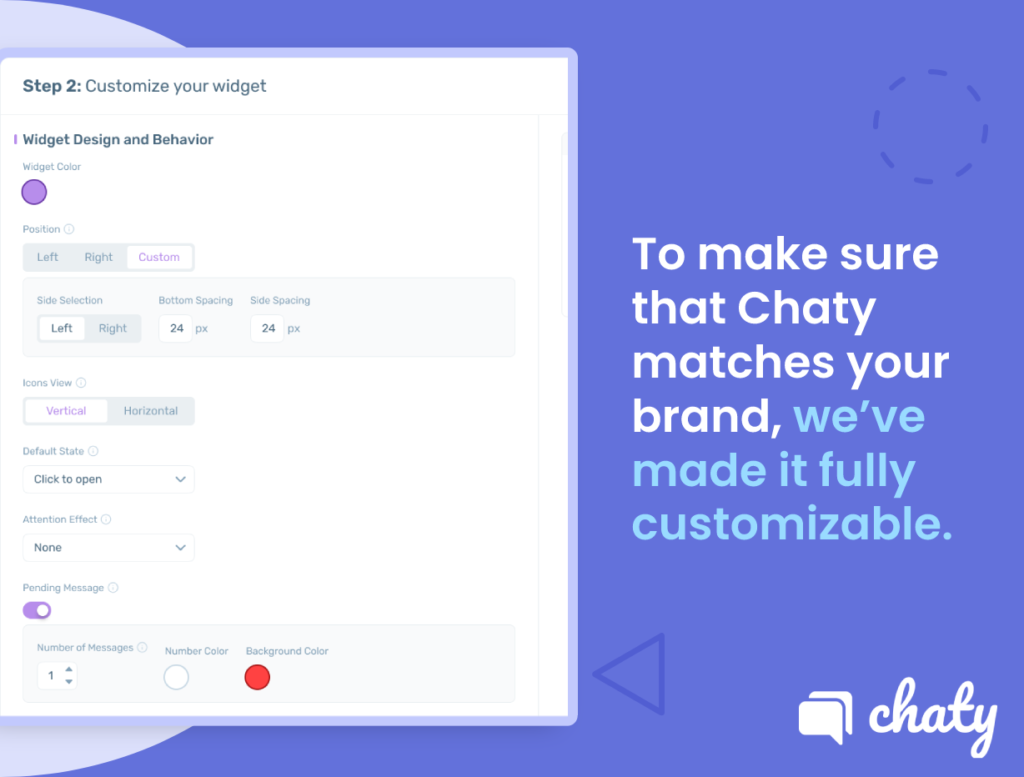 Pricing
Chaty is exceptional value for money. Even the free version covers all the bases and offers a comprehensive package. It is capped at 500 visitors per month, which you could quickly exceed thanks to your new and improved chat functions!
The paid subscription options are as follows (all prices are per month):
Basic ($9)- 10,000 visitors per month
Pro ($25)- 50,000 visitors per month
Growth ($49)- 150,000 visitors per month
There are more extensive packages available upon request! If you buy an annual subscription, you save 20%.
Download Chaty here:
Why Choose Chaty?
Chaty is an excellent JoinChat alternative for many reasons. It offers a similar service but with an even more user-friendly approach that anyone can manage. Freelancers and small businesses can thrive using simple, cost-effective chat box solutions.
The features are incredibly versatile. Because it works with so many platforms (more than JoinChat), businesses can reach even more people through their favorite social media sites and messaging services.
E-commerce sites could choose Chaty instead of JoinChat for its customizable, targeted messages and triggers, which can significantly affect conversion rates and sales.
It is also one of the best chat apps for Shopify.
3. Click to Chat
Click to Chat is arguably the best instant messaging plugin for WordPress. It works the same way as WhatsApp or Facebook plugins but with more versatility and customization. Your clients can message to directly with a single click, and you can respond live or through pre-set automated messages.
Key Features
Instant messaging
Easy setup
Floating chat box or bar
Customizable options
Pricing
Click to Chat is free, but the PRO version has a small monthly charge. It is worth it for the additional support and personalization options.
Why Choose Click to Chat?
Someone looking for a fuss-free alternative chat app that works well and allows instant communication for clients may want to consider Click to Chat or Click to Chat PRO. It makes it easy to master the dos and don'ts of live chatting for optimal results.
4. HubSpot Chat
The HubSpot WordPress chat plugin is a flexible tool that allows account holders to add a chat button to their websites for live and automated communication with their consumers. It is also a versatile marketing tool for enhancing user experience and capturing leads.
Key Features
Email marketing tools
Customizable chatbots
Landing page builder
Integrated customer relationship manager
Pricing
You can try HubSpot for free. You can get by without needing a paid subscription if you only want simple live chat and AI chat features.
If you need something more advanced that allows for analytics and tracking, prices start at $23 per month and go up to $120 per month. These prices are per user. There are options for team setups through custom plans- which can cost anywhere from $500 monthly.
Why Choose HubSpot Chat?
HubSpot is easy to set up and simple to use. It is a solid alternative to JoinChat because of its versatile features and beginner-friendly setup. If a chat plugin is part of a broader approach to new and improved consumer engagement, HubSpot is a possible way to go.
5. WP Social Chat
WP Social Chat is a WhatsApp plugin for WordPress, but the name was changed. A click-to-call or click-to-chat app redirects consumers from the website to a WhatsApp conversation with your customer service team. The plugin also allows for custom chat boxes and multiple agent profiles.
Key Features
Direct connection to a well-known messaging app
Custom text and auto-user messages
Simple contact box
Click on to chat function
Pricing
There is a basic version of this WordPress chat plugin that doesn't cost anything but doesn't come with any support or customizable options. You can buy more advanced versions for a one-off payment of $49 for one site, $99 for five site, or $149 for unlimited sites.
Why Choose WP Social Chat?
This is an excellent example of a JoinChat alternative better suited for people who want simple, efficient communication with their consumers. It works with one of the world's most-used messaging apps and is extremely easy to use.
6. Facebook Chat Plugin
Everyone knows Facebook Messenger, and the familiar widget is instantly recognizable and trustworthy. The Facebook Chat Plugin is a simple but helpful tool for connecting with clients on and off your website.
Key Features
Simultaneous browsing and messaging
Customizable auto-responses
Option for anonymous guest mode
Free editor
Pricing
The Facebook Messenger WordPress chat plugin is free of charge.
Why Choose Facebook Chat Plugin?
This is a bit different from most of the options on this list. The well-known image and flexible communication options are the main reasons people may choose the Facebook Chat plugin over something like JoinChat. It doesn't do anything other than provide a chat service, but the core benefit is continuing your conversation even if the person exits your website.
7. Tidio
Tidio is a powerful tool for people who want to increase sales through customer service. The chatbot features can increase conversions, reduce abandoned carts, promote discounts and coupons, and more.
Key Features
More than 20 chatbot templates
Dedicated plugins for specific websites
Code-free chat button creation
Live chat software
Pricing
You can trial Tido for free on a limited basis, but full access starts at $32.50 each month. All subscriptions are billed every year. A few simple plans cost either $10 or $18 for live or chatbot-only services.
Why Choose Tidio?
The main reason to choose Tidio over JoinChat is for the sales-focused features. It best suits small e-commerce businesses looking to boost conversion rates and generate more income.
8. Tawk.To
Tawk.To is one of the best-known and most influential live chat app plugins. The software allows an unlimited number of agents to work on service campaigns a communicate directly with consumers through a site-based live chat pop-up.
Key Features
Live visitor tracking
Option to assign conversations to specific agents
Organizational charts
Customizable helpdesk features
Pricing
Surprisingly, this is a free service- as long as you don't mind having the Tawk.To brand on your site. If you want to remove it, it costs $19 per month.
Why Choose Tawk.To?
Tawk.To is an excellent choice for small teams who rely heavily on a chat-based customer service system. The features center mainly on monitoring and organizing chat-based interactions for a multi-agent environment.
When it comes to service team coordination, this is tough to beat. It is also a top choice for SMEs on a budget.
Final Thoughts
An excellent chat app plugin can benefit your business in many ways. Customer engagement, brand awareness, conversion rates, and client loyalty can all be enhanced through such a simple but effective feature. Each of these seven platforms offers something that can shake things up for your brand.
Many JoinChat alternatives are out there, proving that businesses are never short on options. You can benefit from the versatile services of top-quality plugins such as Chaty and connect with clients your way all day.