In a survey by Hubspot, 47% of consumers reported that they are more interested in buying a product using chatbots. So, you can clearly understand that chatbots help make sales. This can also be established from another survey that reveals that chatbots help 55% of businesses generate high-quality leads.
So, it's wise to add chatbots to your customer services and sales operations to enhance lead generation, sales, and profitability.
However, while chatbots are beneficial, you must know the proper ways to leverage those benefits. How must you use chatbots on your websites so that they will increase sales to the maximum? – this is a significant question.
Well, this article is the answer you need. In this article, we have explained seven ways you can use chatbots to increase sales for your business efficiently. So, let's get started.
What are Chatbots?
Chatbots are AI-powered assistants designed using machine learning to communicate as real human agents.
These programs are coded using artificial intelligence and machine learning to copy and understand human emotions and respond accordingly in a natural and neutral human tone to give experiences as if the customers are talking to a real human agent.
Why Your Business Needs a Chatbot?
Research reveals that chatbots can save businesses 2.5 billion hours and $8 billion in the next two years. Those are big numbers and self-explanatory about the benefits a company can derive from chatbots.
Hereinbelow are some reasons your business needs chatbots for handling sales and customer services.
Online 24/7
One of the constraints with human agents is that they cannot always be available for the customers. However, that problem doesn't occur with chatbots. Chatbots are always online, and their response rates are as high as 40%.
Even per consumers, the number 1 benefit of chatbots is their 24/7 availability.
Quick Responses
The speed at which chatbots respond is among users' most liked factors.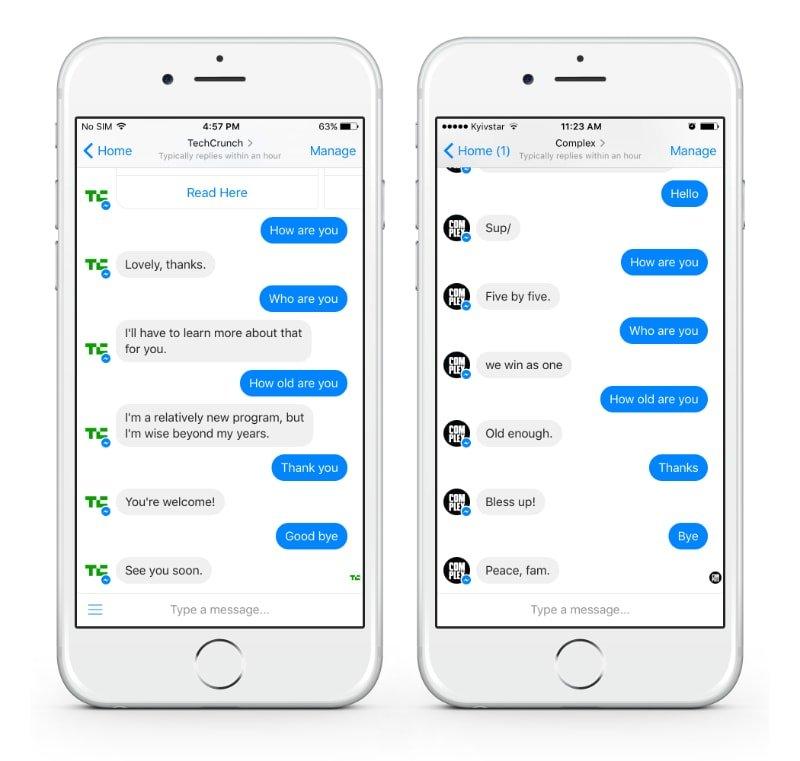 Quick responses mean that your user and customer queries are solved almost instantly, and that keeps them happy, which is beneficial for your business.
No Language Barriers
With human agents, language barriers sometimes come as a constraint in giving proper customer support. That constraint is eliminated through chatbots.
You can program the chatbots to communicate with the users in their preferred languages, offering the customers a better experience overall.
Multiple Customer Handling
It's not possible for a human agent to handle multiple customers very effectively, especially when managing fast responses. Chatbots are efficient at this. Chatbots are programmed for instant answers and will respond to each request instantly, regardless of frequency. So, you can manage multiple requests at once using chatbots.
Saves Service Costs
Using chatbots can save a lot of costs that an organization would otherwise incur on hiring customer service agents. Of course, you cannot do away with customer service agents, but since chatbots will be saving their time, they will work more productively and you'll receive a higher value for the work done.
Better Customer Experiences
Chatbots are a cornerstone in providing better experiences to your users. They pay attention to their requests, offer instant responses, and resolve their queries. In fact, chatbots are used in many areas to enhance customer experiences.
The image below gives an overview.
All these things enhance customer experiences, making chatbots worth their use and value.
Increased Sales
Most of this article will talk about how chatbots can be used to increase sales. So, it's an obvious benefit of using chatbots on your website.
Now that we have mentioned this benefit let us talk about how to use chatbots to increase sales.
7 Ways Businesses Can Increase Sales Using Chatbots
A Forbes report suggested that business leaders have claimed that chatbots increase sales by 67%. However, how these chatbots are used to increase sales is still a question many marketers ask.
Well, here are seven ways your business can increase sales using chatbots.
Use Chatbots to Welcome the Visitors and Give Suggestions
You can use chatbots to welcome your visitors and give them suggestions about what is available on your website. Such offers give the user a direction for exploring your website, and they might find what they're looking for sooner, which would support their buying decision.
For instance, look at the screenshot below in which the website has used a chatbot to welcome the visitor and offer help browsing through different sections of the website.
Using chatbots encourages communication with prospective customers and gives better opportunities for converting leads to customers.
Use Chatbots to Gather Information from the Customers for Future
In addition to using chatbots to strike up conversations with customers by simply asking about their interests, you can also use chatbots to gather more information from customers for the future.
For instance, look how naturally this website has used chatbots to gather customers' email addresses in a simple line of communication.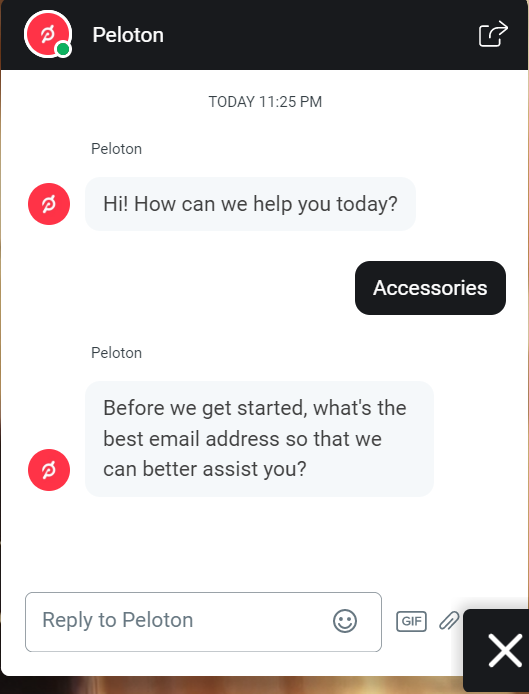 Gathering such customer information helps build email lists you can later use for your email campaigns. You can send the customers offers and discounts that encourage them to return to your site and make purchases, thereby increasing your sales and revenue.
Use Chatbots to Provide Product Information
Customers read the product information before making a purchase decision. However, they may not want to navigate your website to find information about a particular product they wish to purchase. Please complete the product information readily available to the customers, and you can do that through chatbots.
You can instantly provide product information through chatbots, as provided by this website, shown in the screenshot below.
Providing product information in this manner keeps the customers more hooked to your website, and you have better chances of selling the products.
Use Chatbots to Send Reminders to Complete Purchases
When you close any eCommerce platform like Myntra, Flipkart, Mamaearth, etc., without completing your purchase and you leave some items in the cart, basically abandoning the cart, you get the instant message and email regarding completing your purchase. Don't you?
Well, this is done through chatbots.
You can automate your chatbots to send messages and emails for abandoned carts and make the customers complete their purchases.
Statistics reveal that 50% of the customers open your abandoned cart emails, and when they do so, they might as well complete their purchase, thereby increasing your sales.
Use Chatbots for Upselling Products
You can use chatbots to upsell the products on your website. Just like you use chatbots for product recommendations, you can make such recommendations at the end of a purchase and keep those recommendations based on the items already purchased. This is called upselling the products.
You suggest related products to the customers, and since the customers want to close the sales quickly, they might as well purchase the product you're offering. This helps increase sales by a large number.
Use Chatbots to Enhance Customer Experiences
Enhancing customer experiences is a crucial way of increasing sales. The better the experiences you offer customers, the more likely they will return to your business and make purchases.
Good customer experiences bring customer loyalty, and chatbots play a crucial role in enhancing customer experiences.
You can be available for the customers 24/7, eliminate language barriers, and respond almost instantly, which is essential for excellent customer experiences.
Statistics show that 71% of customers believe that quick response from customer service can drastically improve their customer experience. This is possible through chatbots. You can program the chatbots for instant answers and enhance customer experiences to increase your sales.
Use Chatbots for Your Email Campaigns or Landing Page Pop Ups
You can also use chatbots for your email campaigns or landing page pop ups to increase sales. Chatbots are a great way to gather customer data, as already discussed.
Once you have gathered that data, you can use chatbots to send emails to customers and even communicate using those emails. Additionally, you can use chatbots on your landing pages and constantly give suggestions about the products your audience must purchase or even suggest joining your reward or referral program.
With all such practices, you are sure to close more sales and increase your business revenue and return on investment by a considerable number.
Are You Ready to Increase Your Sales through Chatbots?
So, that is all about chatbots and how they help increase your sales. Chatbots are responsive, fast, and always online. Additionally, they can help eliminate language barriers, and you can use them for multiple marketing activities.
Using chatbots in all your marketing activities makes them a cornerstone in bringing more sales to your business. You can also use a live chat alternative and communicate faster with a human touch.
We hope this article helped you understand how it's done and that you're all set to increase your sales and revenue through chatbots.
Author's Bio: Shweta is a growth marketing specialist working with 2xSaS. She creates content that converts website visitors into paying customers for SaaS companies. She likes driving around the city & hanging out with her friends in her free time.