WordPress comes with a number of different plugins and features that make every webmaster and content editor's role much easier. No wonder it's the most popular content management system that powers more than 40% of the internet and boasts a market share of 60.8%.
Still, running a successful website is a challenging feat, as there are a lot of things to be factored in.
User interface design, search engine optimization, visitor engagement, user experience, and coming up with quality content are among the make-it-or-break-it elements that you should take into consideration.
Thankfully, the synergy with artificial intelligence gives WordPress a competitive edge, as it facilitates different website management tasks and allows you to attract, keep, and engage your target audience.
Here's how you can make the most of your WordPress website by tapping into the power of AI.
Take Your Content Up a Notch
Content is the single most important element of any successful website.
If your content is poorly written and lacks substance, you won't be able to attract quality traffic. This means you actually have to provide value to your readers by discussing the topics that resonate with them and offering solutions to their pain points.
1. GPT-3

However, this doesn't mean that you can use AI to come up with your blog posts from start to finish. But what about the third generation Generative Pre-Trained Transformer (GPT-3), a powerful neural machine learning model capable of generating human-like, engaging, and data-driven text?
Although GPT-3-enabled tools can be used to generate entire blog posts, e-books, and other types of content in no time, content specialists are still at the core of the content-creation process.
First of all, a human has to create a detailed outline for a blog post that an AI tool would use. That's not all, as such blog posts usually have to be fleshed out and edited by adding depth and expertise – something only a human writer can do. At least for the time being.
So, there's no magic button you can add to your WordPress site and expect a miracle to happen. Such AI-powered apps can help your content creators by freeing up their time and allowing them to focus on high-level content with which they can build authority and establish thought leadership.
2. Grammarly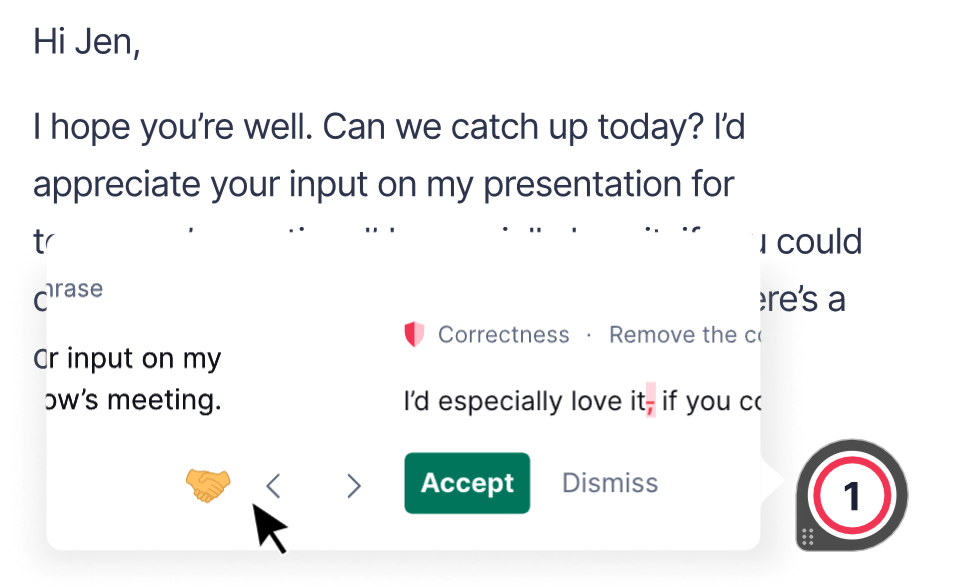 A couple of other factors distinguish between great and not-so-great content – grammar, style, and reader-friendliness. No matter how unique and interesting your take on a topic is, you're bound to lose your readership if you fail to present it in a clear and understandable manner.
In other words, sloppy blog posts riddled with typos and grammar mistakes and sentences that are hard to read will ruin your chances of success. Not to mention how all this can make your website come across as untrustworthy and unprofessional.
Grammarly is another useful content and grammar editing tool powered by AI, and what's even better, it integrates well with the WordPress platform. It will make sure your blog posts, CTAs, meta descriptions, and all the other copy on your website is error-free.
It underlines mistakes and offers suggestions for fixing them. Besides spotting typos and grammar faux pas, Grammarly will also tell you how to improve your content to match your organization's style. This means that if you have multiple people producing content, the result will always be even and consistent with your brand requirements and guidelines.
3. Jetpack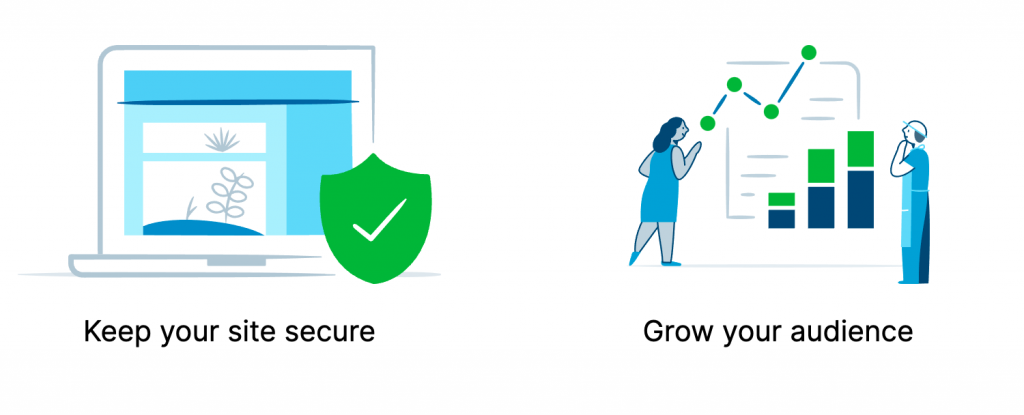 Jetpack is one of the most popular WordPress plugins designed to help you proofread and make sure everything you write is flawless in terms of grammar, spelling, and style. In addition to that, it will also make your posts easy to read.
Finally, since it's enhanced by AI, this plugin will also analyze your words when it comes to the context, bias, and clichés and let you know if you should make some improvements.
4. QuillBot

Quillbot is the first and only comprehensive AI writing collaborator that rewrites full paragraphs and refines content. Founded in 2017 by three computer science students – Rohan Gupta, Anil Jason, and David Silin, the company's mission is to make writing painless.
QuillBot is driven by sophisticated AI paraphrasing technology that uses natural language understanding (NLU) to automatically reconstruct the user's content to improve the clarity of the intended message. More than fifty million people around the world use QuillBot to improve their writing and deliver a more compelling message.
Whether you're writing emails, essays, social media posts, stories, thesis, or blogs. The platform consists of productivity-enhancing tools for academic writing such as Paraphraser, Grammar Checker, Summarizer, Citation Generator, Co-writer, Plagiarism checker, etc.
Engage Your Readers
Due to its e-commerce extension, WooCommerce, WordPress is a logical choice for many companies to build online stores.
Online shopping requires stores and e-commerce sites to pay close attention to customer experience and make it as seamless as possible. In a nutshell, this means customers' questions, problems, and complaints should be handled timely.
That's why having a well-trained, efficient customer service team is a true game-changer in this industry.
But, let's not forget that human customer service agents can't handle more than one customer simultaneously. Similarly, it's expensive to hire 24/7 support that will cover all the time zones.
That's where conversational chatbots come in to pick up the slack and provide an exceptional customer experience.
It should be emphasized that AI-powered chatbots are among the best artificial intelligence use cases. Current models aren't simple algorithms that provide predefined sentences and canned phrases – they can be trained to have meaningful conversations with customers.
Besides that, chatbots can collect customer information, thus allowing you to personalize future interactions and boost your conversion rates.
Predict and Control Your Readers' Emotional Reaction to Your Content
It's not difficult to determine whether you've managed to hit the sweet spot and create a blog post that resonates with your readers after you've published it. However, it's not an easy task to do in advance.
Even experienced bloggers who understand their readers and know what they like can't be sure how new posts will be received or whether they will hit the mark.
WhatsonFinds is another AI-powered WordPress plugin that can make your job easier by analyzing your posts and helping you establish an emotional connection with your readership. It's capable of scanning and evaluating your posts, product descriptions, comments, and all kinds of content on your website and ensuring that it communicates the right emotion.
AI allows this plugin to understand, process, and make sense of unstructured data, primarily used in human communication. With its help, you can assess your content beforehand and get valuable insights into how your readers will react to it.
Improve Your Website Visibility
After you've created quality content, it's time to optimize it for search engines.
This strategy has the purpose of boosting your website rankings and ensuring it's well-positioned among search results. Stats say that the top five organic search results garner more than 67% of all clicks and traffic, so it's obvious why you should raise your SEO game.
WordLift is a user-friendly WordPress plugin that helps you translate your content into the format Google understands, and you don't even have to be an SEO specialist to do that. It leverages semantic AI technologies that allow you to optimize your content by formatting your content and adding trusted sources, semantic markup, and data visualizations to your blog posts.
Moreover, it helps you provide relevant content recommendations to your audience so that they can explore a certain topic in more detail. It's worth mentioning that this plugin has the ability to create schema.org markup-compatible content, thus making sure search engines will properly index and display your website.
In short, with WordLift, you can organize and optimize your web pages and build a visually appealing, functional website that both your visitors and search engines will love.
Personalize Reader Experience
There's a good reason why the term personalization has been somewhat of an industry buzzword – it makes a huge difference when it comes to the effectiveness of your content. Without it, every piece of content you publish is destined to sink into oblivion.
The thing is that people don't want to waste their time reading bland and generic blog posts.
Therefore, it's crucial to show them relevant, personalized content, or in the case of an e-commerce store, product recommendations that match their interests. This way, you'll prompt them to explore your website further and start interacting with it.
Take a page from Netflix or Amazon's book. These two companies are the leaders in their respective industries, as they use smart algorithms developed to show their users personalized recommendations. They're doing an excellent job since 35% of Amazon's revenue comes from its powerful recommendation system.
You can greatly benefit from Related Posts, a plugin that monitors your readers' activity on your website, learns from it, and shows them relevant posts.
Similarly, Kindred is an extension that relies on artificial intelligence and machine learning to pull content from your blog and recommend it to your users based on their interests.
It's an added benefit that it can be connected with your Google Analytics to additionally improve these recommendations. This is done by adding a tracking code so that you can see whether your website visitors actually read blog posts that you display as a suggestion for them.
All these AI-powered plugins and apps can take your WordPress website to the next level and adjust it to the needs and requirements of your target audience. In addition to that, by implementing them, you'll facilitate the process of website management and maintenance. Last but not least, it will be much easier to attract and engage your readership and make them come back.