AB testing involves comparing two different versions of a similar element to see which one drives more conversions. For example, you could send out two differently worded emails for the same promotion, and compare the percentage of conversions each one generates:
As you might imagine, AB testing is great at helping eCommerce businesses when it comes to driving Shopify sales and boosting eBay sales, since it's designed for optimizing lead generation and conversions.
To put that another way, eCommerce businesses stand to gain a lot from mastering AB testing.
In this article, we're going to cover some of the best tips to follow if you want to make the most out of AB testing for your eCommerce business.
We'll walk you through some of the most important items you can test and the best practices you should follow to help you capitalize on the potential that AB testing offers.
Tip 1: Test different colors
Often, it's the basics that make the biggest difference and colors are no exception.
When you're testing elements of your eCommerce shop to optimize the overall website, color is an unmissable component to focus on. After all, if something like changing the color of your 'shop now' button from blue to green can increase your conversion rate, that kind of seemingly small change would be well worth making.
Color is most likely going to be present in every aspect of your eCommerce shop, from the design of the website to the products themselves. It's important to start AB testing colors during the production stage – this lets you make the color story a key part of the finished product.
In other words, when you're establishing what your working production testing definition is going to look like, make sure you incorporate AB color testing into it.
Tip 2: Rephrase and reword
Finding the right words is both challenging and necessary. When it comes to eCommerce AB testing, focusing on wording that works is a crucial part of improving your calls-to-action, headlines, and copy – meaning it's involved in over 50% of the elements that get AB tested: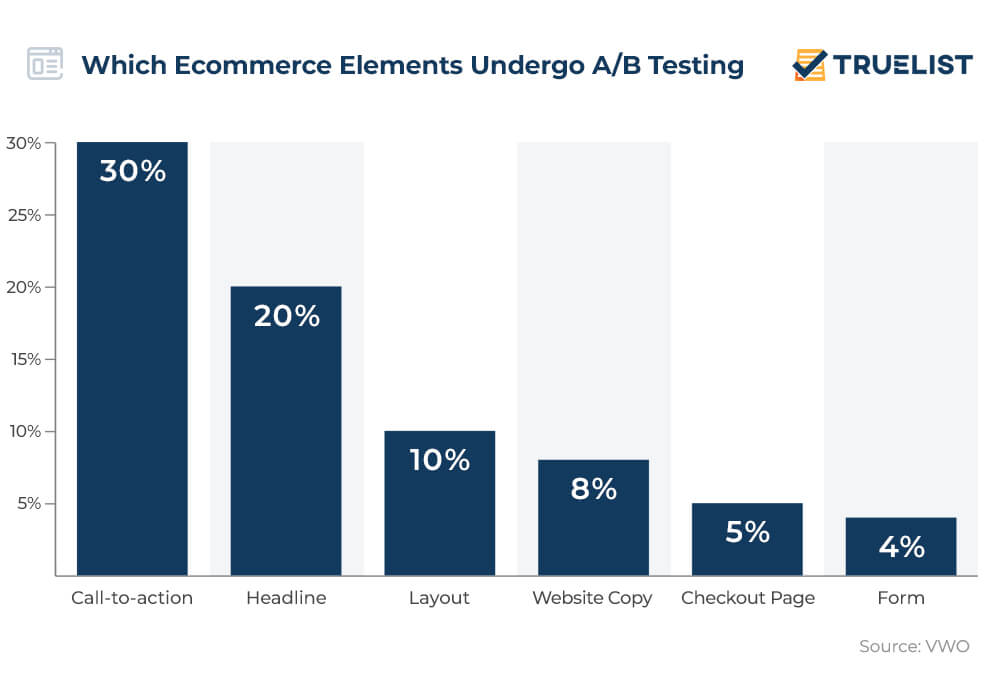 It's clear from this statistic that the right wording plays a vital role in optimizing pages for conversions. But how does that look in practice? Let's consider an example.
Say you're an eCommerce business in the retail sector selling clothes. The headline 'clothes you can add to your wardrobe this winter' could be rephrased to something like 'new winter wardrobe essentials' to catch shoppers' eyes and let them know your clothes are unmissable.
Rewording goes beyond titles as well. For example, you might make a copy that's underperforming with regards to driving conversions and look at ways to implement changes that help boost conversions. This helps you transform every page of your eCommerce site into an optimized conversion driver.
Tip 3: Post at different times
Ecommerce businesses rely on their customers spending time online. It follows, then, that they can benefit hugely from being more active at times when most of their customers are active online.
You can use AB testing to optimize your schedule for posting blog content and releasing new products, for example.
By making the most of network monitoring strategies, you can discover when most of your target audience is active. This lets you more easily AB test different schedule setups, so you can make the most of your customers' active hours.
In some cases, your target audience will be more active at unexpected times for you. For example, if you're based in the US, you could have a huge following in Australia or Singapore – all of whom would be awake at totally different times from your own employees.
Tip 4: Try offering free shipping
You've perfected your marketing strategies, and you're drawing in plenty of leads. Lots of them flock to your website, load up their shopping carts, but then leave before checking out.
If that sounds familiar, this AB testing tip can help you.
In addition to using the right marketing solutions, it's a good idea to consider offering free shipping.
Aside from making nearly half of all customers in a recent survey more likely to make a purchase from an online shop, it's a great way to test whether the product or the shipping is the thing that's stopping customers from completing transactions.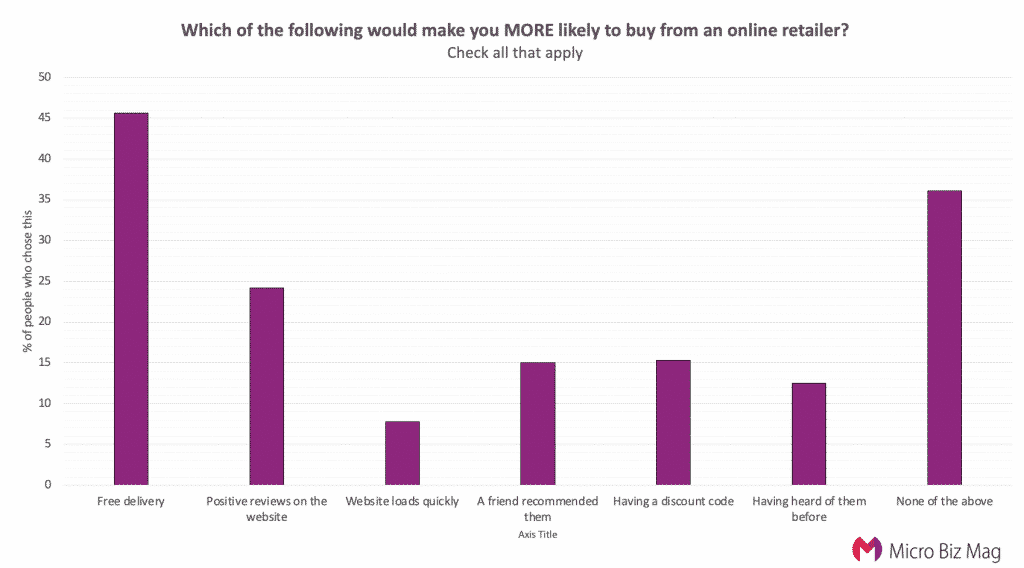 If making all your shipping free isn't feasible, it might be a good idea to provide a free delivery option next to a paid one for express delivery. This lets customers choose their own priorities, and ensures you can offer free shipping for those who really rely on it.
Tip 5: Offer promotions
Building on the previous point and the statistic above, a discount code is another helpful way to drive conversions. It's a great idea to AB test different discount pricing strategies and determines which ones are more effective with customers.
One strategy you could use is personalization. This approach involves using the data you've got on individual customers to offer them personalized discounts. For example, if someone regularly returns to look at a particular product, you might offer them a 10% discount, or a first-time-buyer offer.
Promotions, particularly personalized ones, help customers feel that they're getting a good deal by shopping with your business.
Time-limited offers are a useful way to drive conversions within the desired time frame. They're also a great tool for boosting conversions during busy periods, like Christmas time.
Tip 6: Automate where you can
Before we get into the benefits of automation, we'll give a quick answer to the question you might be asking: 'what is automated testing?'
Put simply, 'using automation' just means creating programs that robotically perform activities for you with minimal input on your end. In the case of testing, that means letting specialized bots run the tests themselves for you, and in some cases, even letting them handle the test monitoring.
As it turns out, the majority of organizations use test automation: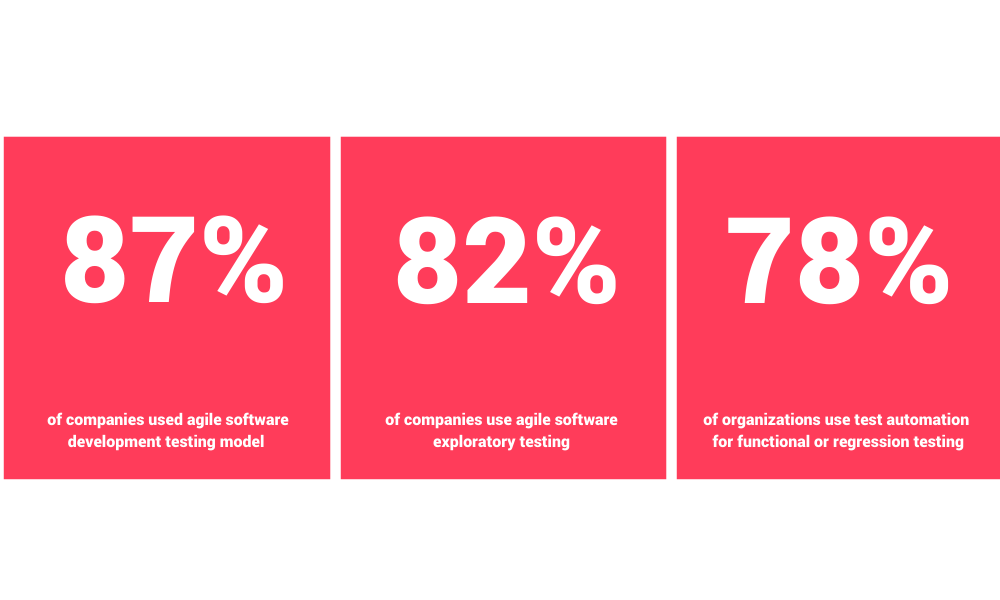 That's because automation improves your testing process. It makes it easier to run and manage test cases, takes repetitive workflows out of the hands of human employees, and optimizes the testing process itself.
In short, automation helps your AB testing become more seamless and yield more accurate reliable results.
Tip 7: Seek feedback continuously
When it comes to AB testing, it can be tempting to look for opinions when you introduce new elements and only then. While it's always a good idea to get feedback on any new items or designs you use in your eCommerce store, this shouldn't be your only source of feedback. Instead, it's beneficial to your business to seek feedback on a continuous, ongoing basis.
Asking for your customers' thoughts on your products is a great way to guarantee you're marketing to them in the right way. In the same vein, seeking out feedback on things like the design and layout of your website internally within your own company helps you constantly improve the overall quality of your site.
As an added bonus getting and acting on, regular feedback is a fantastic way to cultivate a quality culture within your company.
Tip 8: Compare layouts
Having the right layout helps funnel customers to your product pages and direct leads to landing pages. It also makes it easier for any visitor to navigate your website. This makes it very important to compare different layouts and AB tests them, so you can confidently say you're using the right one for your business.
As you're comparing these layouts, you'll want to make sure you check them for multi-device compatibility. After all, a layout that only works well on some devices will exclude users that don't have those devices, which is a sure way to lose out on leads.
It's particularly important to be inclusive of mobile users. Ecommerce sales are growing hugely in the mobile department and look to continue doing so:
To capitalize on this trend, ensure you use mobile application testing services to guarantee that your chosen layout is fully usable from mobile devices.
Tip 9: Use customer reviews and testimonials
Whether you're looking to add credibility to your product pages by showing viewers happy customers' comments, or whether you're hoping to provide visual proof that you respond to the things your regular customers say, including reviews is a good choice.
Testimonials are a great way to help you improve social proof on your eCommerce website. This shows your site visitors that your product is successful with other people, which provides credibility and encourages leads to make a purchase.
Some websites do well with a few pull quotes from customer reviews that serve as testimonials. Others tend toward including a review section for site visitors to access all reviews.
You can always AB test to figure out whether one of these options or another one altogether, would be best for your business.
Key takeaways
AB testing is widely useful to eCommerce businesses. It can help streamline business processes, improve sales, boost lead generation, and drive foot traffic to your online shop.
By following the tips set out in this article, you can capitalize on the potential of AB testing, and use it to your business's advantage. This will ensure that you see an increase in the number of conversions you get each month and it'll help you fine-tune every aspect of your eCommerce store.
Author's Bio:
Kate Priestman is the Head of Marketing at Global App Testing, a trusted and leading end-to-end functional testing solution for QA challenges. Kate has over 8 years of experience in the field of marketing, helping brands achieve exceptional growth.