Are you looking for a WordPress discount code popup plug-in that can improve your chances to convert visitors into more leads, sales and email subscribers?
Look no more: the new Coupon X plug-in for WordPress comes in handy – a simple, yet powerful tool that will allow you to create unlimited, various, fully customisable discount code and announcement popups and target them based on custom criteria to better reach out to your audience.
Supplemented with optimised targeting rules and smart triggers for the best results, this plug-in ticks all the checkboxes by allowing you to create highly-targeted, beautiful and engaging popups. And the best thing? Many of the awesome features are available for free users as well!
Keep on reading to find out how Coupon X can be a game-changer for your business.
#1. It's fast and easy to get started with your first widget – and completely free!
The Coupon X plug-in is equally suitable for beginners and Pros – being user-friendly and with a simple user interface that requires no coding, anyone can get started with the plug-in.
Just install the plug-in completely for free from the WordPress repository and in just a few clicks across its four simplified steps you will be able to create your own attractive discount code or announcement popup and launch it directly on your WordPress website – you save it and it appears right away, no further steps needed.
Most of the plug-in features are available for free users and Pro users get everything in the free plan plus unlimited widgets, various targeting rules, more layouts, and a countdown timer with multiple templates. Keep on reading to learn more about each of these.
#2. Create a fully personalized discount or announcement popup widget
You can customise your Coupon X widget entirely in terms of colours, shapes, icons, size, texts, popup layout and more.
Free users can use the "slide-in popup" layout – which is a box at the bottom left or right corner of your site and Pro users can also benefit from our two additional layouts – "lightbox popup" (a popup in the middle of the page) and "floating bar" (a bar at the top or bottom of your page).
We also recommend adding an attention effect to your widget to ensure it grabs your visitors' attention as soon as they open your site.
You can also select the type of widget choosing from 3 different options – to show a discount code or announcement with a button, to collect visitors' emails before revealing a discount code or an announcement, or to link to a custom URL.
Make sure you select a style, type and layout that will work and look best for you!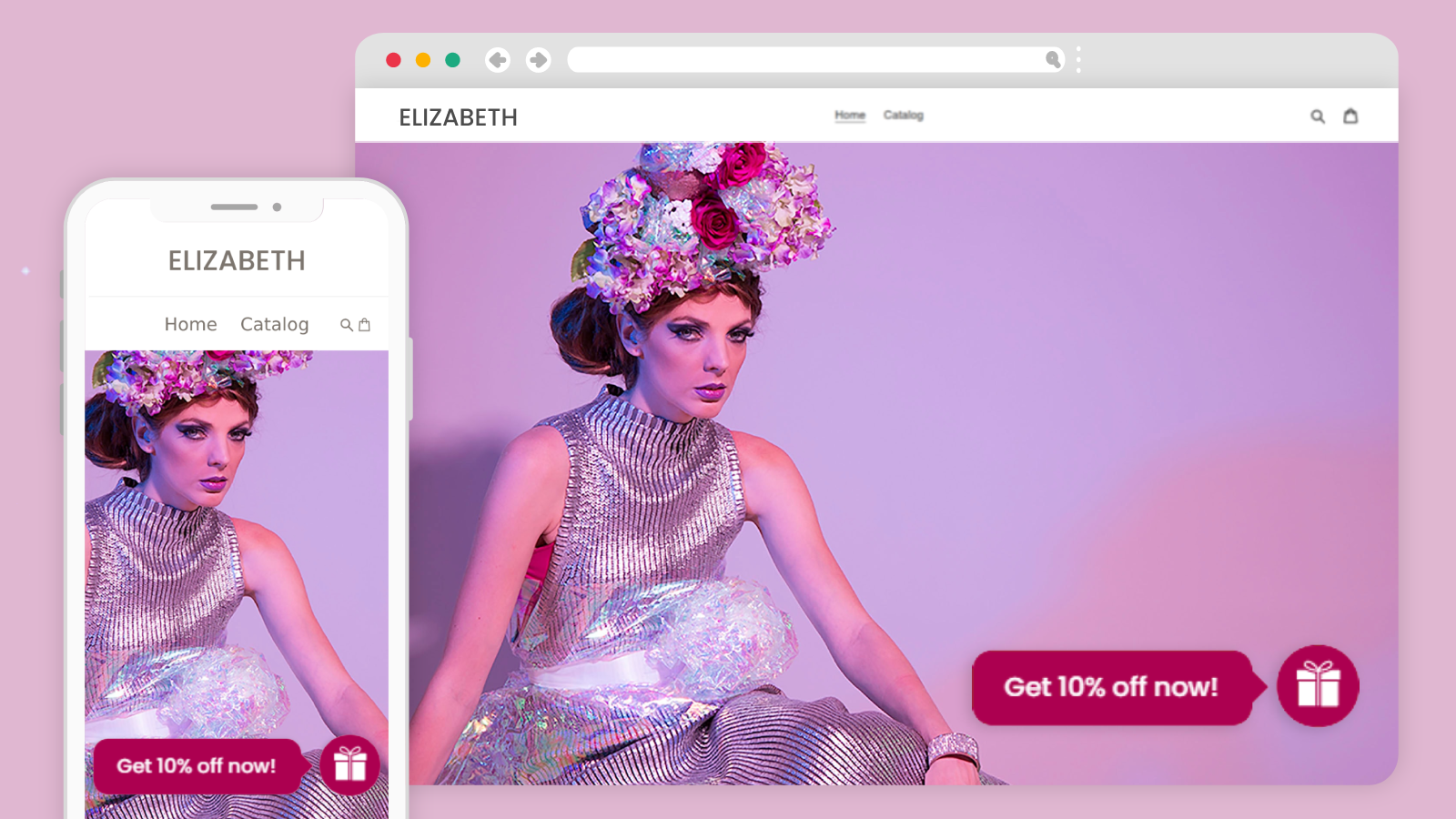 #3. Use the plug-in to create an announcement (notification) popup
No WooCommerce? No problem – you don't need to have WooCommerce installed on your site to use this plug-in mode.
Coupon X will work on any WordPress site to create an announcement (notification) popup that you can use to display information or even collect emails to grow your mailing list, without offering a discount code.
There are two ways to use this mode – you can either display a text with a button – for example, a prompt that leads to a custom URL – or you can require visitors to leave their email (thus joining your mailing list) before you reveal some special information to them – for example, for an upcoming promotional offer.
For optimal results, you can also push this data to some of the leading email marketing platforms on the market – but more on that later.
To set it up, simply choose the "Don't show a coupon code" popup type from the plug-in settings. You can read more on how it can be set up in our help section.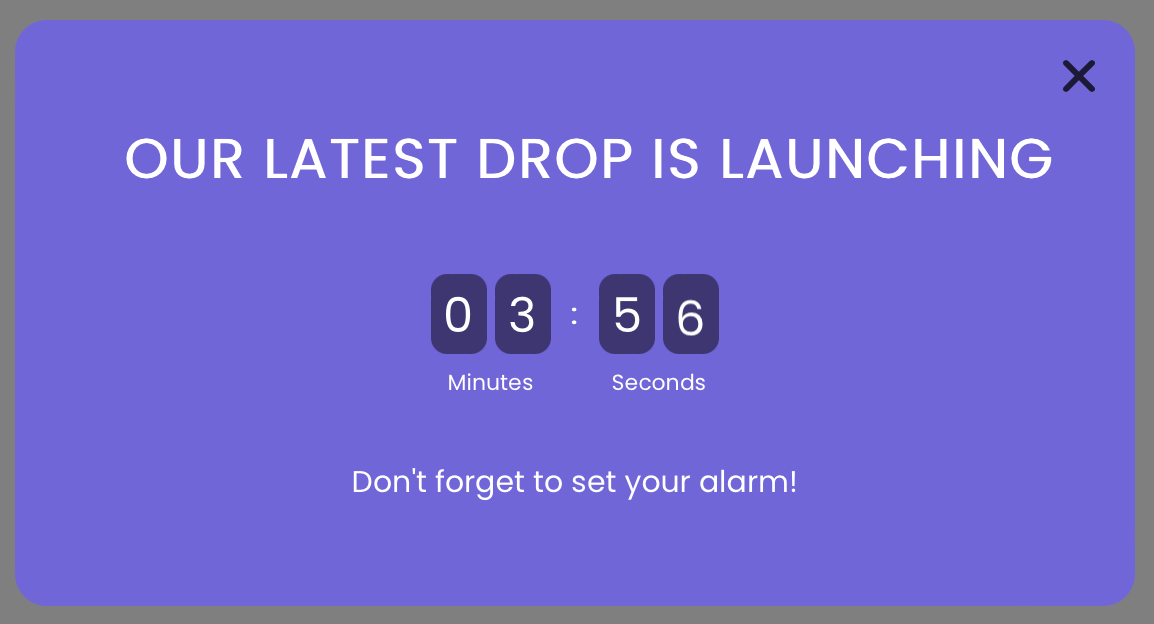 #4. Use the plug-in to display a discount code popup
If you're already using WooCommerce, you can also benefit from the plug-in native integration with WooCommerce and display an attractive discount to your website visitors.
Incorporating discount codes into your business is definitely something that your visitors will appreciate, but only using them in the correct way can help you too – as a business owner – to make long-term progress.
With Coupon X, you can decide if you want to display an existing discount code (meaning one previously created in your WooCommerce Coupons area) or use the plug-in to create a unique discount code for each visitor or set up an identical discount code – such as "Welcome10" – for all of your visitors straight from the plug-in settings.
The ability to create a code in the plug-in directly lets you set up your offer in-app, without having to leave the page and navigate through different sections of your WordPress admin panel.
You can also choose the discount code type (percentage or value), value, and parameters such as applicability, minimum requirements, campaign active date and usage limits.
Some business owners choose to display a discount code for first-time customers only or treat their customers to a special event such as the holiday season or a giveaway.
A discount code may also be an excellent way to increase your client base.
#5. Add the best triggers and targeting rules for an optimised campaign
Not only can you set up a fully personalized look for your widget, but you can also manipulate how and when it shows to create a seamless experience for your website visitors.
For example, you can choose when to show the widget, set the widget to close automatically after conversion, select to show it on desktop or mobile, or both, as well as when to have the popup open (on hover, on click or on page load).
Next, you will need to add triggers of your choice to decide when the widget will show (you can choose one or more at a time from time delay, after X% scroll on the page or when visitors are about to leave the page).
Finally, in the Pro plans of the plug-in you can add various targeting rules to decide when to show or hide the widget, such as for particular cart value, order history, scheduled for specific dates (e.g. for a time-sensitive campaign), displayed in specific days and hours only or on specific pages, limit the widget for specific traffic sources, operational system and browsers and lastly, for specific countries. You can add one or more rules to achieve the best results.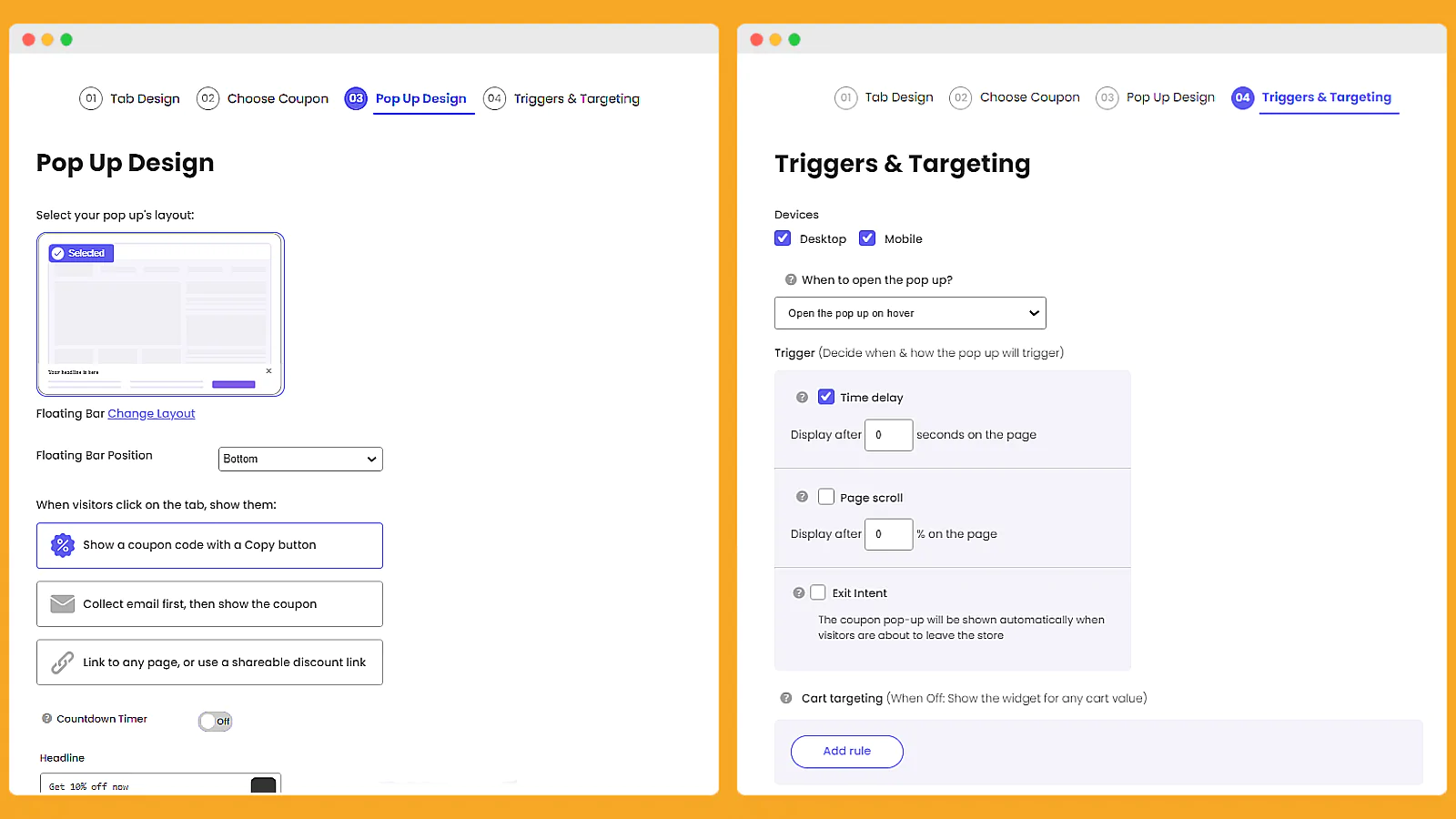 #6. Reduce cart abandonment by setting up an exit intent trigger to your popup
As mentioned in the previous point, one of the key ways to increase conversion is to ensure your entire widget is optimal and as adequate to your business as possible.
This can also be achieved by using the correct triggers for your widget – hence, the "when" the widget will appear.
One of the triggers you can use is the so-called "exit intent" – a trigger that lets you display the popup once the visitor is about to leave the frame of your site.
The way it works, it automatically tracks mouse movements and lets you engage with your visitors just when they are about to close the page without having purchased anything.
This can be the difference between a confirmed purchase and an abandoned cart! We recommend using this feature to get higher chances of converting visitors into sales, subscribers, or leads.
#7. Speed up conversion by adding a countdown timer to your popup
Everybody loves discounts.
You can add a countdown timer element to your Coupon X popup to convert faster and more effectively and create a sense of urgency for an unmissable offer.
This is likely to "help" your visitors decide to purchase faster, knowing that the offer is time-sensitive. This will increase your conversion rate and get you more sales even in periods that aren't as popular such as the holiday season.
The way it works is for decorative purposes only – meaning after reaching the end of the countdown timer, the discount code won't expire, thus guaranteeing even slower or more hesitant users will get the chance to purchase at a better price.
You can choose between a timer for a specific time and date or count from when the popup appears. The best thing is that you have a variety of countdown popup templates to choose from. This feature is available in the Pro plans of Coupon X only.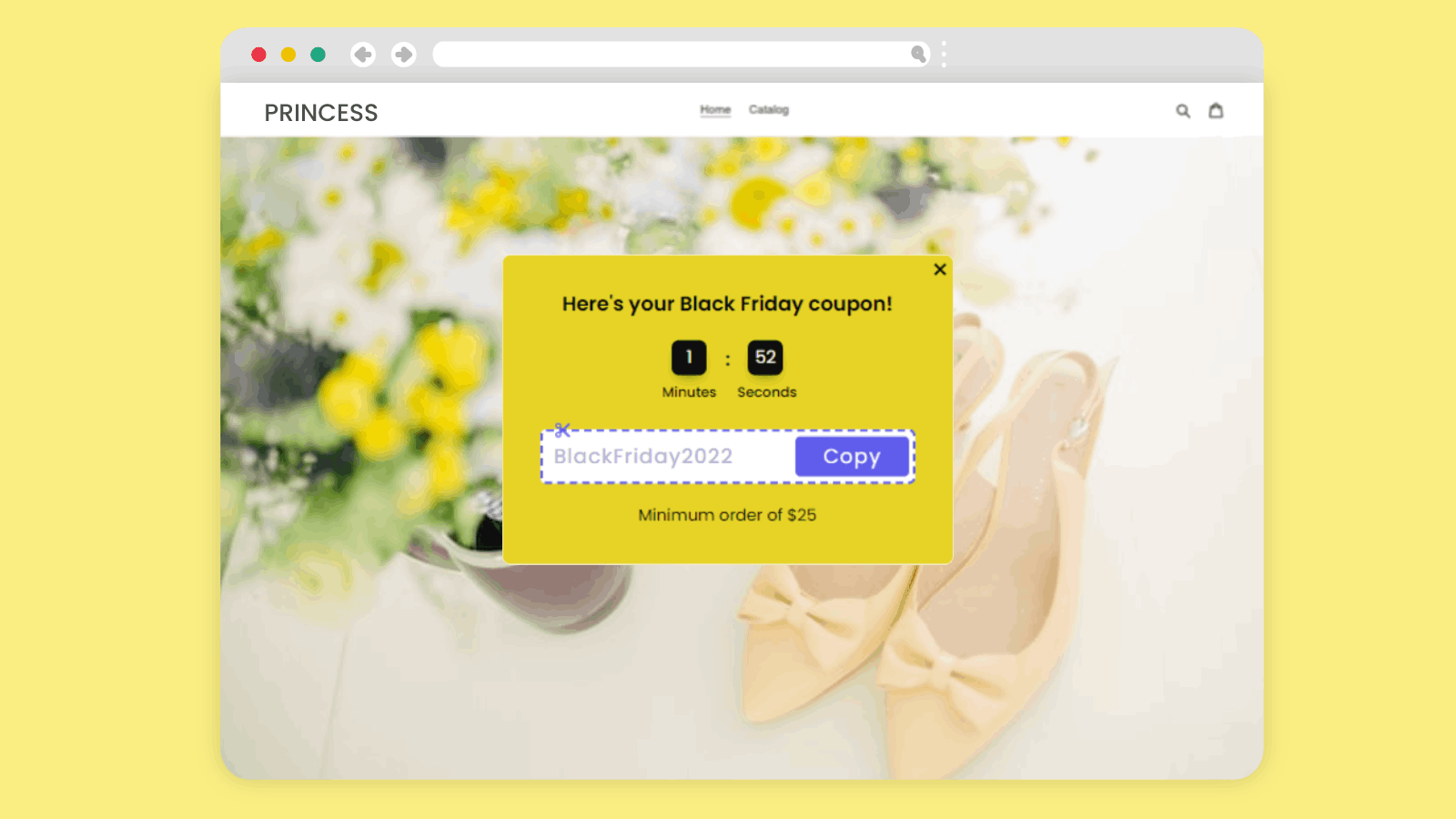 #8. Use the plug-in to build a strong email marketing base
We briefly mentioned that with the Coupon X plug-in for WordPress, you can also collect visitors' emails before revealing a discount code or announcement.
But did you know that by requiring that your visitors leave their email addresses first allows you to collect valuable information to grow your email list, thus creating a solid marketing strategy?
A strong email marketing base is a business practice with multiple benefits, such as building long-term relationships with your customers, reminding existing customers of your store, and more.
This will help you create a consistent and relevant marketing strategy for your business. The best part is that with Coupon X you can push all information collected to two of the most popular email marketing platforms – MailChimp and Klaviyo.
You can thus continue to grow your loyal customer list and attract more and more leads and conversions using the plug-in.
#9. Use the plug-in to remind existing customers of your store
Introducing new customers to your business is excellent, but you must not forget your loyal and existing client base. It's well-known that discount codes encourage customers – existing ones included – to return to your site.
Offering occasional promotions to returning users is a great way to make them feel less "alienated" – since stores usually offer first-purchase discounts – and help keep the bond more vital and more long-lasting.
It's a good marketing strategy to take advantage of your email marketing database to send existing customers various offers via emails and intrigue them. Once they return to your page, there is a good chance they will make a new purchase.
With Coupon X, you can ensure your discount code is available for specific conditions only, including only if an order has been placed in the past, through the "order history targeting" functionality (available for Pro users only).
Final verdict…
To sum up, Coupon X is a multipurpose and fully adaptive to your needs plug-in you can get started with for free.
Use the plug-in to make new and existing customers happy, display important information and keep track of your contacts by collecting their emails for future business-customer engagement. We hope you found this list informative, inspiring and, last but not least – helpful.
So what are you waiting for – get started with your first Coupon X widget now, and if you have any questions, check our entire Coupon X help documentation section or drop us a line.
P.S.: we have thought of everybody, so Coupon X is available on Shopify and Wix too!