When you hear people say WordPress runs the web — they mean it. This CMS makes up 65.1% of the market share in 2021, and continues to grow by the day.
And it runs an astonishing 32% of the internet. It's a popular platform that businesses, bloggers, freelancers, and entrepreneurs use.
It's the go-to CMS for building a site because it's highly customizable and allows you to manage your content with ease.
What's also impressive is the number of interactions found on WP sites. Stats show users make nearly 42 million new posts and 61 million new comments monthly.
But before you go setting up your WordPress website, you have to learn more about hosting.
Let's take a look at the different options and the best hosting services to consider.
What to Look for in a WordPress Hosting Service
It's good having criteria to help you choose the best service for your website. When it comes to hosts, there are certain features and benefits you want to go after.
For starters, you want a host that will offer top-notch security. Since WordPress is the most widely-used CMS out there, it's often the target of hackers.
It's also essential for your site to have high-speed capabilities. Today's internet users are on mobile devices and have little patience. If your website doesn't load within 3 seconds, you'll lose a ton of potential visitors.
When you open a website and purchase a domain, it's only fitting that you can create an @domain email — for example, [email protected]
This gives your business the professional edge to stand out to prospects and customers. So check with the host to ensure you can set up email accounts, email forwarding, server access, and other admin features.
The host you opt for should offer great value for the price you pay. The support should be superb and the security on lock. With that foundation, you can build a robust business website using WordPress.
Next, let's dive into the best hosting providers for WordPress websites.
1. uPress.io
This hosting provider offers two types of services — shared hosting and virtual private server (VPS). As of 2019, the basic shared hosting service comes with 1 GB of space and 100 TB of bandwidth at $15/mo.
You can upgrade from this plan to 3 GB and 100 TB for $25/mo or 10 GB and 100 TB for $50/mo. All plans allow you to host an unlimited number of websites.
If you're looking for a VPS, you can expect to pay between $90 and $260 per month for between 40 to 160 GB space and 2 to 16 GB of RAM.
With uPress, you get excellent speed, high security, and a user-friendly management panel. It's ranked highly for its reliability, pricing, ease-of-use, features, and support.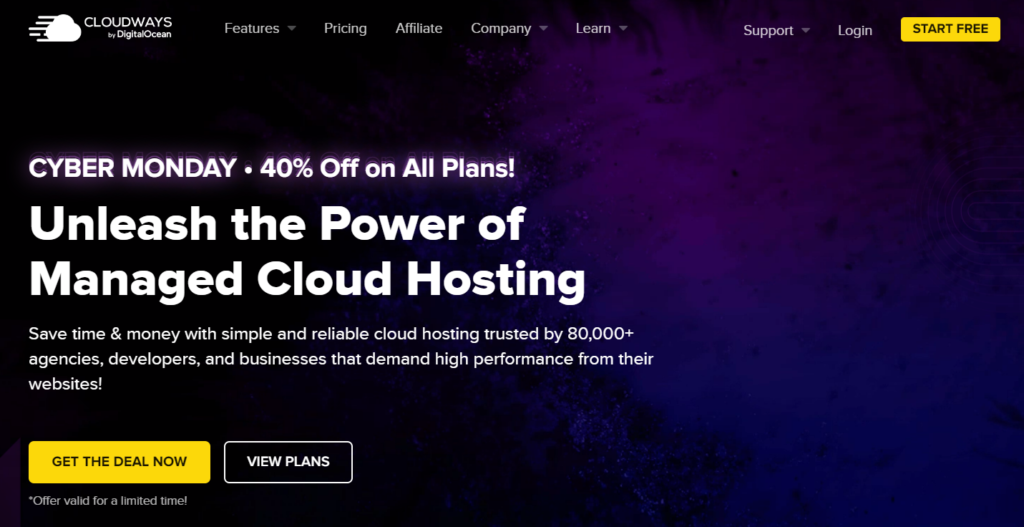 When you're looking to host a website that'll accommodate millions of visitors, you need Cloudways. This host offers services to enterprises with large audiences.
But even if you're not already drawing in crowds by the millions, you can use Cloudways to scale as needed. It's the best solution for high growth brands that need auto scalability and complete redundancy.
This hosting service offers high-performance and top-notch support to customers. And what's better is the pricing models aren't out of reach.
It starts at $10/mo for 1 GB RAM, 25 GB storage space, and 1 TB bandwidth. The other plans are $22/mo, $42/mo, and $80/mo.
3. WP Engine

WP Engine is worth looking into if you want a host explicitly designed for WordPress hosting. It comes with robust infrastructure, high speeds, and reliable security features.
It has over 220,000 active WordPress installations. Plus, it comes with different plans that range between $29/mo and $249/mo. The difference is in the traffic, the number of sites hosted, and storage size.
4. SiteGround

Shared hosting is the most popular option for site owners because it's the more affordable route. It's ideal for any site you own — a blog, business storefront, e-commerce catalog, etc.
It allows you to install your WordPress site in just one click. Plus, it comes with auto-updates, daily backups, around-the-clock support, and more.
The pricing for this host is quite affordable, ranging between $9.95/mo and $29.95/mo. It's better to go with the more expensive tier if you're looking for special features like one-click WordPress Staging and GIT support.
5. GreenGeeks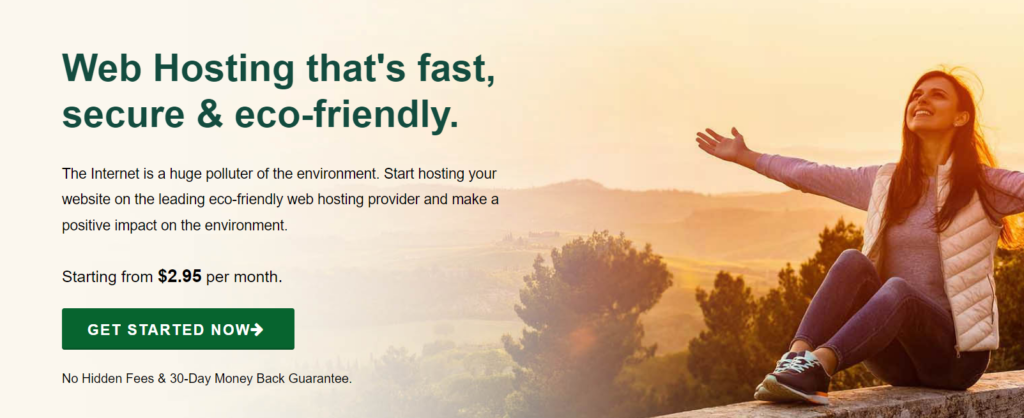 This host began hosting websites back in 2006. To date, it's the host of over 300K sites.
Now, if you're looking for maximum uptime for your website (which we hope you are), then GreenGeeks is an optimal choice. It claims to have 99.9% uptime.
Plus, it offers excellent site speeds. It takes an average of 520ms to load up, which is much higher than the industry average.
It comes with 24-7 support via phone, chat, or email. You may also like that it comes with features like a free domain name, free data transfers, and free site migration.
And if you're wondering about its name — it chose "Green" for a reason. This is one of the only hosting services that boast being eco-friendly. It lives up to this claim by designing a platform that doesn't waste resources and operates energy efficiently.
The cost for this host begins at $3.95/mo, and it comes with a 30-day money back guarantee.
6. Pagely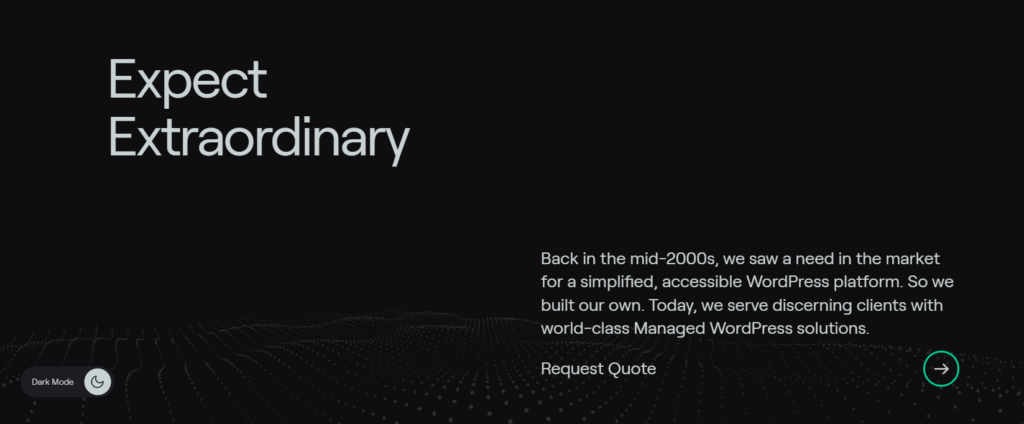 Here's a hosting service that takes pride in being the "most scalable WordPress platform" on the market. So if you're looking for a host that'll grow and downsize as the need arises, then Pagely is a good option.
As you can expect, the prices range greatly. You can expect to pay between $199/mo for VPS hosting and $499/mo.
Then it has enterprise packages that begin at $2,000/mo. It even comes with a unique serverless package that allows you to expand your bandwidth, disk space, and CDN.
7. Flywheel

Choosing between the Flywheel and other hosting is hard, but to clear all your confusion you can check this Flywheel vs Siteground comparison.
Flywheel is an ideal hosting service if you're looking for great managed WordPress hosting without the high price tag. What's even better is that it doesn't take away any features.
It comes with what you'd expect from any high-performing hosting service provider. For one website, you can pay $15/mo or $14/mo billed annually for the Tiny plan.
This will allow 5k monthly visits, 5 GB disk space, 24-7 live chat support, and CDN at $10/mo.
Or you can upgrade to the Personal plan, which allows for 25k monthly visits, 10 GB disk space, and no coverage charges. Then if you want to add more websites, you can do so at $10/mo.
8. Kinsta
Here's another managed hosting service that's affordable and reliable. Its spin is that it offers optimized managed hosting setups.
It's a powerful platform that comes with powerful tools. For instance, it has the Google Cloud Platform and a dashboard that displays only essential data — goodbye traditional cPanel UI.
The starter package begins at $30/mo or $25/mo when billed annually. You get hosting for one website, 3 GB of SSD space, and 20,000 visits monthly. Then you can get a free domain to go with your WordPress site.
9. DreamHost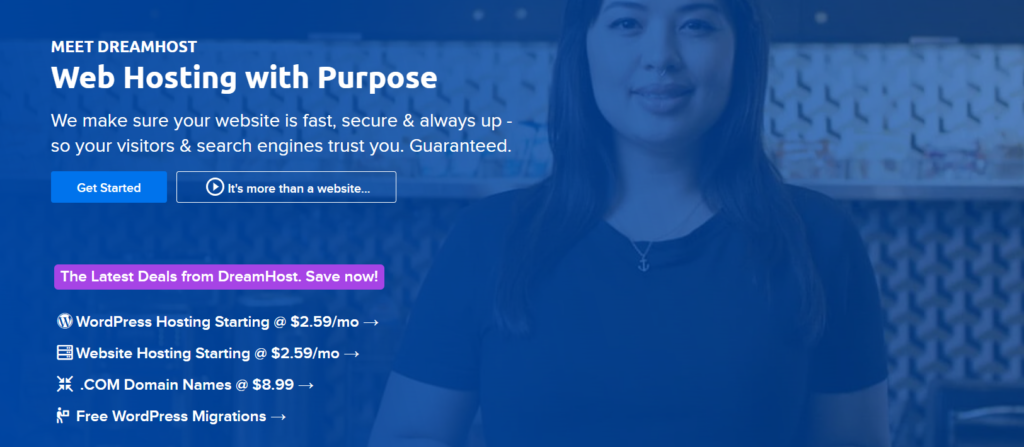 DreamHost comes with excellent uptime, response times, customer support, and one-click WordPress installations. It offers standard shared hosting packages that begin at $2.59/mo.
This only allows one website, unlimited traffic, an email for $1.67/mo, and a free domain name.
Then for the Unlimited package, you pay $7.95/mo. You get a free domain, unlimited website hosting, unlimited traffic, and an unlimited email w/ @yourdomain.
Other hosting options, such as DreamPress, start at $16.95/mo for high-performance managed hosting.
Then for the VPS hosting, you can host as many sites as you want to start at $27.50/mo.
10. A2 Hosting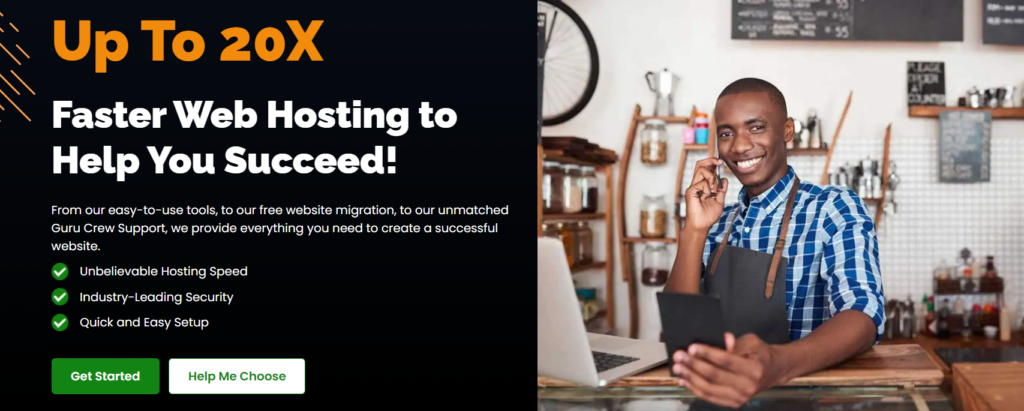 You may have heard of some of the hosting services on this list. One you may not know about is A2 Hosting, which is still new in the game.
However, this doesn't make it any less competitive. It comes with affordable prices, excellent performance, and ten years of experience in this industry.
It prides on being developer-friendly, having high security, and offering WordPress-optimization.
You can expect to pay $3.92/mo for the Lite package, $4.90/mo for the Swift package, and $9.31/mo for the Turbo package. The latter two come with unlimited websites, databases, RAID-10 storage, and transfers.
The Lite package comes with only one website, five databases, and unlimited storage and transfers.
Finding the Right Hosting Service for You
Ready to get your WordPress site up and running? Then it's time to hunt for the best hosting services.
One that offers great support, ease-of-use, and scalability. Surely, you can find one from this list that'll meet your standards.
So check them out and see what fits your budget and website hosting needs. Let us know in the comments which you decided to go with!