If you're serious about lead generation, you need to look into optimizing your contact form. A contact form is one of the most important lead generation tools and accounts as the main source of leads for most businesses.
Having a good contact form is important to optimize lead generation for your business. This article will summarize key data and help you discover the best practices to optimize your contact form so you can get more leads immediately. Let's get to it.
Why do people abandon online forms?
Below are the latest key statistics about online forms abandonment you need to know: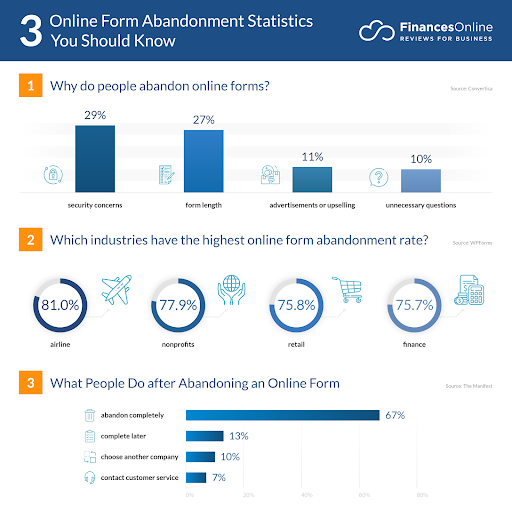 29% of online forms abandonment is due to security concerns
27% is due to form length
11% is from advertisment or upselling
10% is from unnecessary questions
By avoiding the mistakes that cause online forms abandonment, you will generate more quality leads. So, how can you optimize your contact form to increase the number of leads and improve conversion rate?
1. Simplify form fields in your contact form
How do you make your contact form easy to fill out? First of all, your contact form should be simple and easy to understand. There should not be any complicated form fields or too many open ended questions.
One important thing you need to do is get rid of any unnecessary questions in your contact form. All they're doing is adding an additional barrier, so focus on collecting information that is vital.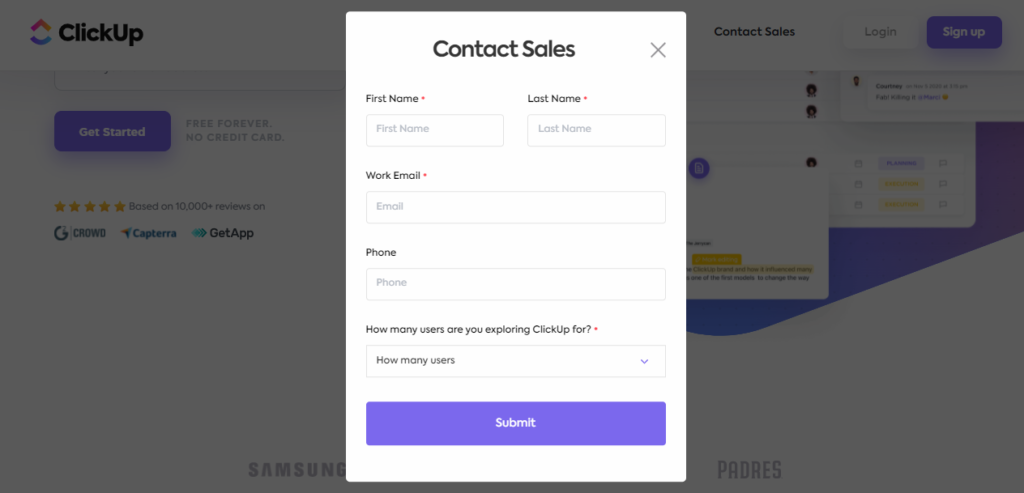 Here's a great example of a simple contact form from ClickUp that's simple and straightforward to fill. With a total of only 5 fields, any interested user can fill out their information in less than a minute.
2. Ensure your contact form is mobile-friendly
Mobile browsing accounts for 54% of website traffic worldwide. This means that you need to make sure your contact form is mobile-friendly, which can be done by following a few simple steps.
First of all, you'll need to make sure that the font size is large enough for people to read on both PC and phone. Also, ensure that it is responsive, i.e. it can adapt itself accordingly depending on screen sizes. This way, users won't have trouble filling out your form on phones.
3. Place your contact form somewhere prominent on your website
Getting website visitors to see and use your subscribe form plugin is important. Positioning your form in a highly visible location will make it easier for users to find and use.
One of the best places to put your contact form is to include a "Contact Us" link header in your landing page.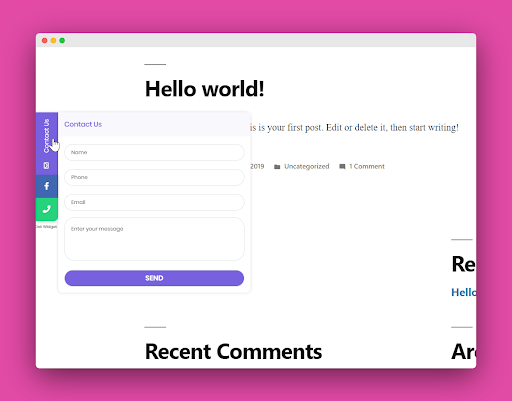 Another option is to use a floating contact form. Putting contact information in a prominent location gives people an understanding that contact forms are accepted, which makes them more likely to fill it out whenever they need to contact you.

Now that we've simplified the contact form, made it mobile-friendly, and placed it in a prominent location on your website, what's next to increase conversion?
4. Improve your call-to-action (CTA) button
The most important part of your contact form in conversion is the call-to-action (CTA) button. This is the button that users will click on to submit the form. So, make sure that your CTA button is eye-catching and easy to find.

Instead of using a generic word like 'Submit' as the call-to-action, you can use something more attractive, like 'Try for Free', 'Subscribe for Free' or 'Download Now', so there's something in it for the user. If you get writer's block, you can utilize software like AI copywriting tools to help you generate highly converting copy.
5. Give users incentives to fill out your contact form
One of the best ways to generate leads is by making use of lead magnets. So, what are some of the best lead magnets that help drive leads to fill up the contact form?
Ebooks
Guides
Templates
Whitepapers
Case studies
Resources
Free Trials
Webinars
One of the most popular lead magnets is using a webinar to discuss a topic or pain point your potential customers are interested in. If you create an engaging webinar presentation on how your business solves that paint point, you can easily gather qualified leads for your business. There are many options for webinar software that allows you to easily host a webinar for large audiences.
6. Assure users their data is kept secure
One of the main reasons people abandon online forms is due to security concerns. Data security risks like data theft and clone phishing are on the rise. This is why it's important to assure users that their data is kept secure.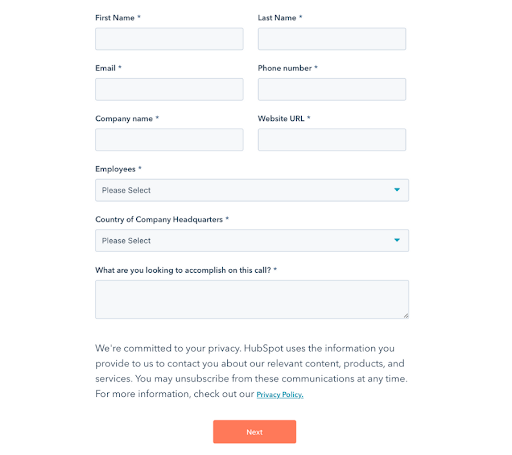 One way to assure users that the information submitted is kept secure is by including a link to your company's privacy policy, so users know how their data is being handled. A good example is the above contact form from Hubspot.
Another method is to use SSL encryption. SSL encryption is a process used to protect the privacy of online communications. It's used to encrypt the data sent between the browser and the web server, so that it can't be read by anyone else.
This is important for two reasons: first, it assures users that their data is being handled securely; and second, it helps protect against hackers who might try to steal user data. By providing transparency and assurance about the security of their data, you'll encourage more people to fill out your form.
You can increase your contact form conversion rates by using an attractive CTA button, lead magnets, and assuring customers that their data is kept secure. Now, let's look at additional methods that help you get more qualified leads.
7. Add customized fields to your contact form
When it comes to capturing leads, adding custom fields to your contact form can make all the difference. By knowing what information you want from your visitors, you can ensure that the fields on your form are tailored to collect just that data.
This can be anything from asking for their company name and position within the company to their interests and budget for products and services. Asking for this extra data allows you to better personalize your follow-up emails and increase your chances of converting a visitor into a customer.
8. Multi step forms vs single step forms
Did you know that multi step forms convert up to 86% higher than single step forms? Only 39% of marketers use multi step forms despite the higher conversion rates.
So, what are multi step forms? They are a long form broken down into a few steps so your users don't feel overwhelmed on filling in your required fields.
One reason why it works better is because of the endowed progress effect. When people feel they have made some progress towards a goal, they will become more committed towards putting in more effort to achieve it.
When should you use multi step forms and when should you use single step forms? If you just need basic information from your users, it's best to go with single step forms. However, if you need more information to qualify leads and customized fields, multi step forms will help drive more form completions.
9. Test different versions of your contact form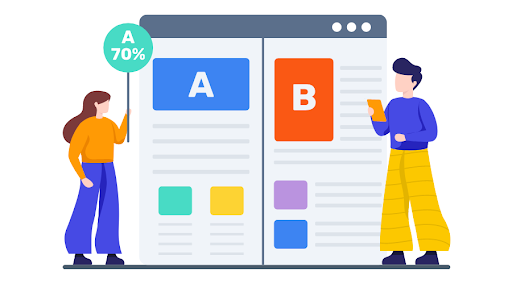 You want to improve the performance of your contact form, but you're not sure what's best for it. A/B testing is a method of comparing two versions to see which one performs better. The goal is to find out what drives conversions backed by data driven analytics.
You can create two versions of your contact form to see which one generates more leads. Then, compare the performance using different content, designs, call-to-actions, and form fields.
By using A/B testing, you can improve the performance of your contact form and increase your ROI. It provides valuable insights into what drives conversions and helps you optimize future forms.
10. Convert visitors with leads generated from your contact forms
When you're browsing through the contacts that have filled out your lead generation form, there are a few steps that will help you convert them to paying customers.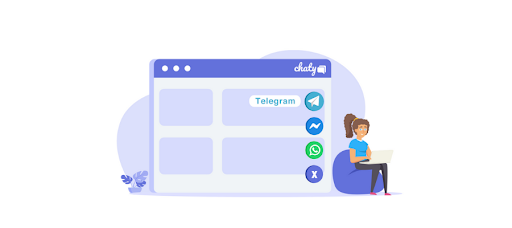 First of all, try to immediately respond to those who have asked questions – this can be done by email or even better, using an online chat app for your business. Average chatbots generate about 35-40% response rates, and the best chatbots can generate response rates of up to 90%!
When it comes to leads that aren't ready to make a purchase just yet, use an autoresponder to send a "Welcome" email, and keep in touch with them on a regular basis.
By collecting their email addresses when they fill out your contact form, you can continue delivering valuable content without the need to constantly reach out to leads. This can help you boost your brand's authority by demonstrating that you are dedicated to staying in touch with subscribers.
Wrapping Up
Ensuring that your contact form is simple to fill out, mobile-friendly, and prominently placed on your website are all important steps in optimizing your contact form. Improving your call-to-action button and adding lead magnets are all great ways to generate leads. Continually test different versions of your form using A/B testing to find what works best for your target audience.
Apply these tips to your contact form today to see how much your conversion rates improve in the next few months!
Author Bio
Chloe Teo is a writer and a Channel Sales Manager. With 9 years of B2B experience in tech, she helps businesses grow sales exponentially. Her passion is to help buyers make better purchase decisions by writing reviews about software and gadgets at ChloeTeo.com.