Making it in modern-day business is often a continuous uphill battle. There are so many aspects of running even a tiny company that it's no wonder so many of them fail.
Marketing is a key element of success, along with learning how to attract an audience that will want to stick around for the long haul.
This is what makes customer lifetime value such an incredibly important metric to work on. Not only does retaining customers cost less than gaining new ones, but satisfied customers are also likely to turn into brand advocates.
The people who have had genuinely positive experiences with your brand will be happy to recommend it. Let's examine how you can manage to attract and attain them.
The Link Between Customer Retention and Advocacy
A customer that stays with your brand will not only continue to spend their money but also generate additional income. In financial services, a 5% increase in customer retention will yield a profit increase of more than 25%.
Add to that the fact that satisfied customers are simply bound to recommend you, as 90% of them will. Now, you'll see that important link between retaining customers and creating an army of brand advocates.
Bear in mind that it's not enough to just keep doing business with someone in order for them to recommend you. They need to feel true loyalty. Their connection with your brand needs to surpass all the hooks other brands keep throwing at them.
While this may sound like a pipe dream, it's actually possible. Glossier, a major name in the beauty industry, has leveraged its customers to grow into a household name. They've done that by building a community that loves them and that they genuinely appreciate.
Let's see how you can replicate their success by taking a look at five ways to both retain your customers and inspire them to become advocates.
Fulfillment is everything
For starters, you want to ensure that your customers actually get their hands on the products they've ordered. It may sound like a perfectly simple and obvious fact, but almost 70% of customers are likely to leave you if they don't get their hands on their order in as little as two days.
You don't necessarily have to promise second-day delivery, but a real-time tracking option would be extremely useful. It will help your customers plan their day around the delivery so that they can ensure they are there to accept their parcel.
Of course, delivering within the time limits you've promised is paramount. Refrain from making claims you can't hope to keep, as it will only backfire. Honesty, especially around delivery times, is always the best policy. Just imagine how you would feel if a birthday present that you were promised would arrive well on time failed to show up?
A brand that does fulfillment incredibly well is Feelunique. They usually ship their items within a day, even worldwide. They also provide a tracking code that helps customers stay in the loop at all times. Tracked shipping is free above a certain order value, providing additional incentive to shop. Plus, they can inform you when there are only several items left in stock, so you know to place your order on time.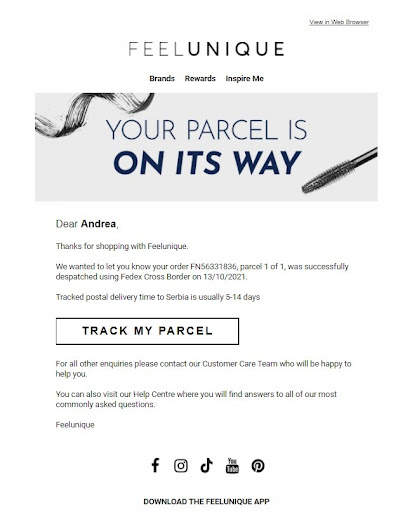 Make returning items easy
Almost 80% of shoppers claim they would shop more if they knew there was the option of free returns. While you may not always be able to offer completely free returns, be as generous as possible. Most importantly, make sure your return process is simple and straightforward.
For starters, don't hide your returns policy on your site. Make it prominent and spell everything out clearly. Note the return address and the conditions in bold letters.
Make the quick processing of returns a part of your focus as well. Whether you have a specific department to deal with them or simply assign the task to your fulfillment team, make sure they are able to return a customer's funds as soon as is possible.
If you sell products that are more likely to be returned, make the ease of returns a main feature on your website. You can also include a card with every order, telling customers what to do if they're dissatisfied with their purchase.
Amazon does returns best, specifically with their Prime Wardrobe feature. They offer the option of trying out several items and returning the ones that don't fit free of charge. You don't have to cover the costs of the return if you get a lot of them and if this would prove to be a significant dent in your budget.
However, do make sure you give as much to the customer as you can. That's how you'll make them feel safer and more likely to make that initial purchase. The rest of your service should then channel into convincing them to stay.
Deal with queries and complaints efficiently
Every business can expect to deal with complaints and queries, no matter how well they run their ship. That's why your customer service team is a key element that can help you foster brand advocates or lower your first-time visitor conversion rates.
There are two things you can do to boost customer lifetime value:
Be available in real-time.
Be available across multiple channels.
Customers will want to get answers to their questions as soon as possible. You might never be able to offer 24/7 support, but make sure to clearly list your customer service's working hours. Furthermore, look into providing chatbot support for the times when you are not able to respond immediately. That way, at least some queries might be dealt with overnight.
Offering social support is another amazing way to nurture brand ambassadors. While you certainly don't have to be present across every social media channel, make sure you monitor the ones you are active on. Track mentions and messages, and respond to them ASAP.
Starbucks is a brand that has an incredibly active following and that takes social support to the next level. They not only respond to complaints promptly but also retweet their fans' posts. Overall, their social media presence is great at making the day feel a little bit lighter.
This is a great recipe for success – use social support to show that you're human and that you care. Go above and beyond to make customers feel valued, even if it's just by sending your regards to someone's sister.
Showcase what you and your customers are creating
Many companies help their customers do awesome, interesting things. This partnership between brand and customer is something that can be mined for social proof, goodwill, and exceptional loyalty.
Each time someone uses your services to create something they're proud of, why not give them some exposure on your social media? Doing so puts a human face to your service and entrenches the notion that you and your customers are in partnership with each other.
The next time one of these happy customers has a similar project in mind, they're either going to get you involved again, or they risk breaking up the band. And no one wants to do that.
Mixam offers us a terrific example of how to do this the right way. The printing company frequently publishes social media posts that showcase the works they're printing for their customers. The congratulatory tone, along with a photograph of the customer proudly holding the fruits of their labor, make these posts feel incredibly authentic. And that's exactly what the brand is after.
If you can use your social media clout to give a customer credit for the good things they're doing and drive awareness of their project, you've likely got a customer for life.
Offer referral bonuses
Brand ambassadors will naturally and organically refer your brand to their friends and family. They will probably do the same on social media. The simplest way to thank them – and to provide an additional incentive – is to offer a referral program.
The idea is simple yet incredibly effective. Every time a customer refers someone and that someone makes a purchase, the customer will get rewarded. You can set up the system in a number of ways, offering discounts to either or both parties, offering points, establishing an entire rewards system, and so on.
Future Kind, for instance, runs a "give your friends $20 off and get $20 off yourself" promotion. It's deceptively simple, as it does have the power of significantly boosting sales, and incidentally, creating more brand ambassadors.
Whichever way you choose to design your referral program, make sure you make tracking referrals easy. It shouldn't require too much effort from the customer or from your staff.
Final Thoughts
Don't expect to be able to trace exactly which action has led to an increase in sales or the precise number of followers your good work was able to attract. Just pour your efforts into putting the customer first and ensuring they have a positive experience with your brand. This kind of approach will always go a long way in turning a lifetime customer into a brand ambassador.