Creating marketing videos isn't easy — at least, not without building a creative team of filmmakers and editors, or buying $20,000 of equipment, or outsourcing for help. And chances are that you don't have resources like that just sitting around at your convenience. However, engaging video content is a must nowadays. As seen in the latest print on demand eCommerce stats, the competition is currently huge in the market and only the best content can help outstand the competition.
What if you could create professional-level content without going to film school or buying tons of gear? What if you could take advantage of apps, tools, and other resources to transform stuff you shoot on your iPhone into videos that look like big-budget productions?
Here's some good news: It's 2021, which means you've got everything you need at your fingertips thanks to the internet. Let's look at 6 essential tools to create powerful (and effective) marketing videos.
And for the purpose of showing how these tools can help complete a video from start to finish, we'll cover options from the pre-production stage all the way to embedding a completed video on your website.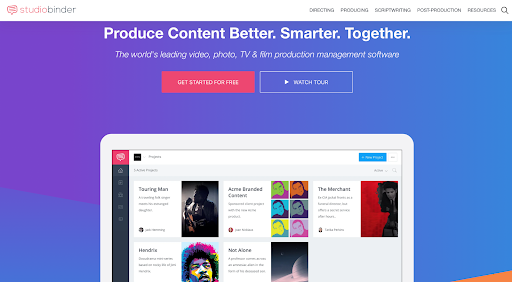 It's hard to really explain Studiobinder in a few words, but let's give it a shot: Studiobinder is a full suite of production tools and templates to help you brainstorm, plan, produce, and release a video.
A huge (and often prohibitive) challenge for businesses of all sizes is finding the balance between "video quality" and "production costs." For many teams, the balance makes video content seem too expensive or time-consuming to fully invest in.
But it doesn't have to be that way. Sometimes, all you need to organize and budget a successful marketing video is to find a set of tools or premade templates. The less complicated stuff for you to figure out, the less at risk of going wrong.
So whether you're part of a small team or working on your own, Studiobinder helps you replicate a big-budget production without needing 10 different people to juggle all of the moving parts. The software helps you manage a marketing video workflow in one easy spot.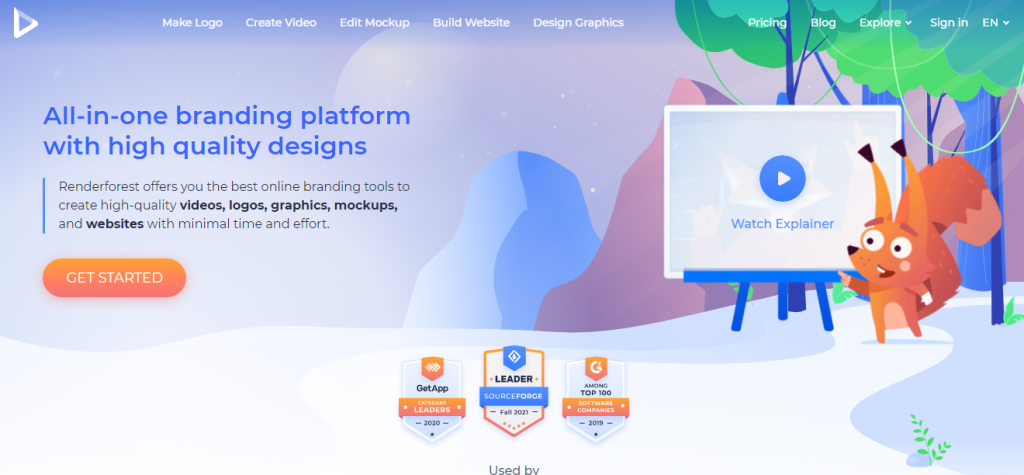 Renderforest is an ultimate choice when it comes to creating animated, promotional, and explanatory videos.
This animated video maker comes in handy whether you want to construct a 3D and CG realistic animation or a fun 2D animation.
You can effortlessly start your film with over 200 video templates.
You may rearrange scenery, change the text, and create excellent animated material with cloud-based tools.
Small businesses benefit greatly from an explanatory video toolbox.
Filmmaking jobs are split into a lot of different specialties, with some people focusing on filming videos or editing videos or even (in some big-budget cases) choosing and adjusting the color temperatures for videos. You've also got sound engineers, lighting specialists, and so many other roles.
It's a pretty big field, and for a lot of marketing teams, you'll have one video person who's trying to wear all of those hats and turn a box of lemons into a pitcher of lemonade as well as a 5-course dinner.
Video production is a pretty big field with a lot of pieces. That's because visual branding is as much a part of video marketing as the actual production process, and how all of those elements work together can affect the experience of your audience.
While marketed as a video maker tool, Biteable gives you the post-production tools to turn recorded footage into something that looks and feels like a professionally made video from an experienced team. You can get animations and stock footage to help you polish videos until you're able to compete with a big-budget production.
In other words, it's a tool that helps you turn that box of lemons into a pretty respectable meal (and a cup of lemonade) without needing to hire a dozen specialists for your team.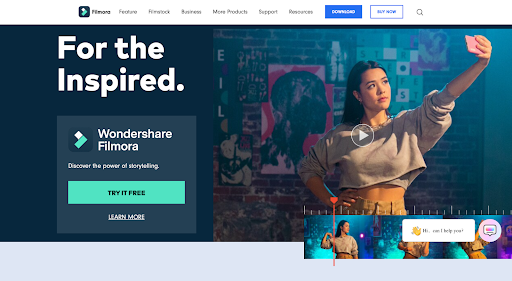 If you want to explore animations and visual effects, you'll need to check out Filmora. From mixing audio to color grading to motion graphics, this tool puts the skills of a veteran video editor into your hands. And, once again: No film school required.
You can import your own media, or combine different clips into one timeline — the same process that professional video editors use in digital workstations like DaVinci or Premiere Pro. (Yes, it's a streamlined and simplified alternative, but it's worth noting that the basic premise is still the same.)
The driving point behind Filmora is that it helps you level up video production. It's not the end-all, be-all solution — you'll still need to shoot your own video and understand the basics of video editing. But what it does do is let you add a unique voice or look to video content.
It's a great tool for creating those hyper-stylized social media clips you see (and probably feel a little jealous about) on Instagram. And anything that transforms your iPhone footage into professional-looking social media videos is worth checking out.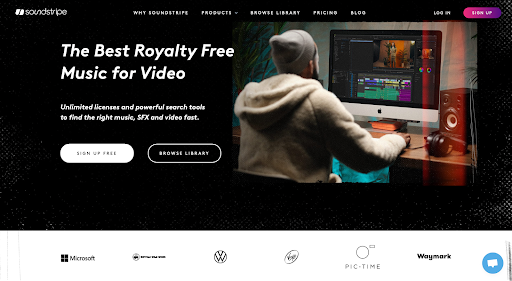 Finding the right song or sound for a video makes all the difference. Good audio will add emotion, energy, and inspiration to marketing videos. The hard part is finding good audio without spending hundreds of dollars on music licensing for a single song.
Royalty free music is a way to split the difference. You won't have to reach out to (and then negotiate with) the copyright holders of a particular song you love. And you won't have to be a pirate, use the music illegally, and hope nobody finds out and either hits you with a copyright claim or — in a worst-case scenario — takes you to court over your videos.
Finding a good service for royalty-free music gets you radio-quality songs at an affordable price and with minimal effort on your part. And if you use a subscription-based company like Soundstripe, you can get all of that for less than $20 a month.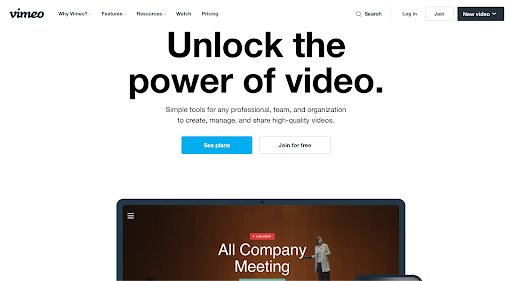 For a long time, people thought of Vimeo as a less popular (and therefore less-valuable) alternative to YouTube. But the platform has matured into more of a production-focused tool, allowing filmmakers and marketers to create and share videos with clients and team members.
Vimeo has added a lot of different features requested by its community of filmmakers: screen capture services, collaboration tools, licensing stock footage and creating an ad-free viewing experience for anyone watching your video. You can even find and hire a video professional directly through the platform, easily networking businesses with filmmakers.
Vimeo does offer templates and even live streaming features to help you actually create a high-quality video. However, the platform is trusted by many creators and businesses as a great platform for video hosting, with the ability to privately publish and share videos so you can get approval before pushing a video live on other channels.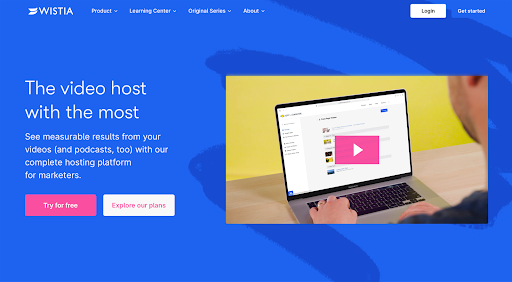 Once your marketing videos are polished, approved, and ready to go, you'll need a tool to either host that video (so you can use them across different platforms) or provide a way to directly embed the videos onto your website or email templates.
Finding a place to host your videos is a necessary evil when expanding video marketing content. Any video you watch online is hosted somewhere, and dedicated host services helps improve your site performance because your servers aren't trying to juggle too many balls at once.
In other words, you can store your videos, access them on other platforms, and do all of that without bogging down your company's website — it's all the benefits without any of the risks unless you consider the cost of Wistia's service as a negative thing.
Wistia presents itself as a service for B2B marketers, but the reality is that anyone could take advantage of this tool. Wistia will host your video content, provide you with a custom-branded video player you can embed into a website, and track data on those videos. It's a powerful marketing tool but also something explicitly built to simplify video marketing.
The site also provides educational services to turn marketers into video marketers and provides similar hosting and data-tracking services for podcasts. So as brands continue to explore new content channels, Wistia is built to offer more and more value to its customers.
#7 Placeit
Create videos easily with ready-to-use video templates with Placeit.

With endless graphics and stock images on video options, your videos never looked so good! Explore our massive audio library and choose the track that best suits you.
Select your favorite video template, customize your text, change the color of backgrounds and shapes, and add your images or video clips.
A professional team makes all their videos, so you can rely on them being eye-catching templates for your campaigns. Once you have customized your template, click the download button.
Pros of Placeit:
Wide range of graphic libraries, +85,000 exclusive design, music and photo assets.
You can choose between tons of video formats for your marketing arsenal.
Constant updates of the graphics and the tools
Free tools available for everyone
High-resolution graphics
Pricing:
Basic: Free
Unlimited: starting from $7.47 per user/month
Plugins To Make Your Life Easier
To be clear, not all of these tools come in the form of plugins for your website hosting service. While you might want to link all of the tools you rely on to one central hub (That's what we love about plugins, after all.) you should remember that these tools are worth the investment for anyone looking into video marketing and its trends.
Video production is definitely a complicated field, and even taking advantage of this kind of resource will only alleviate the stress — it won't turn you into the next Steven Spielberg or help pivot to become a video marketer for a media juggernauts like Apple.
Let's be realistic here: Producing good video content is difficult, but it doesn't have to be impossible. Marketing success relies more on effective content rather than industry-leading, million-dollar-budget content, and that's something you should take as encouragement.
The goal of video marketing varies pretty widely based on your company's current strategy. But whether you want to drive traffic, create leads on social media, or boost conversions, all six of these tools are essential resources to make video production accessible on any budget.
Author's Bio:
Drew Gula is the copywriter at Soundstripe, a company that helps businesses understand how to add music to a video by providing resources like royalty-free music.