What is the ultimate goal of your business?
Revenue, right!
What do you think is the most vital factor in deciding how much revenue, though?
Customers. Period.
Therefore it is crucial that you keep your customers happy, take their views into account, process their information and previous correspondence to identify buying patterns, and achieve actionable insights for customer loyalty and retention.
And with so much technological advancement and data volume, gone are the days when you could keep track manually.
So how do you do it?
Get yourself the right CRM software, and you're done.
Yes, just like that!
Before we discuss how to choose CRM software, let's dig a little deeper.
What is a CRM Software?
As it goes by its name, CRM management software (Customer Relationship Management) keeps track of your company's customer information, manages the entire data in a streamlined manner, and thus manages your relationship with the customers.
A good CRM will also let you learn about customer buying trends and purchase history, thus allowing the businesses to foresee the customers' needs and fulfill them.
One could easily wonder what better CRM software does than a spreadsheet? But spreadsheets are good only if you have around 30-50 contacts, post which it is ready to hit the fan. Spreadsheet delivers very little of what CRM does; they are harder to use.
Think of it as –
Option 1: Spreadsheets: It can store contact information.
Option 2: CRM: It stores contact information + keeps track of the active and resolved service issues + identifies the potential customers for new promotions, and converts them into actual sales + manages the entire marketing campaign.
Why Do Small Businesses Need to Use CRM?
On the most basic level, if you hear two of your team members screaming,
"I didn't receive that; send it to me again."
"I quoted $xxx to Marry; why did you quote $yyy?"
"I had already mentioned the features to Marry(customer), why did you call her again for the same?"
There's something wrong- No Streamlined Access.
If you reach out to 500 new customers, how do you keep track of the ones who replied, and do you remember to follow up with each one of them? If you get lost in that pool of data, there's something wrong- No Automation.
And how do you keep track of what sales strategy is working, and which one is fetching real deals for your sales team? How do you analyze whether a lead is qualified or not? How often should follow-ups be taken? On what criteria are the new leads identified, and is it even working? You can't, right! – No Data Point Comparison
Well, precisely why small businesses need to use CRM software programs. CRM has the potential to accelerate revenue by 41% per sales personnel.
A CRM aggressively Identifies- Organizes- Optimizes and Streamlines so that the sales executives can focus more on the core task: closing the actual deal.
What Are the Benefits of CRM Software for Business?
CRM software is the biggest software industry in the world, and it will grow more. By 2025, this industry is expected to reach a massive $80 billion in revenue. With a statistic that high, there has to be something exceptional about CRM that everybody is investing in it. So, if your company isn't already using it, now is the time to engage and select CRM software.
Still not convinced?
Here are 3 significant benefits that you can reap if you decide on selecting a CRM for your company:
1. It Consolidates the Data and Keeps the Team on the Same Page
CRM consolidates all customer communications like forms, emails, messages, phone texts, meetings, quotes furnished, purchases made, conversations between the customer and a sales executive- literally just everything you can think of.
The best part? All information is displayed on a single tab, right in front of your eyes, and everyone in your team can have access to this data pool and leverage it to close a sale or deliver spectacular customer service.
Additionally, since data sorting and enrichment are automated in a decent CRM software, the system informs you about missing details, if any, so that you can add them unfailingly. Moreover, data duplication is impossible because the software merges the same data into a single record.
2. It Allows Personalized Communication and Keeps the Customers Happy
Personalization is the key to making your consumers feel valued and taken care of, and 63% of consumers expect personalization as a standard of service and believe they are recognized as an individual when sent special offers.
Now, personalization doesn't mean just addressing the consumers by their first names. You need to go beyond that.
CRM software is the silver lining here. It pays attention to details and segments your contacts based on some common factors, like feature usage, product purchase, job title, interests, seniority, etc. You can communicate different information to the different relevant groups. This, in turn, lets you tailor your offer group-wise.
For example, if some customers purchased software from you in the past, and now there is an upgrade to the software, CRM will automatically send them information and ads to upgrade.
3. Increases Profits and Helps Your Business Grow
Every business has a sales strategy, but the key is to identify whether it is working. 91% of customers feel that a good online experience is a necessity. CRM also helps in online marketing as it performs data mining and identifies the buyer's buying pattern, thus helping in delivering value to the customer.
Another major advantage of having CRM software is that it curates reports and identifies which particular attribute or aspect in the strategy is working the most, and delivers absolutely no results. This further helps get rid of the redundant point and replace it with the most efficient one.
CRM also identifies the potential crack points through which a customer might fall off, sets up reminders for you to follow up with the customer, and sends over discount codes. Do you know what the fun part is? Nobody, absolutely nobody in your office, has to sit in front of their system to press the send button. Thank you, CRM Automation!
Businesses that believe in selecting a CRM software see sales increase by 29%, sales productivity increase by 34%, and sales forecast accuracy increase by 42%.
10 of The Best CRM Tools for Small Businesses
Compare and choose the CRM Software that suits your needs.
Here are the 10 best CRM tools that will help you make an informed decision-
1. BIGContacts
BIGContacts by ProProfs is a simple CRM software that keeps the customers organized and prospects in a custom sales pipeline. It offers streamlined email storage to update your entire team and stay aware of the communication. It also allows sorting contacts based on upcoming events, previous communication, and opportunity.
BigContacts has got you covered when it comes to managing email campaigns. It automatically sends emails based on parameters like the number of days passed or on the occurrence of a designated event, like on the availability of an upgrade.
Popular Features:
A complete 360-degree view of all data and activity
Automated Tasks, Reminders, Reports, and Exports
Custom Fields to track any type of Information
Customized Sales Process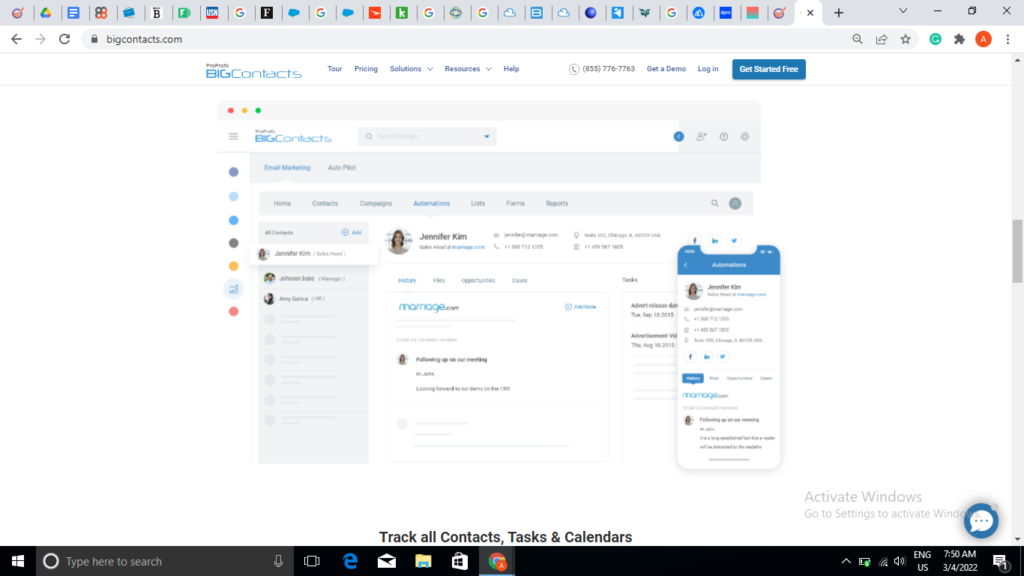 2. EngageBay
It is an all-in-one CRM software that aims at growing startups and small businesses. It aligns sales and marketing and eliminates miscommunication by seamlessly integrating both processes to pass on the leads from marketing to the sales team.
It is a cloud-based tool with simple features such as tracking phone calls, custom reporting, and sales funnel augmentation. It also facilitates guides and "how-to" videos for easy set-up.
Popular Features:
Marketing Automation
Contact and Deal Management
Email Template Builder
Site Messaging and SMS Broadcasts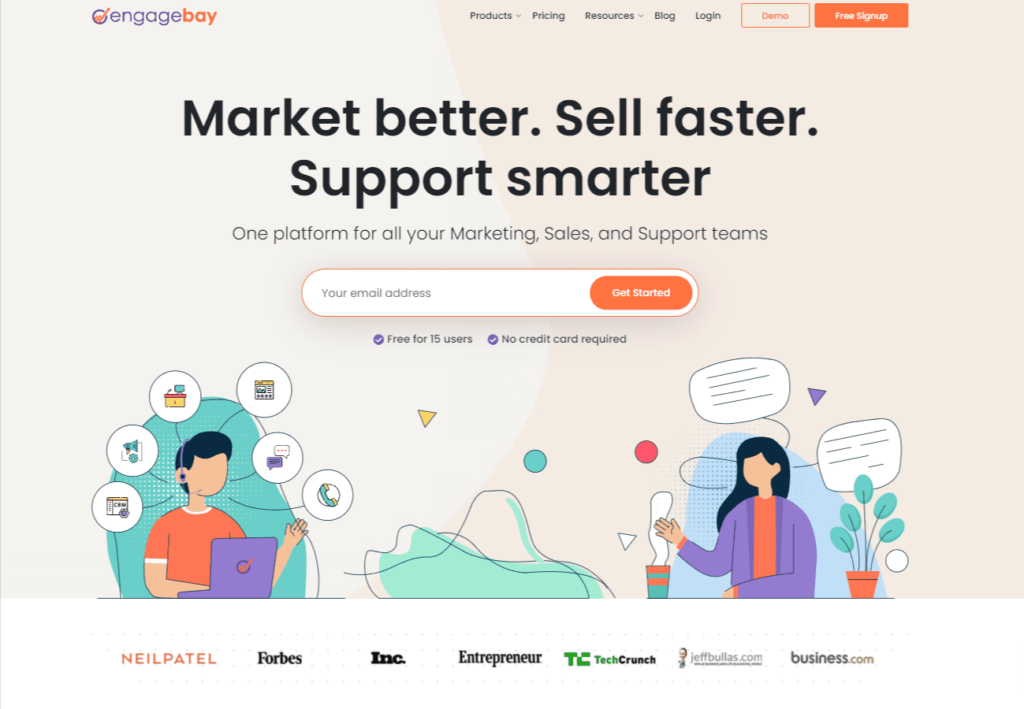 3. FreshSales
Robust yet easy-to-use CRM software, FreshSales is a comprehensive tool where you can discover strategic leads, boost contextual engagement, drive deals to closure and take care of existing and new customers.
The CRM software selection also provides meaningful and actionable insights into the company's sales strategy and performs advanced reporting right on time. Further, FreshSales lets your sales team engage with customers on the most comfortable channel with a built-in phone and chat feature.
Equipped with an AI assistant, Freddy, FreshSales performs data mining, provides deal insight and recommends the best course of action.
Popular Features:
Unified View of Customers
AI-Powered Assistant
Mobile CRM
Data Protection and Security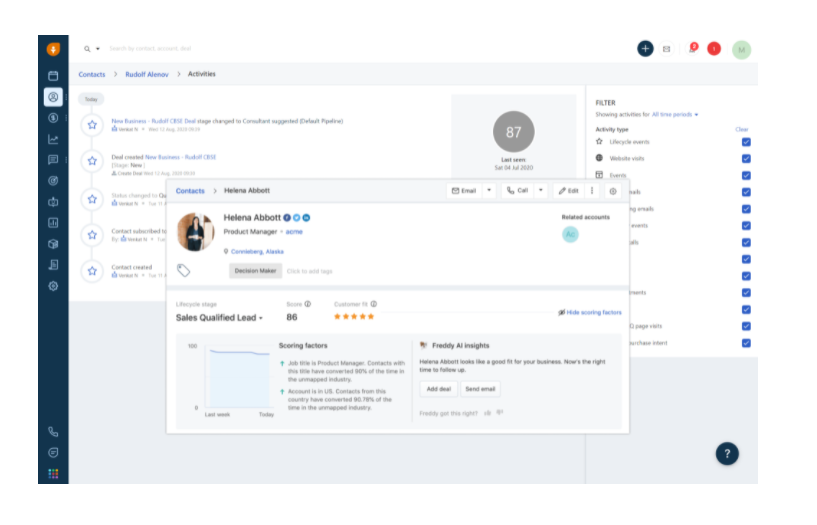 4. PipeDrive
PipeDrive allows accessible data sharing across all your apps with an easy-to-use interface. The Import2Wizard feature supports all data elements like deals, activities, users, sales negotiations, sales stages, etc.
It is most commonly known for its performance metrics and KPIs, including past and upcoming activities, conversion points, and rate, lost and secured deals, etc. The predictive forecasting feature lets the business be more agile and proactive in planning its next move.
Popular Features:
Leads and Deal Management
Mobile Apps and Integrations
Performance Metrics
Inevitable Sales Success
5. Zendesk Sell
Zendesk Sell mainly organizes faster and lets the business close more deals. It organizes the data, saves the time otherwise required for administrative tasks, boosts the sales team's productivity, and improves the sales pipeline. It also gives the team interrupted access to full customer history, thus enabling them to capitalize on opportunities.
It comes with a sales prospecting feature, which lets the business tap an uncharted market of over 200 million professionals.
Popular Feature:
Rich Open APIs for smart integration
Streamlined Account Management
Improved Sales Productivity
Automated Data Capture
6. Agile CRM
It is an affordable, cloud-based CRM software for small businesses that automate sales, marketing, and customer service in one single platform. It performs an in-depth analysis of the sales strategy and tracks the stages and achievements of a deal to keep the sales pipeline on track.
It also lets the team members share their calendars and accordingly automates meeting scheduling per time availability, sends invites and target ads, and pursues follow-up to convert conversation into a conversion.
Popular Features:
Built-in Telephony
Contact and Project Management
Active Integration with Apps like Twitter, LinkedIn, and Facebook
Powerful Ticketing and Canned Responses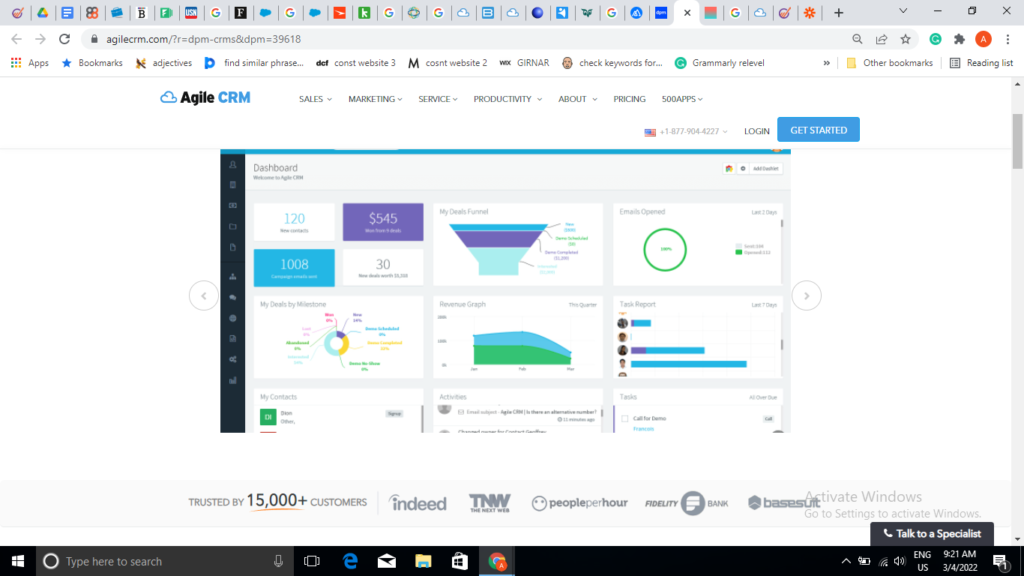 7. Streak CRM
Checking all the boxes for data automation, comprehensive integration, and data security and privacy, Streak CRM has a simple user interface and is designed for small businesses. It perfectly customizes the process of adding, editing, filtering, and sorting the data, quickly identifies bottlenecks and keeps your sales pipeline moving.
Streak CRM software services are also available on mobile so that your team can conveniently access upcoming tasks with widgets from anywhere. Equipped with email power tools, it sends instant notifications when emails are received and builds a shared library of commonly written emails for future reference.
Popular Features:
Personalized Mass Mailing
Automatic Email and Contact Tracking
Follow-up Reminders
Extensive Integration and Data Management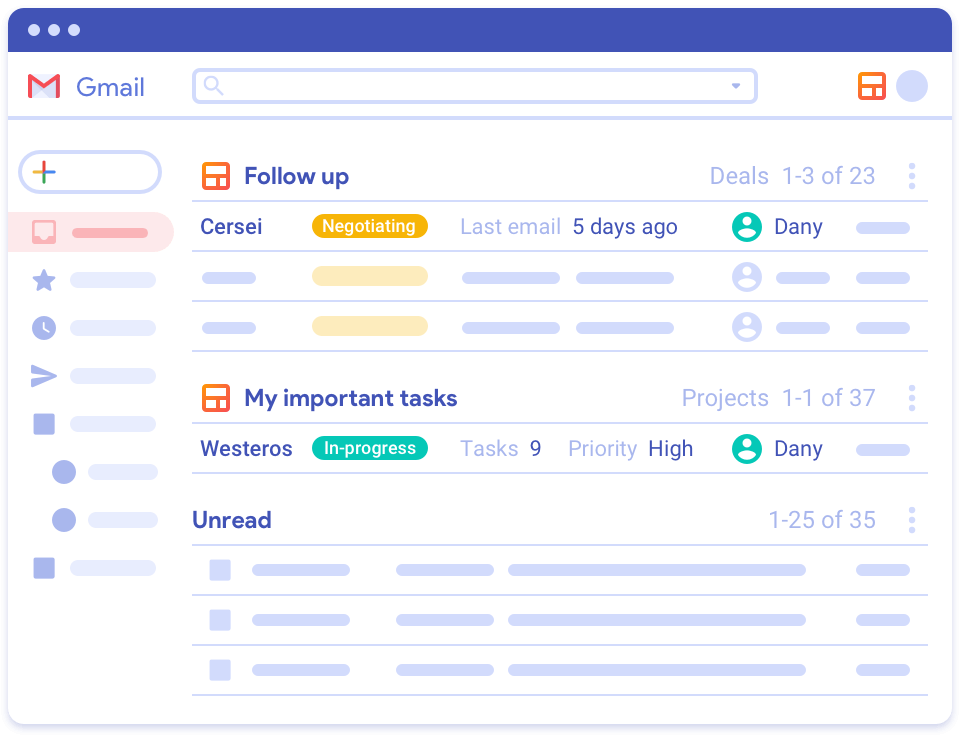 8. HubSpot
Hubspot is an easy-to-use CRM software with an inbound methodology that integrates marketing, sales, content management, and customer service functions. It tracks prospects, buying patterns, likes, and dislikes which the sales team could leverage to convert leads into deals.
HubSpot also lets you sync all your apps, creates a pool of customer data, and automates the processes so that your systems and teams are updated on a real-time basis. Further, equipped with a live chat feature, your customers can raise queries anytime.
Pro Tip- Use Chatbots to take care of the queries raised by the customers and let your executives focus on core things.
Popular Features:
Drag and Drop Editor for Content
Pipeline Management
Meeting Scheduling
Programmable Automation
9. Kylas CRM
Uniquely designed for businesses in early developmental stages, Kylas is easy-to-use CRM software that organizes and streamlines contacts, important leads, tasks, and notes. WIth detailed revenue projections, it provides reports on team performance and productivity.
This tool gives a clear roadmap and a sustainable ecosystem for identifying beneficial sales opportunities and increases the chance of success. Kylas also integrates different leads from different platforms and 3rd party portals to analyze them by source and understand which ones convert and which remain unqualified.
Popular Features:
Task sharing and delegation
In-app notifications and reminders
Quick, easy-to-use user interface
Task Management and Workflow Automation
10. Really Simple Systems
Designed exclusively for growing teams, this cloud-based CRM software tracks and manages leads and customer service. Equipped with powerful reporting tools to understand the business structure and identify leads, it builds great customer relationships.
It also has integrated GDPR- compliant email marketing software that automates the process and allows your team to build and send campaigns and newsletters.
Popular Features:
Powerful CRM Reports
Free Customer Support
Salesforce automation
Integration with Xero, Sage One, and KashFlow accounting software
How to Choose CRM and How to Use it for Your Small Business
With a plethora of CRM tools available online, selecting a CRM software that suits your organization is tricky. You will want a CRM for your small business that's fully customizable to suit the size and needs of your team.
To help you save time and answer the how to choose CRM question, we've come up with the following key considerations:
1. Accessibility
While some CRM software is web and cloud-based, others are on-premise. Before you purchase a tool, you need to decide which model you want to opt for.
On-premise models have their portion of advantages, but cloud-based models provide any time anywhere access, and that way, your workforce can perform the designated tasks even when they are not in the office. Cloud models are invaluable for organizations with a workforce who's on-the-go or situated in a rural area or works from home.
2. Features
Different organizations have different feature priorities. What is it that you require? Perhaps it is lead management, marketing automation, email tracking, or contact management.
CRMs are feature-packed, but the right CRM is the one that compliments your existing organizational structure and hardware. We suggest you conduct a brainstorming session with your key staff, including the sales and marketing teams, about the list of features that you want.
3. Integrations
It is important to consider how well and quickly a CRM software integrates with other tools and apps that you use daily.
Suppose you use an email tracker quite frequently, you should choose CRM management software that syncs perfectly with your tracker, or else it can get cumbersome to navigate between the both of them.
4. Price
Being the largest software market, the CRM industry has a lot of vendors with various pricing and deployment models.
And some people might think that the software that's priced high is the best one. But that is not true. You need to evaluate based on how much you are willing to pay.
If you're crunching those numbers, you can use free CRM software like HubSpot, Freshsales, and EngageBay. If you can pay for it, you'll get advanced features in these three, plus you can also buy other software like Agile, Pipedrive, Streak, etc.
Grow Your Business With the Right CRM Tool!
CRM cuts down on administration costs, makes operations easier, facilitates good customer service, and generates huge returns. Most businesses that invest in CRM witness an average ROI of $8.71 for every dollar spent. With the money right!
Now that you know how to choose CRM and that CRM management software helps small businesses grow, the 10 platforms that we've mentioned above are perfect for startups and small teams.
That being said, we recommend you implement one quickly.