Black Friday is on its way, and the competition is always fierce. Use a top-notch Black Friday marketing approach to make your company stand out.
Most shoppers have already started making their wishlists for buying things from the Black Friday sale. Are you ready to grab their attention? If not, start immediately, or you risk losing them to your competitors.
Get help from a live chat app to turn this year's Black Friday sales into significant profits.
What is Black Friday?
Black Friday is one of the essential days after Thanksgiving in the United States. In addition, it marks the beginning of unofficial holidays that are focused on shopping opportunities.
The name "Black Friday" was used online for sales in the early 2000s to compete with sales at retail shops. However, traditional stores formally adopted the name as it spread nationwide via the internet.
More and more shops started moving back the start time of their Black Friday offers from early Friday morning to the evening of Thanksgiving Day. Some stores go one step further and begin their Black Friday promotions on the Monday before Thanksgiving.
Here's how you can utilize your live chat for your Black Friday promos.
5 Black Friday Live Chat Strategies to Close More Deals
Black Friday means dealing with thousands of customers.
Leave the hassle of dealing with customers to live chat plugins, and boost your sales.
The app will act as a KPI for customer service and increase customer satisfaction.
1. Show Enticing Preset Welcome Messages for Black Friday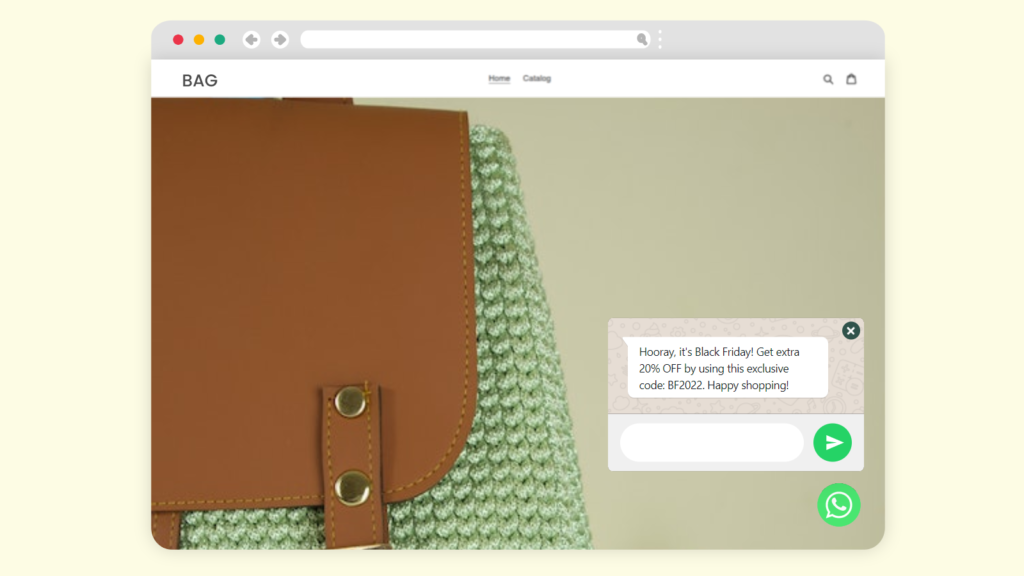 The success of any website or online retail store depends on the initial interaction with customers. Welcome messages reinforce a customer's first impression of a product. They serve as the foundation upon which you will build stronger relationships with potential clients.
When preparing for the Black Friday sale, you should use live chat to greet your customers as soon as they visit your website. Then, just get to the point! "Offers," "Discounts," or "Save Money."
Welcome messages have purposes beyond just improving consumer service. A thoughtfully written greeting can help achieve several important goals, such as:
Reassure customers that they are valued
Call to action
Entice users to explore and purchase products
Promote important actions
Make time-limited offers
Personalize and humanize interaction to increase trust
Some examples of good welcome messages for Black Friday include:
Santa couldn't reach everyone, but [brand name] is always here to gift happiness!
Pardon our Black Friday Frenzy. 50% off on all products!
Can't wait until Christmas to buy presents? Treat Yourself to our Black Friday sale.
Hello, Black Friday Champions! Grab our best deals before someone else does.
Employ a live chat with preset welcome messages to make your customers feel special and encourage them to shop from your website.
2. Offer Exclusive Coupon Codes to People Sending Concerns/Complaints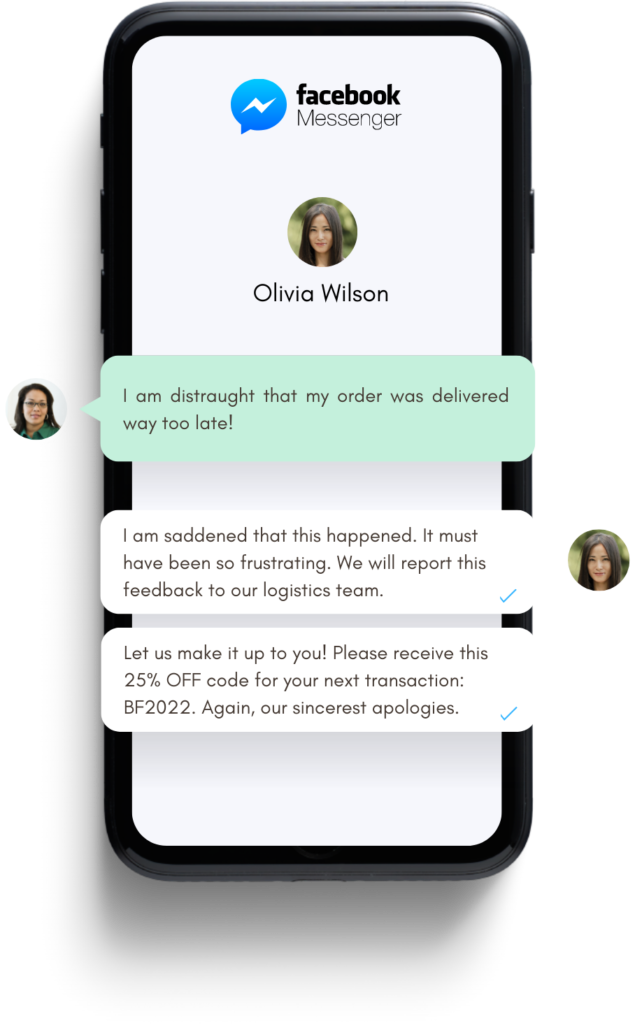 Apologizing is an art, and apologizing for a gift is a rewarding experience. Unfortunately, it is unavoidable to have angry customers, especially on busy days like Black Friday.
The best way to deal with people sending concerns or complaints is to offer exclusive coupon codes and apologize for the inconvenience.
Live chatbots can handle angry customers effectively and quickly. After all, you do not want mad customers to wait for a reply.
You can create different scenarios of why the customer might be unhappy with the service. Consequently, you can prepare the chatbot with standard replies and offer an exclusive coupon code to people with genuine concerns as a way of apologizing.
However, it would be best to be careful of scammers who act as angry customers to abuse coupon codes from websites and get heavy discounts. The simplest method to keep coupon fraud under control is to set a cap on the length of the offer.
3. Add a Black Friday Notification Message on Your Animated Chat Button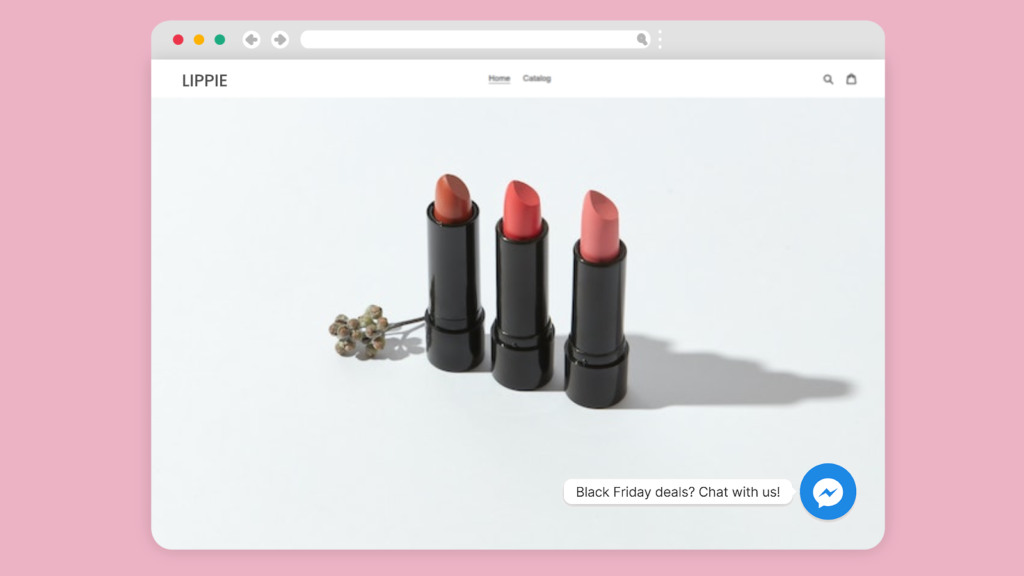 Notification messages make it easier to communicate with the user without actually starting a conversation. Rich notifications include visuals that improve the user experience and motivate them to purchase your products. It would help if you created quick but impactful interactions with your messages.
Message alerts can inform customers of upcoming sales a few days before Black Friday. Even a countdown till the day of Black Friday is effective.
When the Black Friday madness starts, you can use the notifications to remind people that Black Friday will be over soon. This will create a sense of urgency for the customers to begin shopping quickly.
In today's business world, cart retargeting is an essential strategy. Sending your customer a reminder about the incomplete purchase is an intelligent choice. The notification messages can also include alerts that bring back the customers who left the website with products in their cart.
A critical thing to remember is that customers should be lured to come to your websites with items such as coupon codes, discounts, and exclusive offers.
4. Include a Sales Promotion in Your Canned Responses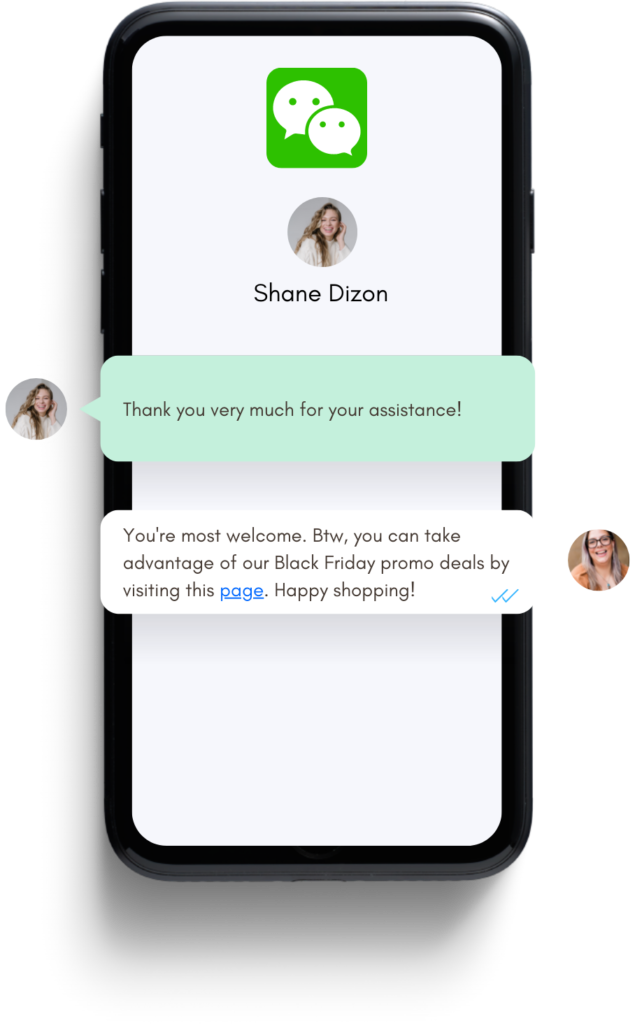 While many companies ponder the key to customer satisfaction, they overlook one of its crucial components: real-time assistance.
Employing prefabricated responses efficiently can create a relationship with customers and make them feel valued and appreciated. Customers don't want to wait hours for individual responses. You might fall short if you manually type each reaction to sound approachable and human.
A quicker response increases customer satisfaction, so using canned replies directly benefits your business. Better yet, a sales promotion on your canned responses increases the possibility of lead conversion.
People generally expect significant discounts on Black Friday, so it is wise to include the best deal in your canned responses. It will make the visitors feel special and improve the customer experience.
5. Always Try to Upsell and Cross Sell to Gain Traction for Your Black Friday Offerings
The goal of upselling is to persuade customers to purchase a better, more expensive version of a product they currently own. Alternatively, selling products related to those a customer already acknowledges is known as cross-selling.
Cross-selling and upselling increase your average order value, generating revenue and profits at little incremental expense. They will increase the value of the client throughout their lifetime. Additionally, they will develop a more significant initial profit after retaining the customer.
If someone on the live chat complaints or inquires about a certain product, you can send recommendations toward the end of your conversation, or send similar products that are on promotion. There are a lot of approaches to achieve that, but the only key is to not sound you're hard selling.
Put yourself in your customer's shoes to upsell effectively and determine what will make them happy. It's a soft sales technique that resembles friendly advice to assist customers in making the best buy. It should be like you're suggesting to fully help them with their inquiry. You wouldn't know, your recommendation would end up on their carts after all.
Some of the best strategies to upsell and cross-sell products on Black Friday offerings include:
Promote your most popular or best-reviewed products.
Give the upsell more importance and highlight customer testimonials.
Use your established customer profiles to provide relevant advice.
Cross-sell items need to be at least 60% less expensive than the item already in the shopping basket for customers to consider adding them, even though they weren't planning to buy them.
Choose simple things to overlook, such as filters for lenses, earphones for mobile phones, lighters for gas stoves, and so on.
Time to Invest in Live Chat
Live chat is a great way to increase leads and improve business return on investment. It helps in generating more leads and, of course, sales. Online chat features increase website visitors' reaction times and the likelihood of making a purchase.
Proactive chat triggers allow you to send customized messages to potential customers who require information about a product or price to make a purchase decision.
Invest in a live chat plugin for your Black Friday sale for better engagement and increased profits.
Getting Started with Chaty:
Chaty is designed to connect with your visitors via multi-channel chat widgets that win over clients. Additionally, Chaty is available on WP, Shopify, Wix, and Ecwid, so customers can choose their preferred platform to converse on. It also has a SaaS version that can be launched on any website.
Some of the best features of Chaty include:
Click to chat channels
Custom call-to-action messages
Display trigger
Track live chat
Live chat metrics
Attention effects
Several chat buttons designs
Traffic source targeting
Download Chaty here:
Conclusion
Is your e-commerce website ready for the most incredible annual retail event? Unfortunately, while online holiday sales are anticipated to rise even further, there is no guarantee that your website will profit.
It would help if you had a Black Friday strategy that considers everything, including mobile site performance and speed, integrated online and offline marketing, shipping, and backup plans for stockouts and unforeseen problems.
Leave the "handling the customer" worry to the Chaty live chat plugin.