Black Friday is one of the most critical days for merchants. A carefully planned digital marketing strategy is the best way to ensure you capitalize on this potentially lucrative shopping day.
With so many companies fighting for the attention of your target market, using coupon discounts to grab users' attention and direct them to your online store is an effective way to stand out from the crowd.
This article will discuss ten creative coupon ideas you can add to your Black Friday marketing campaign to increase user engagement and boost sales.
What is Black Friday?
The day following Thanksgiving is known as Black Friday in the United States. It signals the beginning of the holiday shopping season. It is a potentially lucrative event for businesses that can advertise their products effectively and offer discounts to encourage customers to buy online and offline items.
What was originally a one-day celebration has now grown into a four-day global event that ends with Cyber Monday. With discounts targeted to online consumers, Cyber Monday is fundamentally the same event as Black Friday.
Prices are often lower for all four days between Black Friday and Cyber Monday. Some retailers offer different daily promotions and discounts to keep shoppers returning for more.
10 Black Friday Coupon Discount Popup Ideas to Help You Reel In Customers
You can get ahead this Black Friday with these creative coupon discount popup ideas:
1. Use Coupon Pop Ups to Encourage Users to Stay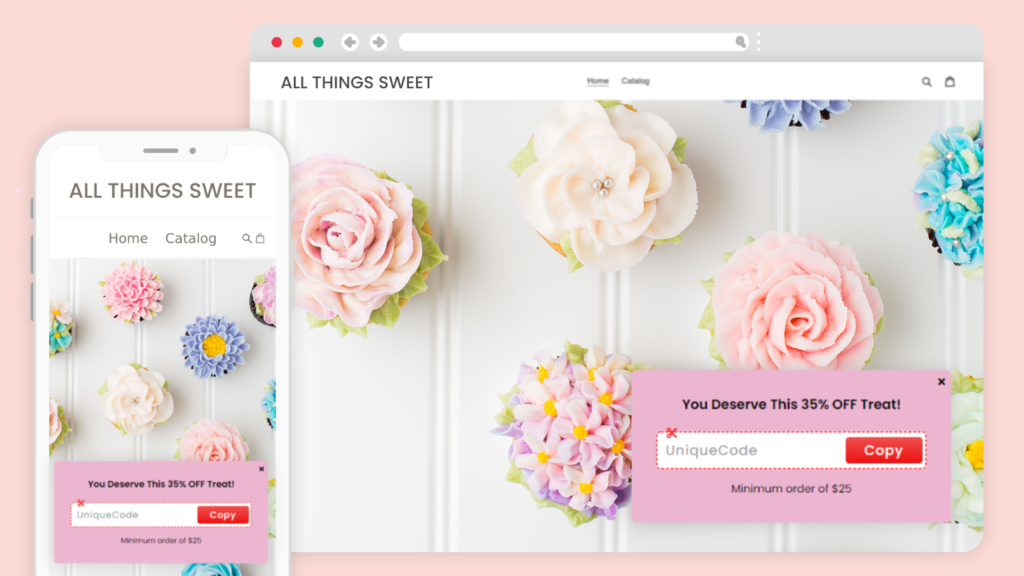 A coupon or discount pop up is to persuade site visitors to purchase by offering them a coupon code that they can use to get a discount on their items. Discount popups are best added to popular web pages to encourage customers to purchase items before leaving the website.
This is an effective way to encourage users to complete the sales funnel and make a purchase from your online store on Black Friday. When users stay on your website, it can also help to improve your search engine rankings, which means that organic traffic will increase to your site.
More traffic means more potential customers, ultimately leading to more sales!
2. Time-limited Coupon Codes Use Scarcity and Urgency to Convert Browsers into Paying Customers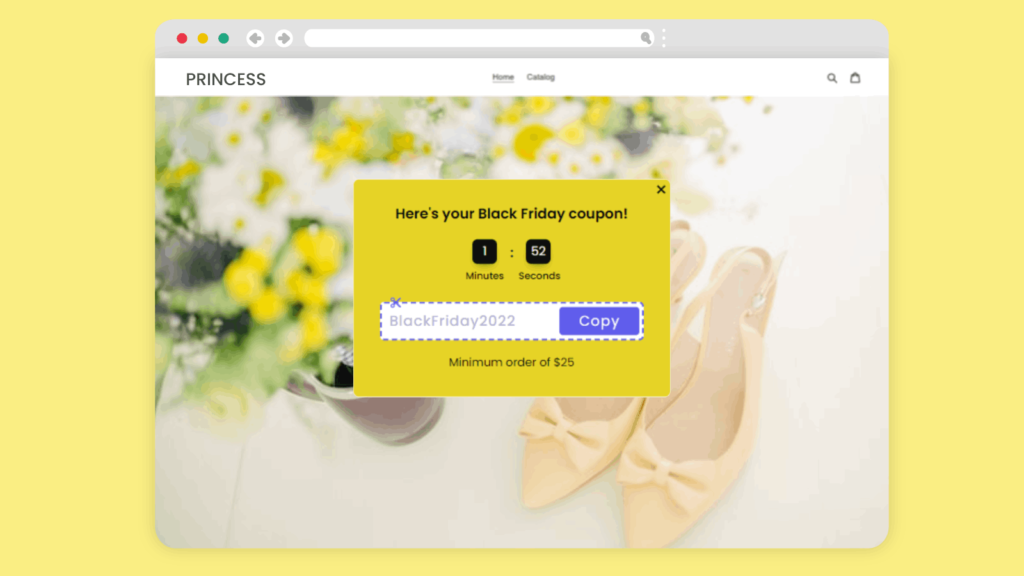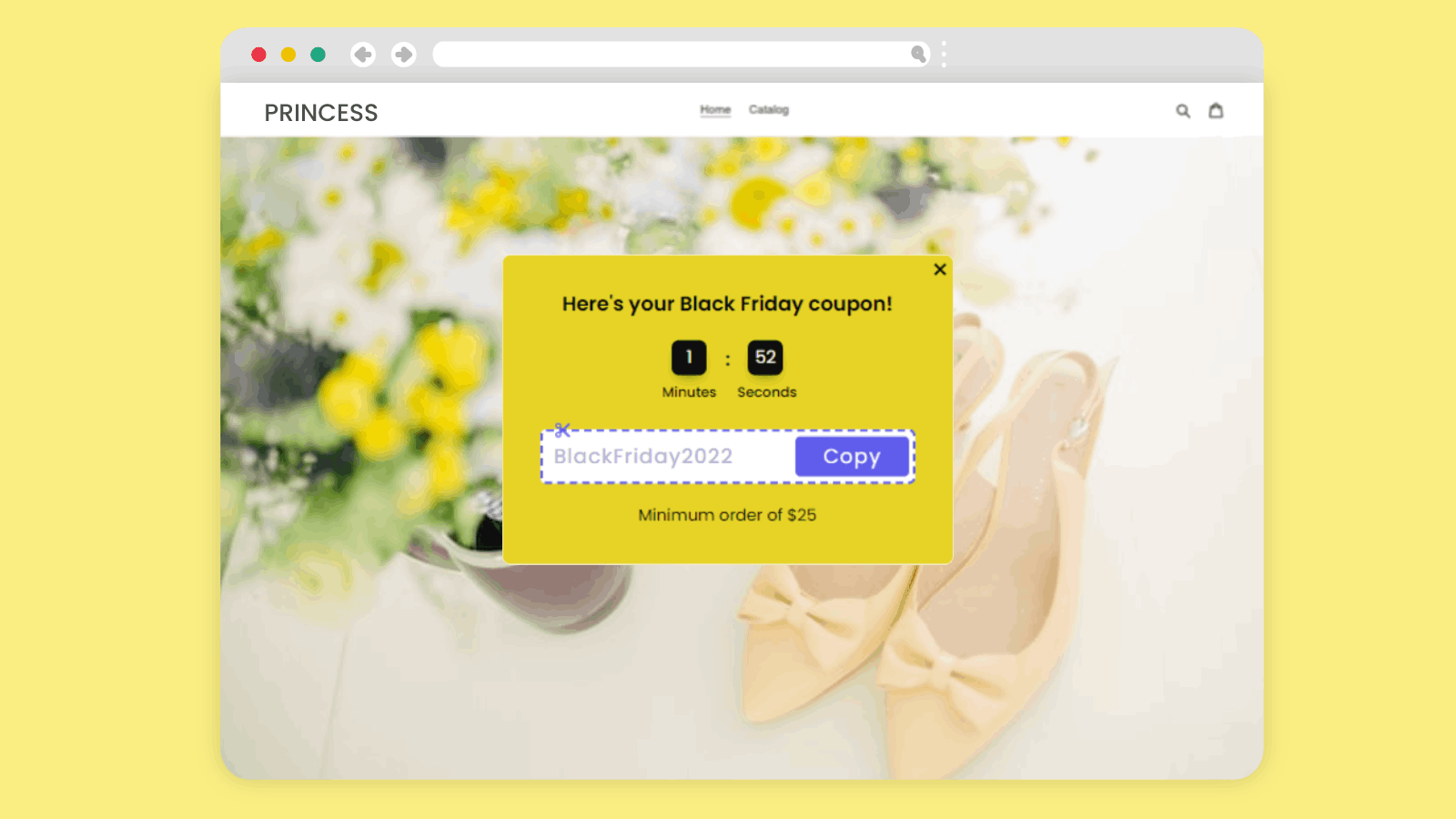 A special offer such as free delivery, a discount coupon, or a free product only available for a short time is known as a limited-time offer. Time-limited promotions commonly appear as popups, banners, and email offers.
These pop up advertisements have a spectacular ability to convert interested website visitors into paying customers. It can also help you turn one-time buyers into regular customers by utilizing the concepts of urgency and scarcity.
This is one of the most effective ways to capitalize on the Black Friday shopping frenzy, as consumers everywhere are looking for great deals on their favorite products.
By personalizing your time-limited coupon popup, you can sell your special offers and boost sales this Black Friday.
3. Offer Free Shipping Discount Pop Ups on Sales Pages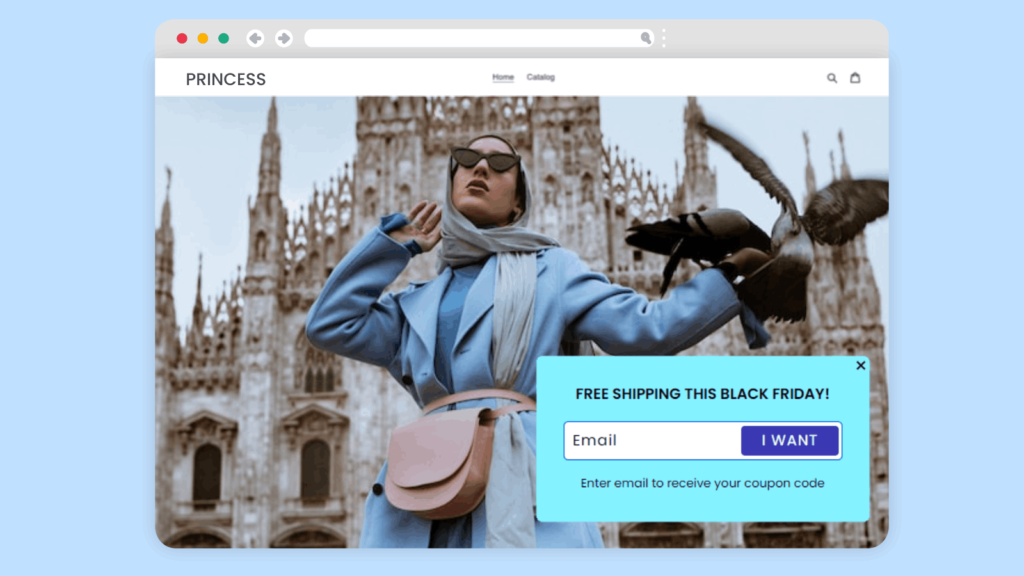 If you've ever shopped online, you probably know how annoying it can be to find a good deal on something you want but realize that shipping costs nearly half the price of the item itself. Chances are that your customers feel the same.
By offering a Black Friday discount or free shipping, you can convert on-the-fence prospective customers into sales during this iconic shopping day.
Moreover, many customers will return for more if they know they receive affordable, discounted, and efficient shipping. You can gain repeat customers with this simple but effective Black Friday coupon idea.
4. The Exit Intent Coupon Pop Up to Stop Shoppers from Leaving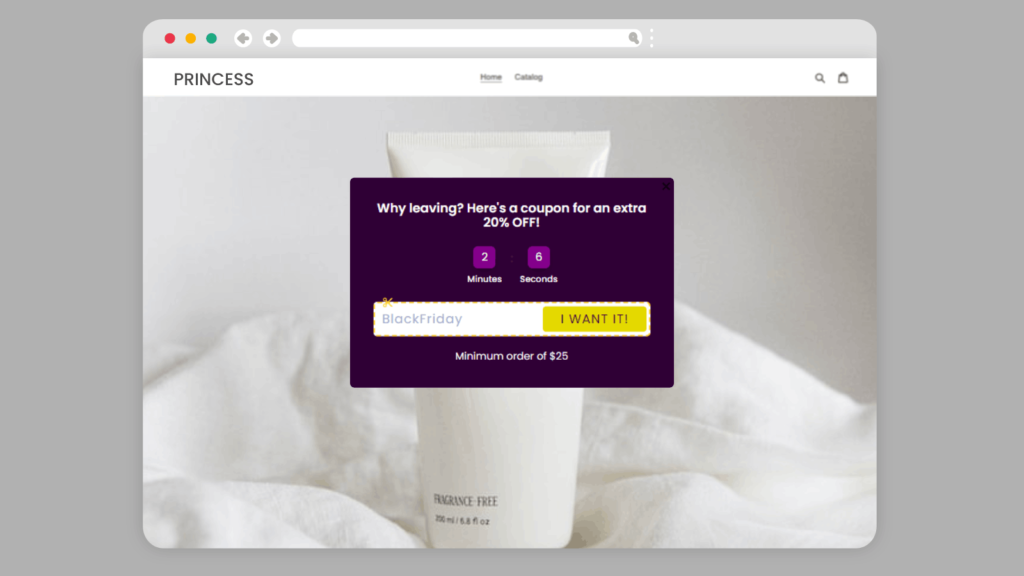 An exit intent pop up is displayed when it seems like an online shopper is about to leave your site. A typical exit popup will include a special deal or promo code to persuade a potential customer to return to the site.
The goal of this type of coupon popup is pretty straightforward – prevent users from leaving your online store and encourage them to purchase by displaying an item they may be interested in.
You can use this strategy to present your customers with Black Friday discounts they may have missed and encourage them to continue their shopping experience on your eCommerce website.
5. Displaying a Coupon Code on the Top Bar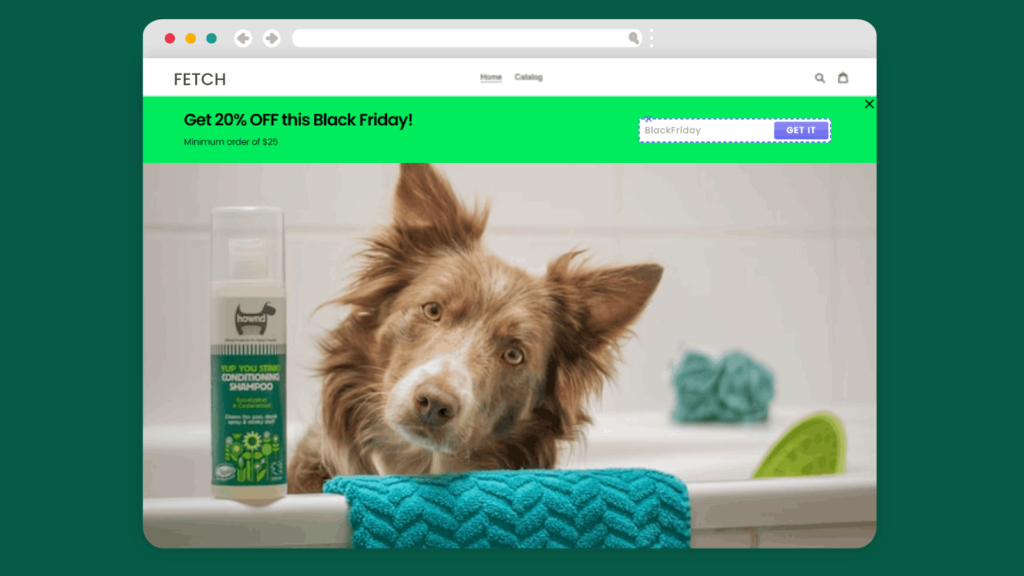 Another simple yet effective way to promote your Black Friday or Cyber Monday deals is by displaying them on the top bar. You can put a discount code where your shoppers can see it and keep them thinking about the promotion as they complete their shopping.
This is a great way to make customers feel like they're getting an additional discount on Black Friday deals.
6. Coupon Codes Sent via Email Blast to Reach a Large Group of People
Statistics show that consumers love coupons, and as an eCommerce business owner, so should you! Another effective way to provide your prospective Black Friday customers discounts is using an email blast.
What's an email blast, you may ask? Well, an email blast involves sending a single message (which, in this case, would be your coupon code) to a large group of people.
This is an easy way to reach thousands of customers who may not have visited your site in a long time or seen your Black Friday deals through other marketing approaches.
The truth is that email marketing remains one of the most effective ways to reach an intended audience, even though it is considered a prehistoric marketing approach. What's more, coupon-containing emails enjoy a 34 percent increase in unique clicks, a 14 percent boost in open rates, and a transaction rate enhancement of 27 percent!
7. Try SMS Coupon Marketing to Promote Your Black Friday Promotions
The act of providing digital coupons via SMS (short message service), often known as texting or text messaging, is known as SMS couponing. Potential customers can quickly learn about your goods or services on their cellphones, and attractive discounts might persuade them to purchase their favorite items from your store.
This is a great way to reach those who prefer in-store shopping and encourage them to switch to online shopping. Like email coupons, SMS marketing allows you to market Black Friday offers to thousands of consumers quickly and easily.
Making a list of the names of your prospective customers is the most challenging part of the process. Your company's website and social media account could be helpful when compiling this list. You can give customers incentives for signing up, such as a gift or discount, to increase your subscriber base quickly.
Once you have a subscriber list, you may send it with a brief promotional code to your mass messaging service provider. The promotion code and your short message will then be sent to every subscriber on the list.
8. Offer Coupon Codes on Live Chat for a Personalized Touch
Customer service through live chat ensures that your customers can get help 24/7. Not only will this help you deliver outstanding customer support, but it can also serve as a great way to display Black Friday coupons and deals to potential customers.
After all, if a user has engaged with your live chatbot, it's likely that they are already interested in making a purchase.
They could also be existing customers, and offering your Black Friday deals after tending to your user's problem can effectively promote your products and build trust with your intended audience.
One of the main reasons why this marketing method is so effective is that you can personalize the deal based on a user's response, so it's worth adding to your Black Friday marketing campaign to boost sales and engagement.
9. Collaborate with Black Friday Deals Site
Two heads are always better than one, and when you collaborate with other websites offering Black Friday deals, you can drive more traffic to your website. The products or services you provide may also attract customers to the partner website, which means both parties benefit from this approach.
It also makes it more convenient for shoppers, as they won't need to hop from one site to another to find deals on their favorite products.
10. Use Social Media Promotions to Boost Sales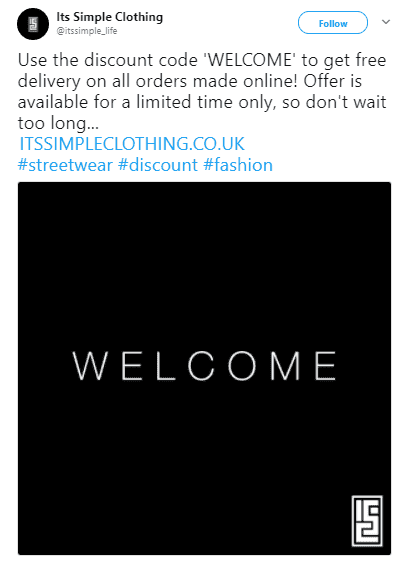 Social media has become a part of our everyday lives, and as a business owner, you can use these platforms to enhance your Black Friday marketing efforts. By creating eye-catching popup ads, you can attract buyers and encourage them to make a purchase.
Over 3.78 billion social media users worldwide spend an average of 147 minutes on these platforms each day. By displaying your pop up ad on platforms such as Facebook and YouTube, you can reach thousands of people, drive traffic to your eCommerce website, and boost your sales figures this Black Friday.
To make things more exciting, you could even offer a new deal by the hour and use a pop-up to let users know what products have been discounted.
Tips for Making Your Black Friday Coupon Marketing Efforts Fruitful
Don't Just Focus on Black Friday
As we have mentioned before, what started as a one-day event has now become an all-weekend affair, and if you want to make the most of it, you must plan for the entire weekend.
Create special daily offers to ensure customers return to your online store daily.
Make Interactions Personal
Using sales data, you can personalize the promotions or discounts you offer prospective customers based on their purchase history. You can also display related pop up coupons based on what a user has been looking at on your website.
This is a great way to help visitors find what they are looking for and ensure that you boost your sales figures by encouraging users to buy from your online store.
Don't Provide Blanket Offers
Black Friday isn't just a one-day event but continues all weekend and ends with Cyber Monday. You risk losing shoppers if you do not change your offers and deals daily. That's because having new products on promotion each day spurs excitement among users and ensures that they will return to buy more products and won't just leave with a one-time purchase.
Remember the Gift Cards
Gift cards are another great tool that you can use to boost sales on Black Friday. Gift cards are among the most widely used presents during the holiday season. Naturally, as an online merchant, you must make money from it.
If your clients and visitors to your site are unclear about which item their family member or friend will enjoy the most, you can use a popup ad to recommend purchasing gift cards.
Offer Long-time Customers Exclusive Deals
Another way to reward faithful customers this Black Friday is to offer exclusive rewards and promotions. This exclusivity will also encourage other customers to continue using your online store.
Free Gifts
You can boost sales by offering gift offers. This encourages users to complete a purchase and will also increase the amount spent per shopper if the deal involves spending a particular amount to qualify for the gift.
Wrapping Up!
Coupon pop-ups are a great way to promote your online store on Black Friday. You can use popup coupons to increase your sales figures, build lasting relationships with customers, and create a lucrative eCommerce business that you can be proud of.
You can take advantage of the hype around this shopping event to grow your online business and establish your humble eCommerce store as a trustworthy brand.
Getting Started with Coupon X
If you own a WordPress, Shopify, or Wix online store, you'll need a reliable plugin to help you generate flawless, eye-catching, and effective coupon popup ads. Coupon X was designed to do just that!
With an easy-to-use pop up builder, the option to personalize ads, email marketing options, and powerful targeting features, you can ensure that your efforts are lucrative this Black Friday.
Download Coupon X here: