If you ask anyone what their guidelines when it comes to shopping, especially online shopping, are, most people will tell you that they are relying on the experiences of the previous users.
Testimonials as social proofs create that trustworthy connection between a brand and a potential buyer.
Nobody likes disappointments. People want to be sure that their time and money go into the right hands.
Statistics reveal that even 84% of people claim that they trust customer reviews just as much as they trust a friend's recommendation.
Testimonials are a piece of content that catches great attention from your website visitors.
If you run an online business, then better start using any of these best testimonial plugins for WordPress as soon as possible.
Showing users' experiences is one of the easiest ways to convert leads into loyal buyers.

Premio offers many different plugins for turning your website into a really engaging site for your target group.
There are plugins for:
Chat
Folders
Contact forms
Social icons
Sticky menu
Sticky sidebar
One of the Premio's plugins is Stars Testimonials that helps you add customers' experiences with ease. You do not need any coding knowledge.
The only code that pops up is a shortcode for testimonial, but this plugin has a shortcode builder so that won't be a problem for you.
With this plugin, you are able to create testimonials that will include star ratings and company name. You can design how you want your testimonial to look like based on your brand's visual identity.
Choose between different background colours, also a title, company name, text, and stars.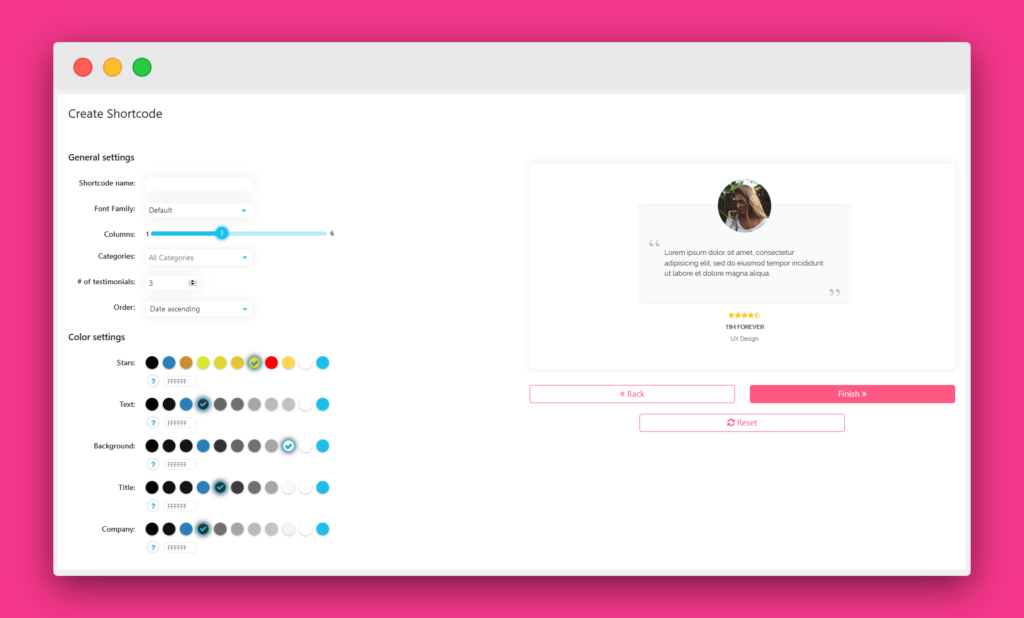 There are different layouts, so you can choose the one that you want for your website.
Premio's plugin allows you to insert customers' pictures. Adding pictures of people who are already your buyers will make their statements more convincing.
When you are done making testimonials, you can preview them to see if everything is how you wanted it to look. You can also edit or delete them very quickly if you wish.
All made testimonials will be listed in one place for easy review:
Elementor, Divi, Gutenberg, and Visual Composer are some WordPress page builders that Premio's Stars Testimonials can work with.
Given that today a large number of people surf the internet primarily via mobile phones, it is essential for your website to be mobile-friendly. Your testimonials made with Premio are mobile-optimized, so you do not have to worry about that.
This kind of social proof will raise your credibility and help your visitor decide that purchasing from you is a great decision.
Pricing: There is a free plan that includes up to 5 testimonials, a limited number of colors for customization, and grid layouts. Paid plans start from $14 per year. Those plans offer a more fantastic choice of designs including wall and slider layouts, colors, and an unlimited number of testimonials to create.


2. Thrive Ovation (Paid)
By reading your users' experiences, people make a strong connection with your brand.
The experience of just one of your users can encourage others to choose precisely what you offer.
People do not even need to be aware that what you offer can improve their lives. They only become aware of it when they see other people's stories.
And that is why testimonials are so important.
One of the best testimonial plugins for WordPress is Thrive Ovation.
This plugin allows you to prepare all the comments left on your WordPress website as testimonials.
It also has integrations with social networks, Facebook and Twitter, to make it easier to gather users' stories.
You can send automated messages to your customers, including a link to your website containing testimonials, and add their experiences.
You can turn all comments into testimonials without using a copy-paste option or creating screenshots.
Thrive Ovation also includes a flexible tagging system to help you find the testimonials you need at a certain point much more accessible.
Having multiple products or offers will make it much easier for you to sort and filter them.
Pricing: Thrive Ovation paid plans start from $39 per year.


3. Toolset Testimonials (Paid)
With Toolset Testimonials, you can make social proofs from scratch and customize them as you like.
With this plugin, you can easily make testimonials using their Toolset Module Manager. This way, you already have ready-made designs that you can use.
You can add custom fields to make the testimonials look as you wanted:
Some of the fields that you can select are:
Date
Audio
Checkboxes
URL
Video
Embedded media
Post reference
You can choose whether to display the testimonials as a grid, slider, list, or in some other layout form.
When it comes to offers or products, you can relate and sort your users' experiences on your website's separate relevant pages.
For those interested in a particular product, you will make it easier to find only those experiences that are relevant to them.
By using the front-end form, your customers can write feedback that will be automatically posted.
Toolset Testimonials gives you complete control over how testimonials of your customers will look like.
Pricing: There are three different paid plans. Toolset Presentation costs $69, Interactive has a price tag of $149, and Toolset Agency costs $299 per year.

4. Testimonial Slider (Freemium)
Testimonial Slider is a testimonial plugin for WordPress that is extremely easy to use. It also does not require any coding skills.
It allows you to create testimonials displayed as a slider or a list on your website.
There are five layouts where you can change the colors and styles, customizing your slider.
Like the Toolset Testimonials, it can create front-end forms that your customers fill out to help you collect their feedback.
It allows you to create an unlimited number of sliders.
Testimonials can be classified into different categories. You can also sort them by date or popularity.
This plugin also can add transitions to your widget and get a better look for your testimonials.
Pricing: Testimonial Slider has a free version, and Testimonials Pro version costs $17.

5. Strong Testimonials
The best testimonial plugins for WordPress should be simple and effective. Such a one is Strong Testimonials.
This plugin allows you to categorize testimonials by those:
Service-related
Product-related
Site-related
Choose where you want certain testimonials to occur.
You can choose how many testimonials you want to display and whether to sort them starting with the latest ones.
By using the rating feature, you can allow positive testimonials to display on your website only.

To help you gather your users' experiences, Strong Testimonials lets you do it with Google My Business, Facebook, WooCommerce, Yelp, and Zomato.
It also uses Captcha to avoid spam comments.
This plugin has basic options for customizing fonts and the background of testimonials. But if you want more customization, you will need to use custom CSS.
Pricing: Strong Testimonials has a free version, and four paid packages offer more features. Paid plans start at $29 for the Basic package, and the Agency package, which is the most expensive one, costs $119 per year.


The bottom line
Using the best testimonial plugins for WordPress not only saves you time to gather users' experiences, but it also reduces the time duration of the entire sales cycle.
Your target group will decide to make a purchase much faster when it sees the stories of different people who are your customers in the past.
Big commerce points out that 72% of people who took the survey say positive reviews and testimonials make them trust a business more.
Businesses that do not strive to gain the trust of their potential customers cannot expect much progress.
People need to feel that leaving their money and their trust to you is the right decision and that you deserve it.
The best way to convince them is to present them with the experiences of your existing customers who are happy with your service and would be happy to recommend you.
This is the only way to build a large and loyal customer base.
Stars Testimonials is the best testimonials plugin for WordPress because, not only is it extremely easy to use, but it also allows you to create testimonials that will fully fit into the visual identity of your business.
If you want to increase your conversion rates, try it out now, and share all the great stories from your users that will make others want to be your customers too.