User feedback is certainly the most important thing when you deal with people and tend to satisfy their needs and help them as a seller.
You need to get inside their heads and see what they think about your product or service, would they change something about your website, and similar.
Their opinions as consumers are crucial, and online marketers always try to do their best to listen to them as much as they possibly can.
With the help of surveys, you can collect your customers' feedback easily and improve your business by getting to know your target audience better.
The best way to use a survey is to integrate one into your e-commerce website by using a WordPress survey plugin.
There are numerous survey WordPress plugins on the market today, but we have selected the 6 best plugins for you to help you get your business to a higher level.
Let's check them out.
Premio is a platform that can help you install amazing WP plugins to your business website in a matter of minutes.
These plugins will help you get more leads, reviews, and eventually more sales in an easy and efficient way using different forms.
Premio offers a significant number of plugins for different purposes to attract your visitors, get their data, and even convert them into customers through surveys.
Some of the Premio plugins are:
Chaty
MyStickyElements
Folders
Stars Testimonials
myStickymenu
Subscribe Forms
WP Sticky Sidebar
One of these plugins, Subscribe Forms, is very helpful if you want to gather information about your customers in a quick and easy way.
Subscribe Forms allows you to show beautiful forms anywhere on your business website to encourage your visitors to leave valuable info and help you grow your email list.
Your CTAs can be a driver for them to answer your survey. Alternatively, your copy can be in a form of a question, and the visitors would need to leave their email address if their answer is Yes.
You can also customize them according to your taste and use different templates from the templates library to choose the right form for a certain goal.
Subscribe Forms can help you work on your email marketing and at the same time they provide you with numerous, eye-catching possibilities to attract your visitors' attention.
You only need to choose.
With a help of a shortcode, you can easily set them up and with the customization options, you will be able to change the background colour, image, font, headings, and similar.
This form builder is user-friendly and really simple and easy to use.
You can create unlimited forms, change form and button text, add a consent checkbox, and with the Pro plan, you get even more options.
Send leads to email in a few steps by using simple but effective forms, and set yourself apart from the rest of the competition.
You can also integrate your forms to MailChimp, GetResponse, ActiveCampaign, HubSpot, and more and set up an autoresponder with your survey.
The database helps you hold your prospects all in one place, and the number of domains included depends on the paid plan.
Pricing: There is a free plan, but if you want to use some additional features you need to upgrade to some of the paid plans starting from $19 per month.
Survey Maker is a popular WordPress survey plugin among WordPress users. This is the best option if you want to create unlimited surveys with unlimited sections and questions. It will display perfectly on all types of screens due to its responsive design. The plugin includes 16 question types, such as Radio, Checkbox, and Star List, to make it easier for users to create their desired form.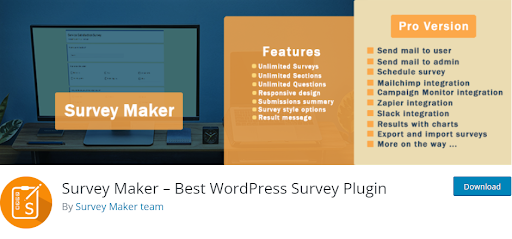 Conditional Result functionality will take your surveys to the next level. Provide participants with personalized feedback on their responses. Create different paths in your survey and give each one a unique outcome.
The plugin gives you the ability to create more intelligent surveys. With the logic jump functionality, you can avoid taking tedious surveys. After answering the current question, the system will automatically determine which questions to ask, skipping the unnecessary ones.
With the Survey Maker plugin you will be able to:
Integrate your surveys with a number of integrations, such as MailChimp, Google Sheets, Active Campaign, and others.
Create Anonymous Surveys
Create Conversational Surveys
Add Recaptcha to your surveys
2. WPForms
This is another easy-to-use and powerful WP contact form plugin that can help you create amazing forms effortlessly.
With it, you can create contact forms, payment forms, newsletter forms, registration forms, and more, but the most important feature is its drag and drop builder that can help you create useful and beautiful survey forms for your visitors.
You can add text, multiple-choice boxes, check boxes, and more with just a couple of clicks and customize your form exactly as you wish.
It allows you to easily create forms and without any coding skills.
You can rearrange fields, add or remove them, and more to create efficient and interactive surveys to collect email addresses.
If you want to save some time, you can use pre-made templates to speed up the whole process.
If you have a need to create longer forms, you can use the option of multi-page forms and divide your longer forms into several pages to make it easier for your visitors to read them and fill them out.
All types of forms are completely responsive and you can use them on mobile, desktop, or tablet devices.
WPForms also has an option of receiving notifications in real-time so you can respond to your leads instantly without making them wait.
WPForms is a great choice if you want to create and use quality surveys and improve your chances of eventually gaining a larger number of customers.
Pricing: It offers a 14 days money-back guarantee, and if you are satisfied with its features you can upgrade to some of the paid plans starting from the Basic plan that costs $39.50 per month.
3. RafflePress
This plugin is mainly based on giveaway features that can help create powerful giveaways and contest forms for your website.
RafflePress can increase your website's engagement and in an easy but fun way collect your visitors' data through various contests.
People love contests and awards and presents of any kind so they will also love to see these kinds of forms on your business website.
With the help of its drag and drop builder, you can create giveaway campaigns easily and without the need of hiring a developer to help you.
Also, you can encourage visitors to complete the survey as an opportunity to participate in the giveaway which will bring you more prospects later on with just one click.
You can set the time period from when to when the giveaway lasts, set the reward value, and similar.
If you do not want to start creating forms from scratch, you can use pre-made templates to grow traffic.
RafflePress widget is totally responsive which means you can use it wherever you are and from the different types of devices such as mobile phones, desktops, tablets.
In addition to supporting social media integrations, this plugin additionally helps you build your email list by integrating with your favorite email marketing automation provider.
It is completely user-friendly and it helps you with conversions too by using effective tracking features.
This plugin surely helps attract visitors with interesting offers, which is the ultimate goal.
Pricing: RafflePress allows you to try this builder for 14 days while offering a money-back guarantee if something goes bad. There are several paid plans which differ in features, and the prices start from $39.20 per month.
4. WP-Polls
WP-Polls is a simple solution for your problem if you want to create polls on your website and let your users participate.
This plugin is extremely easy to use and very simple, but it gets the job done and it is free.
This plugin can be used from the WordPress dashboard, and you can create polls, choose poll questions, select answers, set multiple-choice settings, and set start date/time and end date/time.
You can add surveys and polls anywhere on your website, and you can customize them fully, too.
There is also an option to add this plugin as a widget to make it all even easier to use.
It has a clean design, important options, and it also supports regular updates.
Visitors like to be active, so give them the chance to participate in polls and show them that you value their opinions.
They will be able to see the results immediately after submitting their answers.
There isn't a poll builder, but you can use check boxes or circular radio buttons to collect votes from your prospects.
To save yourself some time and create polls even more quickly, use pre-made templates that are offered.
Pricing: This plugin is free.
5. NinjaForms
NinjaForms is another user-friendly WP form builder that focuses on creating beautiful, engaging survey forms to make your website look more professional.
The interesting thing about this plugin is that it is 100% user-friendly and you do not need any professional help, coding or designer skill, or similar.
You can do it all by yourself with the help of its amazing support team.
This drag and drop form builder can help you customize your forms by changing column layouts, resizing fields, changing background, and so on.
Depending on the purpose of the form, you can add common fields, user information fields, pricing fields, and more.
You can create contact forms easily to collect all the relevant data and save certain fields that you have used repeatedly to shorten the process.
This plugin allows you to create multi-page forms, conditional forms, sign-up forms, and more to boost subscriptions.
It offers numerous integrations with MailChimp, Zoho, Salesforce, Insightly, and other important email platforms.
If you need a secure way to accept payments via PayPal, you can do it with NinjaForms easily and you can offer your visitors payment options if you wish.
This plugin is special as it is completely adapted to beginners.
Pricing: On their official website, you can see all the plan features compared to help you decide which plan is the best choice for your business. There are several paid packages to choose from.
6. FormidableForms
The last plugin that we are going to mention is FormidableForms, the highly-advanced WP form builder.
It enables you to create and implement various useful forms and these are:
Payment forms
Registration forms
Survey forms
Contact forms
Polls
This plugin has a drag and drop interface with which you can create and customize forms according to a certain design by changing text, adding check boxes, radio buttons, drop-down menus, and similar.
It can all be done very easily, and by simply adding and removing certain fields, you control how your contact form will look when placed on your website.
By using engaging surveys and polls, you can collect user feedback and data easily and you don't even need to take up much of their time.
In addition to advanced reporting features, this plugin allows you to gain valuable insights when it comes to your visitors' behavior.
If you need a fresh and quick start, use some of the pre-made templates and customize your forms further to get the final look.
Without any code whatsoever, change form colors, themes, and similar, and use mobile-responsive templates.
Create surveys, make interesting quizzes out of your forms, and collect payments.
After gathering statistics regarding the survey results, you can display them for your visitors to see through graphs and charts.
It integrates with many platforms, and some of them are MailChimp, GetResponse, AWeber, HubSpot, and more plus more than 2000 integrations through Zapier.
With its special signature forms, you can finally collect your clients' signatures online and drag and drop them to finalize the deal.
Pricing: The most popular plan is the Business one, but there are also other paid packages that you can choose from. The prices are starting at $49.50 per month.
To Sum up
For experienced marketers who know the value of user feedback, collecting opinions and information about visitors is the number 1 item.
The easiest way to collect visitors' data is through useful survey WordPress plugins as they are easy to fill out and your visitors won't have to set aside time for that.
Growing an email list is an especially important task, and the WP plugin that is perfect for collecting leads by creating beautiful, responsive forms and customizing them is the Premio plugin Subscribe Forms.
It allows you to use different form templates to grab users' attention.
Use different types of surveys on your website and improve conversion rates in the simplest way possible!